Visiting San Juan, Puerto Rico
We just returned from a week in San Juan, Puerto Rico and had a great time!
After Hurricane Maria, the island was hit hard so we weren't sure what to expect. The island is just starting to recover and desperately needs tourism to help their economy re-build, so we jumped at the opportunity to see the Caribbean island for ourselves.
What we discovered was a vibrant, colorful capital and resilient, hard working locals. Although the island isn't 100% back on its feet, the capital of San Juan is much recovered and hotels, restaurants, shops, bars and tours were all operating.
ADVERTISEMENT
In today's post, I wanted to share some fun things to do in San Juan as we loved our trip! Here are 6 fun and unique things to do while on vacation in Puerto Rico!
Keep reading or save this article by pinning it ⇟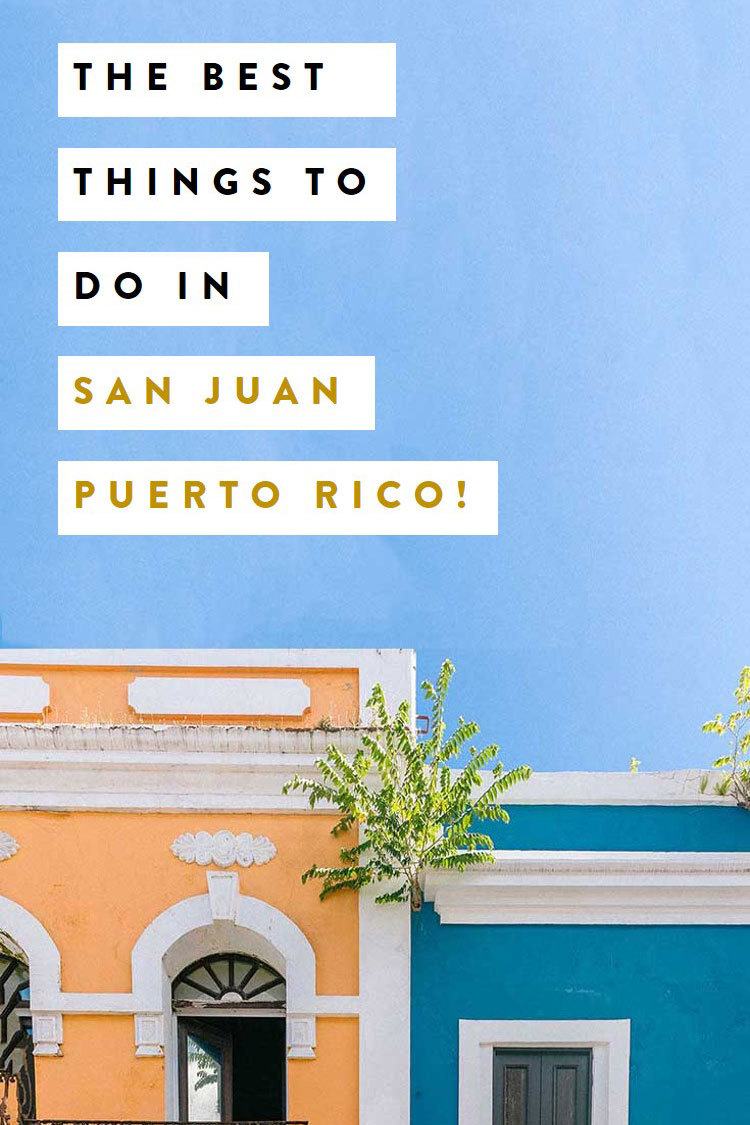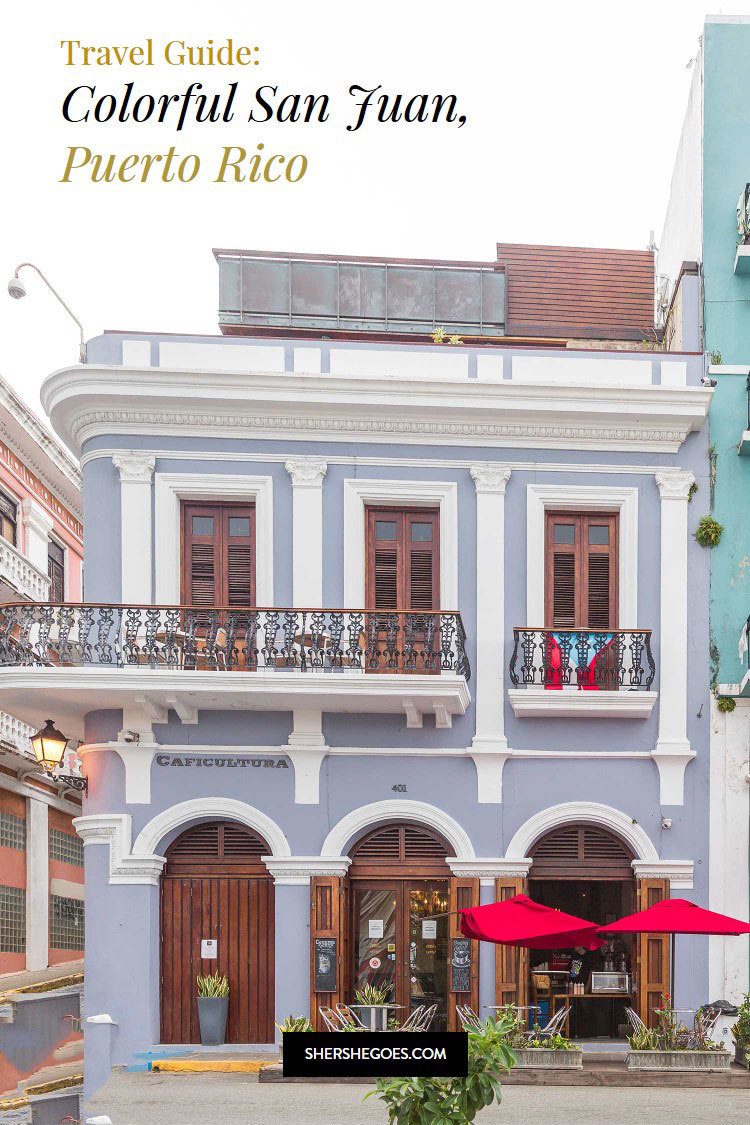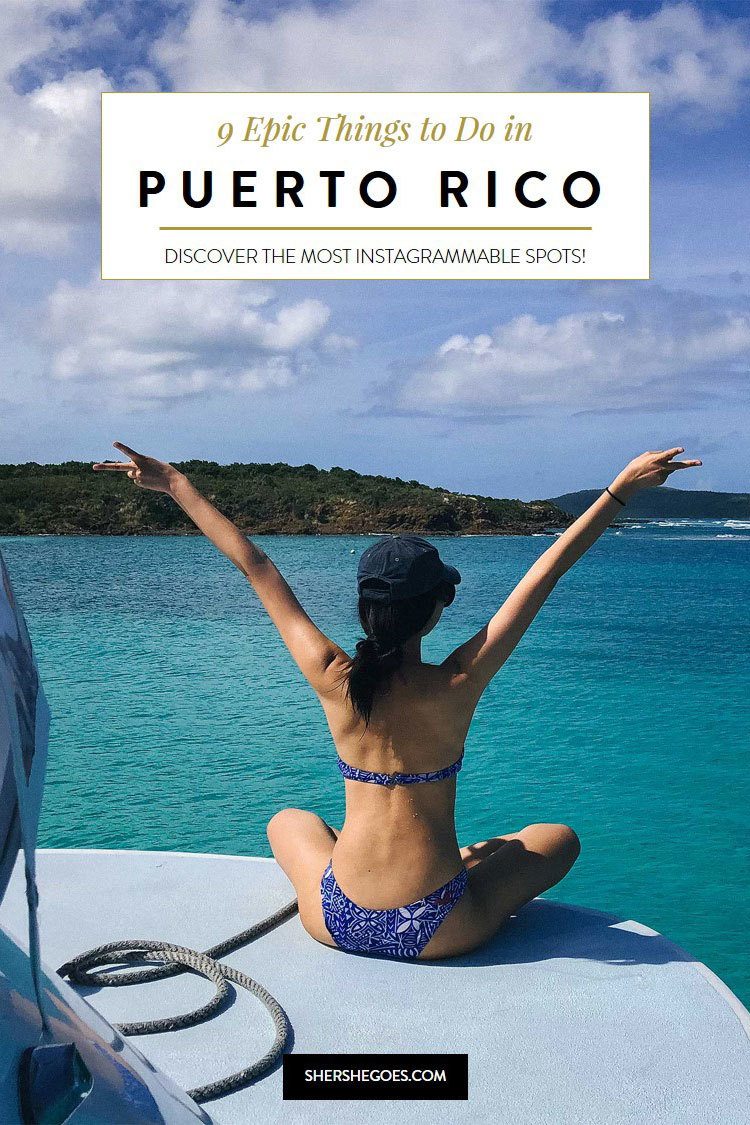 ADVERTISEMENT
---
---
The Best Things to Do in Puerto Rico
We spent one week in Puerto Rico and had plenty of time to eat, sight see and shop. Old San Juan can easily be done in a day if you have limited time from a Caribbean cruise but the island of Puerto Rico has much more to offer.
From beautiful beaches to eclectic shopping, from incredible cocktails to flavorful local cuisine, I've narrowed it down to 9 must do things in San Juan and greater Puerto Rico.
1. Explore Colorful Old San Juan
Old San Juan is the colorful, colonial section of the island that was originally settled by the Spanish. The quaint cobblestone streets and pastel buildings are meant to be explored on foot and luckily, cruise ships dock right in town for easy access!
We took a guided walking tour to learn about the historic sights from a knowledgeable local guide. You can check here for availability and rates.
From great restaurants, good shopping and street side bars, there's lots to do in Viejo San Juan.
Read more:
Copy This 1 Week Puerto Rico Itinerary
ADVERTISEMENT
---
---
2. Try Puerto Rican Food
We were so impressed by local Puerto Rican cuisine!
Puerto Ricans lovingly call their home the 'Dining Capital of the Caribbean' and dishes like mofongo (mashed plantain), aroz con dulche (sweet sticky rice) and arroz con gandules y lechón (rice with pigeon peas and pork) are a delicious blend of Tahino, Spanish and American influences.
We tried lots of different restaurants on our Puerto Rico vacation and have compiled a list of our favorite spots in this post.
Read more:
The Best Restaurants in San Juan
ADVERTISEMENT
---
---
3. Explore a 500 Year Old Fort
Old San Juan is the oldest city in the Western hemisphere.
Set on an island and walled on 3 sides, the Spanish constructed massive walls and several forts to protect their colony. Remnants of the thick walls and ballasts still protect the western harbor today and a must visit is Castillo San Cristóbal.
This fort was the largest fortress built by the Spanish in the New World and has over 6 stories across 27 acres of land. Check out the guerites, sentry boxes, overlooking the Atlantic Ocean!
ADVERTISEMENT
---
---
4. People Watch with A Cup of Puerto Rican Coffee
If you're a coffee lover, Puerto Rico is the place to visit!
Puerto Rican coffee has a distinctive smooth, rich flavor thanks to the island's rich volcanic soil and mountainous farmland. Most of the coffee is made for export and it was one of Puerto Rico's main crops until the 1900s, when sugar plantations took over.
In fact, the Pope drank it as the official Vatican coffee for centuries!
It's only recently that coffee production is growing again and Old San Juan has many worthwhile coffee shops if you need a break!
Try Alto Grande, a premium bean ranking up there with Jamaica's Blue Mountain Coffee and Hawaii's Kona beans.
If you don't want to carry it home, no worries you can buy it here on Amazon too. Yaucono is another great Puerto Rican coffee brand.
My personal favorite coffee drink to order is a cortadito, espresso with steamed milk, or you can also ask for a café con leche, a simple latte with warm milk.
ADVERTISEMENT
---
---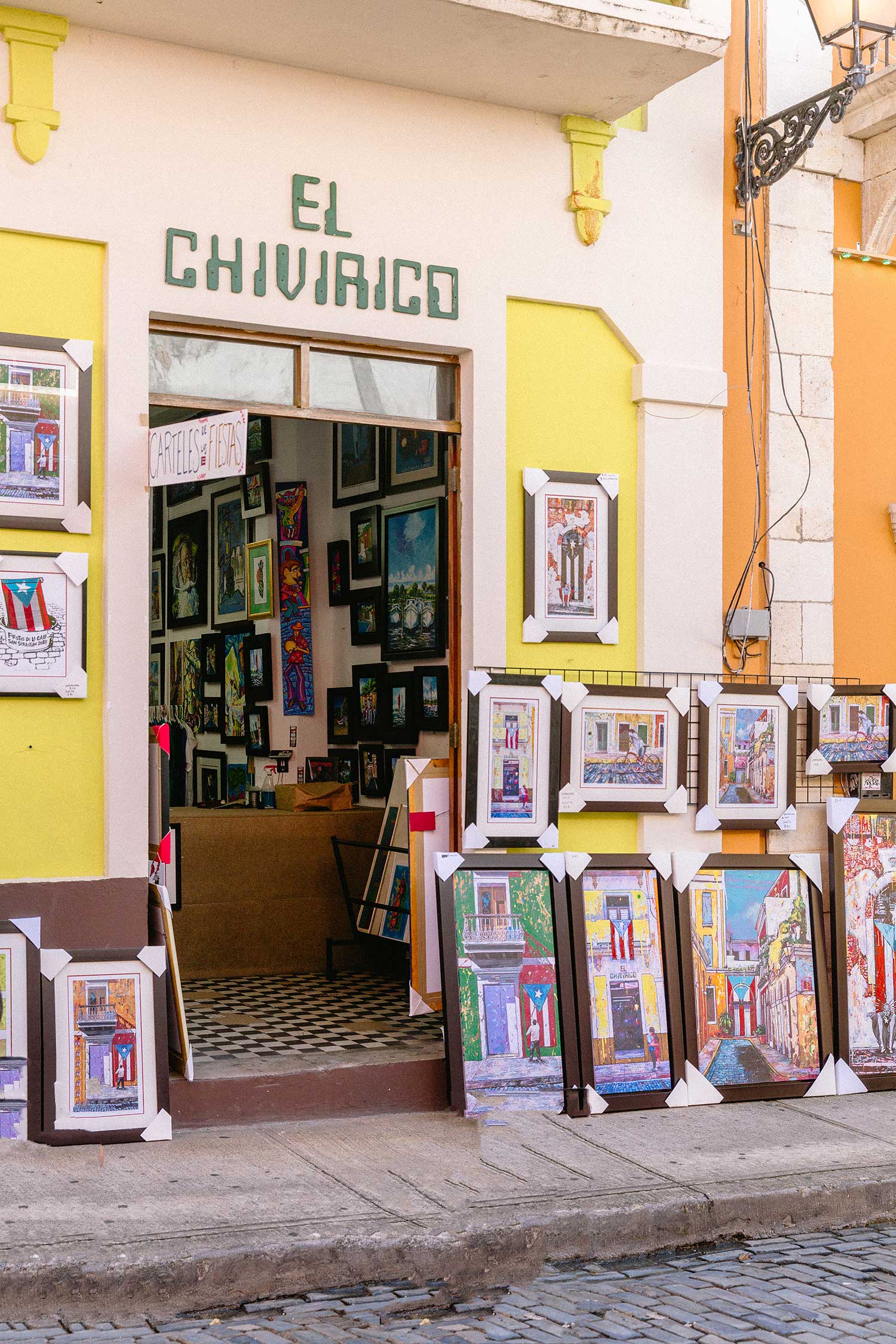 5. Browse Outdoor Art Galleries
Puerto Rico has a vibrant art scene, with galleries all over the island and especially in Old San Juan.
Whether you like contemporary fine art, modern art or local Caribbean influenced artwork, you're sure to find it! Many of the local boutiques can be found near Calle San Sebastian.
Read more:
Our Puerto Rico Packing List
ADVERTISEMENT
---
---
6. Join a Puerto Rican Festival
Puerto Ricans know how to let loose! There are festivals each month throughout the year as well as year long celebrations, with the best time to visit San Juan being in December / January.
We happened to be in town during the festival of San Sebastian, or Sanse as the locals call it. The 4 day long celebration includes street parades, dancing, free flowing beer and food trucks.
My favorite?
The huge paper mache masks that people wore! (I included a photo of it at the very top of this article).
Here's a video of the festival if you want to feel right there with us!
If you want to check out a festival in Puerto Rico, I recommend visiting during the day. At night, things can get much rowdier and extremely crowded and it turns into a packed drinking fest.
Read more:
This Is the Best Time to Visit Puerto Rico
ADVERTISEMENT
---
---
7. Snorkle & Scuba Dive in Culebra
Water lovers simply have to take a day trip out east.
Culebra offers beautiful blue waves, soft white sand beaches and sunny skies. We took an all day boat tour to snorkel in Flamingo Beach and relax on Culebrita island.
Puerto Rico has some really unique topography so don't just stick to San Juan! Visit Vieques for its bioluminescent bay and El Yunque Rainforest, the only subtropical rainforest in the United States.
Read more:
Don't Skip These Epic Puerto Rico Day Trips
ADVERTISEMENT
---
---
8. Tour the Bacardi Rum Factory
I think the most fun we had was the day we took a tour of the Bacardi Rum Factory!
This is Bacardi's largest rum factory in the world, where up to 100,000 bottles of rum can be bottled per day. Opt for the tasting tour so that you can properly learn about the different rums.
And of course, it includes a tasting!
After the factor tour, we were lead into a private room for an in-depth tasting of 5 different Bacardi sipping rums. We loved learning about the different types of rums, bottling and tastes.
You can find a detailed look at our tasting tour on my Instagram Story highlights for Puerto Rico. Or, book a tour and check availability here.
Read more:
Where to Stay in Puerto Rico: The Best Hotels
ADVERTISEMENT
---
---
9. Try a Rum-based Cocktail
Puerto Rico is the king of rum.
Not only has this island invented the Piña Colada, its mixologists are continuing to innovate! We tried so many incredible cocktails and each day only got better and better.
Local bars emphasize local fruits (like passionfruit, papaya, mango, chironja, soursop, star apple and pineapple) and local garnishes so it's quite a refreshing, unique take on the drinks you might be used to.
One of my favorites was a passion fruit punch cocktail with cilantro. The herb kicked in right at the end for a zesty after taste.
We also discovered that many local bartenders enter mixologist competitions so they're quite talented!
Bars were constantly changing up their menu and bartenders were also working on new signature drinks so they often suggested creating their own, off-the-menu drink for us to try and it was always a hit.
If you like great drinks, check out
La Factoria, a fun speakeasy
La Concha where the hotel lobby bar is always packed anytime of day
Zest at Water & Beach Club, where we had a 6 course food and drink pairing.
ADVERTISEMENT
---
---
Fun Day Trips from Puerto Rico
If you don't have a car, you can still take advantage of Puerto Rico's nature and biodiversity by booking a tour to handle all the logistics. Here are some great Puerto Rico attractions you have to do:
Culebra Snorkle & Beach Day Trip
Culebra and Playa Flamenco are 2 of Puerto Rico's perfect sand beaches. We got picked up from our hotel in Condado, then cruised on a catamaran to Culebra for the day, sipping rum punch, snorkeling and sun bathing in paradise.
The beaches were beautifully deserted and the coral reefs were all over! We spotted barracuda in the crystal clear water.
Check here for availability and rates.
El Yunque is the only rainforest in the US, with stunning nature trails, beautiful waterfalls and more than 240 species of plants and animals.
This half day tour picks you up from your hotel in San Juan, covers all park entrance fees and includes a guide to share the area's history and biology.
Check here for availability and rates.
Vieques Bioluminescent Bay Tour
There are only 5 bioluminescent bays in the world… and Puerto Rico has 3 of them. This tour takes you to Laguna Grande, where you can kayak through the lagoon under a dark night sky and watch the organisms glow from up under the water!
The entire experience feels like a magical Disney attraction.
Check here for availability and rates.
This was my favorite activity from the trip! After a quick tour of the Bacardi factory, we got to the real deal: a private tasting of 5 different Bacardi rums.
If you love rum or have never tried it, this tasting tour will bring out different notes and depths in Bacardi's legendary sipping rums. You can even choose to buy and bottle your own rum if you have a favorite!
Check here for availability and rates.
ADVERTISEMENT
---
---
Other Fun Tours in Puerto Rico
ADVERTISEMENT
---
---
Where to Stay in San Juan
Travelers visiting Puerto Rico have a lot of choices when it comes to where to stay in San Juan! For an in-depth neighborhood guide and tips on where to stay in San Juan, check out this post.
Here are 3 hotels we explored during our stay and would recommend:
1 | Intercontinental San Juan – Friendly staff, clean rooms and 24/7 pool and hot tub. The Intercontinetal is located on the Isla Verde strip with the beach as its backdoor. Make sure to try the on site restaurant SAKI for a great Asian-themed meal and fun cocktails.
Book rooms: Booking.com, Hotels.com | Check rates: TripAdvisor
2 | El Convento – This stunning old world hotel is located in Old San Juan, in a building that was once a monastery. Relax in the interior courtyard with a drink!
Book rooms: Booking.com, Hotels.com | Check rates: TripAdvisor
3 | La Concha – The hotel sits right on the beach, with several swimming pools and on site restaurants. La Concha is quite packed, with an on site casino, lively hotel bar and great location in Condado San Juan.
Book rooms: Booking.com, Hotels.com | Check rates: TripAdvisor
ADVERTISEMENT
---
---
Enjoy visiting the San Juan, Puerto Rico! Let me know if there are any restaurants or sights you think I missed in the comments.
Visiting Puerto Rico – Travel Checklist
Many U.S. airlines offer daily, direct flights from select US cities. We flew Jet Blue from New York City's JFK airport. Puerto Rico is offering cheap flights to encourage visitors to the island – you can set an alert flight deals here.
Traveling to Puerto Rico as an American citizen is incredibly convenient. All you need is your license, no passport required, as the island is a U.S. territory. Likewise, no need to bring a travel adapter, exchange currency or purchase a SIM card. American phones, dollars and plugs work just fine throughout the island.
As a result of Hurricane Maria, life in Puerto Rico has changed. We visited in mid January 2018 and found that electricity was up and running throughout the capital of San Juan. Select hotels and restaurants are open; we've listed the hotels we visited and used here. Check here for great deals on accommodation.
Lastly, be sure to visit Puerto Rico with travel insurance. Whether you get injured and need to be hospitalized, your phone gets stolen, or a flight delay leaves you with nothing but the clothes on your back, travel insurance will help when you need it most. Get a quote for your trip here.
You Might Also Enjoy:
Puerto Rico Vacation Planning Articles
Planning a Trip to San Juan: 1 Week Puerto Rico Itinerary
A Neighborhood Guide to Where to Stay in Puerto Rico
THIS is the Best Time to Visit Puerto Rico
Packing Checklist: What to Wear in Puerto Rico
Puerto Rican Sights, Activities & Tours We Especially Enjoyed:
9 Incredible Sights in San Juan You Simply Can't Miss
Puerto Rico Day Trips You Need to Take!
Where to Eat in Puerto Rico: 6 Restaurants to Try!
Follow me @Sher She Goes on