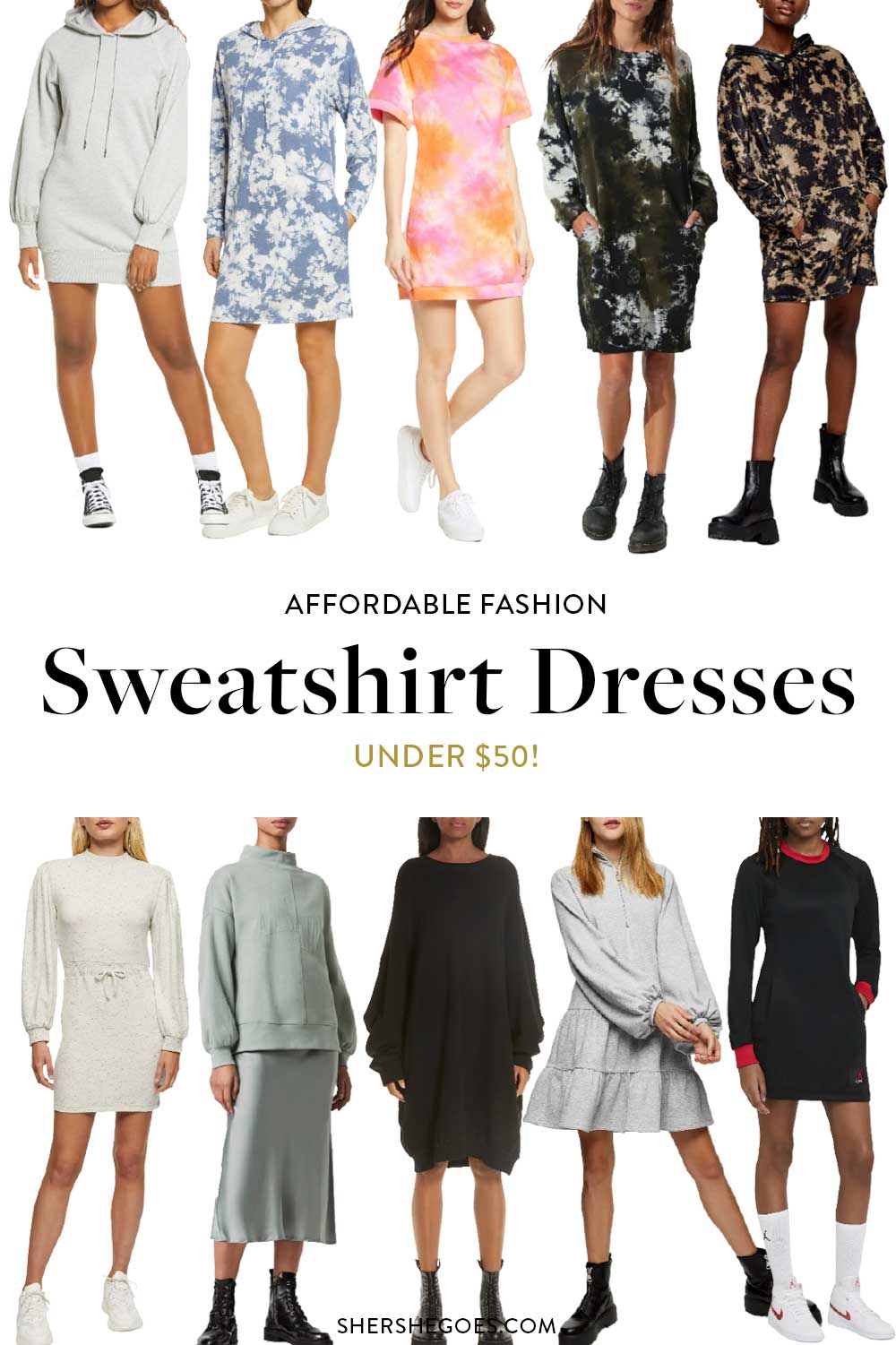 Thank you to Zappos for sponsoring this post!
The Best Sweatshirt Dress Looks for Women (2021)
Wanna dress up without dressing up?
The sweatshirt dress just might be for you!
As a hybrid between a relaxed, cozy sweatshirt and an elegant, form-fitting dress, the sweatshirt dress is especially useful in modern times.
First, with the increasing advent of athleisure fashion and the rise of casual trends more generally, the sweatshirt dress is the perfect tool for bringing a relaxed yet polished vibe to nights out on the town.
Second, we all know working from home is the new normal.
Unfortunately Zoom calls require the mildest nod toward the pre-COVID antiquated notion of getting dressed up for work, but the sweater dress can strike the perfect balance between comfortable and professional.
To get on board with one of this season's hottest fashion trends, keep reading for our 6 favorite sweatshirt dress looks for women!
Keep reading, or pin this article to save it for later ⇟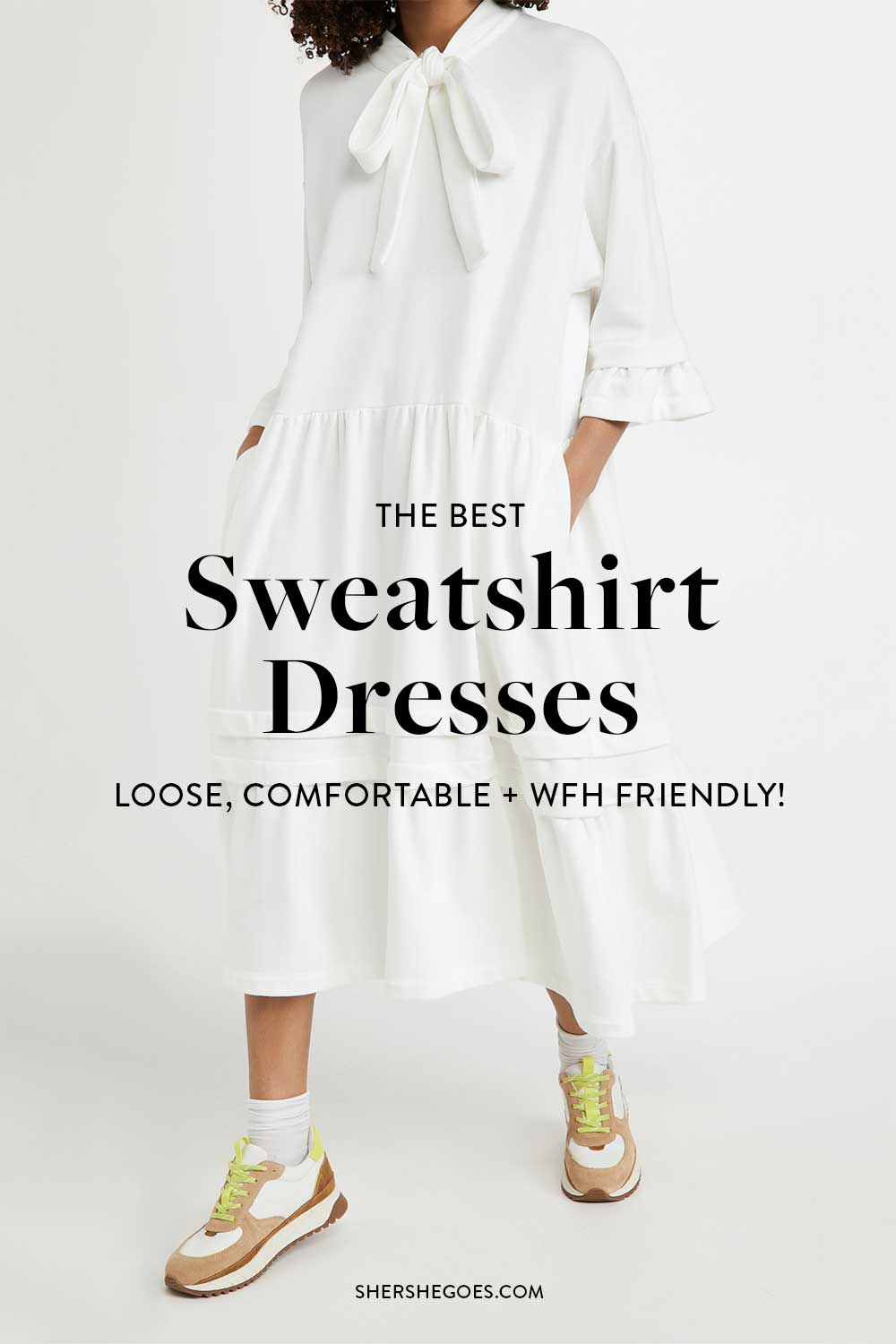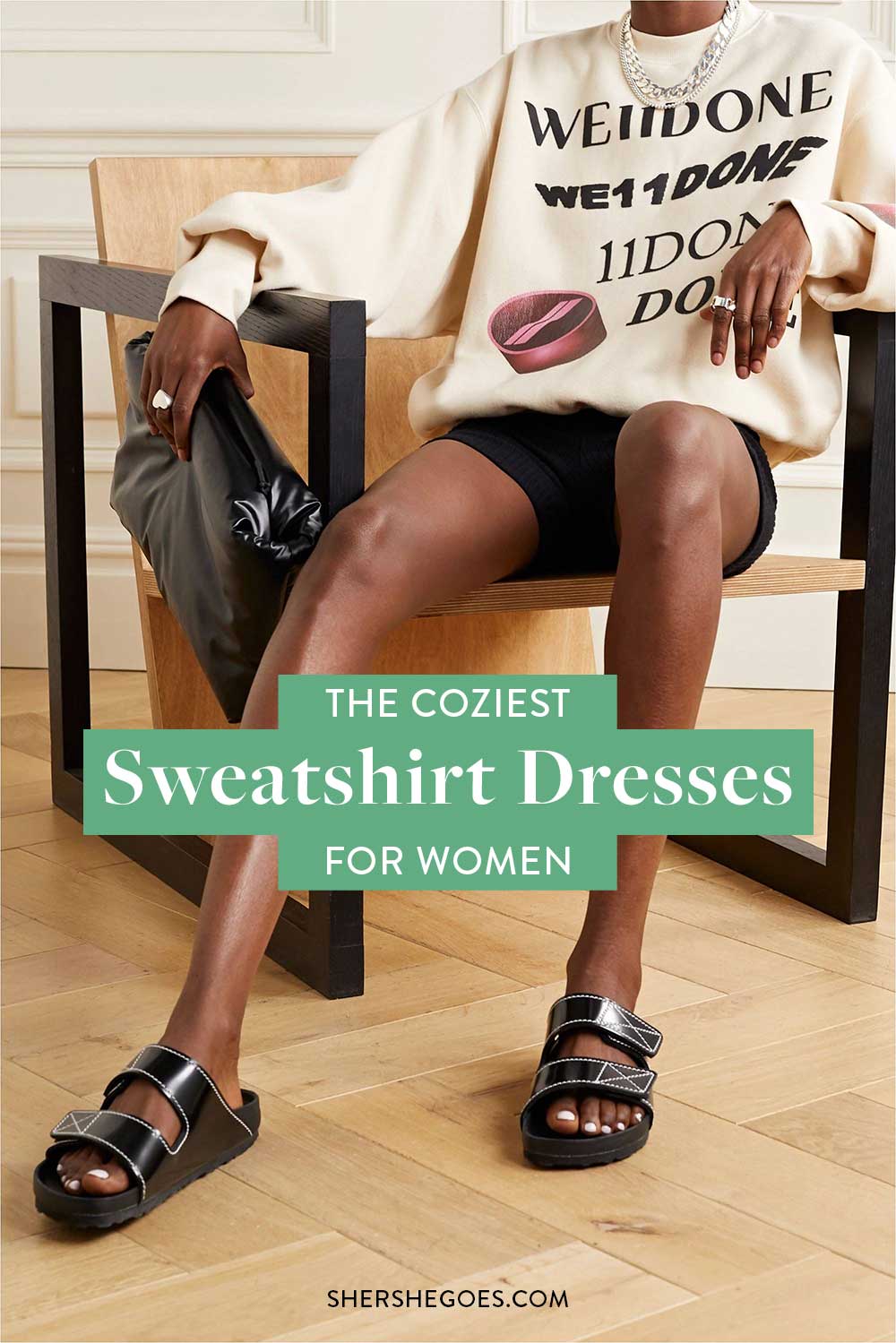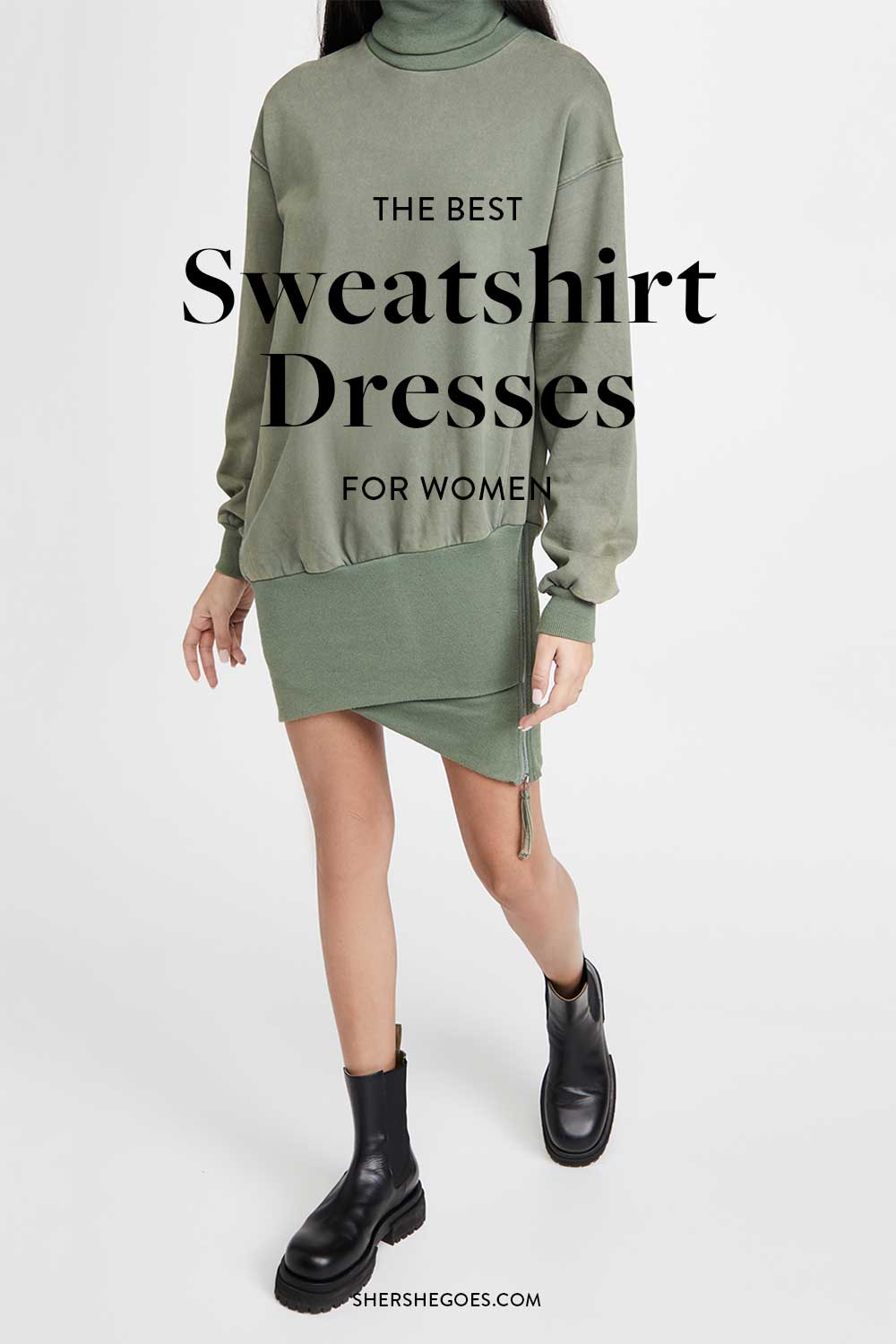 ---
---
The Best Sweatshirt Dresses for Women (2021)
From the hooded to the oversized and the plus size, check out our 6 favorite sweatshirt dresses below!
Top Sweatshirt Dress Brands
---
---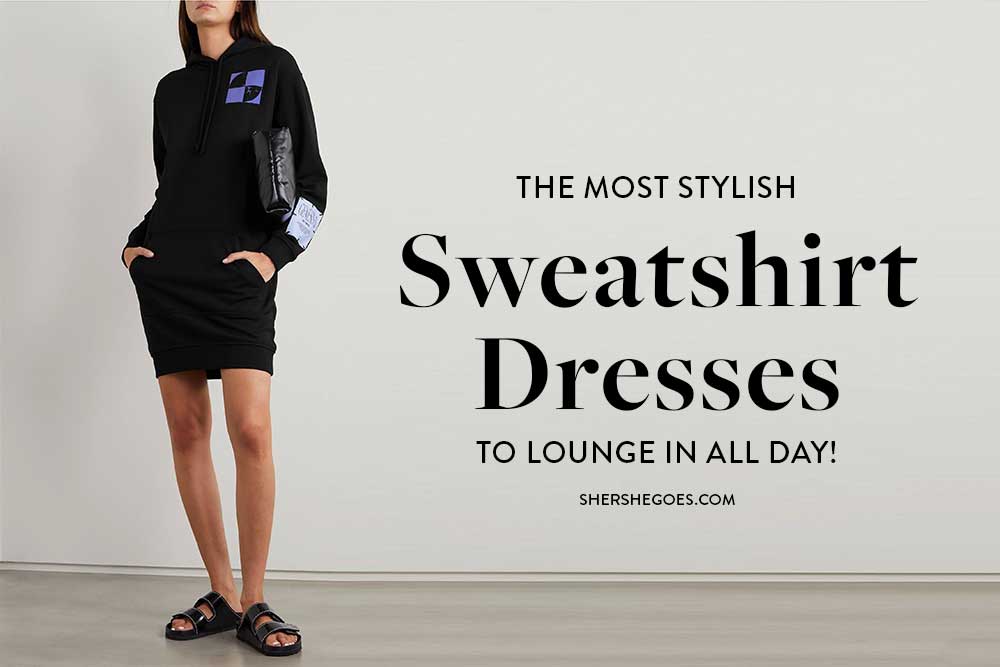 The Best Sweatshirt Dresses
Best Sweatshirt Dress with Pockets: Toad & Co
---
---
Best Oversized Sweatshirt Dress: Splendid
Oversized looks are all the rage these days, and honestly why should anyone complain about that?
I mean who wouldn't want to have a little more room to be cozy or hide your beautiful imperfections?
Plus, this sweater dress from Splendid is especially comfortable thanks to being made with rayon, a synthetic fabric that is designed to mimic the touch and feel of luxury fabrics such as silk!
---
---
Most Comfortable Sweatshirt Dress: LAmade
This sweater dress from aptly-named LAmade has all the hallmarks of the perfect California casual look, including a cute tunic cut, long bell sleeves, and an adorably brushed cotton-polyester fabric blend!
---
---
Read More in my cozy at home series:
Loungewear
Amazon Fashion Finds: Comfortable Loungewear
The Cutest Matching Loungewear Sets
Comfortable Jumpsuits & Rompers to Work from Home In
The Best Pajamas to Netflix & Chill
Matching Pajama Sets that Still Look Stylish
Cozy & Comfortable Bralettes
Fun Tie Dye Lounge Wear Outfits
10 Work from Home Outfit Ideas
Everlane Bralette Review
Athleisure
The Best Athleisure Outfits You Can Grab on Amazon
6 of the Best At Home Workouts - Currently Free!
Comfy Faux Leather Leggings that Work with Any Outfit
Everlane Legging Review
Comfortable Shoes
The Best Minimalist White Sneakers
Cute Casual Sneakers to Wear Anywhere
Slip on Sneakers for Casual Days
The Best Comfy Slippers for Women
The Best Comfy Mens Slippers
The Most Comfortable Boots to Wear All Winter Long
Cozy Home
How to Program Smart Lights to Act as a Sunrise Clock
The Coziest Home Decor to Create a Sense of Hygge
How to Dress a Bed as Luxuriously as a 5 Star Hotel
Follow Sher She Goes on
Youtube | Instagram | Facebook | Twitter | Pinterest | Bloglovin