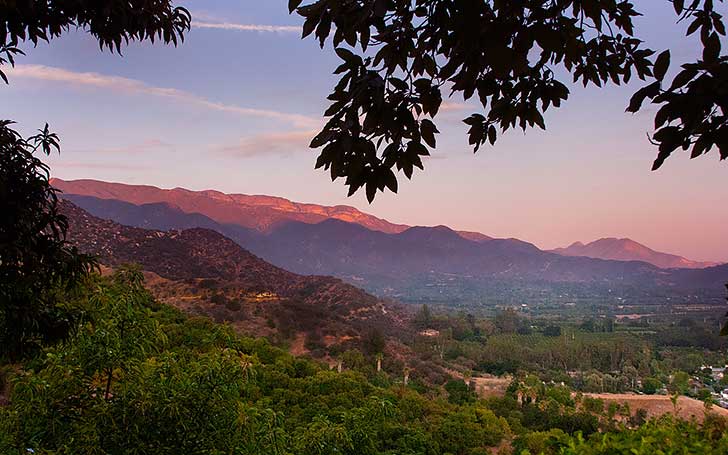 Where to Stay in Ojai, California
Nestled between California heavyweights Los Angeles and Santa Barbara, Ojai is quickly becoming one of southern California's worst kept secrets when it comes to fantastic vacation spots.
Lying in the eponymous Ojai Valley, Ojai is charmingly eclectic city rapidly earning fame for its outdoor, spiritual, and artistic offerings (oh, and because it's located in a California valley, there's plenty of wine, too!).
Keep reading for the best spots to stay on your visit to Ojai, CA!
---
---
The Best Hotels in Ojai
Here's a handy chart of our recommended Ojai hotels. All include free wifi and are known for comfort, good location and great customer service.
Best Ojai Hotels – Summary Comparison Chart
Below is more information about each hotel and why we recommend it!
---
---
Casa Ojai Inn
With spacious rooms, stained wood furniture, and classic California adobe architecture, the Casa Ojai Inn blends the amenities of a full-service hotel with the décor and charm of a rustic bed and breakfast.
The Casa Ojai Inn offers a range of accommodation options, and most rooms come with full kitchens, spa tubs, and patio access, which is perfect for grilling out in the beautiful southern California sun!
---
---
Ojai Retreat
A premier southern California bed & breakfast, the Ojai Retreat offers the perfect opportunity to unwind, relax, and – you guessed it – retreat to find your inner peace!
Organic breakfast is offered seven days a week, and the Ojai Retreat also serves as an important locus for many community events, offering guests a unique opportunity to connect with the local community.
---
---
Emerald Iguana Inn
Ojai hotels are already famous for the beautiful yet unique designs, but the Emerald Iguana Inn takes my cake when it comes to breathtaking beauty.
The cottages and guest suites are adorned with everything from hand-carved stone to sculptures from local artists. Outside, the Inn seemingly doubles as a lush rainforest as oak, sycamore, pepper, orange, and avocado trees can be found throughout the facility.
---
---
Su Nido Inn
Spanish for your "Your Nest" (more on the avian theme later), Su Nido Inn is a luxurious cottage-style inn located in the heart of the Ojai Valley.
One of the great things Su Nido Inn does is actively offer packages that allow guests to get involved in the greater Ojai community. Check out their golf packages in collaboration with the Soule Park Golf Course or the Ojai Adventure Package, my personal favorite, which features guided bicycle tours of Ojai!
---
---
Ojai Valley Inn & Spa
Appropriately located on Country Club Road, the Ojai Valley Inn & Spa is truly the Rolls-Royce of Ojai living. Conde Nast Traveler included the Valley Inn on its 2015 Top 100 Hotels in the World list, and with first-class facilities located among over 200 acres of oak tree-lined acres, it's not hard to see why!
---
---
And that's it! Hope our guide has help you sorted where to stay in Ojai.