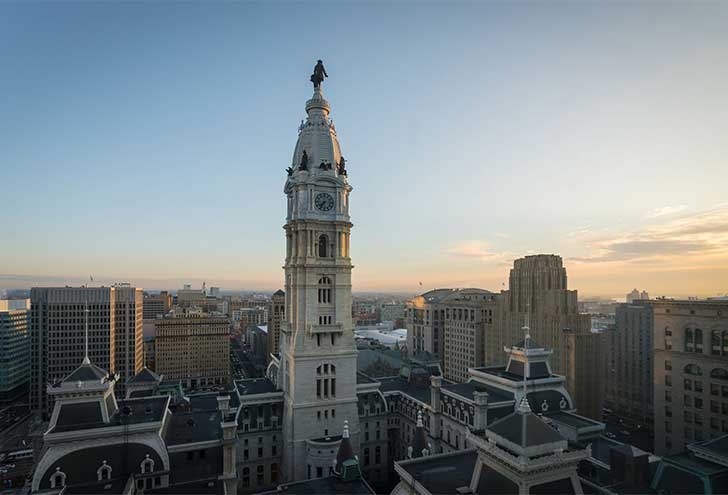 Where to Stay in Philadelphia
Often unfairly forgotten in the densely populated northeastern U.S., Philadelphia blends the culturally rich history of America's first capital with the modern vibrancy of the country's sixth-largest city.
Whether you're exploring one of Philadelphia's 80 colleges and universities, exploring the lively outdoor art scene (Philadelphia has more outdoor murals and sculptures than any American city), or simply hankering for a Philly cheese steak, there is plenty to see and do in the City of Brotherly Love.
Keep reading for our favorite places to stay in Philadelphia, PA!
---
---
Best Hotels in Philadelphia, PA
To summarize, here's a handy chart of our recommended Philly hotels. All include free wifi and are known for comfort, great locations and great customer service.
Best Philadelphia Hotels – Summary Comparison Chart
Below is more information about each hotel and why we recommend it!
---
---
The Rittenhouse Hotel
Located in Philadelphia's bustling Center City district, The Rittenhouse offers an unparalleled luxury hotel experience adjacent to Rittenhouse Square, the most famous of five open-space parks originally planned by William Penn.
Despite being in America's second-most densely populated neighborhood (after New York's midtown Manhattan), The Rittenhouse offers the most spacious accommodations in Philadelphia: guest rooms range from 450 – 600 square feet, and suites range from 650 – 2,000 square feet.
---
---
The Ritz-Carlton, Philadelphia
Originally built as a Pantheon replica in 1908, the building that currently houses the Ritz-Carlton Philadelphia is as steeped in tradition as any.
With a recently completed $25 million renovation yielding brand new guest rooms and suites, a new club lounge, and a brand-new restaurant & bar, the Ritz-Carlton Philadelphia is the perfect mix of history and modern luxury.
---
---
Cornerstone Bed & Breakfast
It would be impossible to review hotels in a northeastern city without a proper bed & breakfast, which is why Cornerstone, Philadelphia's premier bed & breakfast, makes an appearance here!
Built over 140 years ago as a private Victorian residence, the Cornerstone breakfast has retained many of its original features, including gorgeous stained-glass windows and an incredible wrap-around porch offering stunning views of Philadelphia's leafy University City neighborhood.
---
---
Hilton Inn at Penn
Replete with stunning views of the University of Pennsylvania campus the Hilton Inn at Penn offers the perfect window to explore why Philadelphia is one of America's most treasured college towns.
With newly renovated rooms and suites, complimentary dining options at the University Club, and the Gothic Revival architecture of Penn's campus feet away, it's impossible not to remember the good ole' days at the Inn at Penn!
---
---
Hyatt at the Bellevue
When it comes to seeing Center City at the "height" of its glory, no place has you more covered than Hyatt at the Bellevue.
After you finish checking into one of the Hyatt's 172 rooms, check out XIX (Nineteen) for the stunning skyline and terrace views accessible from Philadelphia's tallest restaurant, bar, and café!
---
---
And that's it! Our guide to Philadelphia's best hotels to make the most of your stay.
Whether you're a family looking for a hotel in University Center to visit students or a convenient downtown Philadelphia hotel, these top hotels in Philly are sure to please.
Follow Sher She Goes on