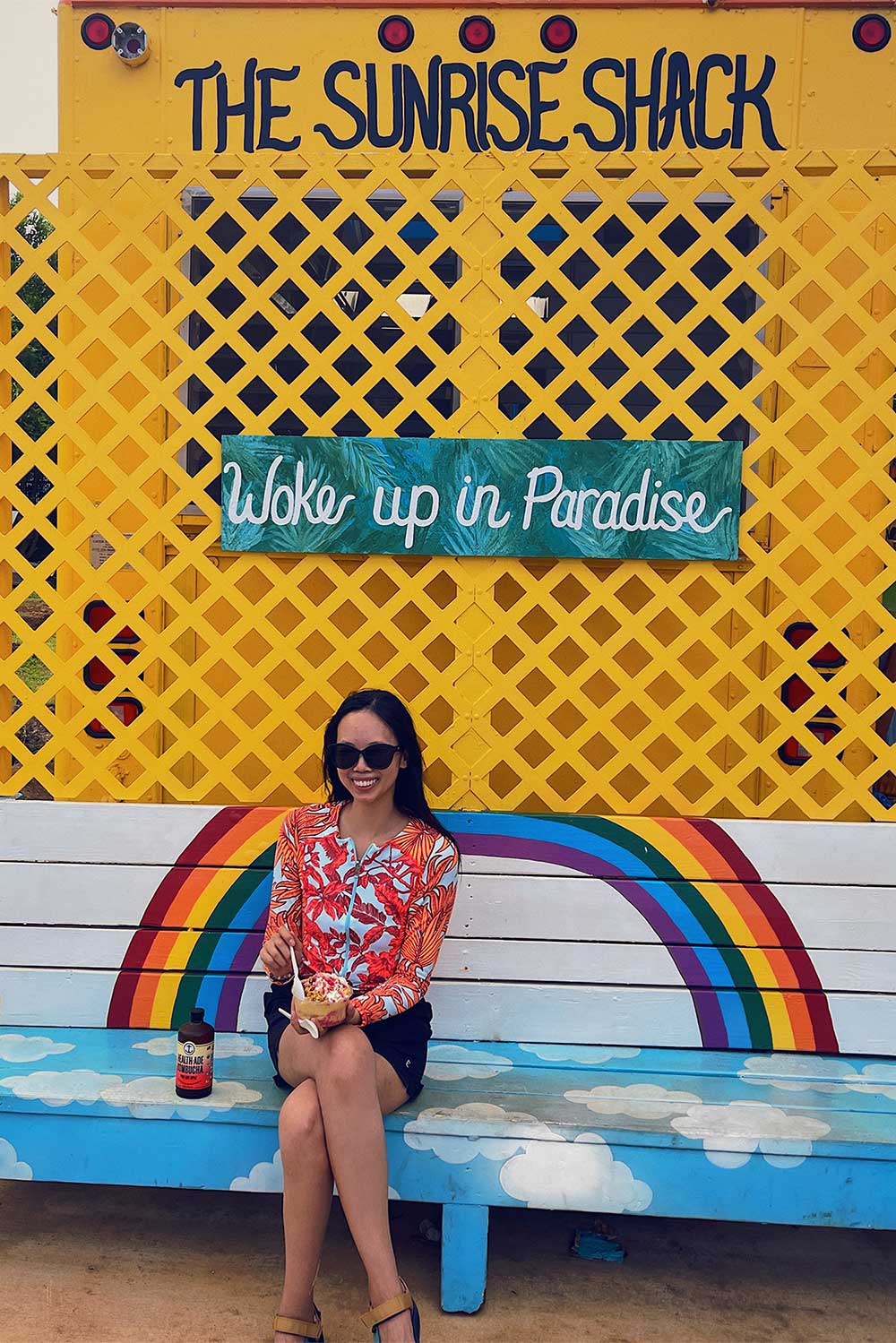 North Shore, Oahu
When planning our trip to Hawaii, one thing we heard over and over again was, "Make sure you check out the North Shore!"
We're so glad we followed everyone's advice and took a couple days to explore outside of Waikiki! Visiting the North Shore was like seeing another side of the island.
It was wild and rugged, with lots of rural farms and empty dirt roads.
The beaches felt nearly deserted compared to the crowds on Waikiki, and the colorful plantation-era buildings and roadside food stalls were the only signs of 'development'.
Oahu's North Shore was like visiting the Hawaiian heartland, where country remains country.
ADVERTISEMENT
Quickly jump to a section:
Keep reading, or pin this article to save it for later ⇟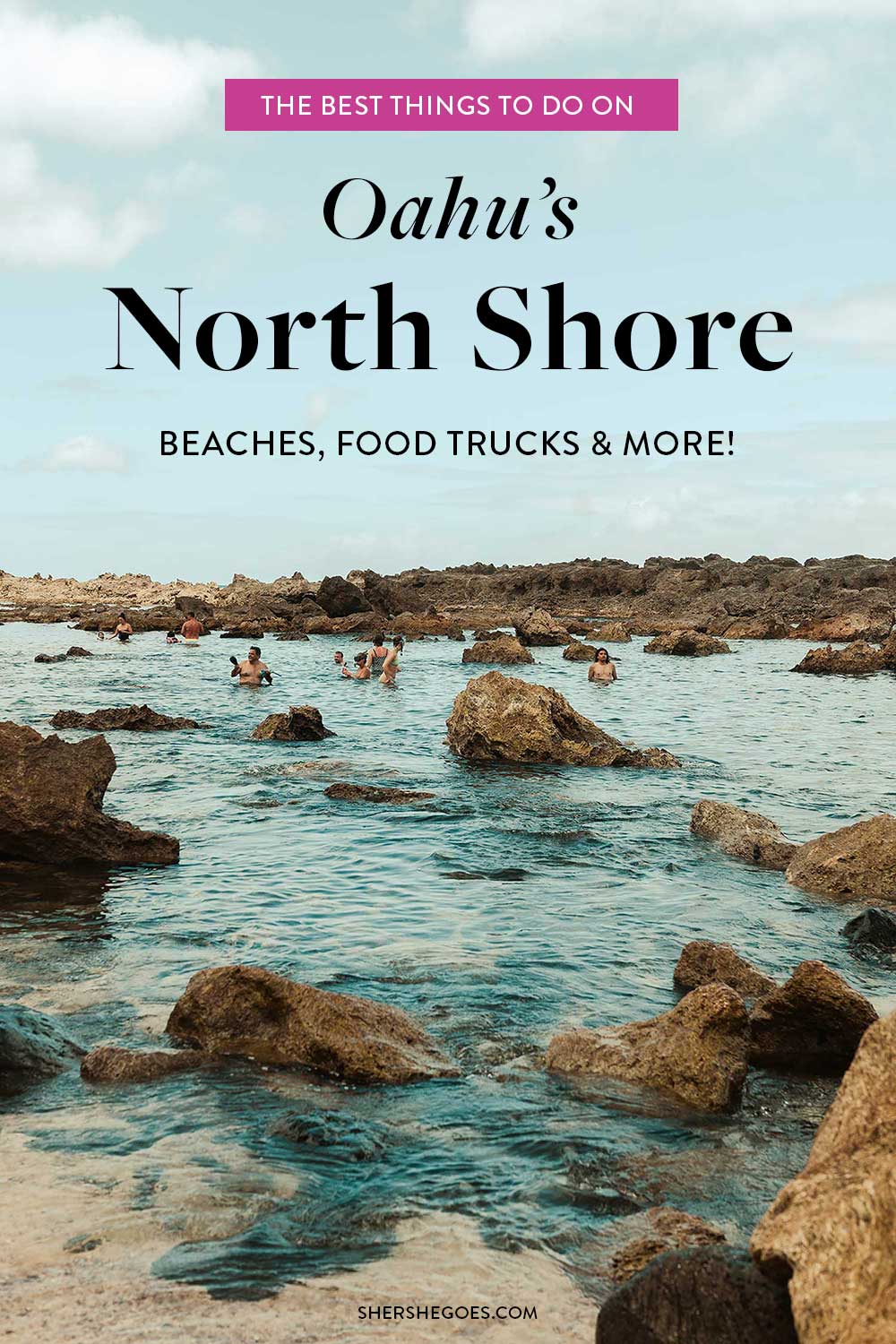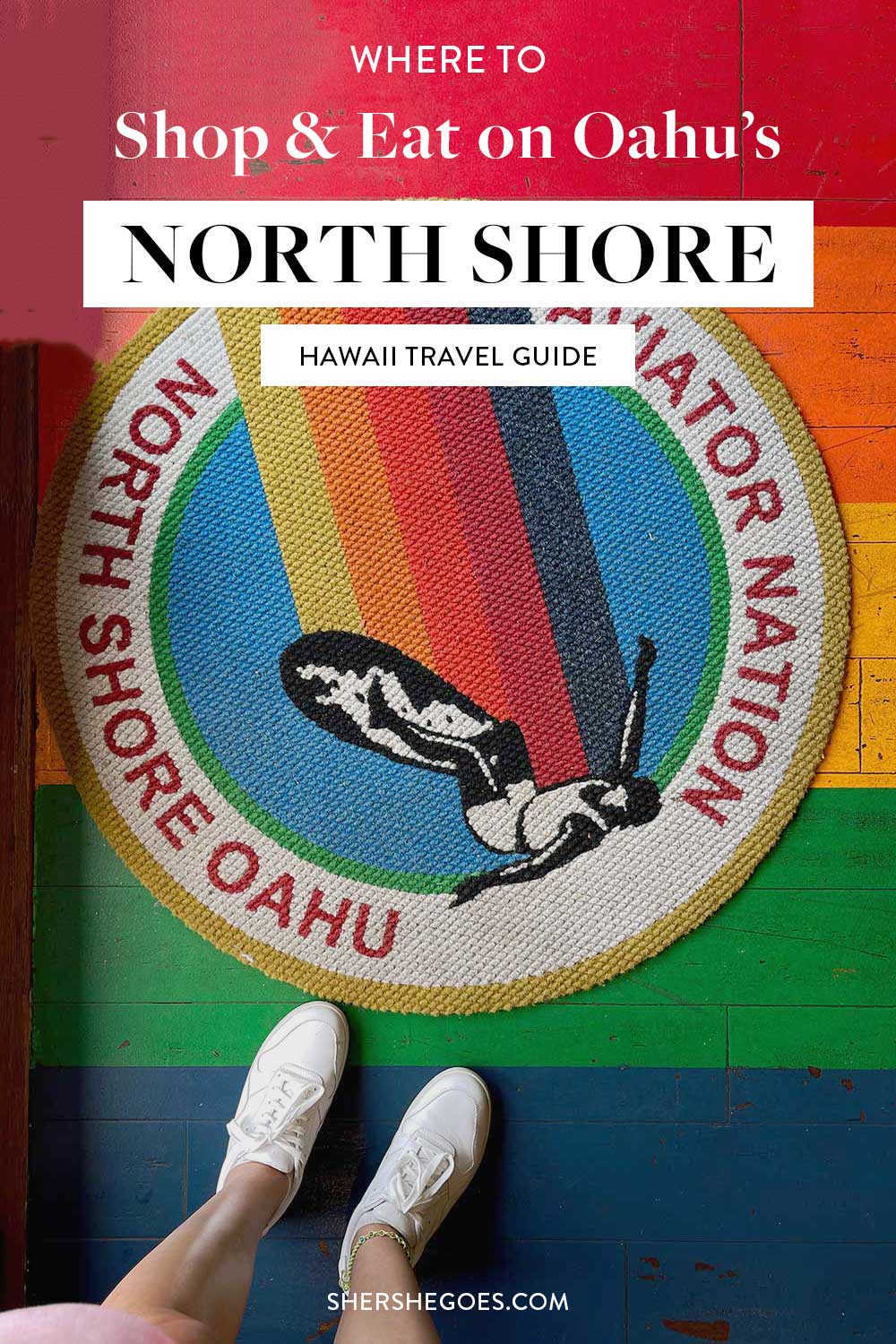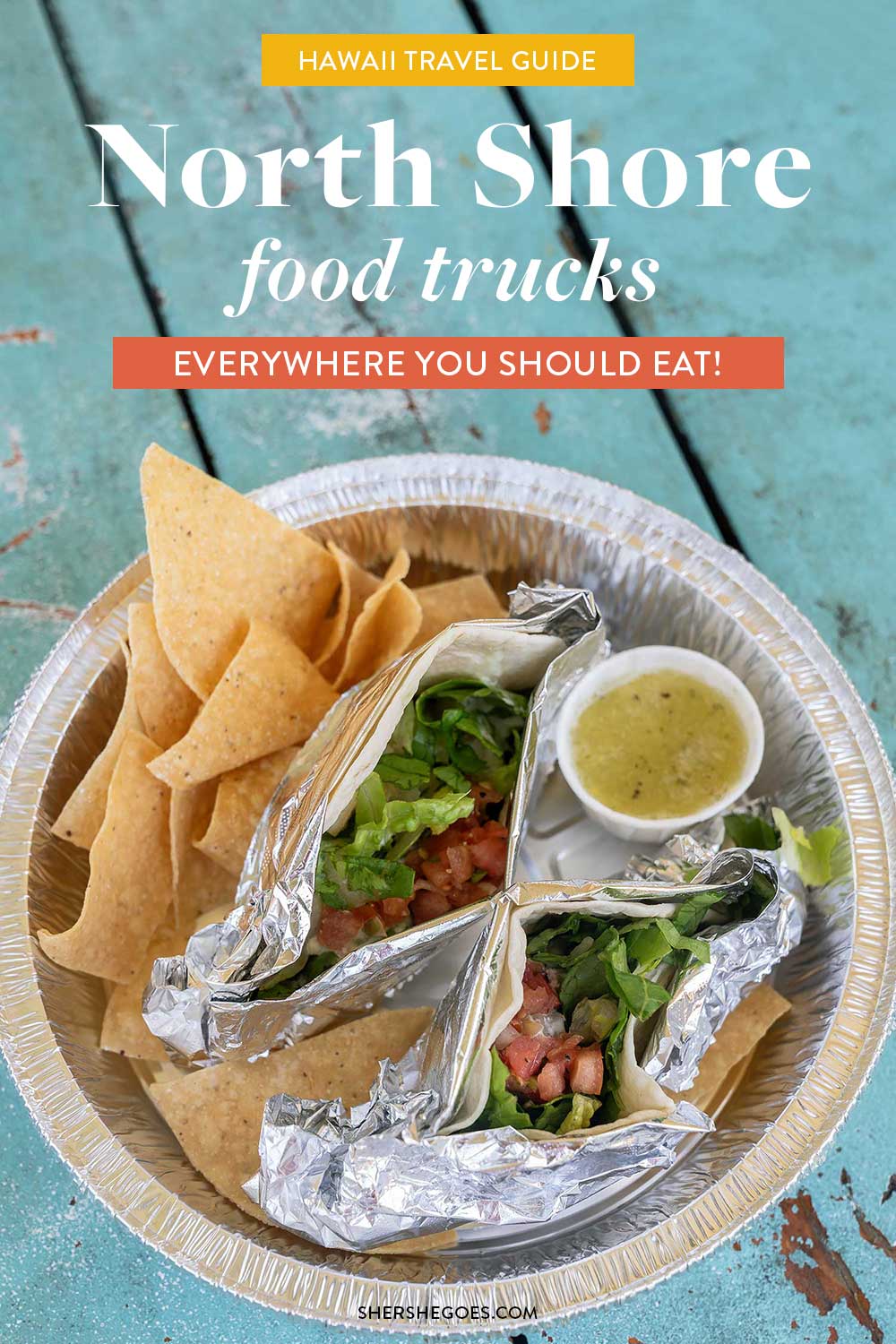 ADVERTISEMENT
---
---
The North Shore
While the secret's out on the North Shore, the coastline still feels quite natural and local despite all the tourists.
The North Shore region starts at Kahana Bay and ends at Ka'ena Point.
In between, there's a series of beaches, towns and quaint neighborhoods dotted throughout the area and it's a great idea to head up without any plans and see where the day leads.
Read more:
Where to Stay on Oahu
ADVERTISEMENT
---
---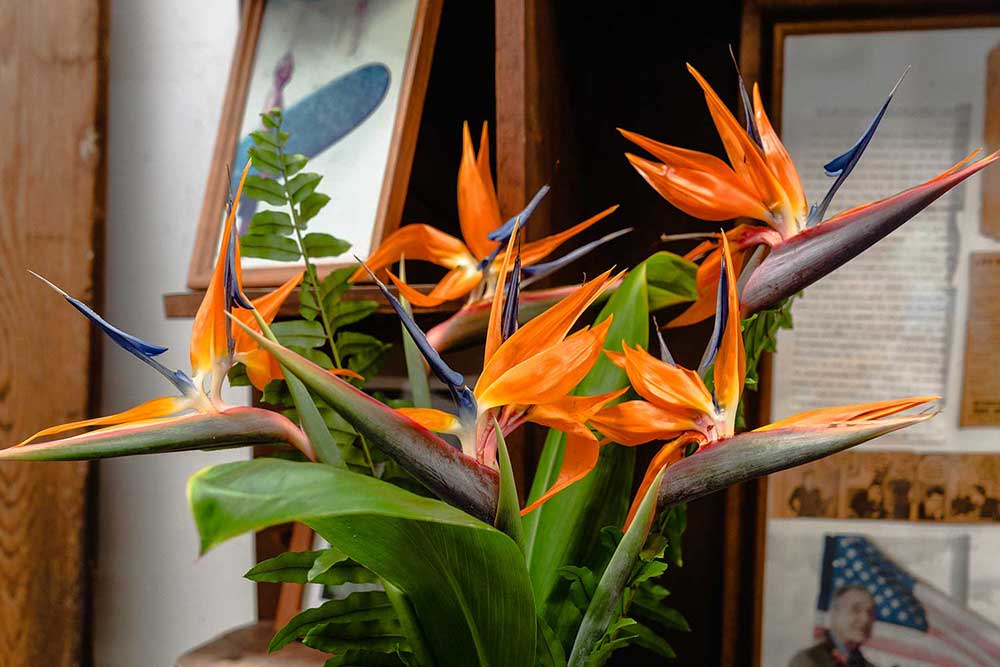 For beach lovers, there's over 7 miles of epic beaches on the North Shore.
In winter, during Hawaii's surf season, surfers come from all over the world to race the waves. Swells on the north side can tower over 30 feet and a couple major surf competitions are held from November to February.
In the summer months, the waves are much gentler and perfect for swimming, snorkeling or beginner surfing.
If you love adventure, you can try almost any kind of water sport here, from paragliding to scuba diving, shark cage diving to swimming with turtles.
ADVERTISEMENT
---
---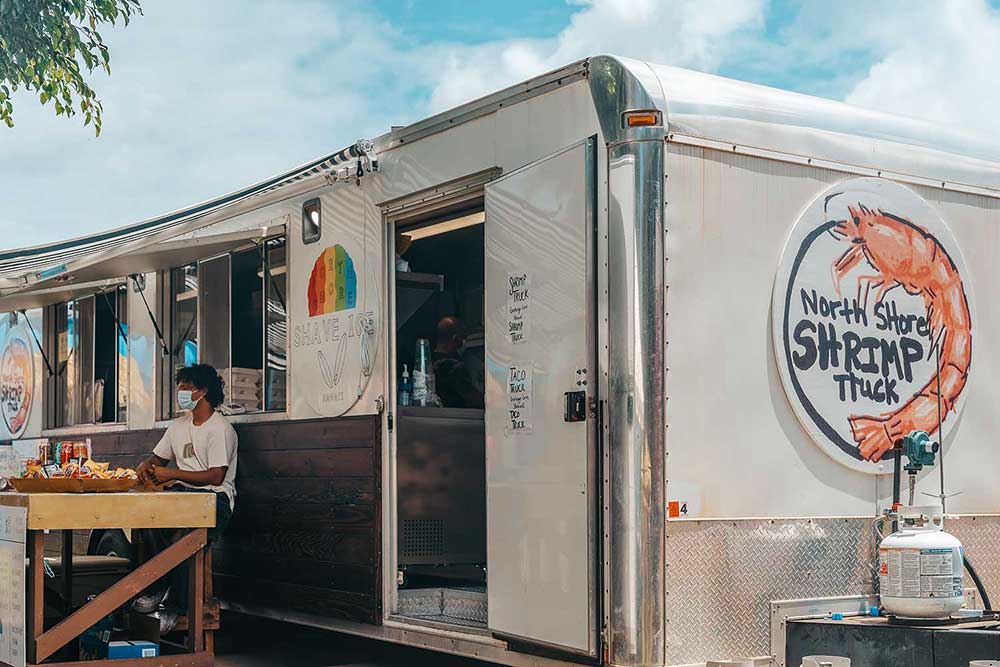 And of course, let's not forget the food!
Many of Oahu's most hyped restaurants and food stalls originated on the North Shore. Some have additional locations in Waikiki and around the island, but heading up here is a visit to the original source!
From acai bowls to fresh squeezed juices, garlicky shrimp to shave ice, you can find enough mouthwatering food to entice you to permanently relocate.
Spend a couple days in Hawaii's chilled out countryside and you won't regret it!
Read more:
The Best Beachfront Hotels in Waikiki
ADVERTISEMENT
---
---
How to Get to the North Shore
Oahu is pretty compact, so whether you have a couple days or two weeks, it's easy to fit a lot in on one vacation. Getting to the North Shore is roughly 1 hour from Waikiki, and there's a couple routes to choose from:
Quick Route
From glamorous Waikiki to the laid back North Shore, it's a fast and easy 40 minute drive straight north through the middle of Oahu. From your hotel in Waikiki, plug the surf town of Haleiwa into Google Maps and take the the H-1 and H2 freeway.
Just make sure to leave early to avoid traffic!
Scenic Route
Or, you can drive the slightly longer, but more scenic route. Head north east of Waikiki to the town of Kahuku by taking Highway 3.
You'll see spectacular views of the emerald Koolau mountain range, then continue north on Kamehameha Highway to loop eastward along the North Shore.
If you drive this way, you'll often have a great view of the shoreline right outside the passenger side of the car. Enjoy view after view of Oahu's most beautiful white sand beaches!
Read more:
The Best Things You Can't Skip on Oahu
ADVERTISEMENT
---
---
North Shore Day Trip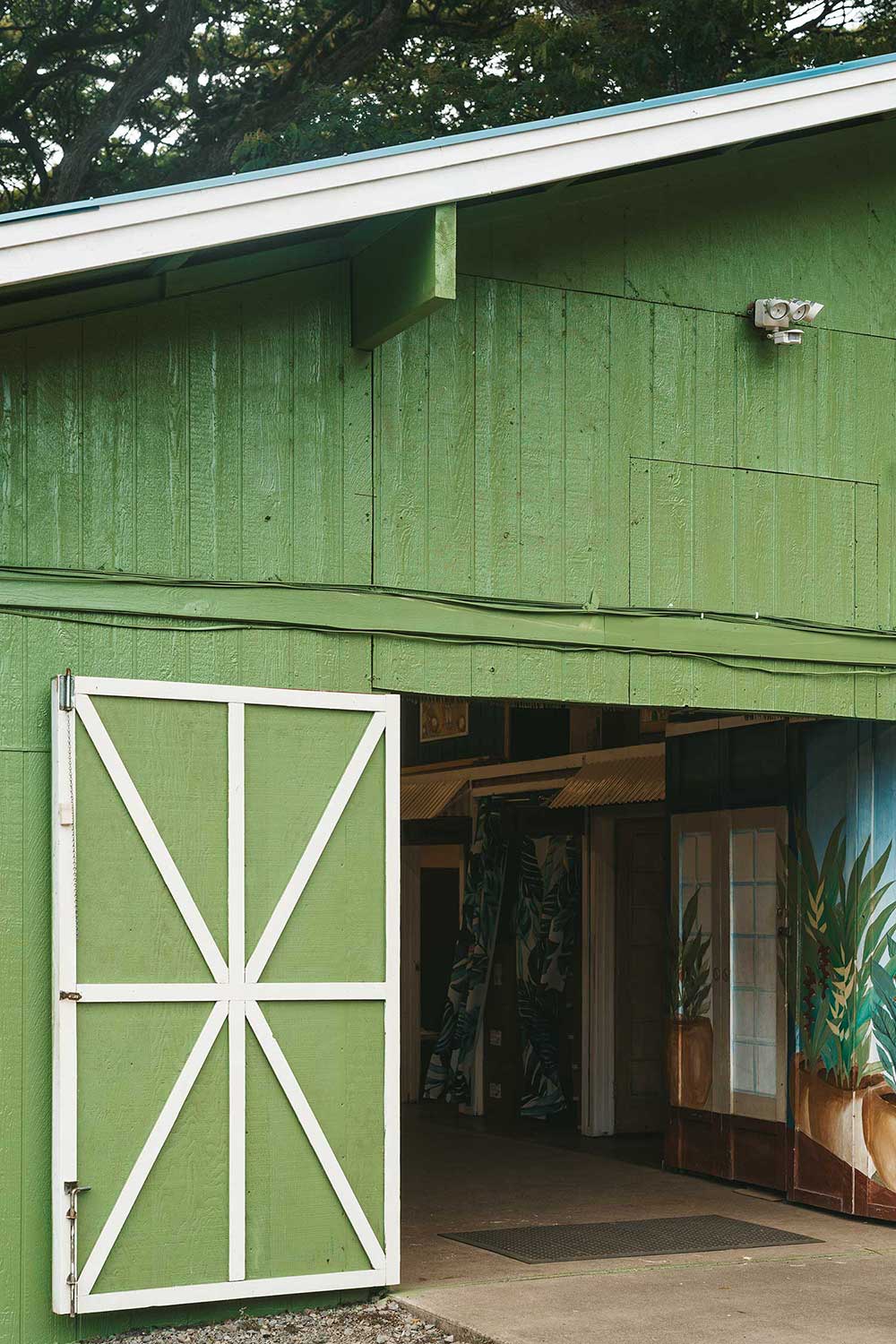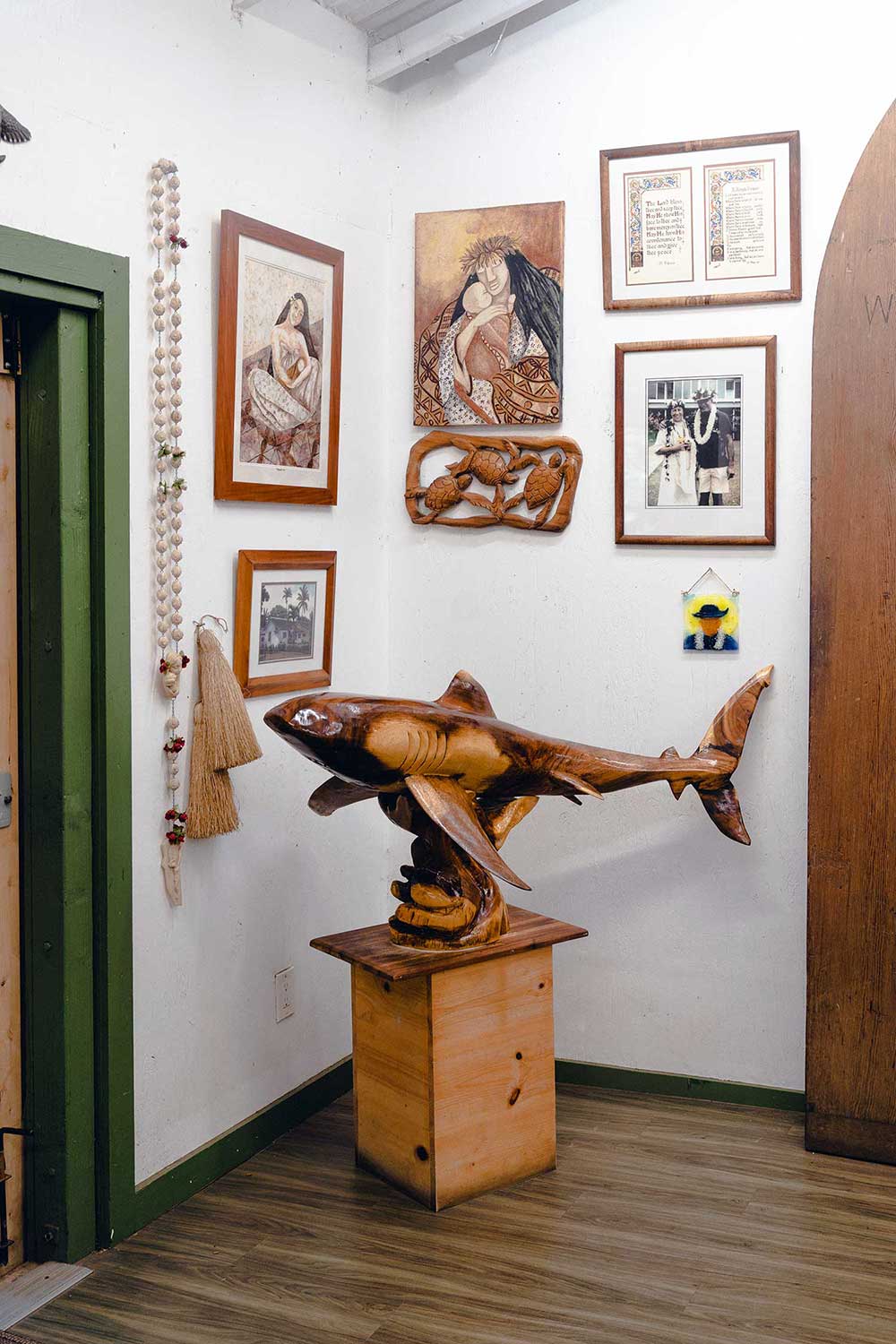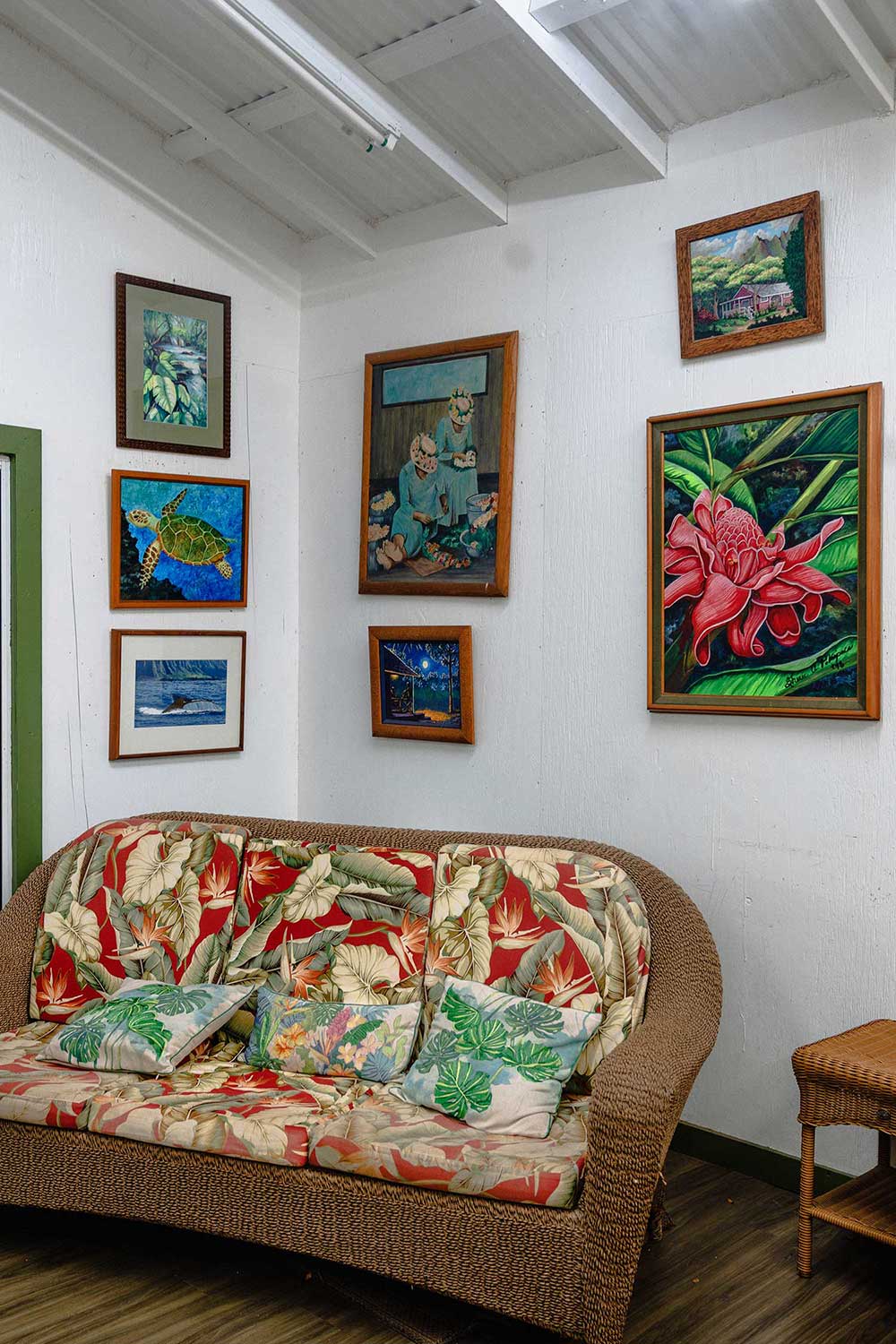 If you're staying in Waikiki, you can visit the North Shore in a day trip (or multiple day trips). It's roughly a 40 minute to 1 hour drive up from Waikiki. We recommend heading out early in the morning to avoid traffic.
Also make sure to book your rental car early.
Rental cars in Hawaii sell out quickly and car rates can get pricier as it gets closer to your travel dates. Try to reserve a car as soon as you can!
Almost all the main car rental agencies are present in Hawaii, including Alamo, Enterprise, Hertz, National, Dollar, Sixt, Thrifty and Budget.
But I found that local company Hawaiian Discount Car Rentals offered the best rate out of them all, so I recommend booking with them.
Browse car rental rates for your trip here.
ADVERTISEMENT
---
---
Where to Stay on the North Shore
Or, you can also stay on the North Shore!
Since the North Shore is more laidback and less developed, there's only a couple hotel options. Well, about 2 to be exact.
Turtle Bay Resort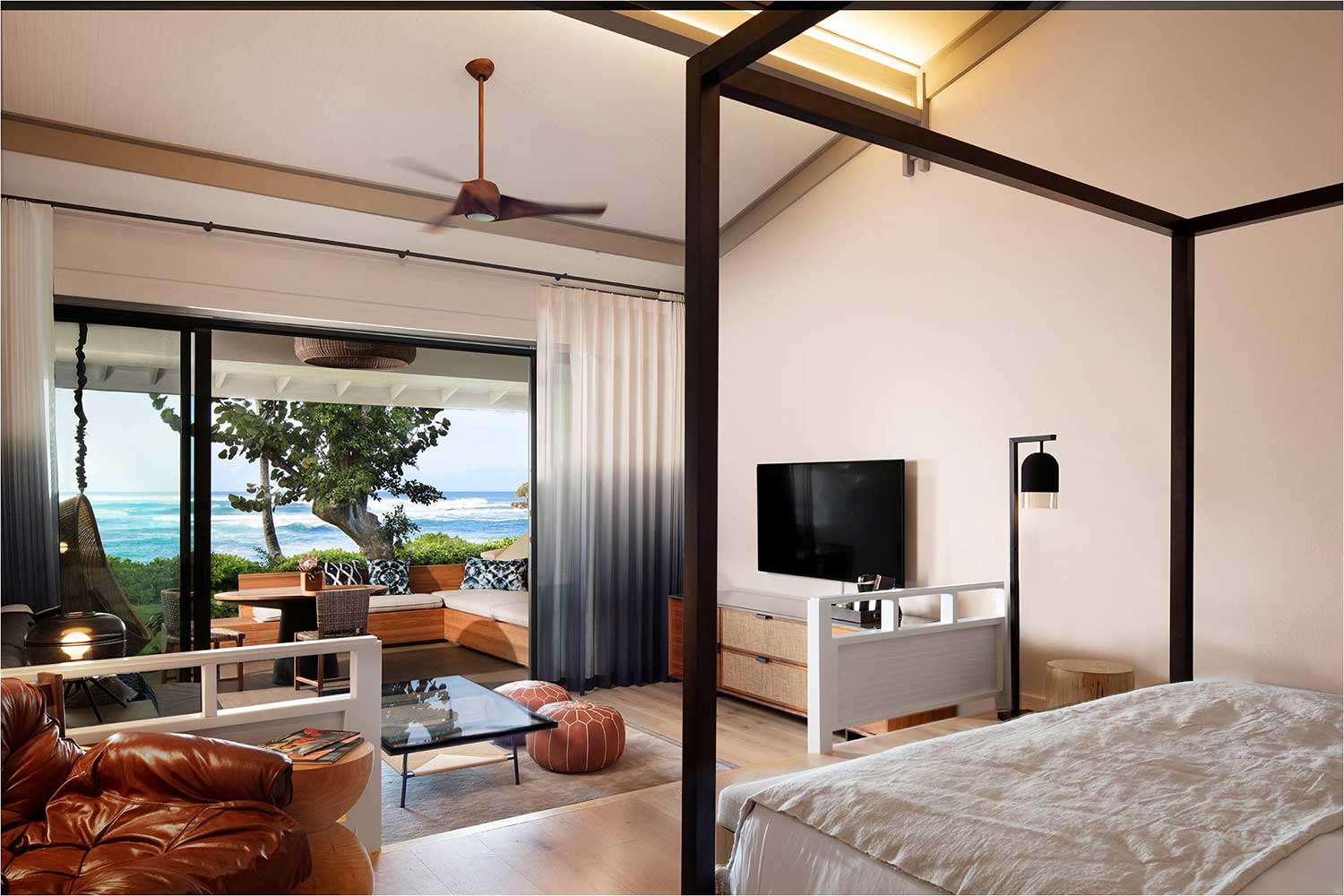 There's the luxurious beachside Turtle Bay Resort which is perfect for couples and families.
Turtle Bay has its own sheltered beach and offers tons of water activities like surfing, kayaking, paddle boarding, snorkeling etc. Like its name, you'll be able to see turtles here as you swim!
Book rooms: Booking.com, Hotels.com | Check rates: TripAdvisor
Courtyard Marriott Oahu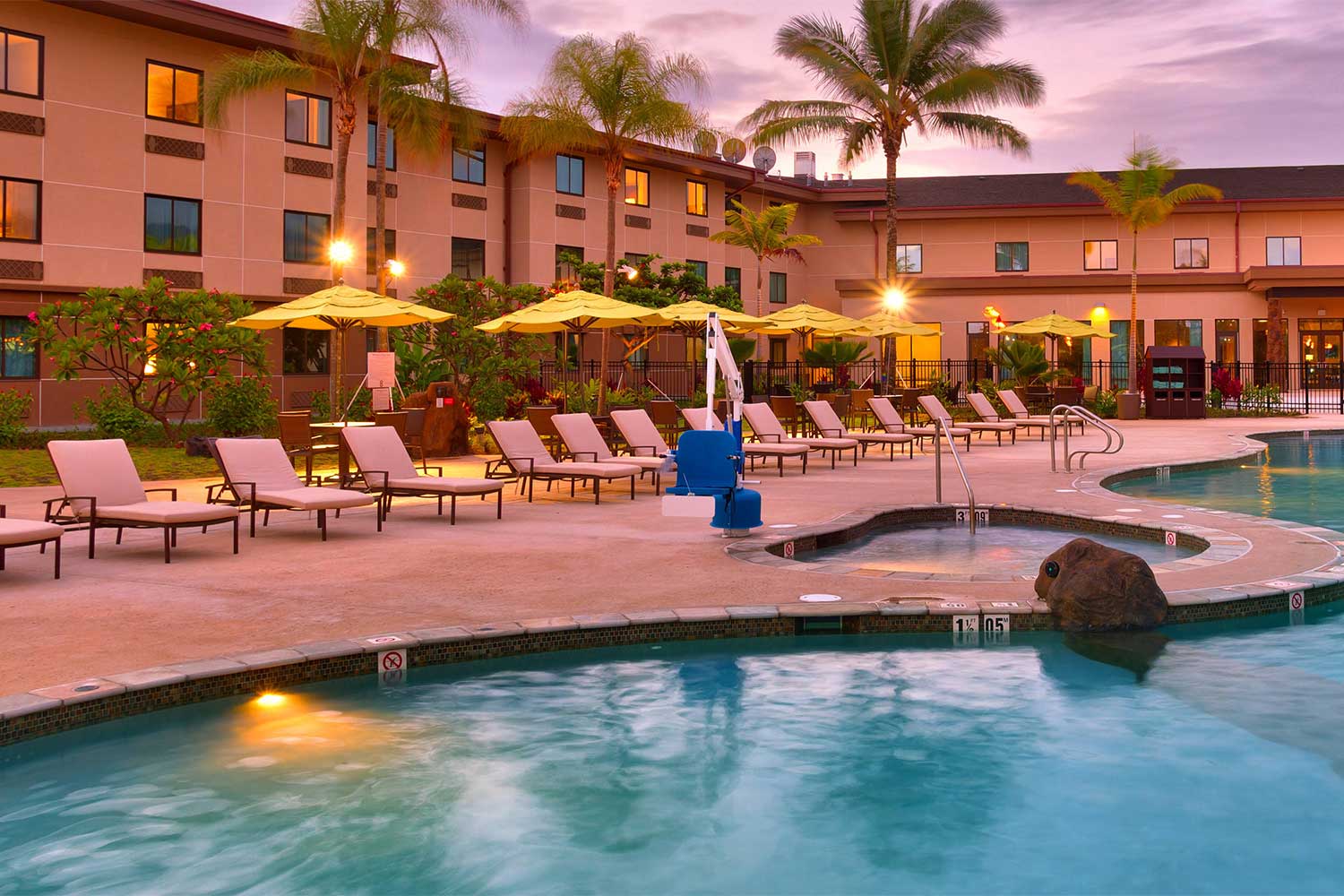 There's also a Courtyard Marriott located a little further east, near the Polynesian Cultural Center.
There's food trucks in the parking lot nearby and it's walking distance to the famous Polynesian Cultural Center luau so this hotel is a great family friendly option.
Book rooms: Booking.com, Hotels.com, Courtyard Marriott | Check rates: TripAdvisor
ADVERTISEMENT
---
---
Vacation Rentals on the North Shore
Otherwise, you'll find plenty of airbnbs, condos, VRBOs and short term rentals on the North Shore! Here are some of our suggestions:
Studio, Sleeps up to 4
This light and airy jungle retreat is perfect for a couple, families traveling with young kids or friends.
It's located in a gated secluded neighborhood on the North Shore just 3 minutes from the best beaches and surfing.
The studio apartment has its own entrance and has recently been renovated to a clean, comfortable and airy retreat. There's also a kitchenette if you wish to cook!
Check availability here.
Studio, Sleeps 3
This luxurious condo is great for couples. It's located by Turtle Bay Resort and not only does it have lake and ocean views, but it's right near the famous local golf course.
The updated condo has a gourmet kitchen, washer/dryer, tv with cable, netflix, etc plus a balcony!
Couples traveling on holiday who want an affordably luxurious place to stay will love this!
Check availability here.
5 Bedroom Home, Sleeps up to 10
If you're traveling as a group, check out this luxurious North Shore villa!
The elegant home is located in the Pupukea Highlands and feels like its own private retreat. Not only does it have pristine views of the ocean, Mt. Kaala sunsets and a pool, it also has multiple bedrooms and lots of room for multi-general families or couples traveling together.
Finally, it's got a fantastic location right in between Haleiwa Town and Turtle Bay resort. World class surfing, golf and water sports are just a short drive in either direction.
Check availability here.
ADVERTISEMENT
---
---
Visiting the North Shore Without a Car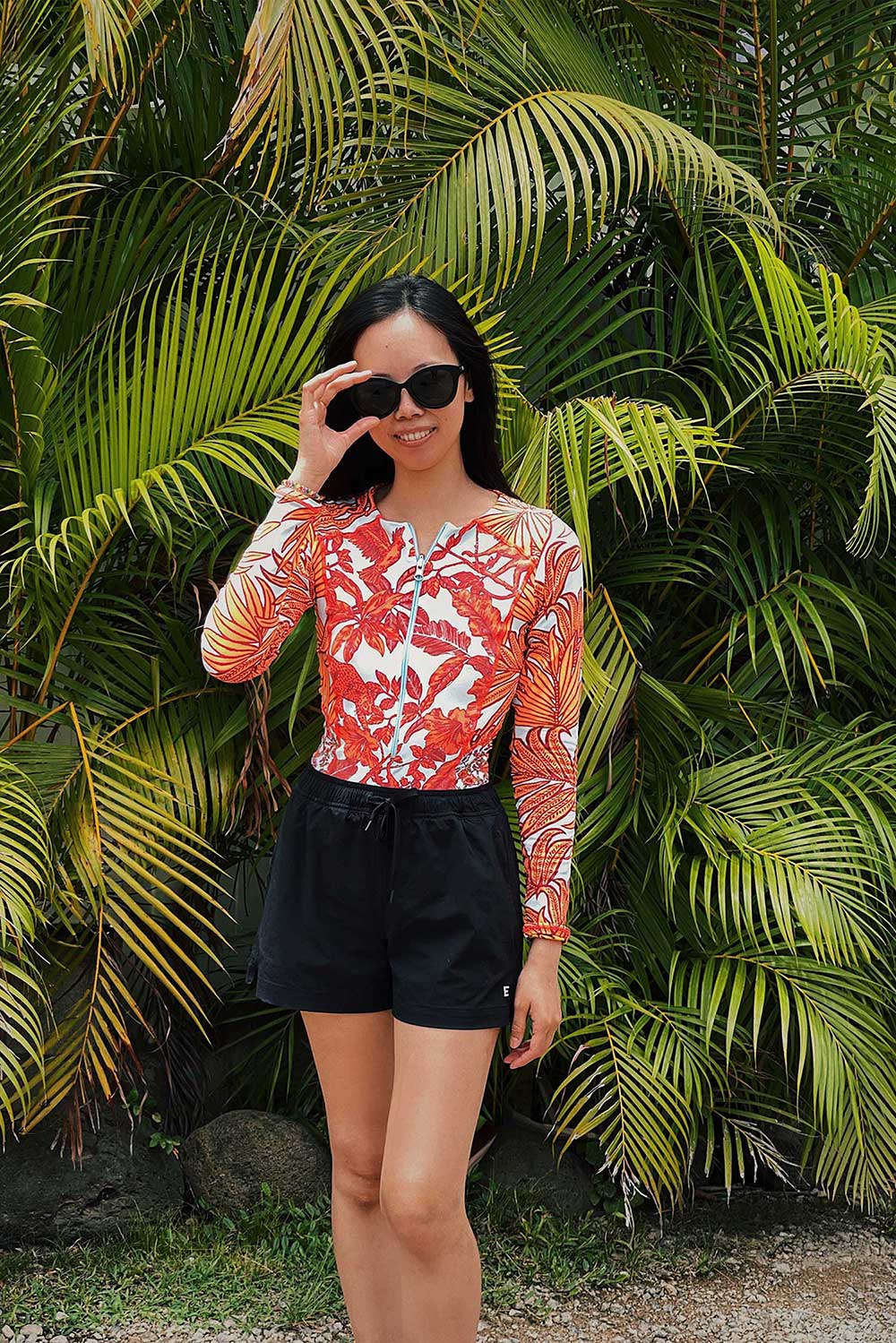 If you don't plan to rent a car, don't worry, you can still visit the North Shore!
There are lots of great tour options that will take you all around the island on a full day trip.
It can be really convenient, because the local tour guides know all the best spots (and photo opportunities) on Oahu and they take care of transportation!
This North Shore Tour is the most popular, as it combines sightseeing and activities.
It picks up from Waikiki Beach and heads straight to the North Shore.
You'll get to see surfers catching towering high waves at Banzai Pipeline, one of the best surfing spots in the world (Blue Crush was filmed here!).
Throughout the day, you'll explore both the North and East sides of Oahu, hitting up a lot of the most popular sights like Waimea Bay and Waterfall, Haleiwa surf town, the Dole Plantation, Halona Blowhole, Chinaman's Hat, Tropical Nut Macadamia Farms and more.
No need to worry about parking, directions or planning – the tour takes care of everything so you'll have a great time visiting all the highlights in one day!
Check tour availability here.
Read more:
The Best Hotels in Kauai
ADVERTISEMENT
---
---
Best Things to Do on Oahu's North Shore
1. Explore Haleiwa Town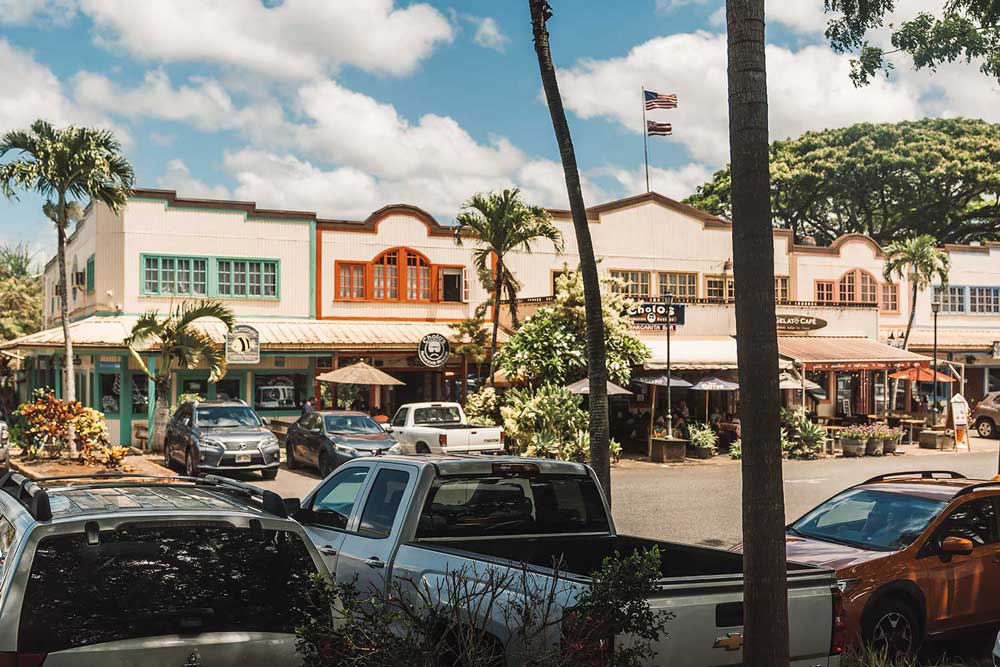 Haleiwa is the main town on the North Shore and you'll definitely feel the 'country' vibe here!
It's laidback, colorful and filled with clusters of shops, restaurants and art galleries.
The buildings are colorful plantation-era structures that have been converted to fun surf shops and brunch spots and it's a really fun afternoon to just walk around, browse, find some souvenirs and grab a bite to eat!
Plus, there's a couple big parking lots so you can easily park in one area and walk from section to section. It's a great way to spend the afternoon!
ADVERTISEMENT
---
---
2. Go Shark Cage Diving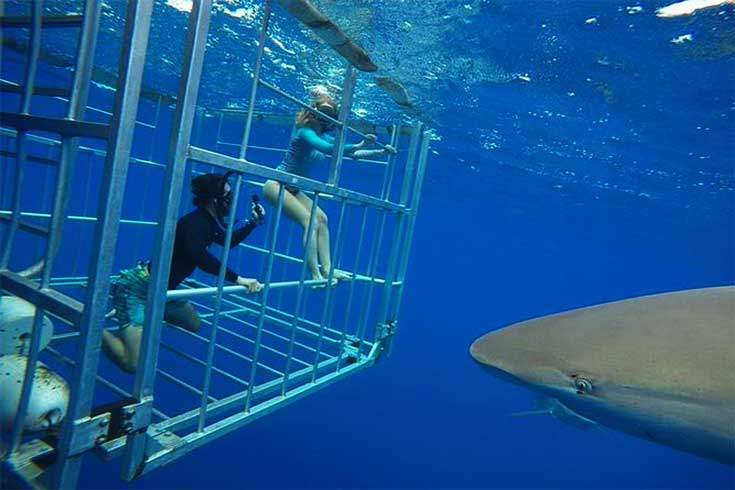 If you're super adventurous, there's a once-in-a-lifetime activity you can do on Oahu's North Shore: go diving with sharks!
You can dive with sharks both in a cage or swim with them out in the open, sans cage. The crew is super experienced and it's a once-in-a-lifetime thrill.
Tours depart from Haleiwa harbor on the North Shore and you often get the bonus of seeing turtles, dolphins and (humpback whales in winter) along the way!
The most commonly sighted sharks around Oahu are Galapagos, Hammerhead, and Sandbar sharks, which range from 5-15 feet.
Check availability here.
ADVERTISEMENT
---
---
3. Go Snorkeling at Shark's Cove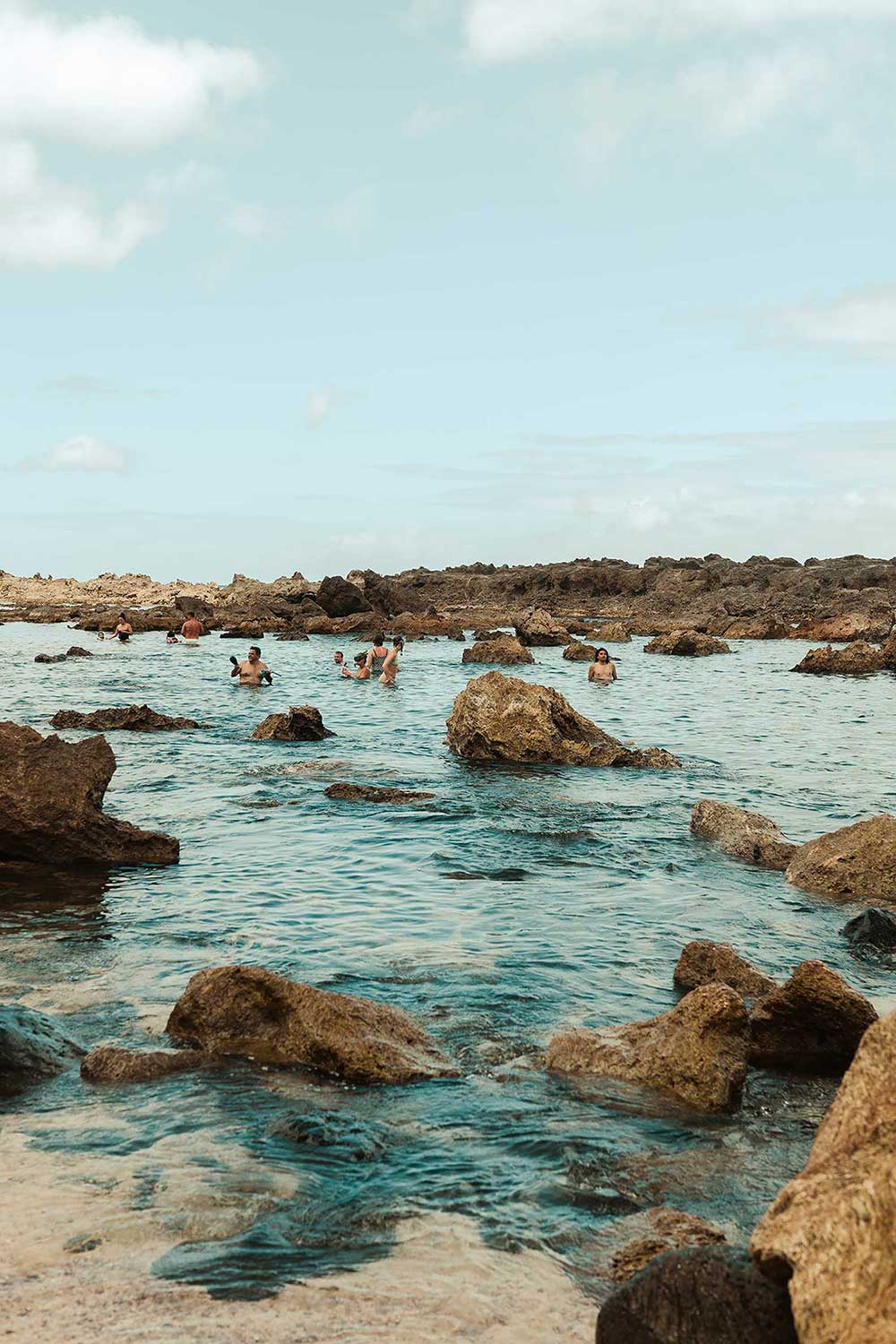 Snorkeling is a must do while you're in Hawaii!
One of the best spots to spot colorful fish and coral reefs is at Pupukea's Beach (aka Shark's Cove) on the North Shore.
The natural tide pools aren't too deep and had some adorable colorful reef fish darting in and out of puddles of water, everywhere you look. We brought our own snorkel gear and spent the morning leisurely watching all the fish dart in and out.
There are places to buy or rent snorkel gear closer to town but I think it's more sanitary and cheaper in the long run to just get your own set!
Tip: I recommend wearing some water shoes that cover your feet.
The area is a mix of sharp pebbles, fragile coral reefs and tide pools and the rocks that form the small protected bay are really sharp and slippery!
Covered water shoes really come in handy. I wore these simple slipper-like ones from Amazon – they were inexpensive and really helpful in the water!
Read more:
What to Pack for Hawaii: The Ultimate Packing List
ADVERTISEMENT
---
---
4. See Turtles at Laniakea Beach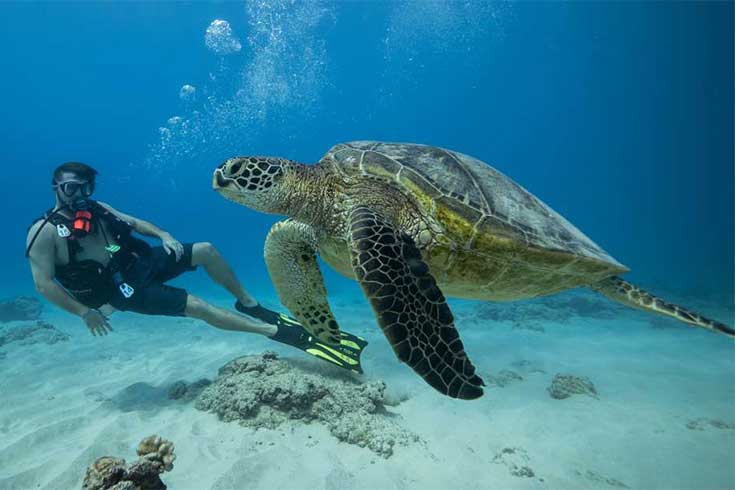 Sea turtles, or honu, are native to Hawaii.
There's a not-so-secret beach on the North Shore where you can watch these slow moving beauties warm up or surface for air.
There's usually lots of crowds (and no parking) so in my opinion, the best way to see sea turtles in Hawaii is to book a snorkel tour. They'll take you out a bit to sea, provide all the life jackets and equipment you need and ensure both you and the turtles have a safe and respectful time.
Check tour availability here.
Unfortunately, so many people crowd the beach that they can make the turtles too nervous to come to the beach to breathe (and the animals can drown).
Make sure to keep your distance!
ADVERTISEMENT
---
---
5. Go Shopping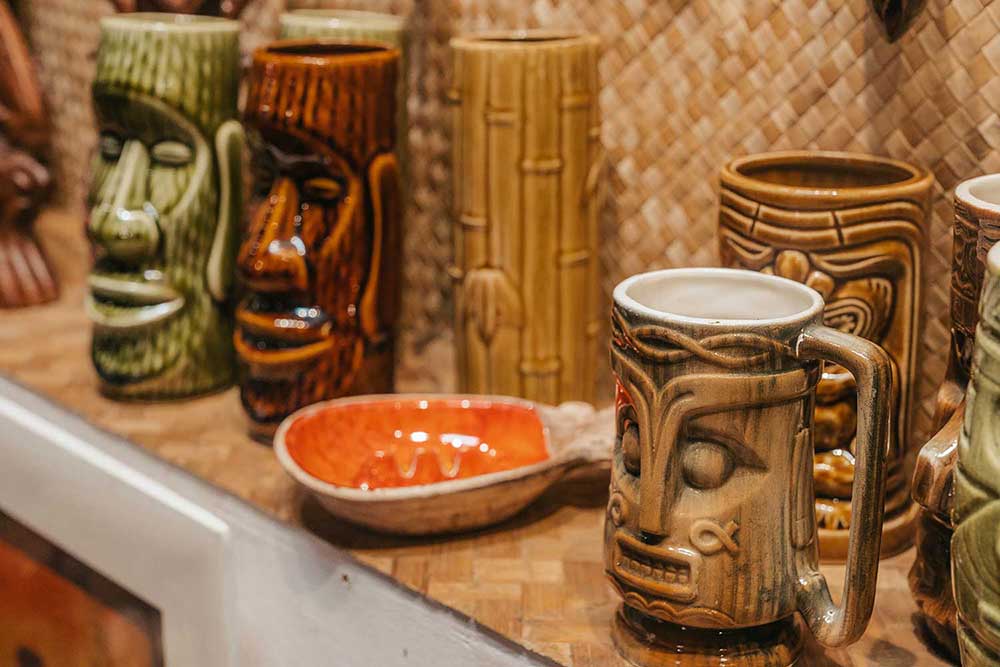 If you love to shop, the North Shore is for you.
While Waikiki felt a bit Vegas-like and touristy, with tons of high street and luxury designer stores, the North Shore felt more like… Williamsburg.
Instead of huge malls, you'll find a mix of marketplaces, small boutiques and kiosks selling a mix of name brands and hard-to-find-anywhere-else gifts.
We parked our rental car once we got into town (around the Post Office) and then walked around up and down the strip checking out stores along the way. There were loads of surf shops, antique stores, fine jewelry places and art galleries.
ADVERTISEMENT
---
---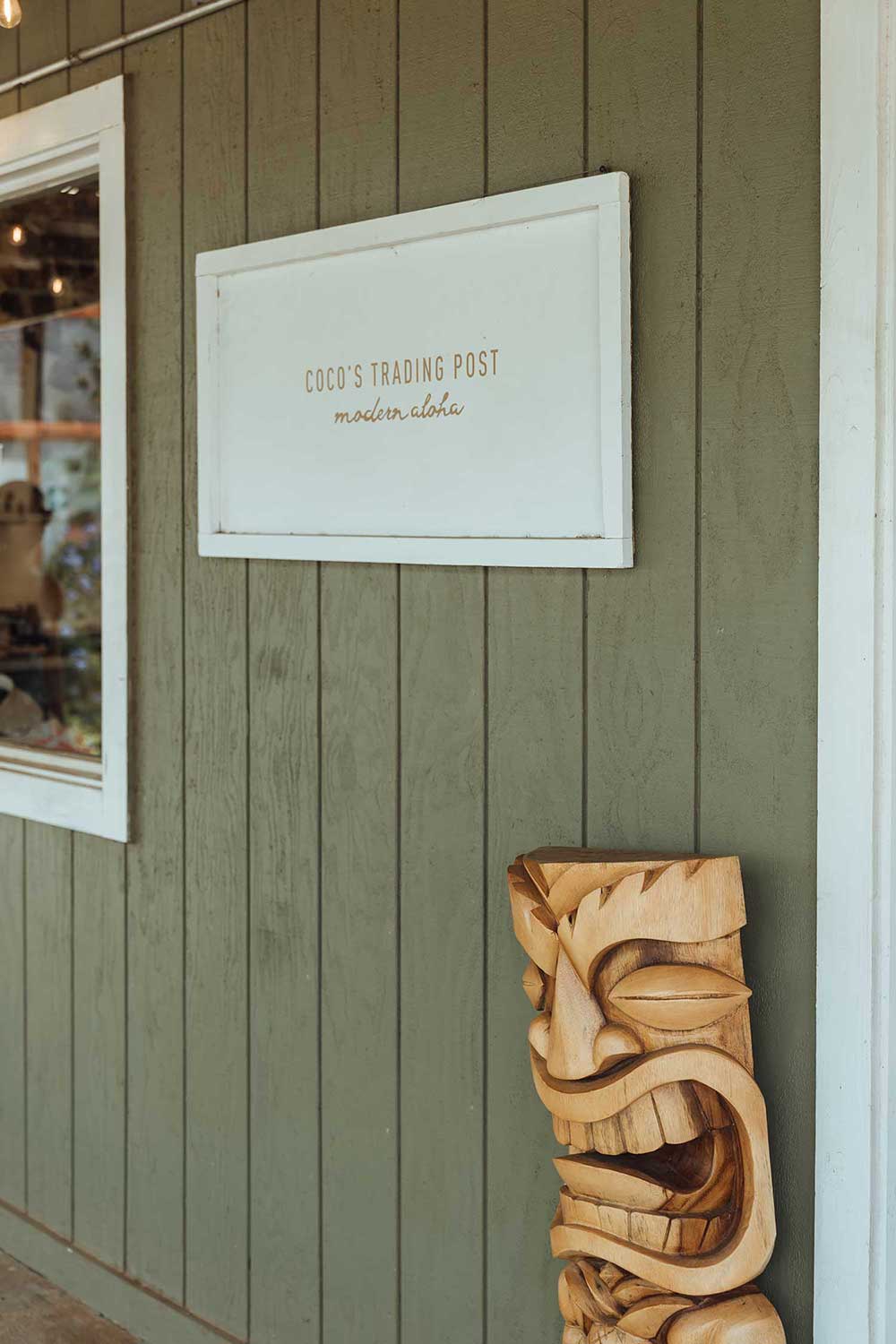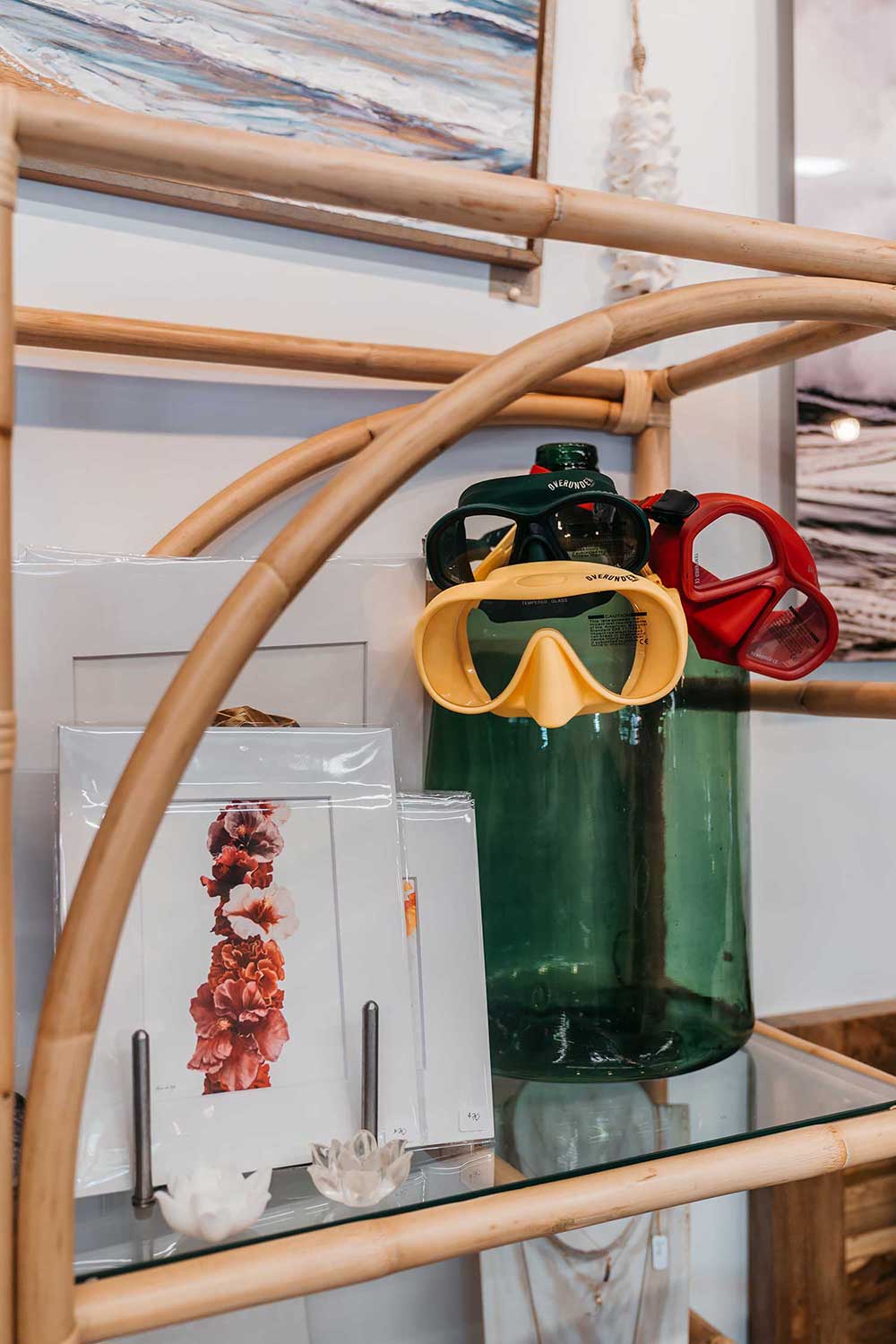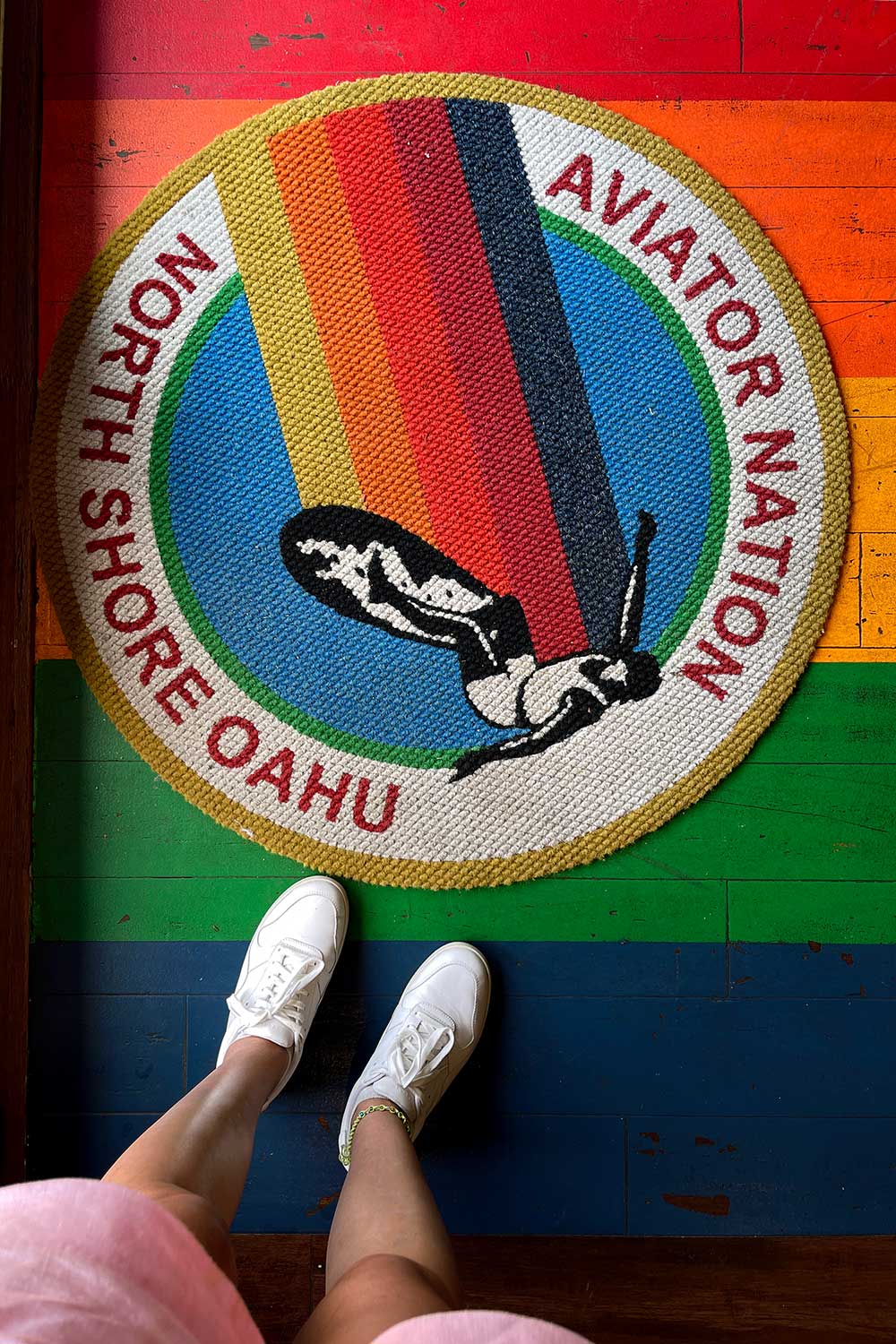 It was a lot of fun, and we found some really cute unique finds!
We especially loved the local furniture stores and Hawaiian souvenir shops.
If you're looking to buy gifts for family and friends, get it on the North Shore! They have everything from stylish bikinis to authentic Hawaiian wood crafts and locally made home decor.
If you're looking for a tiki mug, there's some great ones at Polynesian Treasures. Lots of surf gear shops and cute clothing stores too!
The North Shore is a laid back place, so take your time and walk leisurely through the side streets and arcade malls and pop into everything!
ADVERTISEMENT
---
---
6. Grab Acai Bowls at the Sunrise Shack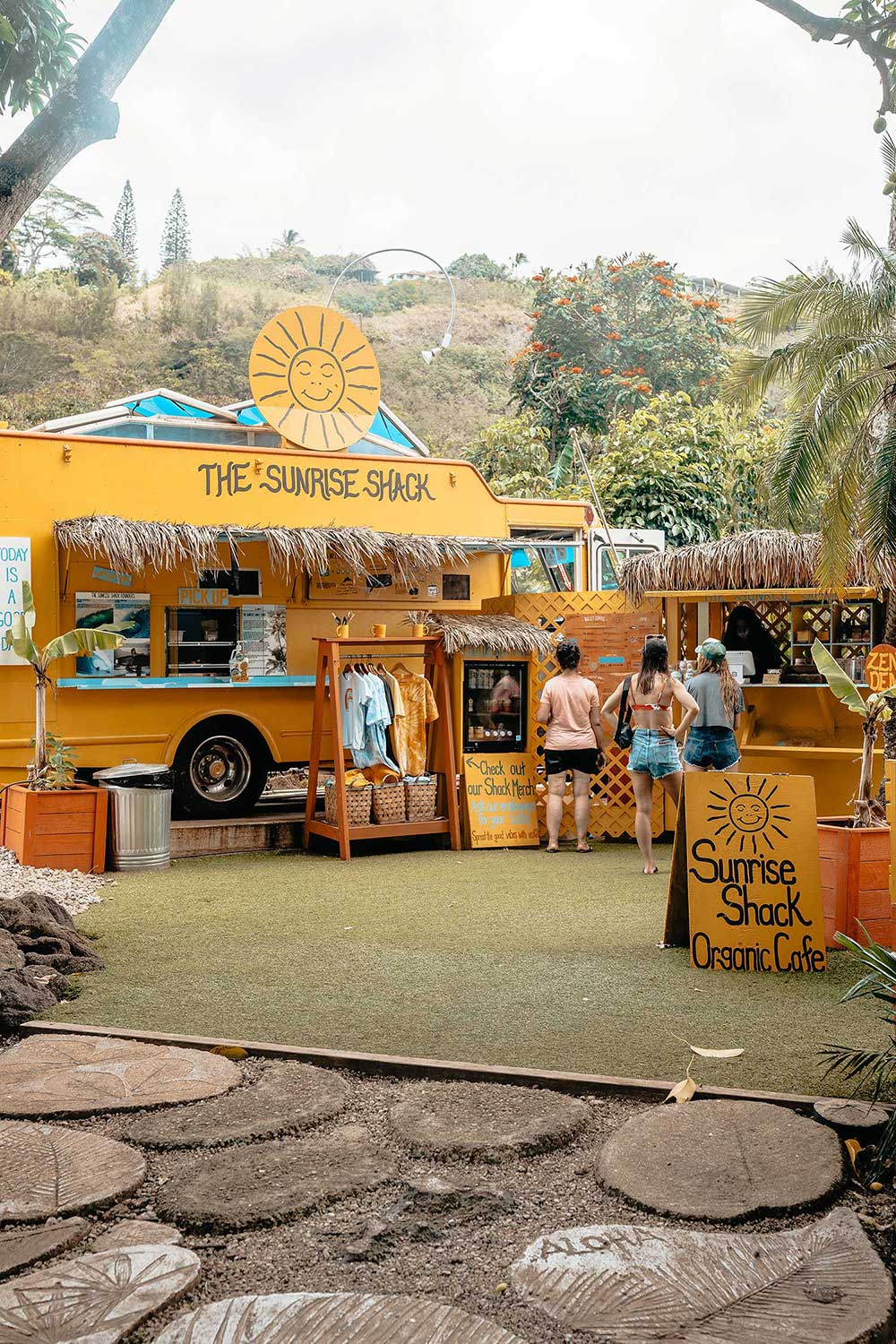 After a day out in the hot sun, you'll be dying for something refreshing.
Head to the Sunrise Shack for a delicious, cooling acai bowl. They have a ton of different options but I liked the passionfruit and tropical fruit bowl. We also grabbed kombucha to drink.
There are a couple Sunrise Shacks on the North Shore and you won't be able to miss it – they're painted a fun cheery yellow!
ADVERTISEMENT
---
---
7. Watch a Surf Competition
In the winter, the North Shore becomes a surf mecca.
The best surfers all over the world gather to ride toweringly high waves and compete in surf competitions all along Waimea Bay, Ehukai Beach (also known as Banzai Pipeline) and Sunset Beach.
The huge waves should be left to the pros, but it's just as fun to watch! Even in the summer, there was lots of surfers and sun bathers and it was a great spot to walk along the beach.
ADVERTISEMENT
---
---
8. Cool Off with Shave Ice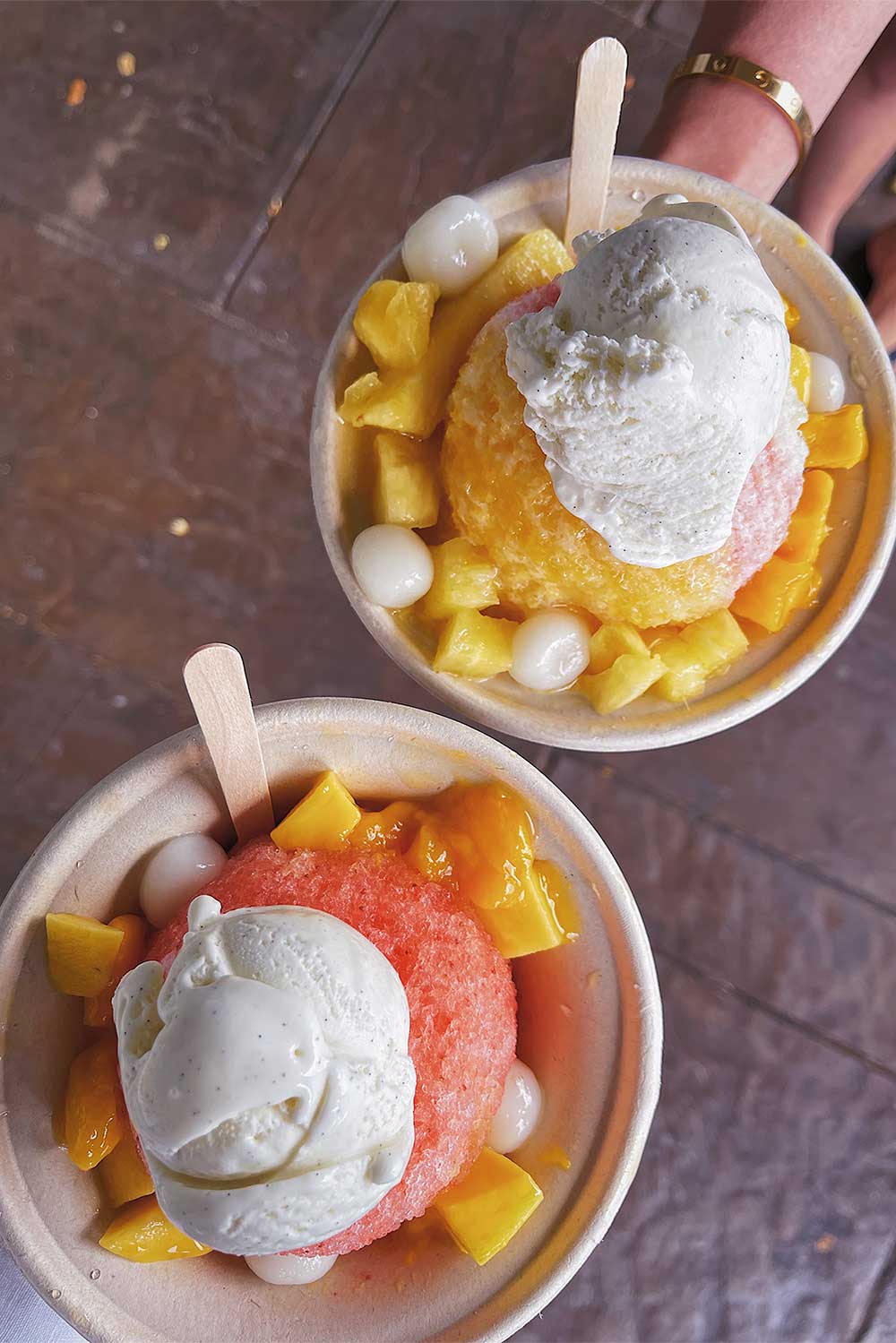 Shave ice (not 'shaved') is a local treat!
It's kind of like an ice-y snow cone but the ice is really finely shaved and typically topped off with sweetened condensed milk, giving it a creamy (not crunchy) consistency.
Try out different flavors, add mochi or jellies for texture and add a scoop of ice cream! The best shave ice spots make their own toppings and syrups from scratch.
Matsumoto's is probably the most famous shave ice spot on the North Shore (there's always a long line)! Aoki's is another great option, right across the street.
ADVERTISEMENT
---
---
9. Watch the Sunset at Sunset Beach
Hawaii gets some of the most incredible sunsets I've ever seen.
One of the best places to sit and watch is at… Sunset Beach!
Aptly named, this beach has a great open view of the sun setting over the ocean. Make sure to arrive early to snag a parking spot and space on the rocks! It's one of the most heartwarming ways to end a trip to Hawaii.
ADVERTISEMENT
---
---
10. Grab Lunch at the Food Trucks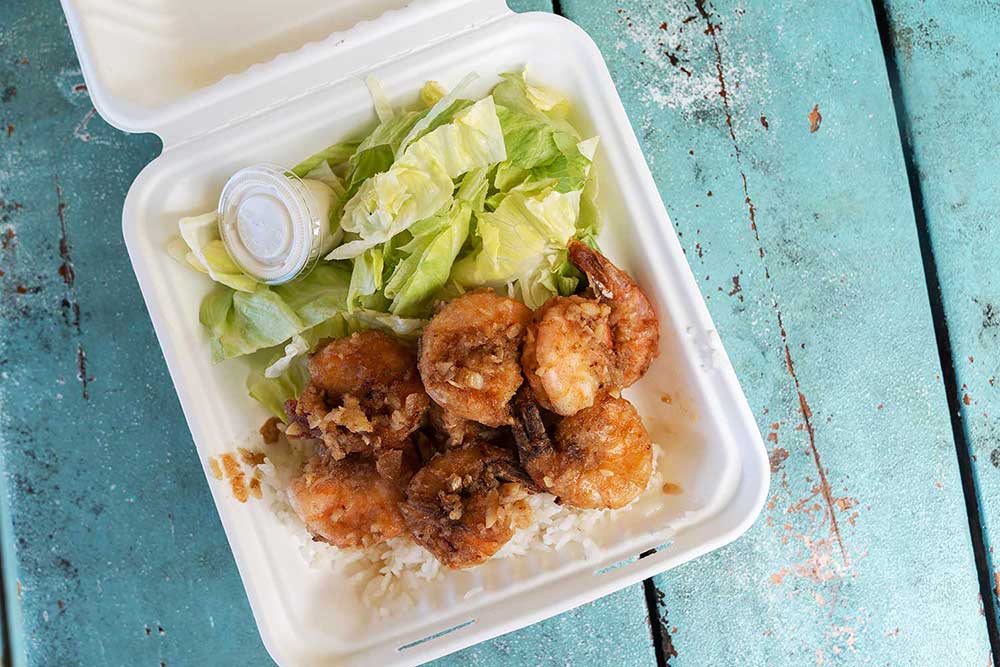 One of the best things about the North Shore is the sheer amount of food trucks.
One of the worst things about the North Shore is your stomach simply won't be able to try them all!
There are so many mouth-watering food trucks to choose from every mile or so along the North Shore. It's part of the local culture and I suppose highlights the surf meets countryside vibe of the area!
Two of the most famous are Romy's and Giovanni's.
Both are shrimp trucks known for their garlic shrimp and sweet and spicy shrimp options. But they'll always also have long lines. Cooking time here runs on island time!
Don't worry – you can find shrimp trucks all over and personally I think they're all quite similar. I didn't love that you have to peel the shrimp yourself but they're worth trying!
You can also find taco trucks, Asian trucks, fresh fruit juice stalls etc.
ADVERTISEMENT
---
---
11. Buy Some Macadamia Nuts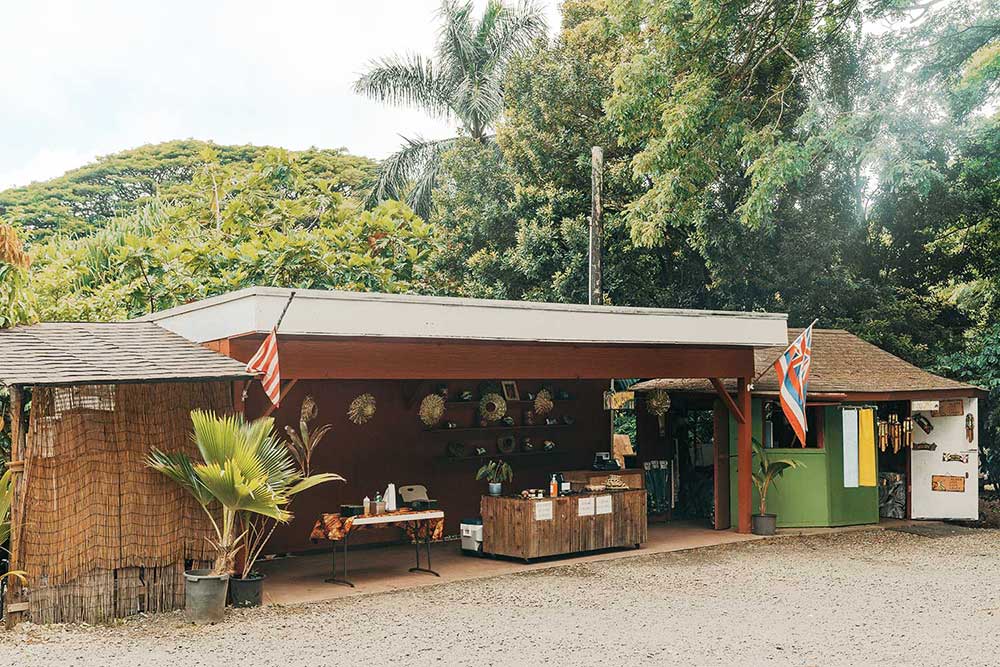 Tropical Farms Macadamia Nuts is a popular stop on the North Shore, as they sell a variety of flavored macadamia nuts and local Hawaiian snacks!
Macadamia nuts are a must-try while in Hawaii – they're so rich and flavorful! I especially love the honey roasted and dark chocolate covered flavors.
Tropical Farms has all different flavors available to sample. Munch on some nuts, buy some as gifts and get back on the road!
ADVERTISEMENT
---
---
12. People Watch at Waimea Bay
Waimea Bay is one of the most popular beaches on the North Shore – and for good reason!
It has a huge sandy shore where you can lay out… picnic or even play beach volleyball. And in the summer months, it's one of the more calm and gentler beaches where you go for a leisurely swim.
There's also a famous giant rock at the far left corner of the Bay. You'll probably see a line of people climing up 'The Rock' to leap off!
ADVERTISEMENT
---
---
13. Walk Through Waimea Valley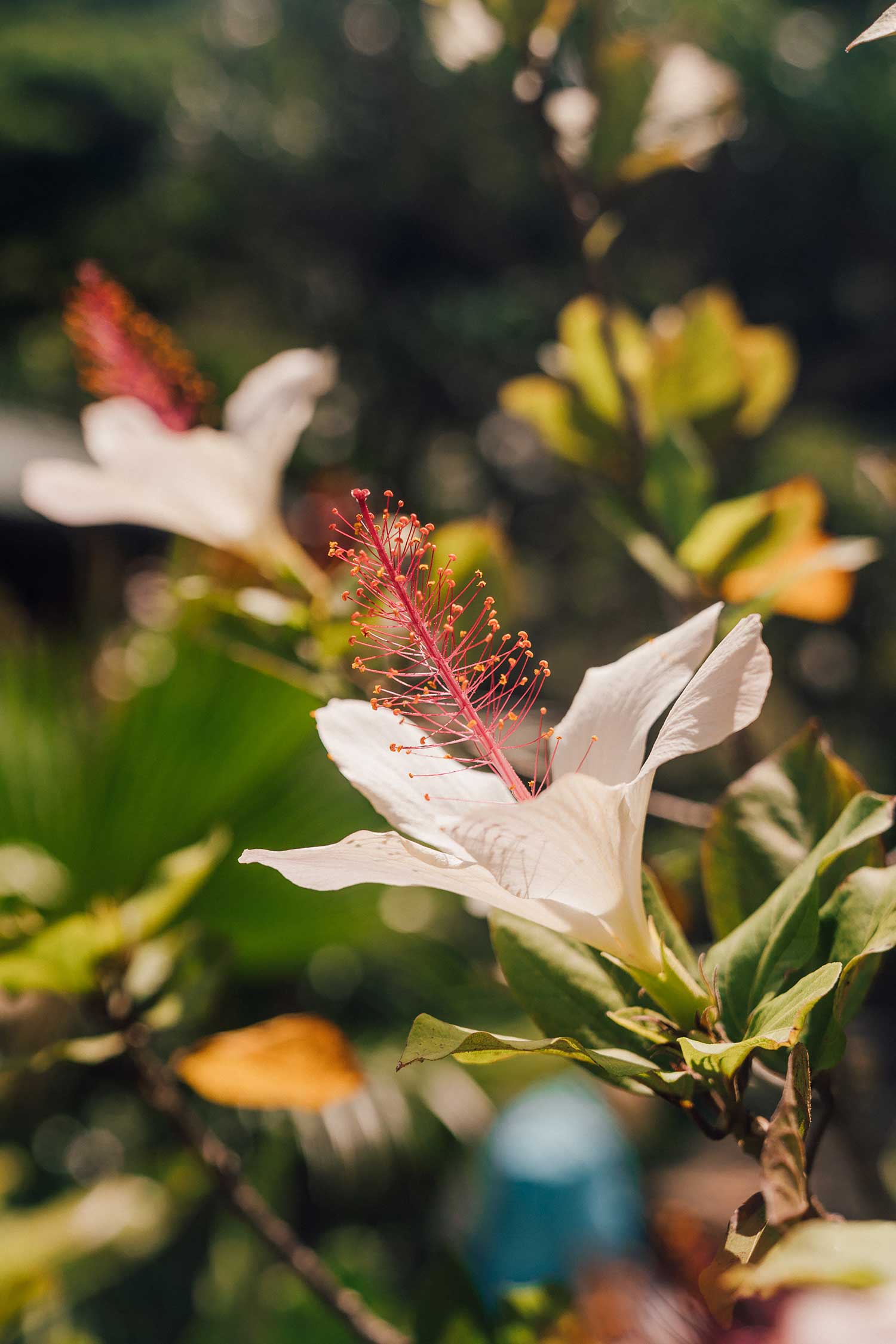 Waimea Valley Park is a sacred place to the Hawaiians.
Named 'The Valley of the Priests' in 1090, an ancient ruler of Oahu originally awarded the land to the kahuna nui high priests. Descendants of the high priests lived and cared for the sacred Valley until the late 1900s.
Today, the gardens have been turned into a public park. Entrance is $25 per person and it's worth a visit! The gardens are lush and vast, it feels like you're walking back in time, and there's a ton of colorful plants, flowers and trees that make the area feel like a botanical garden.
ADVERTISEMENT
---
---
14. Swim in Waimea Waterfall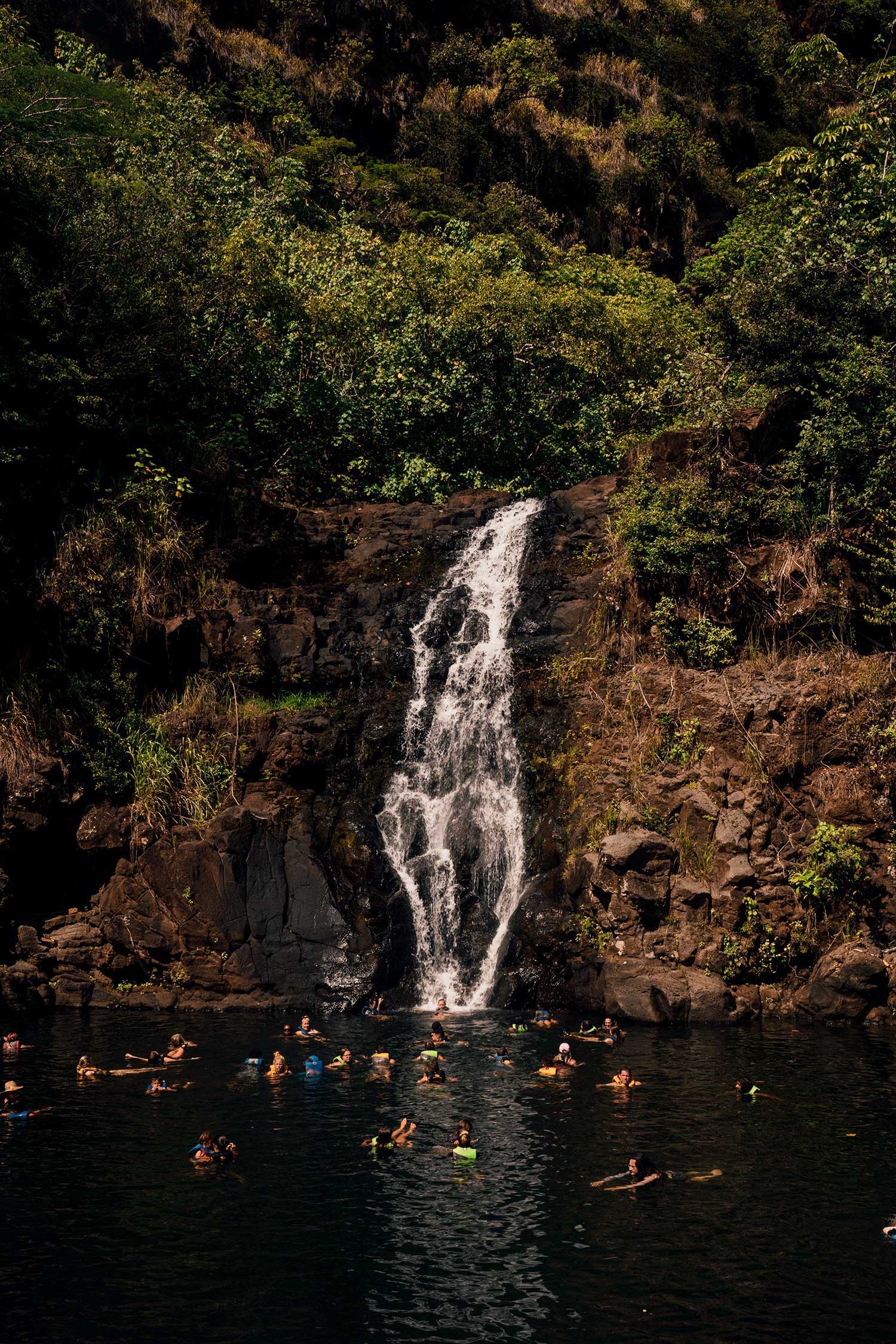 Inside the botanical garden, there's also a waterfall. It's an easy 30 minute walk to the end of the valley and it's one of the only lifeguarded waterfalls in the state.
Bring your bathing suit, some snacks and enjoy the day! Life jackets are free and required to be worn.
There's also public restrooms, cafes and benches to sit.
You can also book this Waimea Waterfall tour if you want a guided tour with transportation. It picks up from Waikiki, takes you around the island and includes a refreshing dip to the waterfall!
Check tour availability here.
ADVERTISEMENT
---
---
15. Experience a Traditional Hawaiian Luau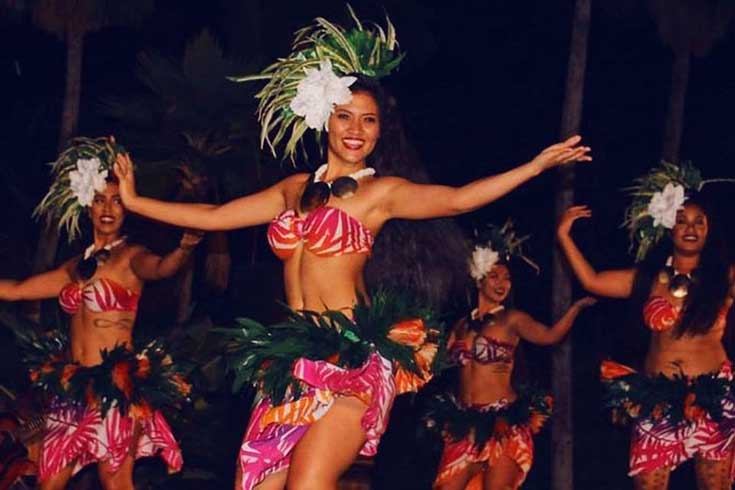 Going to a luau is both touristy and a must do.
After all, you're in Hawaii!
There's 2 famous places on the North Shore to get the full Hawaiian experience, complete with cultural performances, demonstrations of Hawaiian cultural traditions and Polynesian dances.
The Polynesian Cultural Center is one of the most well known.
It consists of 6 different Polynesian 'islands': Samoa, Hawaii, Tonga, Fiji, Tahiti and Aotearoa. If you have kids, there's plenty of activities for the whole family that you should dedicate the entire day to the place! In the evening, there's the luau portion with a Hawaiian feast and show.
Another option is at Toa Luau in the Waimea Valley.
It's considered one of the more traditional luaus, with both cultural shows, entertainment and dining. They'll show you how to traditionally make coconut milk, braid flax headbands, and more! Plus you'll get to try kalua pork and other Hawaiian feast dishes.
ADVERTISEMENT
---
---
There are also luau options closer to Waikiki if you want a more convenient experience, like Paradise Cove and Chief's.
Most luaus are a 5 hour experience (they combine a show with dinner), so if you want to maximize your time on the North Shore, you can join a luau on another night when you're staying in Waikiki.
This is one of the most popular on the island, as it has a spectacular setting by Paradise Cove.
The full night experience includes Mai Tai drinks, fresh seafood, kalua pork, tropical fruit and a delicious Hawaiian feast.
All the entertainment is timed so you can watch the sunset over the bay and it's really quite magical to see all the Hawaiian musicians, fire twirlers and hula dancers entertain as the sun goes down!
Check availability for Paradise Cove Luau here.
Another popular option close to Waikiki, this luau is hosted by Chief Sielu, a world-champion fire-knife dancer. Pick this luau if you want a great immersion into island culture.
As a more traditional luau, this one will teach you hula dancing, Polynesian culture and coconut husk braiding. Of course, it includes an epic Hawaiian buffet too!
Check availability for Chief's Luau here.
ADVERTISEMENT
---
---
16. Try Local Restaurants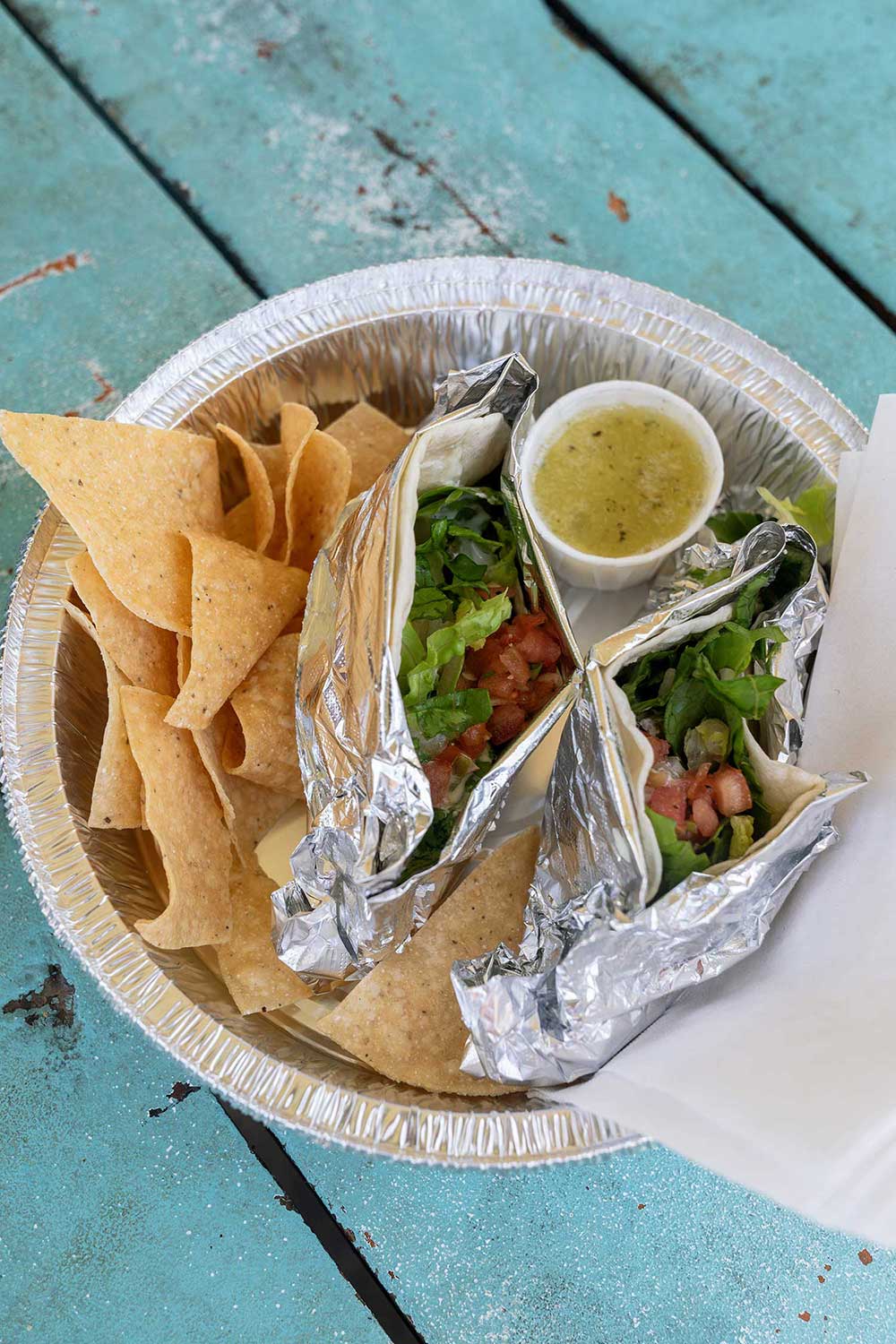 The North Shore has a great mix of Hawaiian institutions and fresh healthy spots, so you'll have plenty of choice for where to eat.
Here are some of the most popular places to check out:
Haleiwa Joe's for fish tacos, ceviche and seafood
Beet Box Café for healthy salads, smoothies and juices
Haleiwa Bowls for acai bowls and smoothies
Ted's Bakery for chocolate haupia pie
Shrimp Trucks for grilled garlicky shrimp
Pupukea Grill for poke
Papa Ole's for Hawaiian plate lunches
ADVERTISEMENT
---
---
17. Walk or Bike From Three Tables to Sunset Beach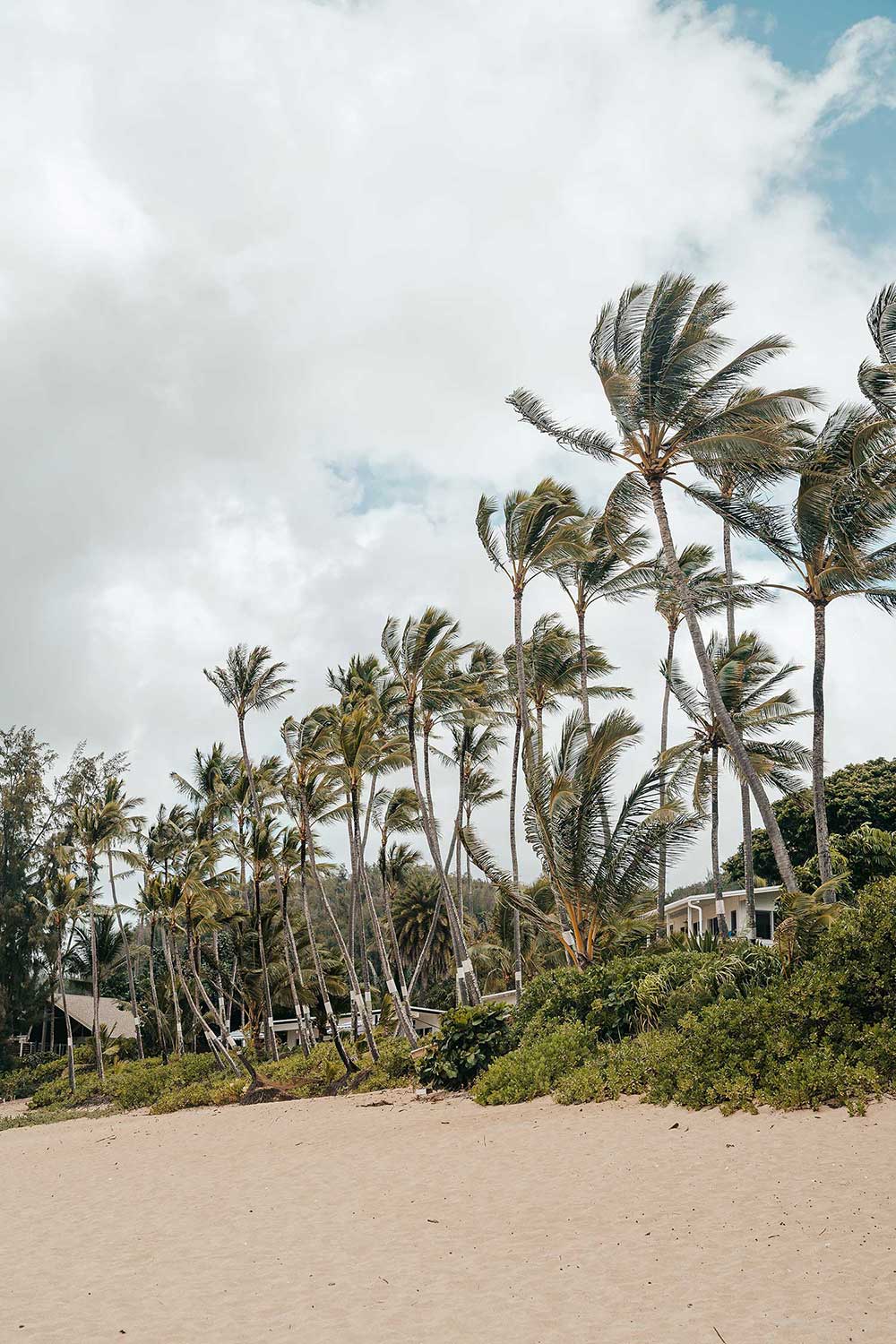 We discovered this by chance, but there's a great biking and walking path linking Three Tables Beach to Sunset Beach.
It's about a 3.7 mile paved path that winds through tropical foliage parallel to the beach, with plenty of pathways to walk in between local houses towards the water.
There's fragrant orchids and plumerias lining the road, wild chickens running about and mango and bananas hanging from the trees!
It's a great way to get your steps in after a big meal or to walk in the shade between beaches.
ADVERTISEMENT
---
---
18. Buy Local Coffee Beans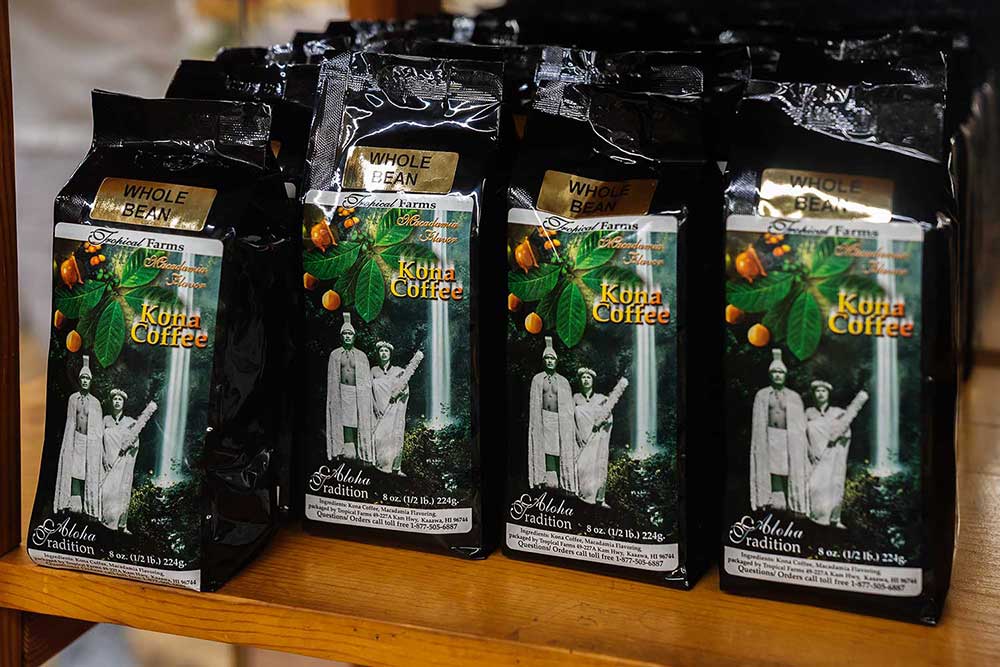 On the way up to the North Shore, you'll pass by an excellent local coffee farm called Green World Farms.
They have a small coffee farm out back, a café in the front that makes excellent coffee drinks (try the mocha freeze, a super icy and sweet concoction) and plenty of beans for sale.
The farm has some coffee available to sample, but lots more for sale, in both roasted and whole bean varieties. We particularly liked the blueberry infused medium roast!
ADVERTISEMENT
---
---
19. Tour the Dole Plantation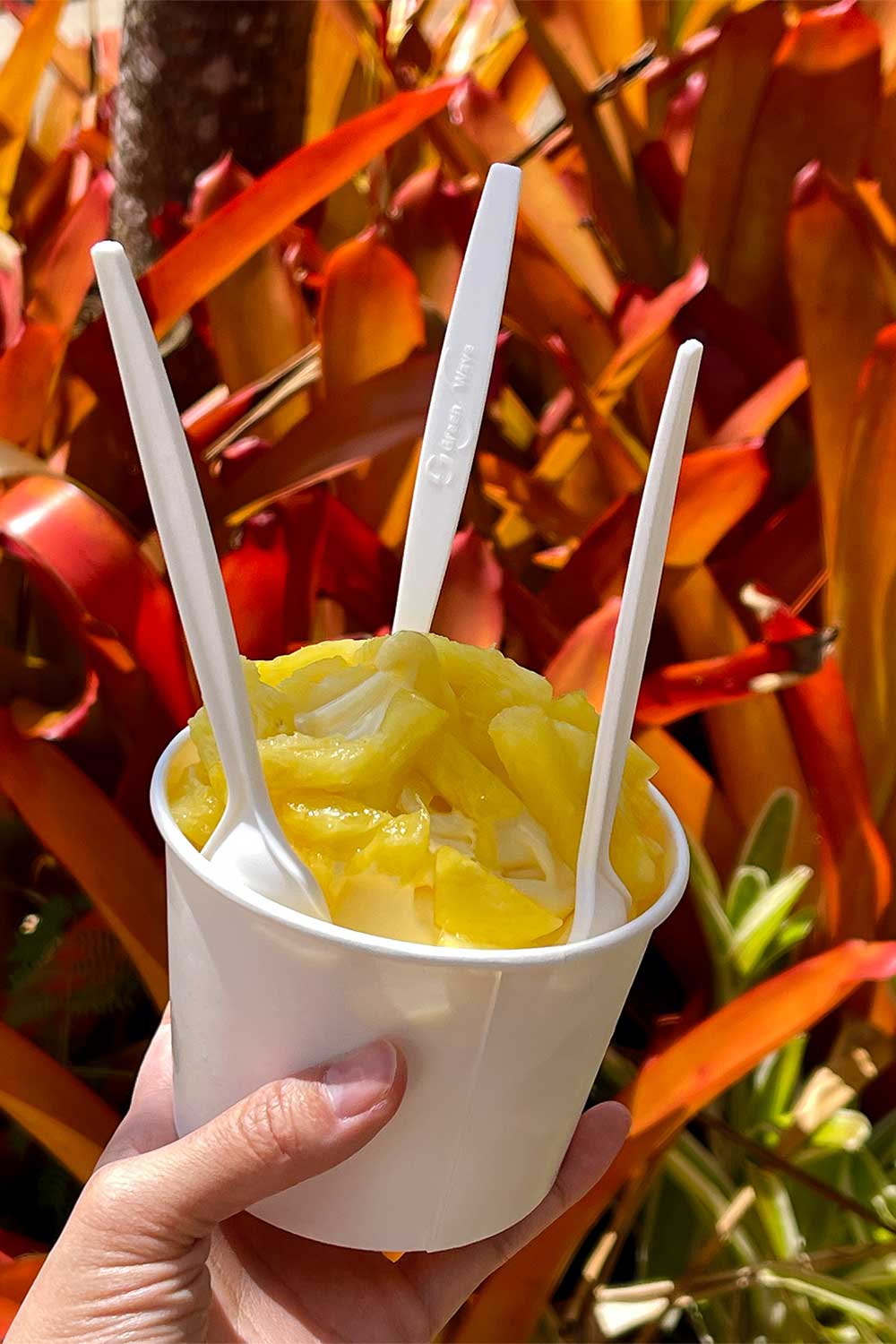 Technically, the Dole Plantation is not on the North Shore.
But, if you're driving up from Waikiki chances are you'll drive past the Dole Plantation either on the way up or back.
You can also book a tour to see the plantation garden in full. They have tons of family friendly activities, like the Pineapple Express train, fresh pineapples (even pink pineapples!) and a pineapple garden hedge maze.
And you can't leave without trying Dole Whip.
It's a soft serve, froyo-like dessert made from pineapple and so refreshing. We split one topped with fresh pineapple and it was incredible on a hot summer day!
ADVERTISEMENT
---
---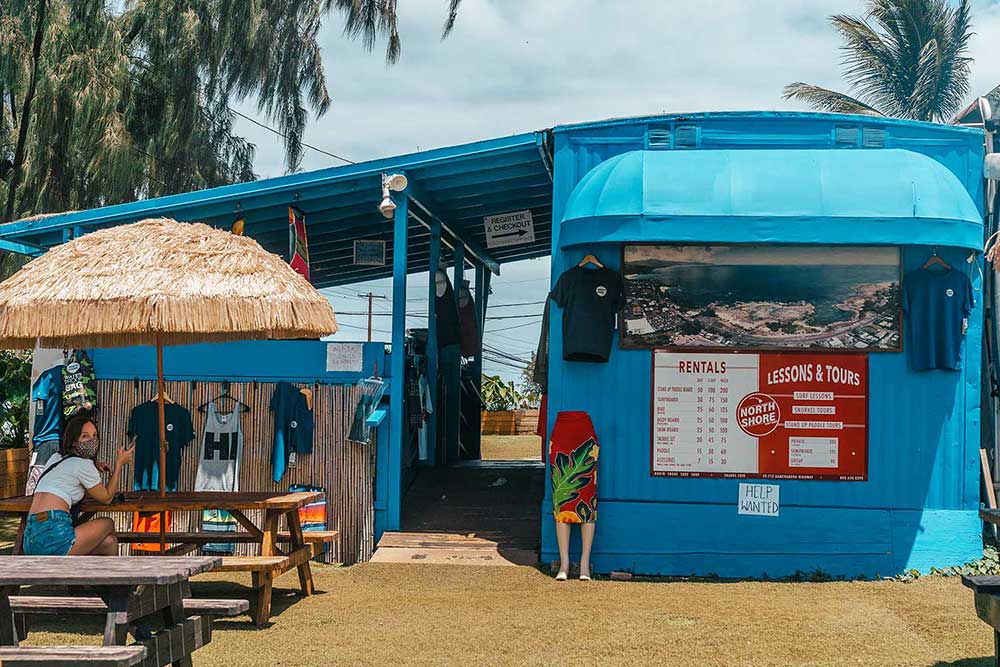 If you aren't driving, you can still visit the Dole Plantation as part of this full day Oahu tour. It circles the island taking you to all the best stops, and therefore doesn't skip out on the Dole Plantation!
Go snorkeling with sea turtles, check out Halona Blowhole and relax on the white sands of Waimanalo Beach Park. It also includes photo stops at Laie Point, Diamond Head and Makapu'u Beach.
Then when you're all worn out, you can pick up snacks and nuts at a local macadamia nut farm and try Dole whip at the pineapple plantation.
It's a small group tour too, so perfect for exploring conveniently without the hassle of renting a car and dealing with parking.
Check tour availability here.
ADVERTISEMENT
---
---
20. See Jurassic Park at Kualoa Ranch
One of the most famous places on Oahu is Kualoa Ranch.
It's where blockbuster hits like Jurassic Park and Pearl Harbor were filmed and if you're a movie buff or want to add in some adventure activities, you should definitely check it out!
There's an excellent movie tour that takes you through all the iconic filming sets and locations.
If you love adventure, they also offer horseback riding, ATV drives and zip lining inside the 4,000 acre nature preserve. A lot of people book multiple activities and make an entire day of it!
Technically this is on the east coast of Oahu but it's very close to the North Shore so you can add it on to the beginning or end of your North Shore trip, depending on which way you're driving.
Some of the tours include an option for roundtrip transportation if you don't want to drive.
ADVERTISEMENT
---
---
21. Drive to La'ie Point Lookout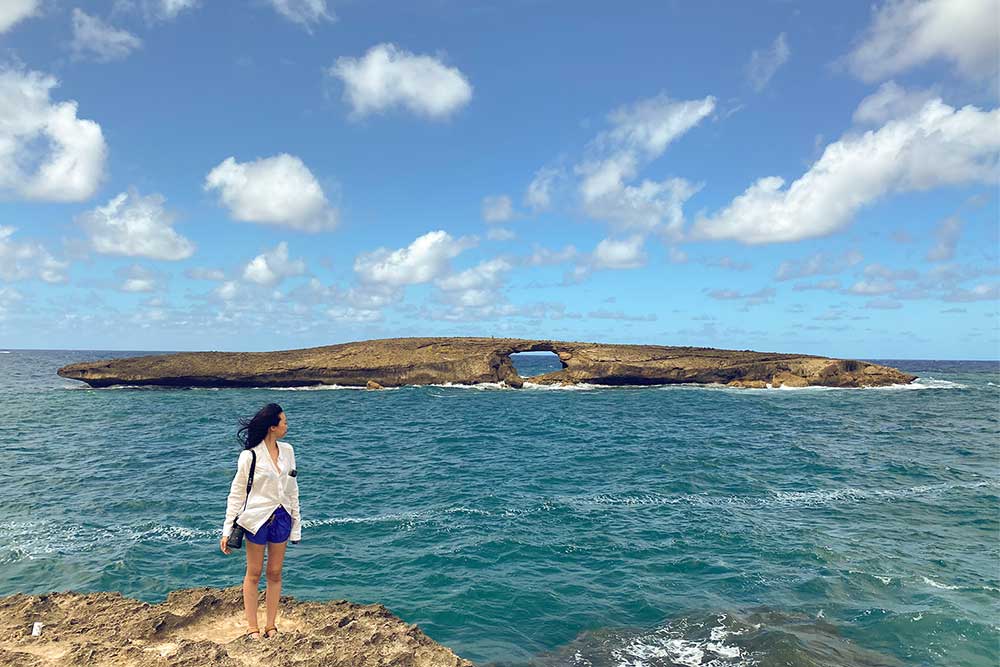 The eastern end of the North Shore is just a little bit past La'ie.
A great place to get out of your car and enjoy the view is at La'ie Point. It's not a swimming beach, but the crashing waves and cliffs are really beautiful to see.
We saw lots of fishermen and locals just relaxing.
ADVERTISEMENT
---
---
22. Walk Along Ka'ena Point State Park
On the western most end of the North Shore, you have Ka'ena Point State Park.
It's also very remote feeling, with a gorgeous coastline. Drive east of Haleiwa for about 15 minutes and you'll find the park. Go for a hike, look for albatross birds and maybe see a seal!
The area is considered a wildlife sanctuary, especially for birds, so make sure to stay on the path and avoid disturbing any animals!
ADVERTISEMENT
---
---
And that's it! Our guide to visiting the North Shore. Did we miss anything? Let us know in the comments if you have any recommendations.
ADVERTISEMENT
---
---
Planning a Trip to Hawaii- Travel Checklist
Flights | Most flights to Hawaii will land first in Oahu, where you can transfer to explore the other islands. From New York City, we flew nonstop on United. Standard airfare will cost ~$1,000 round trip, but occasionally there are great deals around $500, especially from the west coast. Browse airfare for your dates here.
See | If you have under a week, it's recommended to visit just 1 island. Most people choose Maui for a honeymoon. If you love nature, check out Kauai. If you're a first timer, visit Oahu! 
For more on what to see, do and eat check out our Oahu itinerary post. 
Accommodation | Oahu has a great range of options, from luxury hotels to family friendly vacation rentals. Accommodation is very expensive, so book in advance to save. Check here for current hotel deals.
If you have a group of people or want more affordable housing browse VRBO. It's especially great if you want to get out of Waikiki! 
Insurance | Lastly, be sure to visit Hawaii with travel insurance. Whether your flight is delayed, you get injured and need to be hospitalized, or your phone gets stolen, travel insurance will help when you need it most!
I ended up locking our keys in the car trunk by mistake. But luckily, thanks to insurance, we only had to wait about an hour to get our car unlocked. Get a quote for your trip here.
You Might Also Enjoy:
Hawaii Travel Guides
What to Pack for Hawaii: Outfit Ideas, Reef Safe Sunscreen & More!
What It's Like Visiting Hawaii During Covid (August 2021)
Kauai
Oahu
Visiting Oahu: Everything to Know Before You Go!
The Best Waikiki Hotels on the Beach
The Best Things to Do in Oahu for an Epic Vacation
The Ultimate North Shore Travel Guide