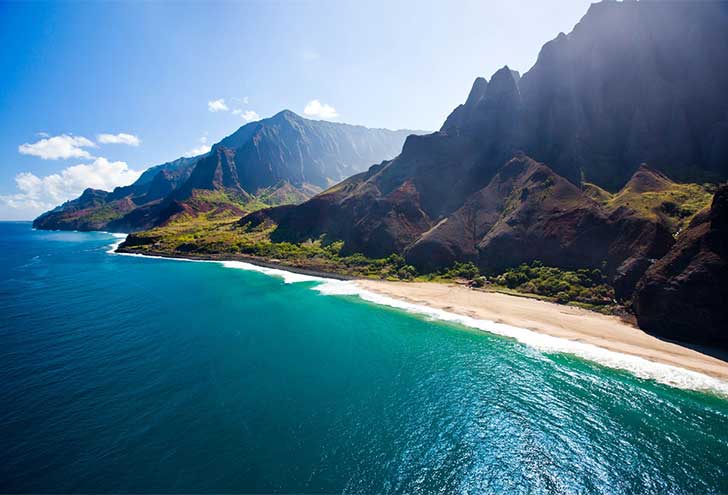 Where to Stay in Kauai
Often shadowed by the popularity of Maui, Oahu, and the Big Island, Kauai, the northernmost island of the Hawaiian archipelago, is truly a diamond in the rough.
Geographically the oldest of the Hawaiian islands, Kauai is well known for its picturesque landscapes (even by Hawaiian standards!) and idyllic seclusion, making it perfect for honeymoons, couples' retreats, or any other special occasion.
Whatever brings you here, keep reading for our favorite places to stay in Kauai!
---
---
Best Hotels in Kauai
To summarize, here's a handy chart of our recommended Kauai hotels. All include free wifi and are known for comfort, great locations and great customer service.
Best Kauai, Hawaii Hotels – Summary Comparison Chart
Below is more information about each hotel and why we recommend it!
---
---
Grand Hyatt Kauai Resort & Spa
Set in the ultra-luxurious town of Poipu (meaning "crashing waves" in Hawaiian), the Grand Hyatt Kauai Resort & Spa has everything necessary to create your personal Poipu paradise.
With a variety of beachfront suites and rooms designed in the style of private Hawaiian lanais, the Grand Hyatt truly lives up to its billing as one of Kauai's most preferred hotels.
---
---
Koloa Landing Resort
Also located in the town of crashing waves, the Koloa Landing Resort is one of Kauai's newest and largest luxury resorts.
Guests at Koloa are treated to the latest and greatest in modern amenities, including the luxurious poolside Holoholo Grill, a 4,000 square foot day spa, a 6,100 square foot family pool, a 2,000 foot tranquility pool, and even fire pits where you can grill your own catch!
---
---
Koa Kea Hotel & Resort
Located along the sun-kissed sands of Poipu Beach, the Koa Kea Hotel & Resort puts guests closer to the waves of the Pacific Ocean than just about any resort on Kauai.
Famous for its luxurious and romantic touch (perfect hotel for couples!), the Koa Kea's list of amenities includes a saltwater pool and even complimentary waterfront yoga classes on the beach!
---
---
Kauai Marriott Resort
Secluded on Kalapaki Bay, the Kauai Marriott Resort blends the picturesque beauty of Kauai with the diversity and convenience of any Marriott hotel.
With well-appointed guest rooms featuring oceanfront views and balconies, a full-service spa, multiple on-site dining options, and over 27,000 square feet of indoor and outdoor venue space, the Kauai Marriott is simultaneously a perfect choice for families, weddings, honeymoons, and business travelers alike!
---
---
Aston Islander on the Beach
Tucked away on Kauai's Coconut Coast, the Aston Islander on the Beach has everything necessary for a perfectly private Hawaii vacation (honeymoon sweets, I'm looking at you!).
All 5 of the Aston Islander's room and suite options have either garden or oceanfront views, so you'll never forget how gorgeous your oasis is during a stay at the Islander!
---
---
And that's it! Our guide to Hawaii's best hotels to make the most of your stay in Kauai.
Whether you're looking for the best location in town, a hotel in Kauai for families, or the best luxury hotel in Kauai for couples, these incredible resorts in Kauai are sure to please.
Follow Sher She Goes on