Radisson Grenada
Before visiting Grenada, in my head I had pictures an island just like all the other islands in the Caribbean: sandy, sunny and filled with beaches, palm trees and tropical fruits galore.
Grenada certainly has that… but it also has a rain forest, hilly mountainside landscapes, hidden waterfalls and exotic spice trees! The tiny island has so much beautiful greenery that it's no wonder Grenada is nicknamed the 'Spice Island'.
Nowhere was this vibrant landscaping on full display than our hotel. We stayed at the Radisson Grenada, right on Grand Anse Beach, and had an incredible stay. Here's a look at the resort, room and entire experience!
Check rates:
Booking.com
,
Hotels.com
Read reviews:
TripAdvisor
Or save this article to read later by pinning it ⇟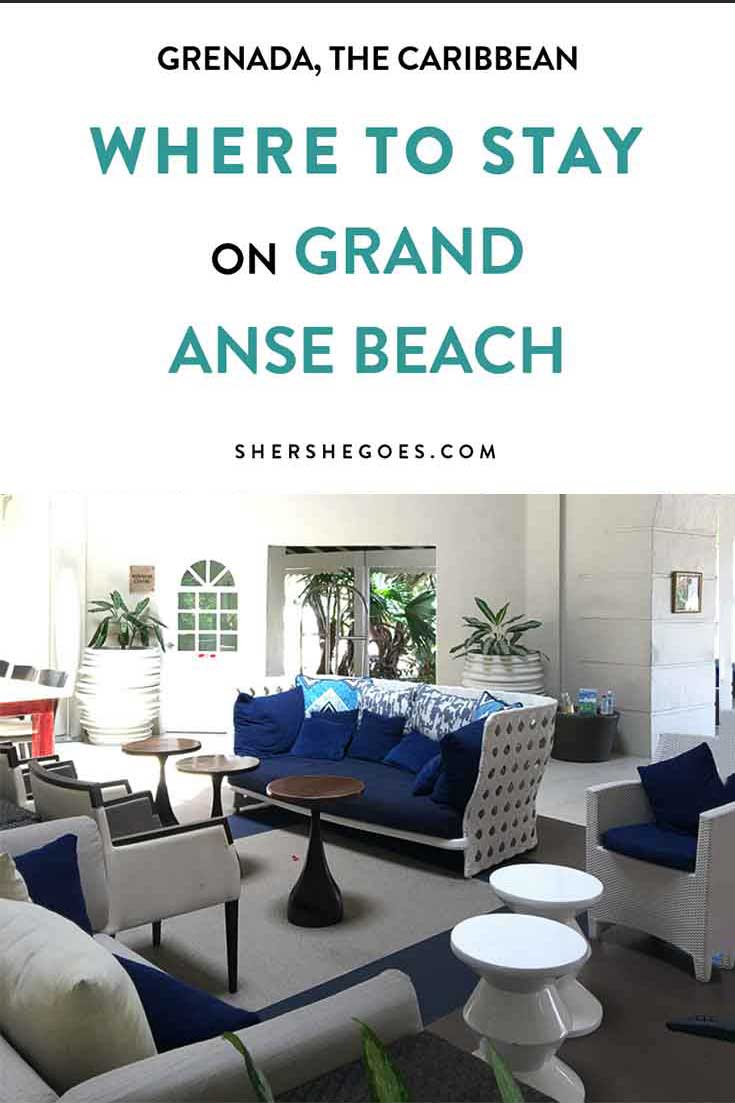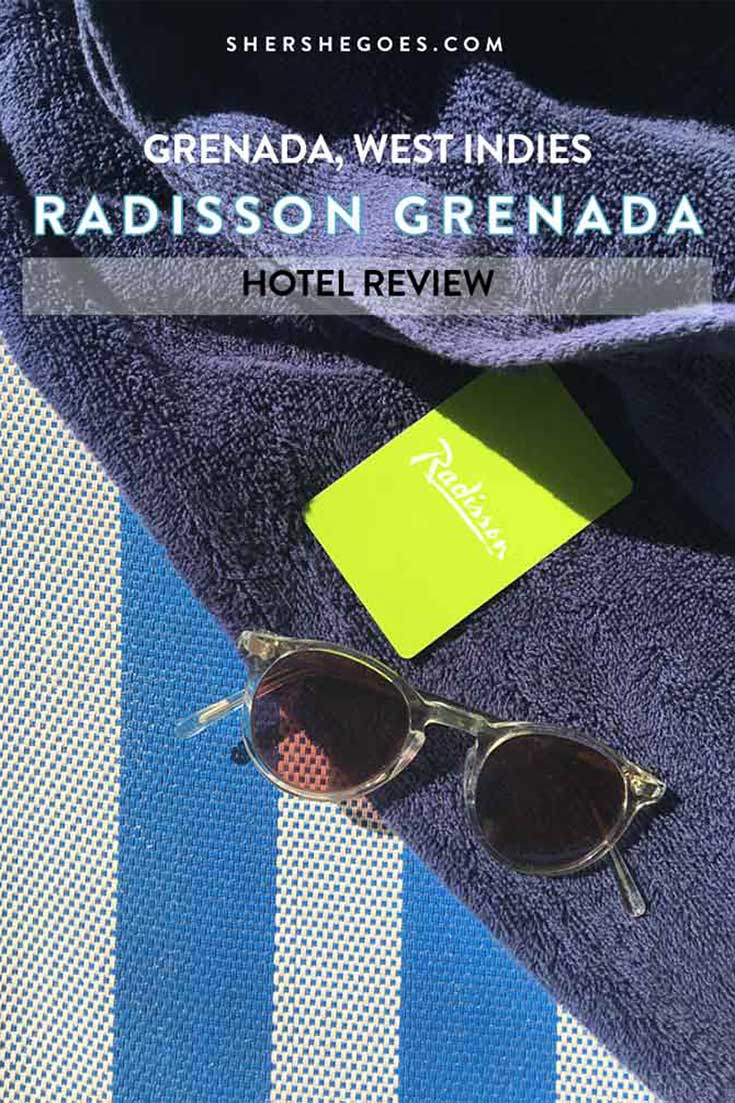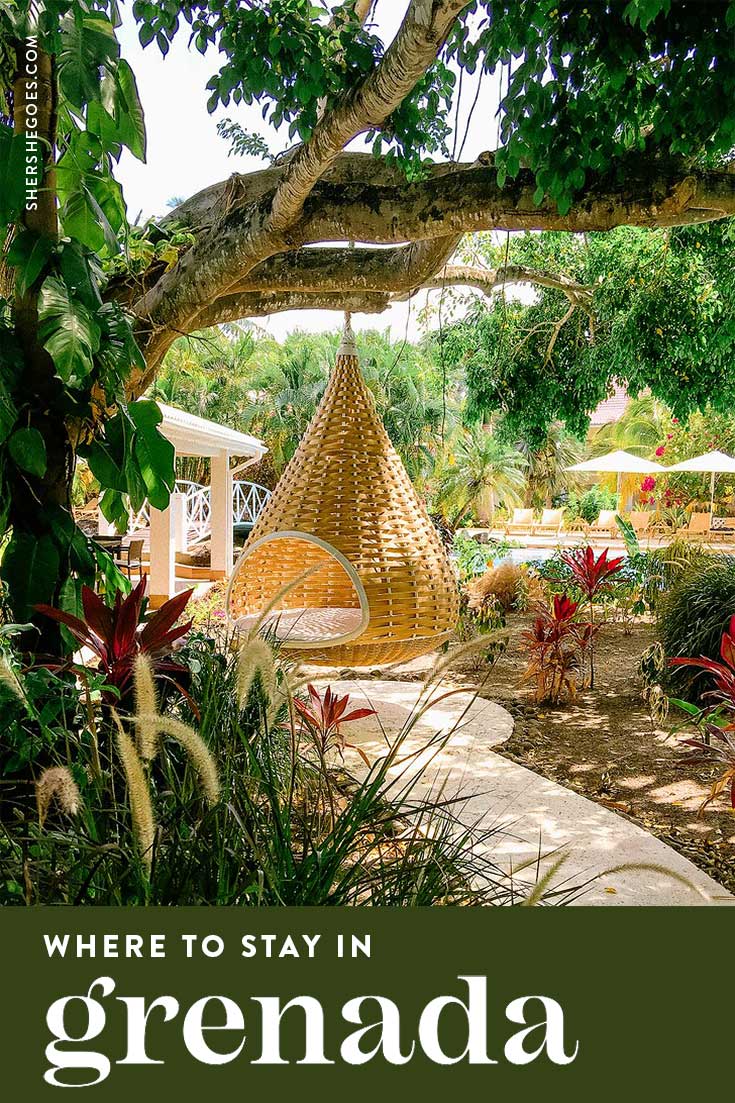 ADVERTISEMENT
Right On the Beach
The Radisson Grenada carves out a (not small) slice of Grand Anse beach.
The hotel is about a 5 minute taxi drive from the airport and perfectly located on crystal blue Grand Anse beach – once named one of the top 10 beaches in the world. Most hotel rooms have a view of the stunning pool or look out onto the ocean.
The hotel, along with most of the hotels in the tourist zone, sits directly on the beach. We woke up early to see the local fisherman haul in an impressive catch one morning of medium sized fish, sea urchins and a flapping sting ray.
Grand Anse Beach is the major hotel strip, so if you are looking to kayak, scuba dive or head out to the underwater sculpture park, all you need to do is walk along the beach until you find a dive shop or neighboring hotel offering what you're looking for!
Definitely a tougher walk on the sand than on the main road…but also so much prettier! I've never seen a beach so beautifully blue green.
ADVERTISEMENT
---
---
The Rooms
Each room has a balcony where we ate dinner each night to watch the sunset.
Grill Masters across the street was an easy and affordable takeaway spot with really good jerk chicken and chocolate + nutmeg milkshakes.
The room has an extra daybed if you want to pull it outside for some sun tanning (along with ample ESPN coverage if you're addicted to March Madness and the Masters like someone ahem…)
We walked by a couple neighboring hotels as well (they're all connected by the beach and open) and were glad to have stayed at the Radisson – the others just couldn't compare in terms of landscaping and the beautiful pools!
ADVERTISEMENT
---
---
Prime Location
The Radisson Grenada rooms themselves are slightly spartan in comparison to the lush landscaping but it was a relief to be located so close to the beach and the main sights.
We'd head to EcoDive each day to scuba dive (literally the next beach over), then walk back for a quick shower before our afternoon excursions. Most things on the island close at 4pm and the dives ended at 1pm each day, so it was really helpful to stay on the central strip.
We were also able to pack in some waterfall hikes and multiple afternoon trips to St Georges and the fort because of this!
We also played tennis as the Radisson has two large courts and racquets available to borrow. I won't get into who won…suffice it to say there will be a rematch.
ADVERTISEMENT
---
---
Nearby Restaurants and Amenities
If you're headed to Grenada, I definitely recommend staying on Grand Anse beach. Not only is it a beautiful, soft sandy beach but it's where most of the tourist infrastructure is situated.
Across the street from the Radisson is the local 'Wall Street' where you'll find a:
Scotiabank: to withdraw local EC currency
Grocery store: for snacks, local jerk spices and sunscreen
NY's finest bagels: for your morning bagel + coffee fix
Grill Master: a local spot with the best jerk chicken and chocolate nutmeg milkshakes
Read more:
Everything You Must Do in Grenada
ADVERTISEMENT
---
---
Swimming Pools
Prefer the pool to saltwater?
You're in luck – we loved the gigantic wrap around pool centered around the hotel restaurant – it has two waterfalls, Jacuzzis on top of said falls and swim up bar seats! We didn't even have to leave the pool to have our daily ice cold frozen mango smoothie.
Pool Bar
We love frozen drinks – I'll even take them virgin because it's really all about the numbing coldness and the fruit – yum!
One local fruit to try is soursup – locals recommended the prickly green fruit to us because it's been found to actively fight cancer. The soursup smoothie looks a bit dull green beige though…then again things that are really good for you rarely look appetizing.
Read more:
What It's Like Scuba Diving in Grenada: the Shipwreck Capital of the Caribbean!
ADVERTISEMENT
---
---
Transportation
Also, the local #1 bus stops right outside the hotel if you want to make a trip to St Georges harbor – rides are super fast, on the opposite side of the lane and set to alarmingly loud reggae/hip hop but it was a really fun experience!
All in all a super convenient place to stay while in Grenada!
Radisson Grenada
Grand Anse Beach,
Grand Anse St. George's GD
Check rates: Booking.com, Hotels.com
Read reviews: TripAdvisor
ADVERTISEMENT
---
---
Where are you thinking of staying?
Visiting St George, Grenada – Travel Checklist
We took a direct flight from New York into Maurice Bishop International airport (GND) via Jet Blue. For any Caribbean destination, Jet Blue offers competitive fares – you can check for flight deals here.
If you're visiting Grenada for the beach, stay right on Grand Anse Beach. This is the best part of the beach and the most scenic place to stay – it's also where all the hotels tend to concentrate! You can spend all day at the resort and beach, or head into town. Book accommodation in advance to save.
Lastly, be sure to visit Grenada with travel insurance. Whether you get injured and need to be hospitalized, or your phone gets stolen, or an injury forces you to cancel all or part of your vacation, travel insurance will help when you need it most. Get a quote for your trip here.
You Might Also Enjoy:
Grenada Vacation Planning Articles
11 Can't Miss Activities in Grenada
Scuba Diving in the World's First Underwater Sculpture Park
Beachfront Living at the Radisson Grenada
Follow Sher She Goes on
Bloglovin | Facebook | Twitter | Pinterest | Instagram
---
Our visit to Grenada was hosted by the Grenada Tourism Board. Our decision to write this post and all opinions within are our own.