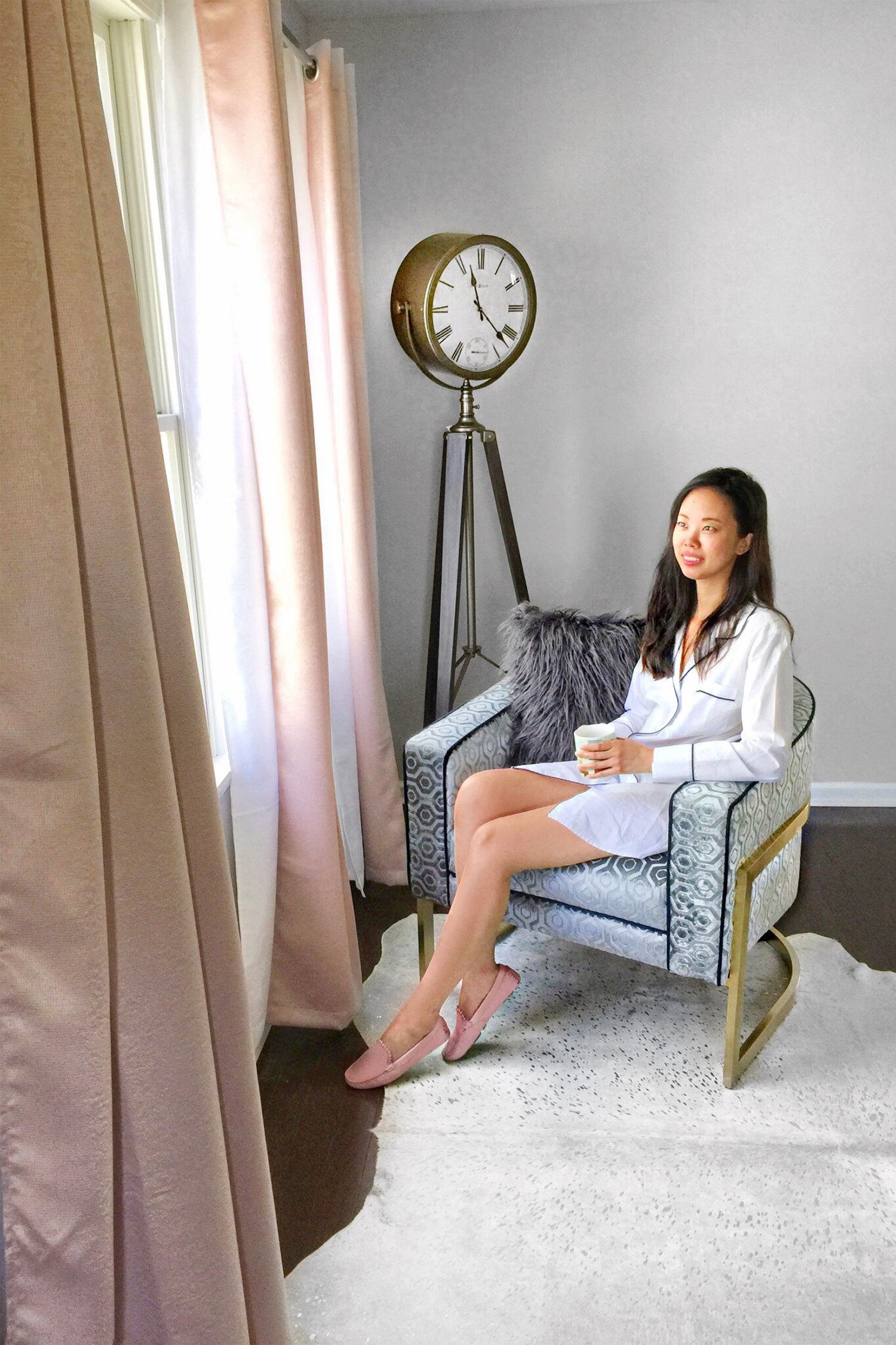 Raymour & Flanigan Furniture
Home sweet home!
The past couple months have been a bit crazy. From Maine to Upstate New York to Guyana back Upstate.. its been about 2 months of nonstop travel so it feels so good to be home!
At the end of the summer, we finally decided it was time to tackle our bare living room. Raymour & Flanigan kindly let me pick out some furniture pieces and I fell in love with this deep blue sofa set.
I ordered it sight unseen online so I was so happy with how they turned out! The quality and experience have been fantastic.
Keep reading or save this article for later ⇟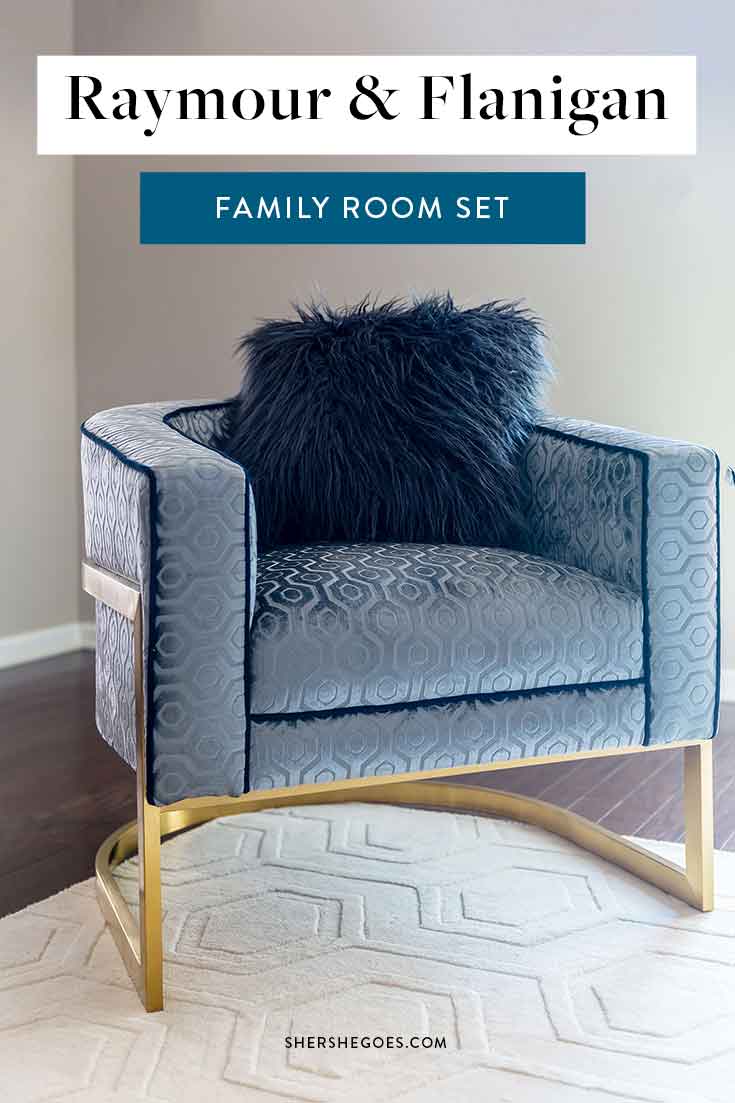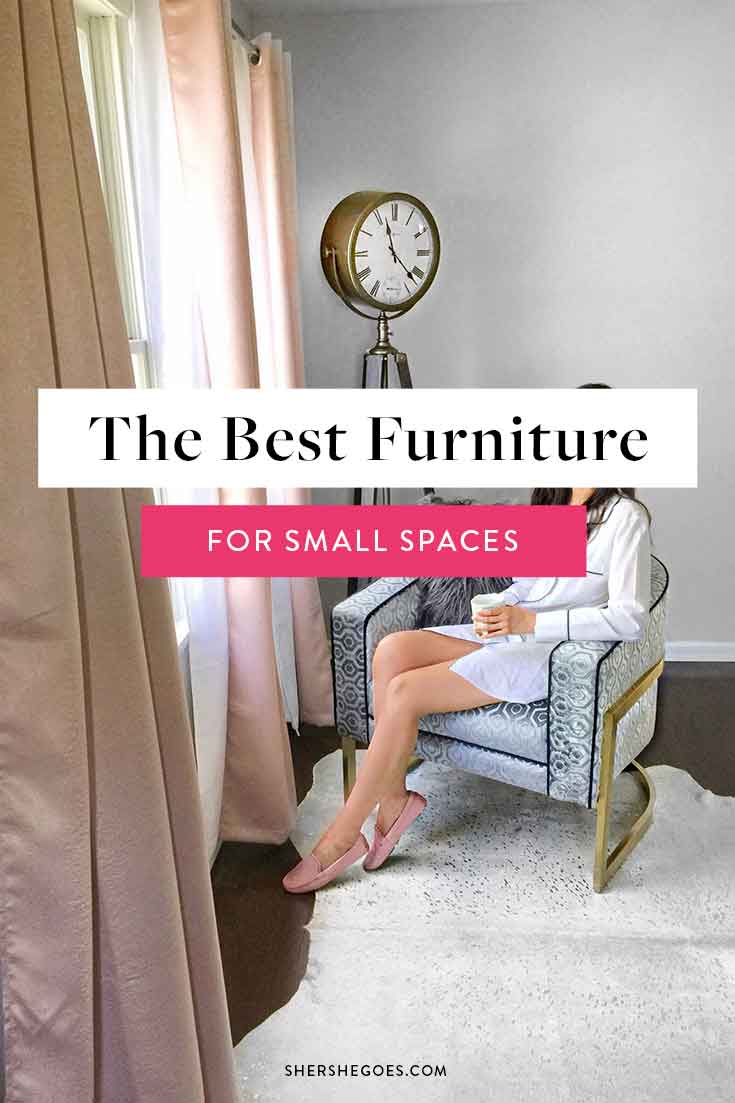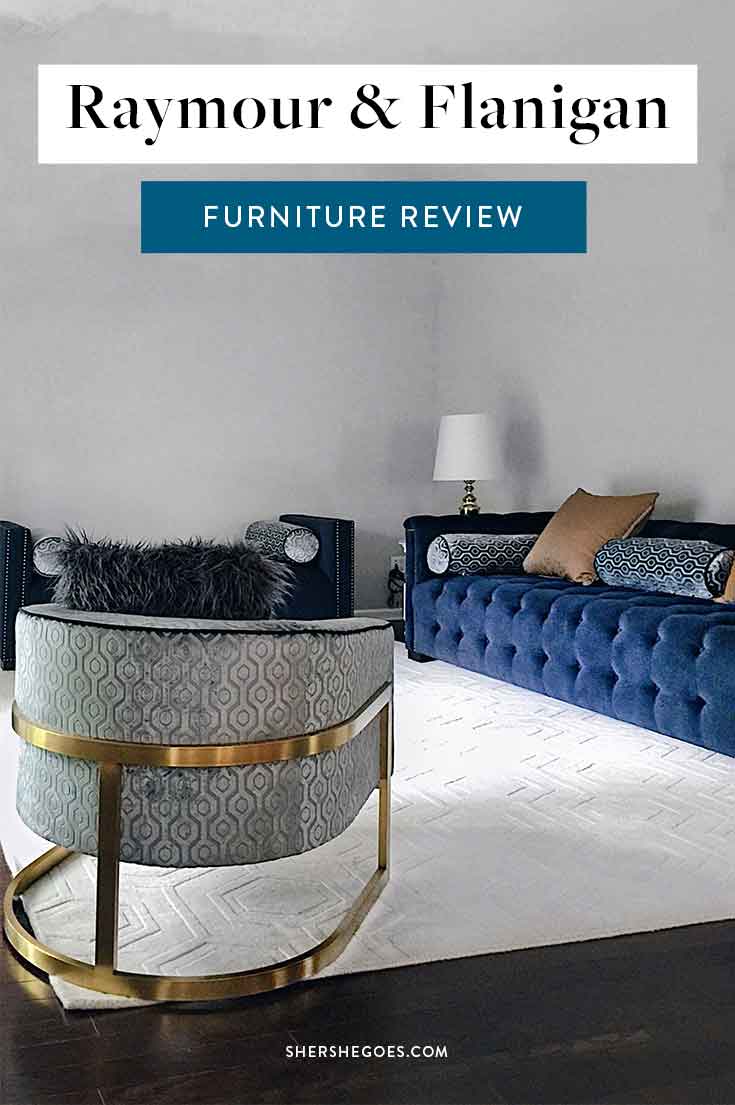 ---
---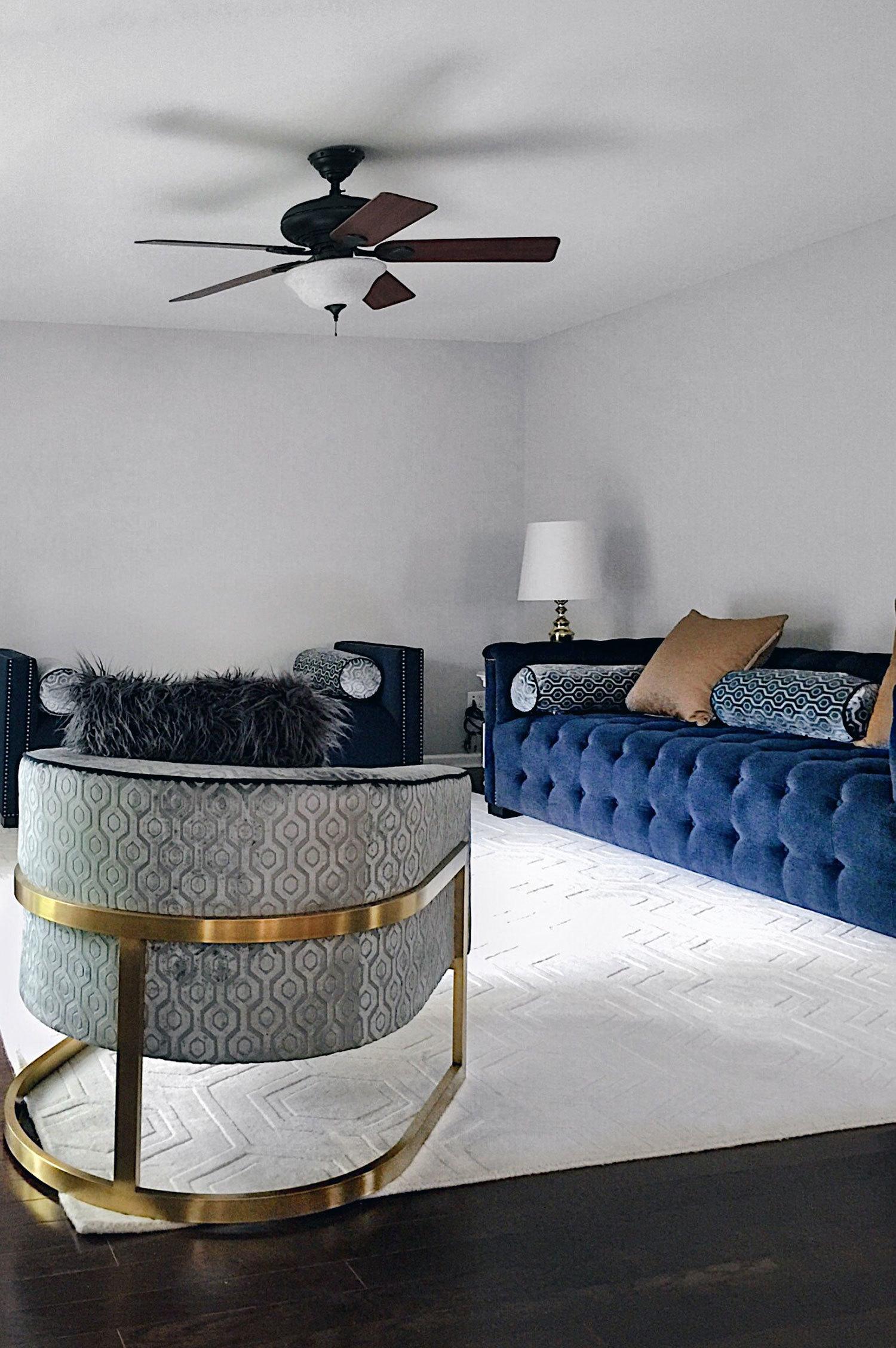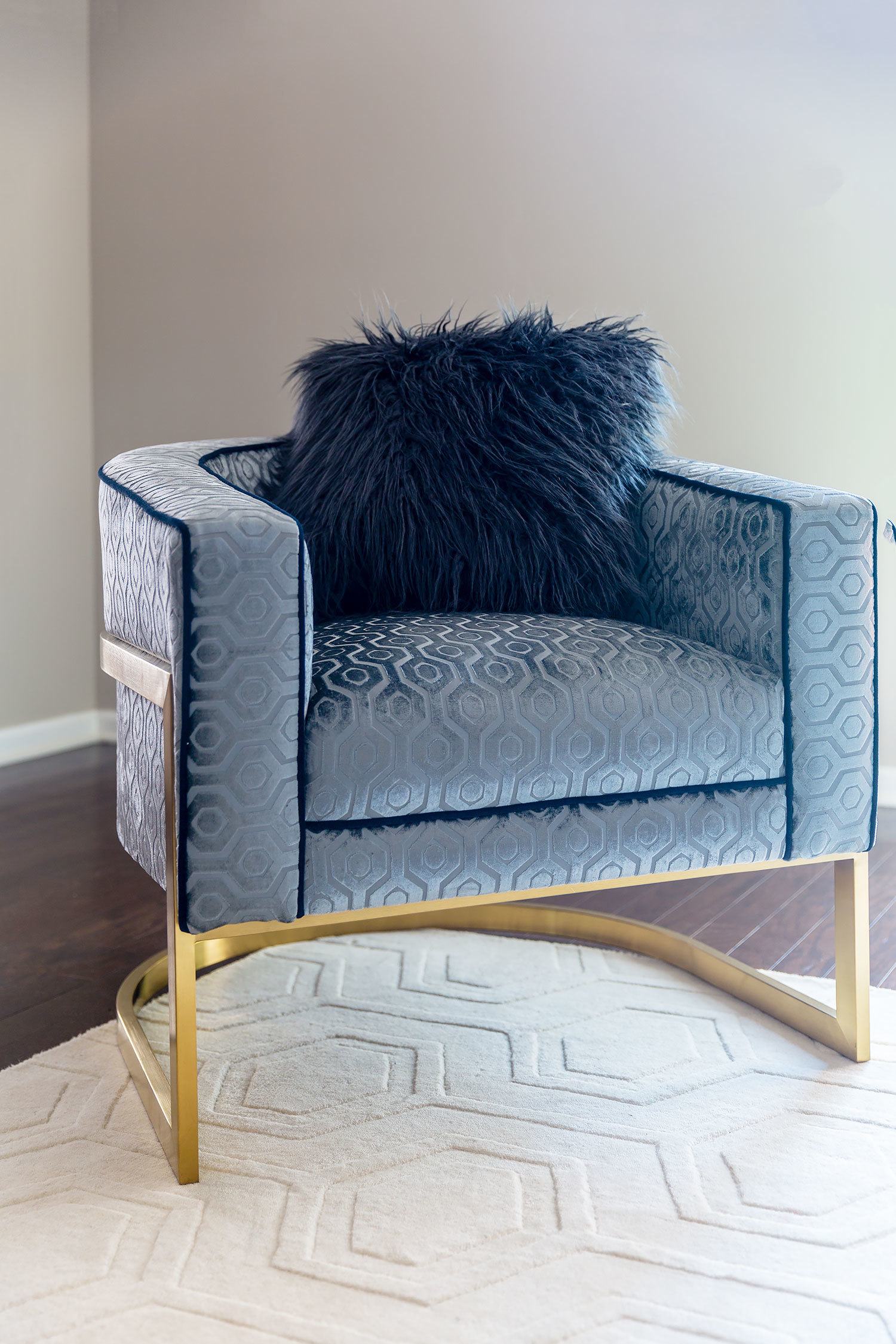 Diana Accent Chair
We chose 3 pieces from the same collection. I love how they're not too matchy-matchy but all compliment each other so well.
The accent chair is my favorite piece. It's made in this gorgeous, slightly metallic diamond printed fabric that looks good from every angle.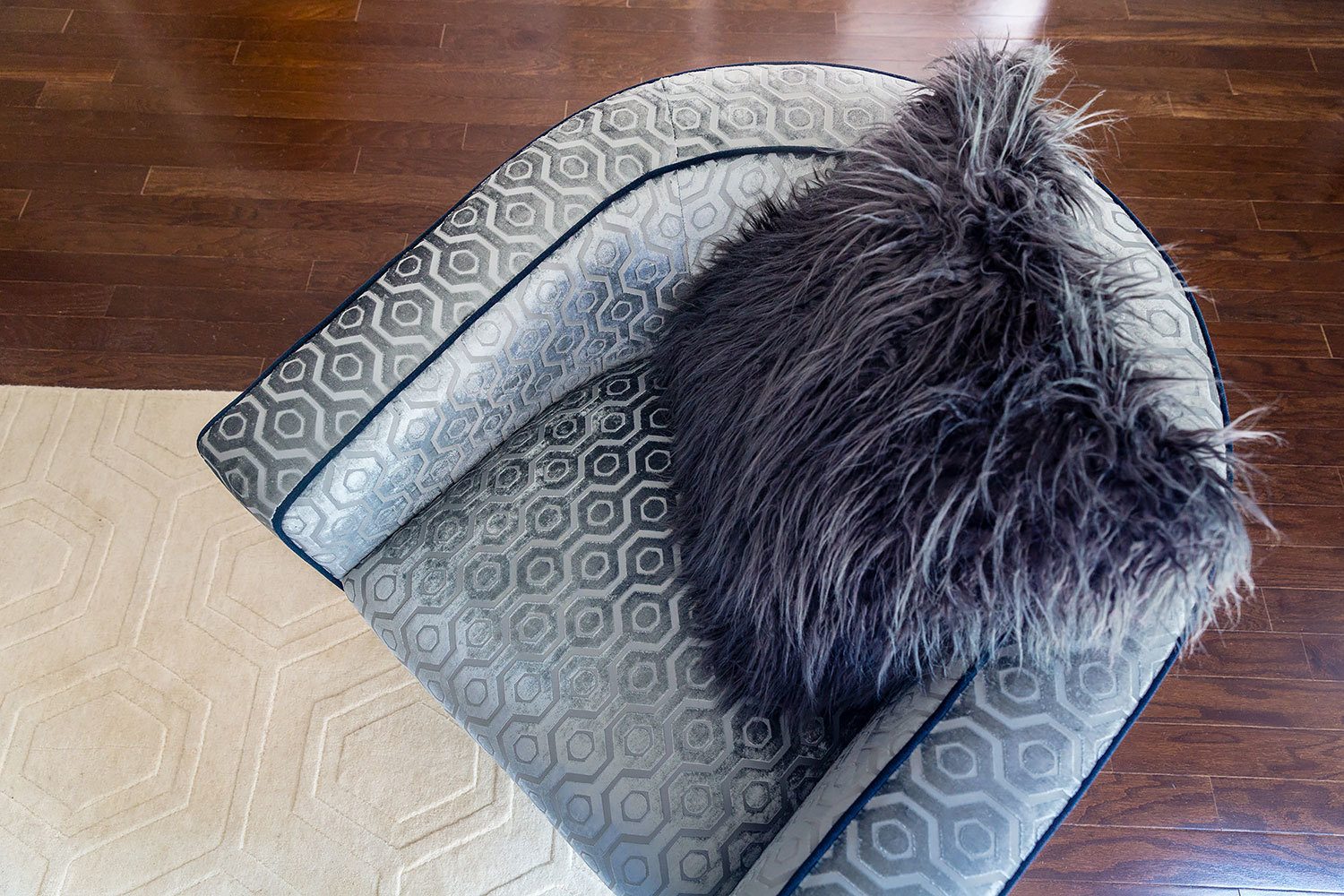 The gold hardware on the legs and back make the piece so stunning from every angle – so you're not restricted to place it against a wall! For now, we've got it at an angle facing the rest of the living room so you can really see the back hardware nicely.
---
---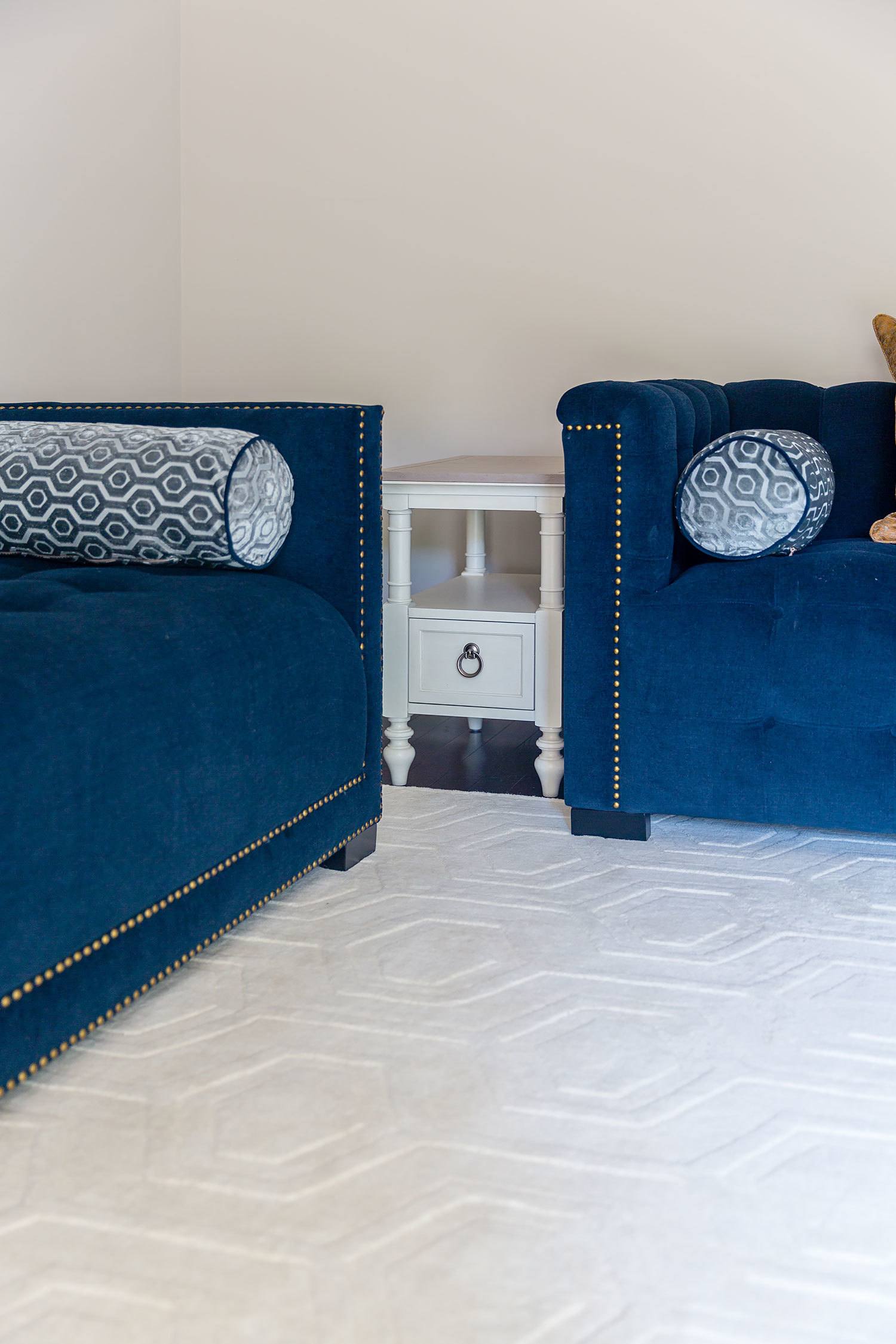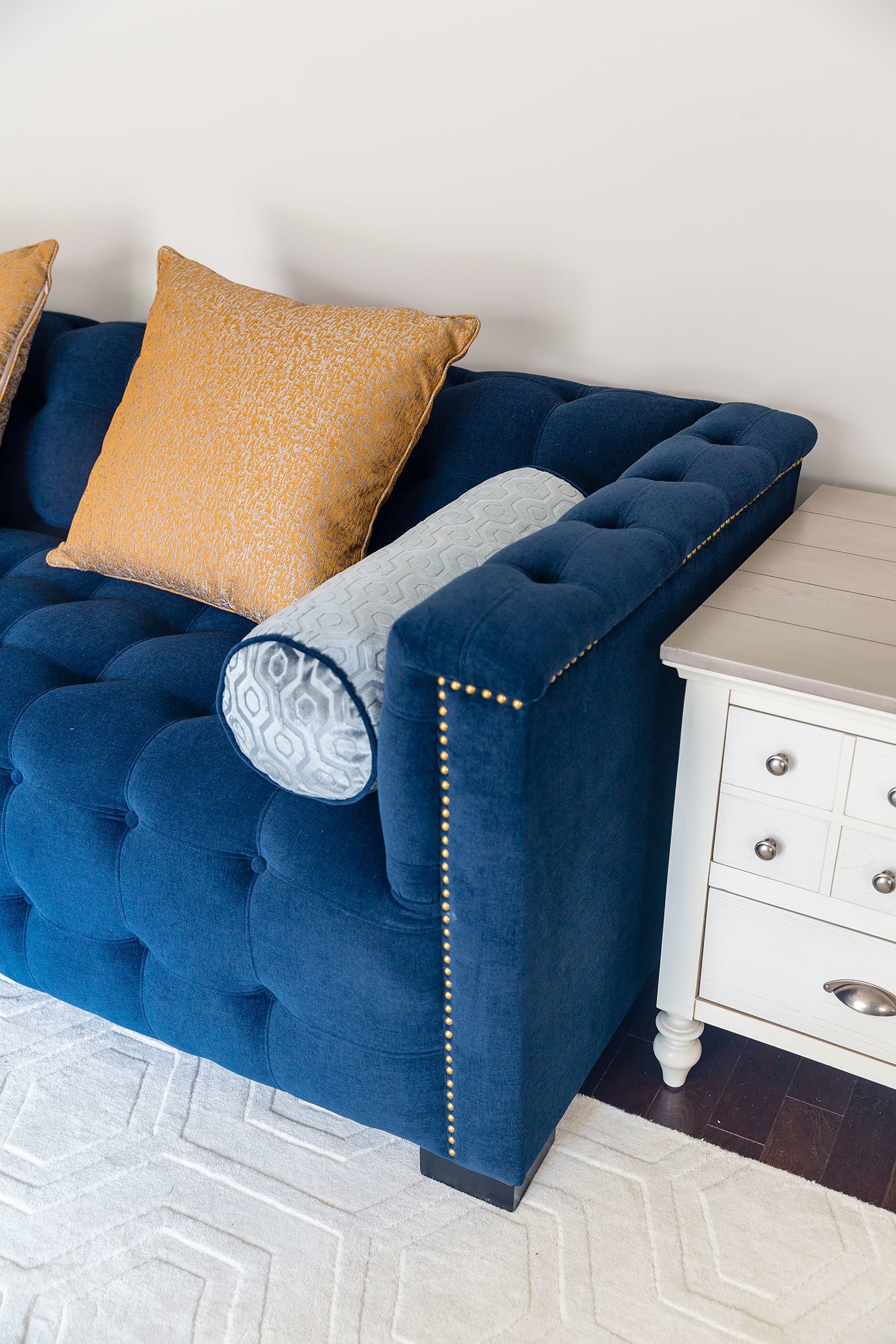 Diana Chaise
I knew I wanted the chaise, since we finally have enough space to fit one. While they may not get as much use as the sofa, I think they're absolutely gorgeous.
The deep indigo fabric has such a distinctive look that photographs so well, and I love the nailhead trim – it really adds a beautiful accent! The seat is a button tufted polyester that looks like velvet but is much more maintenance friendly.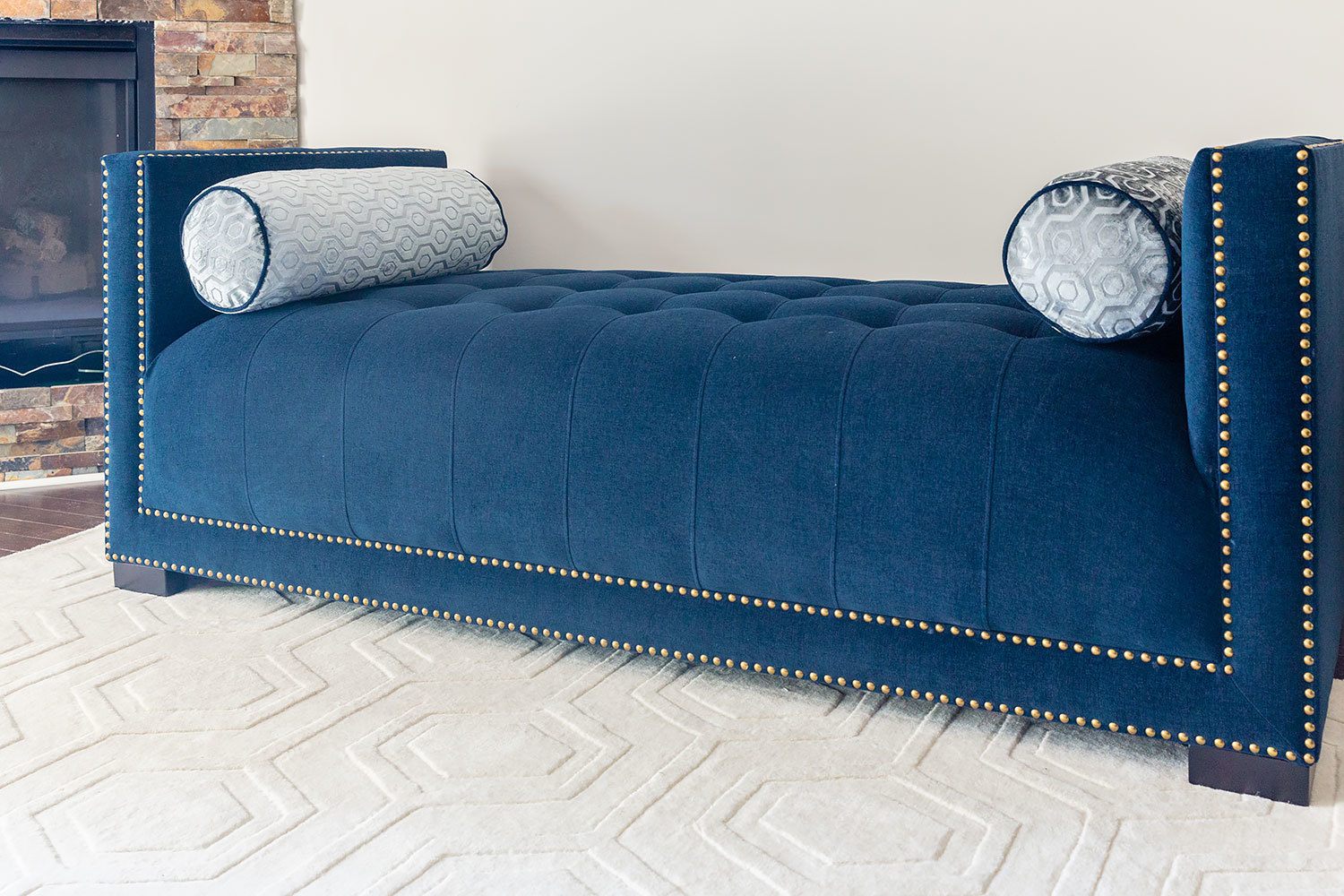 Everything arrived via white glove, so the delivery men helped us set the pieces right away. I think they were in and out in less than 30 minutes! Anytime I don't have to assemble furniture and puzzle out directions is incredible, so I'm really grateful for the delivery aspect. If the items had come un-assembled in boxes, I probably wouldn't be writing this post because they'd be… still in their boxes, ha.
---
---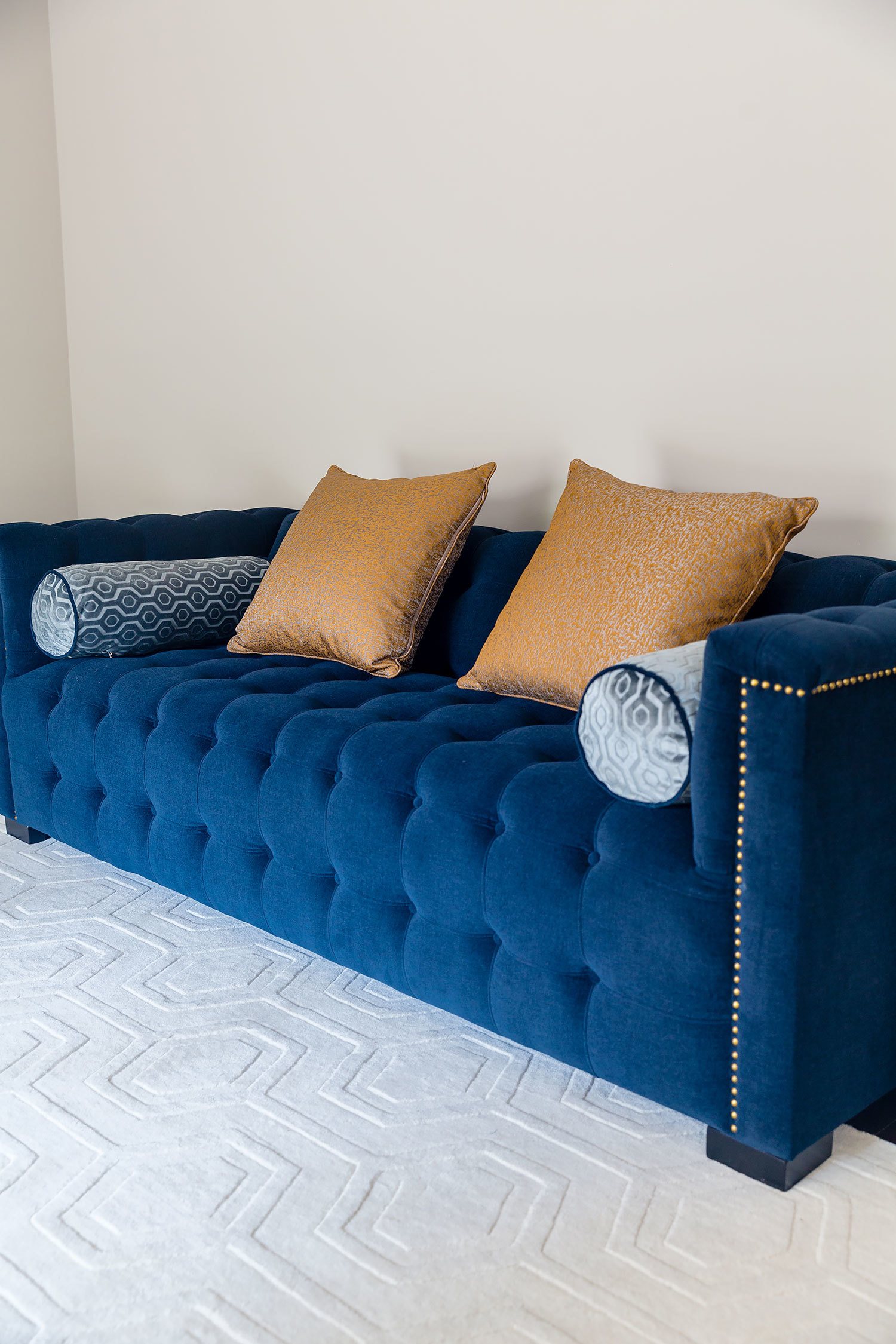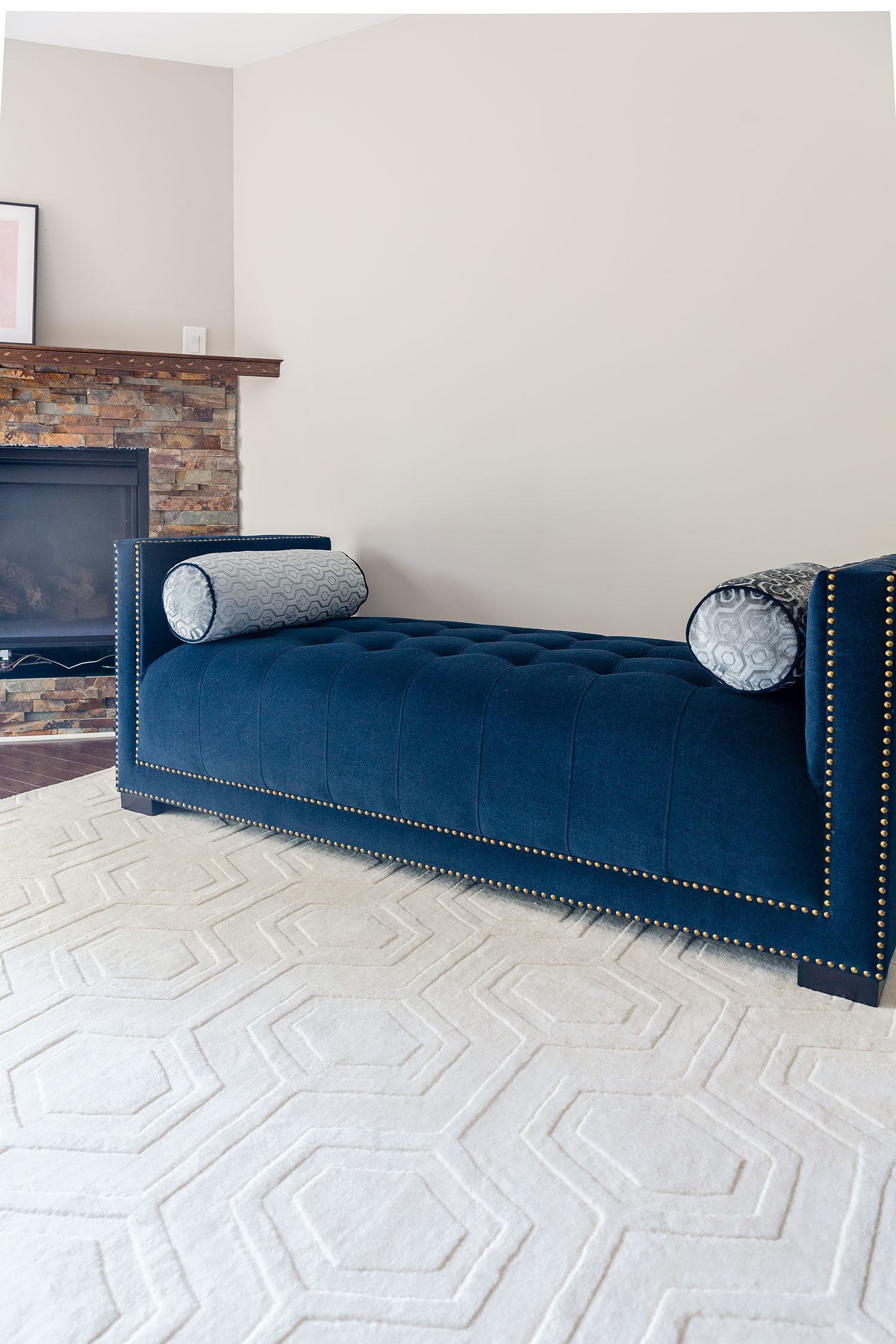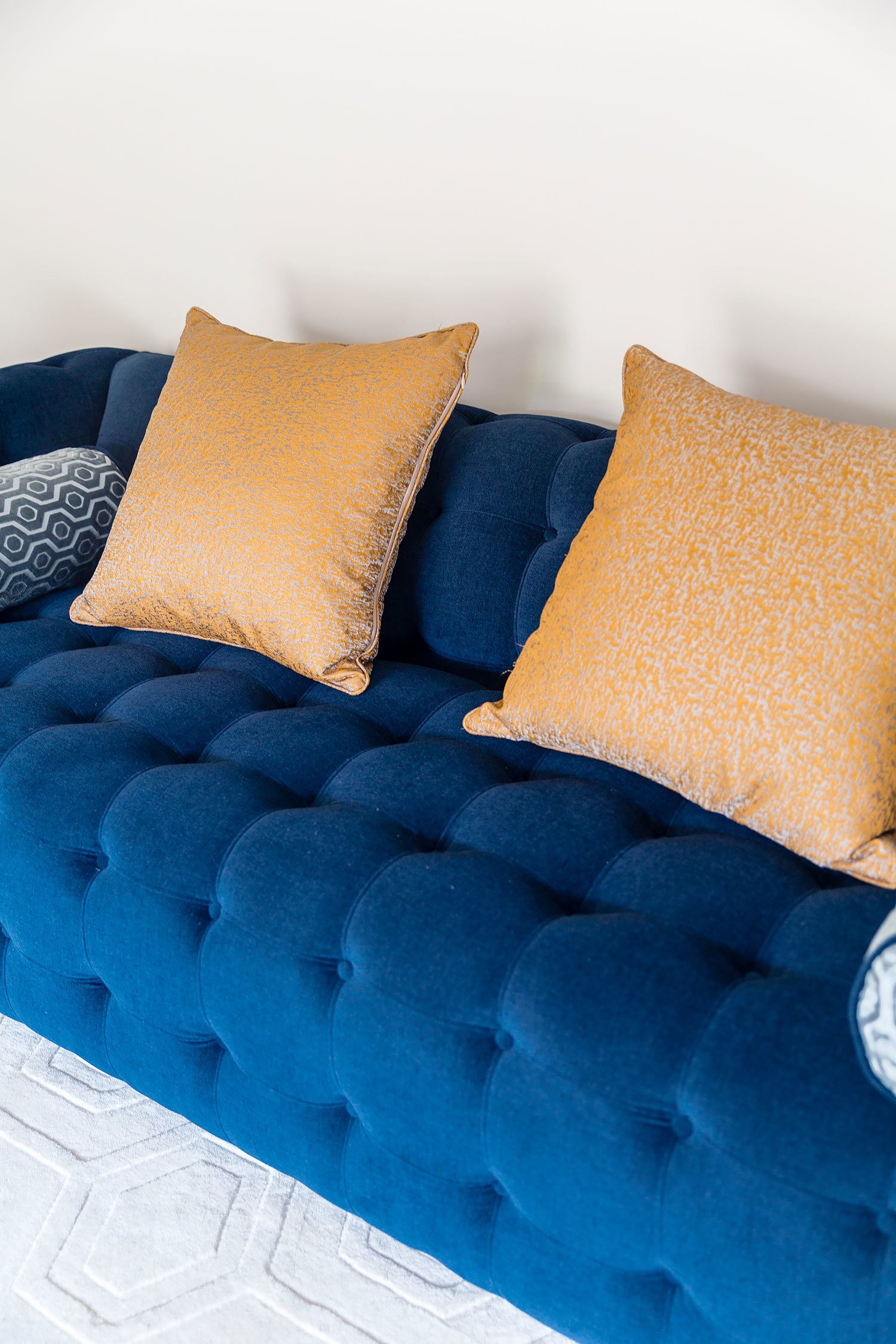 Diana Sofa
And last but not least, the sofa!
I was pleasantly surprised to see that it came with a ton of accent pillows, which make decorating a breeze. I wasn't expecting the set to be a "sleep and slouch" type of sofa – I really wanted something a little more elevated even if it meant it would be uncomfortable.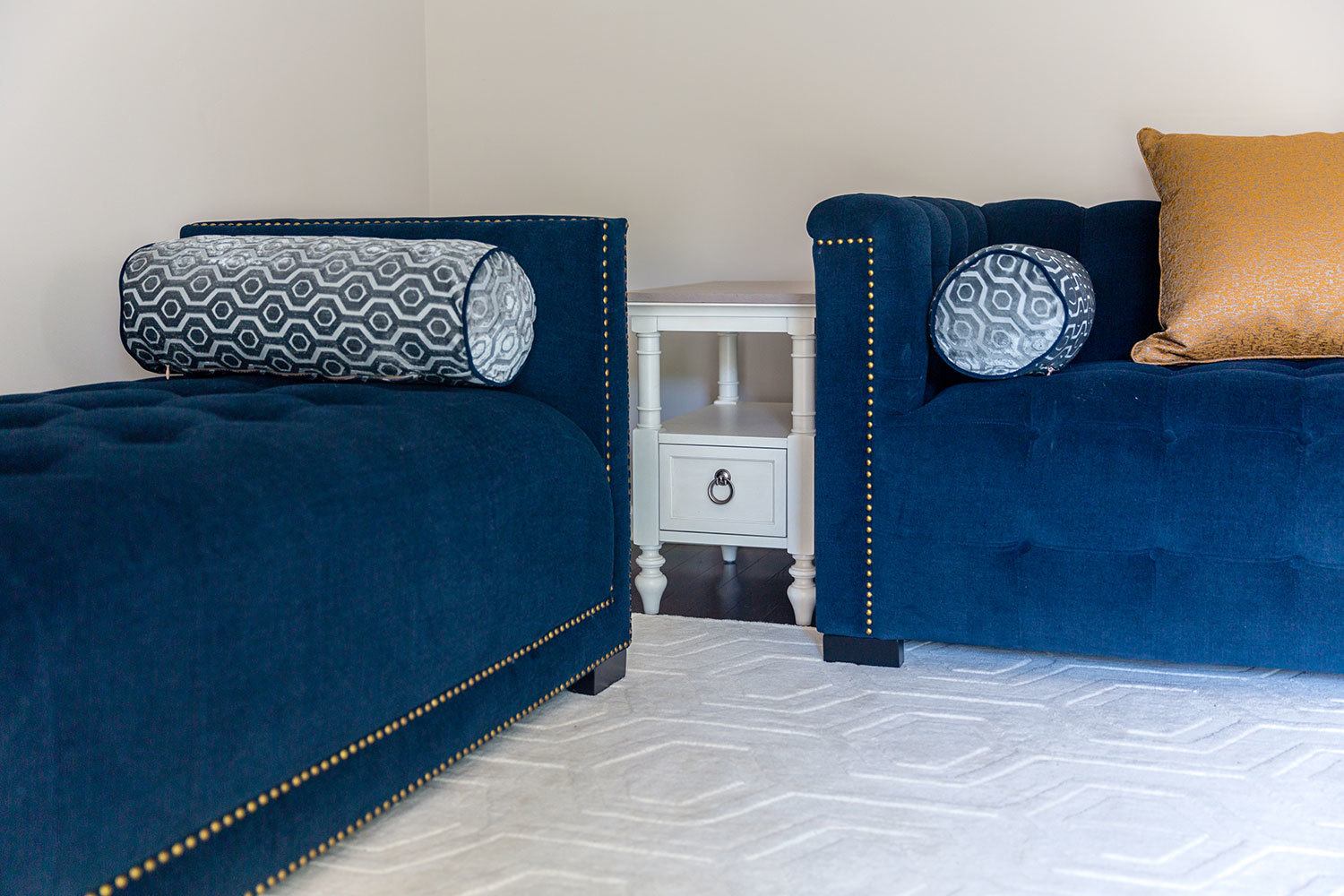 But, luckily, the sofa is great to sit on, watch tv, read a book.. it's even deep enough to sleep on! The tufted fabric is really plush and even better, it's stain resistant! We're always spilling something so I like that it's tough enough to hold up to everyday, actual use.
---
---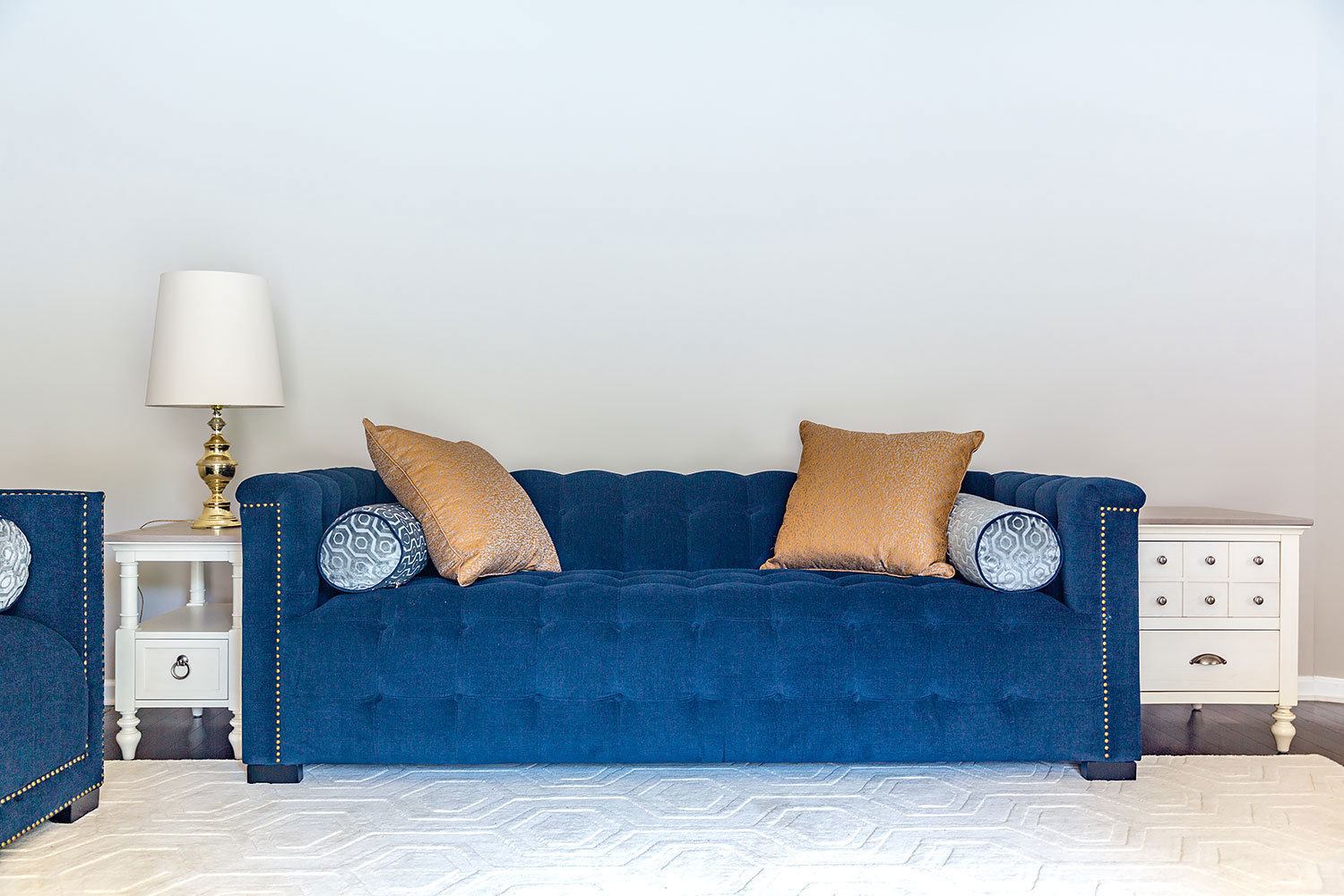 Next week we leave for Argentina and are spending a month in Antarctica, so it was so nice to get the living room furnished before we leave.
The room is still a work in progress…I think I need some art and small decorative items to fill it out entirely, but I've been obsessed with it so far and have been just sitting in it every morning while I have my coffee. I'm so happy everything came together so beautifully and so quickly!
All sofa pieces are from this collection here. The cowhide rug is available here and the ivory hexagon rug from here.
You can browse the full Raymour & Flanigan site here!
Small Space Living
Living in a New York City apartment means space is a premium! Over the years, we've learned to ruthlessly purge our closets, adapt the Konmari method and max out every inch of space. Despite the challenges, we love interior design, NYC real estate and wouldn't trade living here for anywhere else. Follow along on our small space living adventure!
You Might Also Enjoy:
Small Space Living Articles
How to Dress a Bed as Luxuriously as a 5 Star Hotel
The Best Compact Washer Dryers for Small Apartments
How We Installed a Washer & Dryer... in the Kitchen!
Small Apartment Entryways: 4 Decorating Ideas
Storage Hack: Saving Space When You Don't Have a Pantry
Furniture
All the Best Furniture Stores in New York City
Article Modern Furniture Review
Home Appliances & Tech
Home Security Systems: Protect Your Home on Vacation
Follow Sher She Goes on
Youtube | Instagram | Facebook | Twitter | Pinterest | Bloglovin