Recapping Day 2 of NYFW September 2017, featuring spring 2018 collections from Tome, Tracy Reese and Leanne Marshall!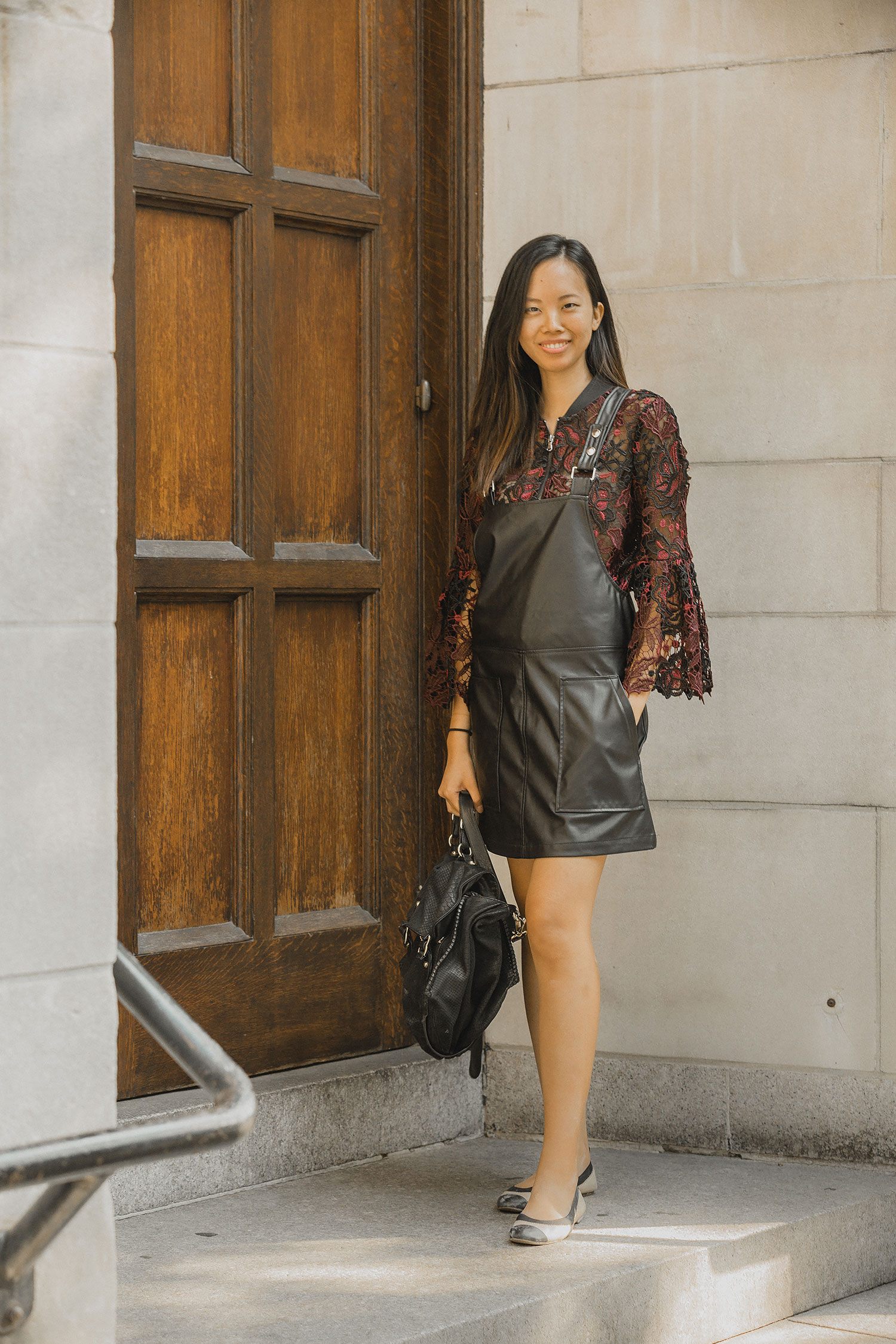 Lace Bomber Jacket (dress version here) / Pleather Overalls (old, pants version here) / Flats (old, similar here, also obsessed with these velvet bow slides)
NYFW 2017
What Does Fashion Week Mean?
For day 2 of New York Fashion Week, I wore this lace bomber jacket under some pleather overalls. I had a couple NYFW presentations, shows and events scattered throughout the city so I wanted something comfortable!
Have you ever wondered why bloggers attend NYFW or what the point of fashion week is? Keep reading for a previous of the Spring 2018 collections from Tibi, Tome, Leanne Marshall and Tracy Reese as well as some various industry perspectives on the purpose of fashion week!
Read more: New York Fashion Week September 2017: Day 1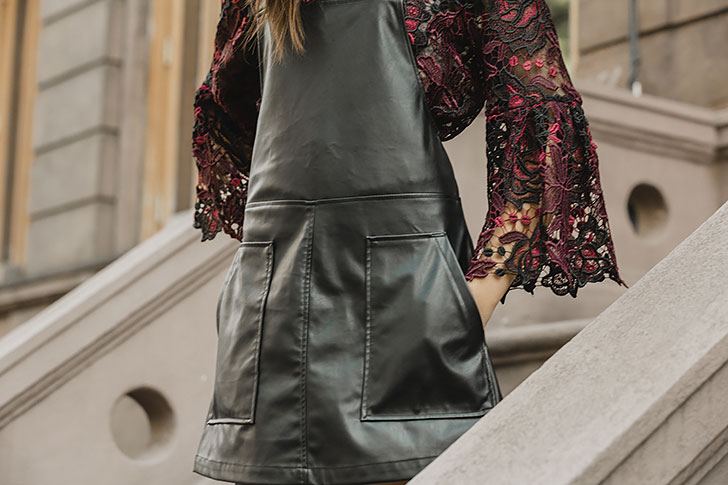 ---
---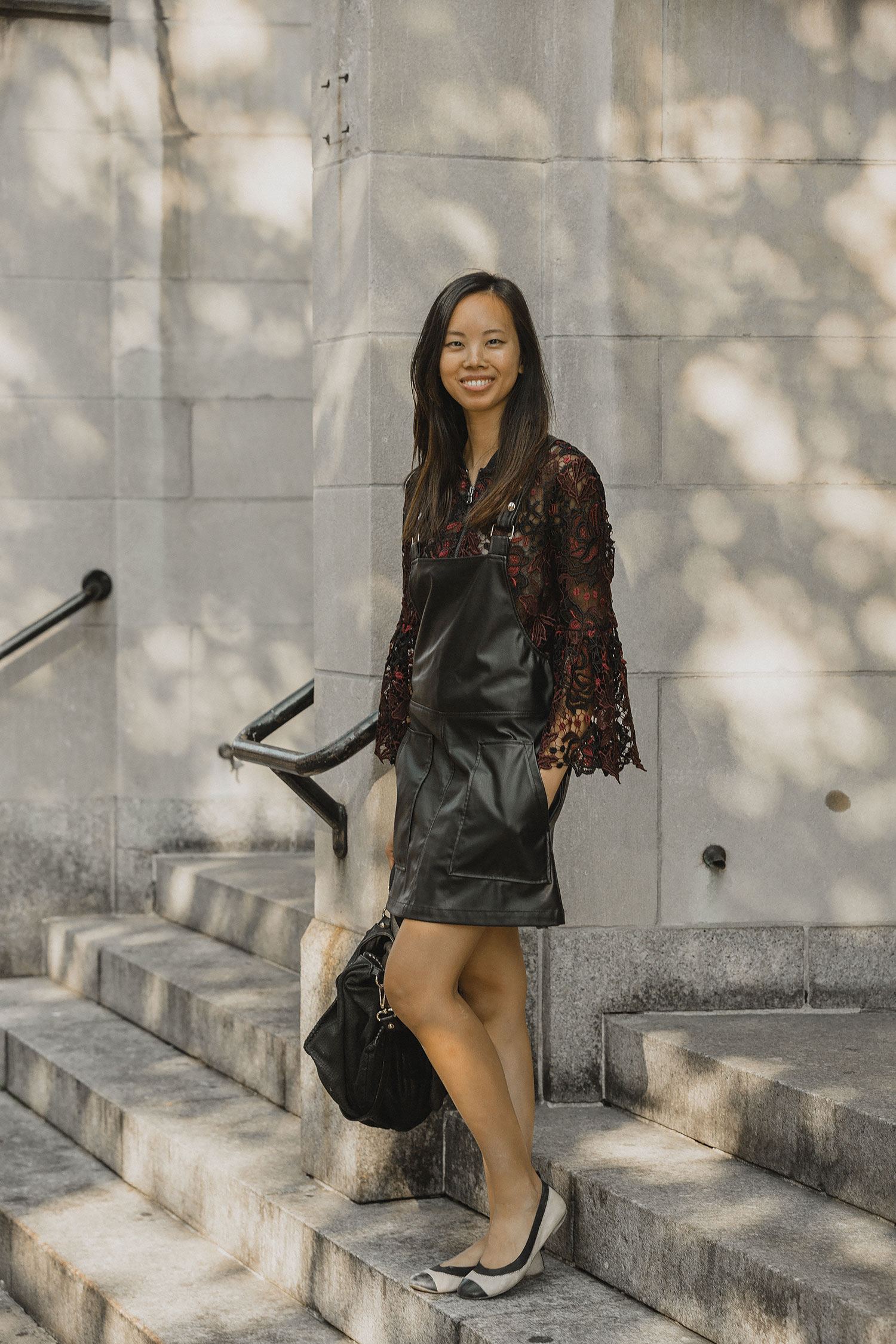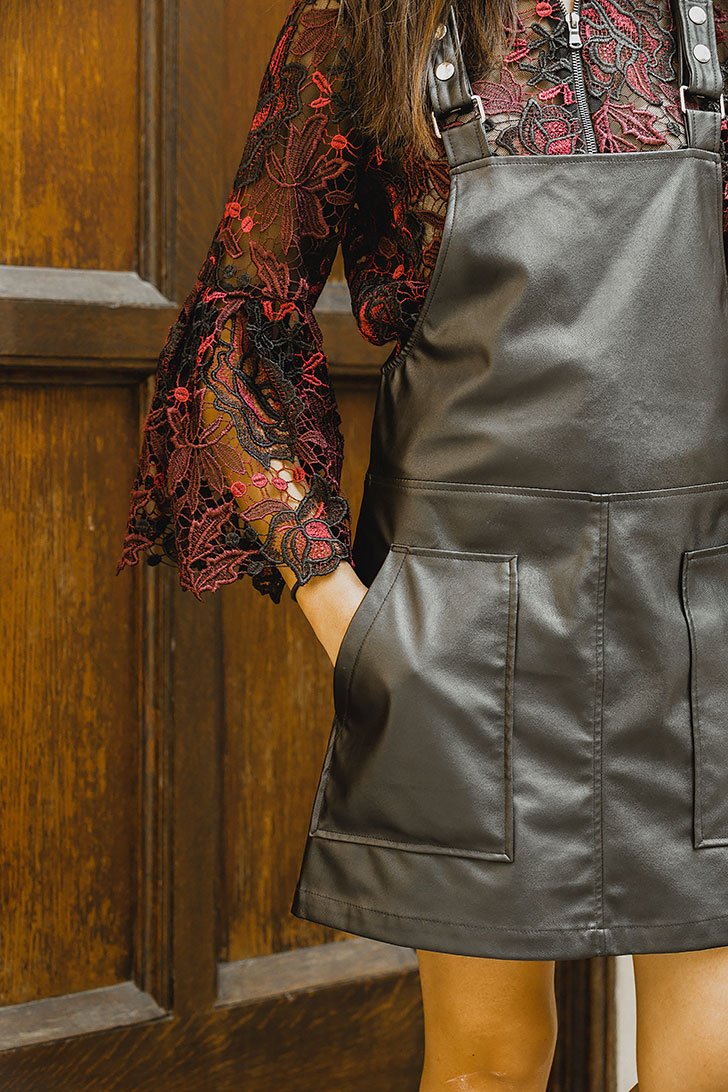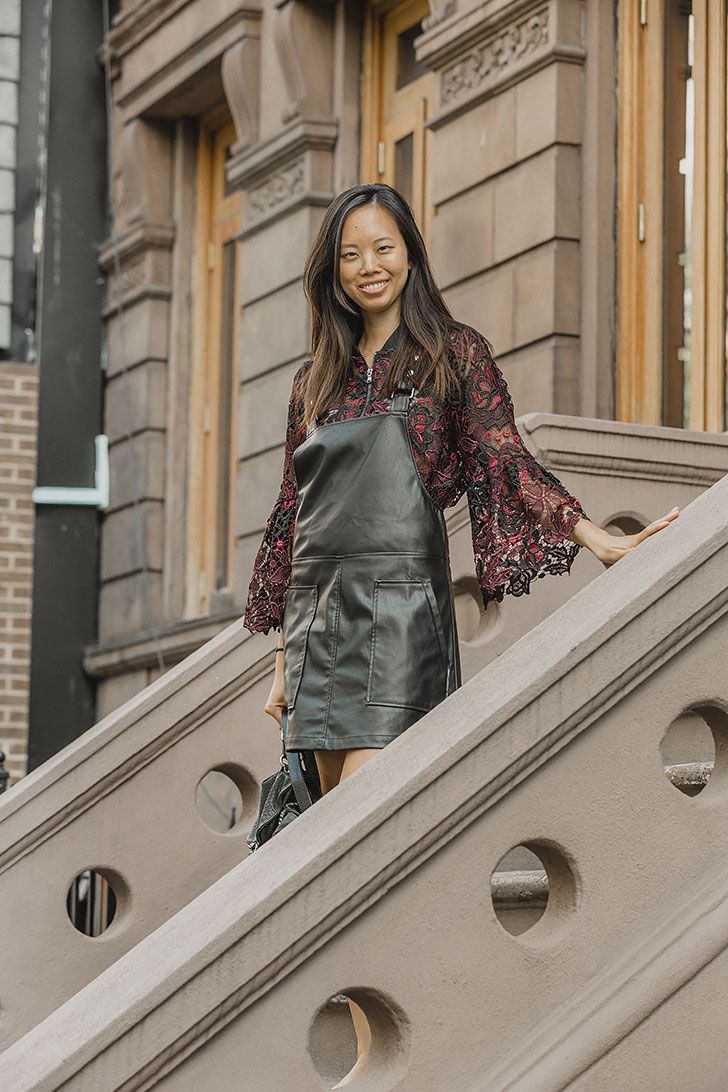 What I Wore
The leather overalls unfortunately show up quite wrinkly on camera but every time I wear them, someone asks where they're from. They're incredibly comfortable and have big pockets! Anytime a dress has pockets, it's a winner.
Underneath, I wore this burgundy lace bomber jacket which I think is perfect for fall. It's a see-through lace pattern with some medium bell sleeves and can be worn over a body suit or layered once the weather gets cooler.
I originally wore the jacket over the overalls but it didn't look quite right – once I slipped it on underneath I was ready to head out! Funny enough most people just assumed it was a blouse.
Now on to the shows!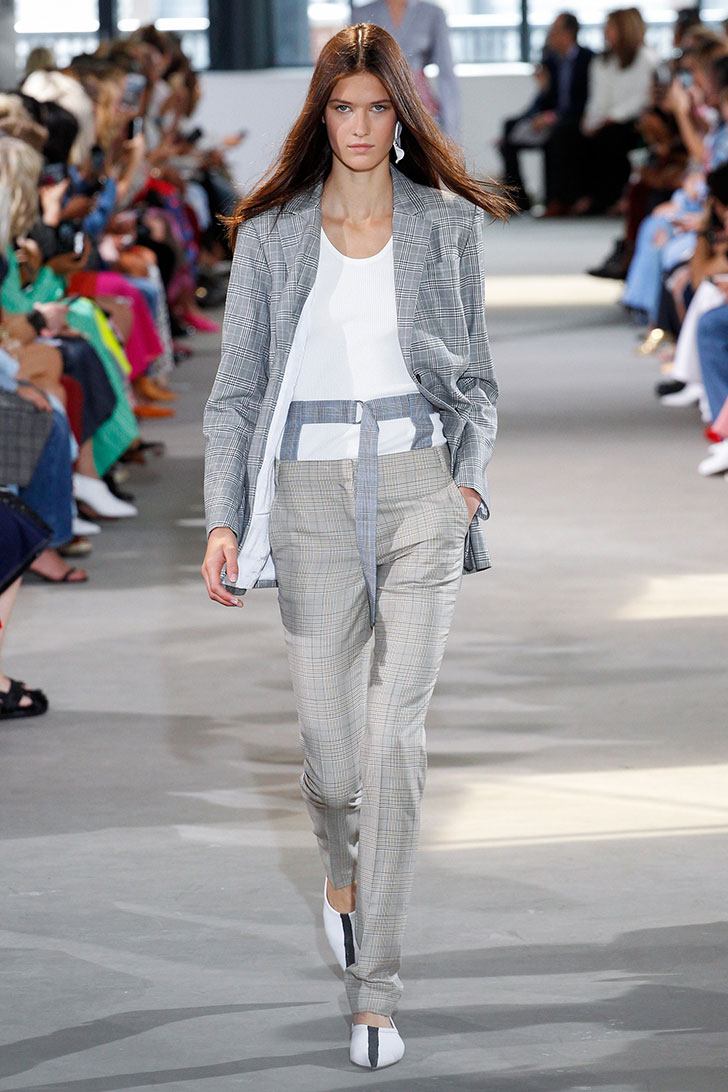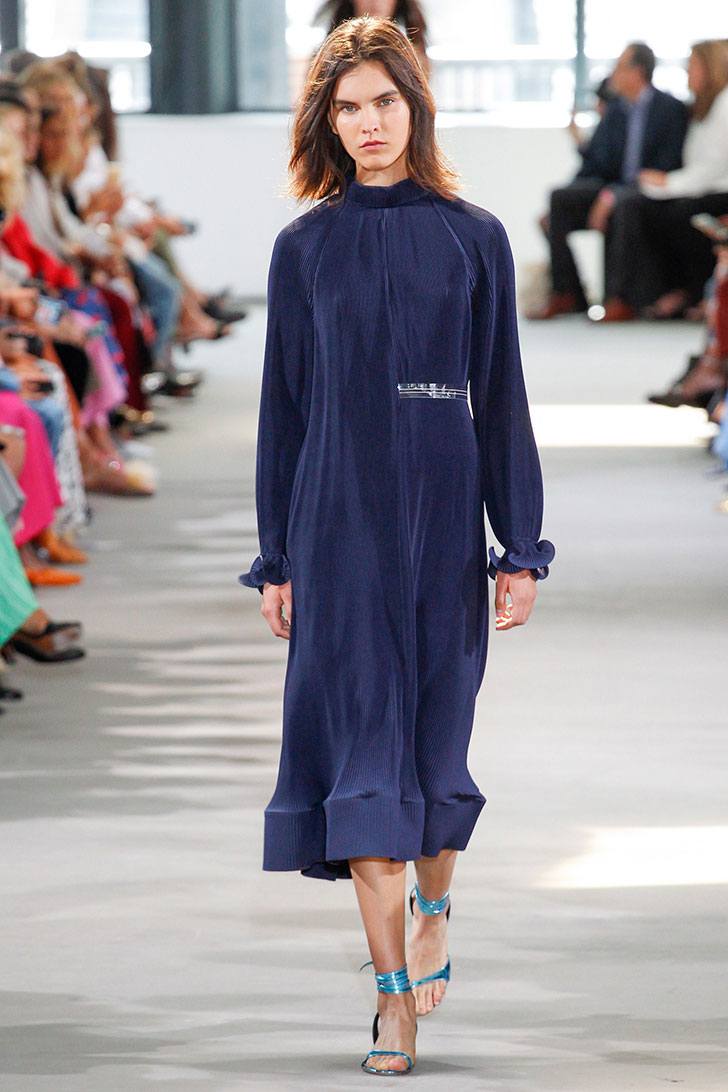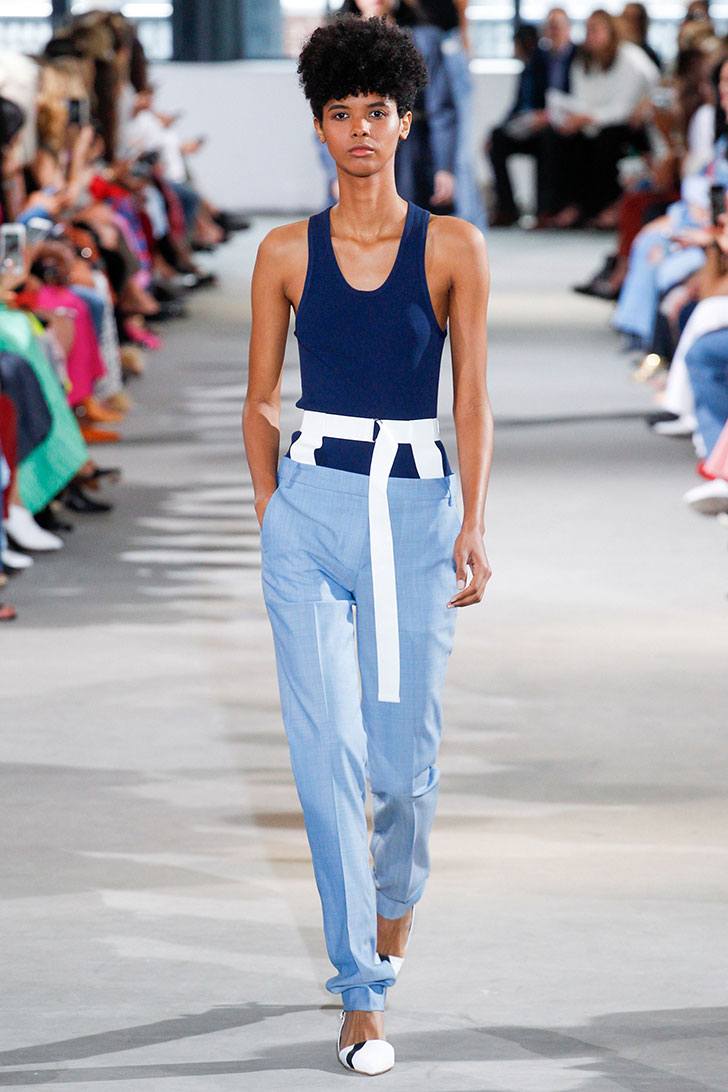 Tibi SS 2018
The corporette in me loved Tibi Spring 2018. Amy Smilovic featured monochromatic looks with a heavy focus on suiting and the 80's power shoulder. I loved how she continued to throw in d-ring belts and while it may not have been the most exaggerated, fashion forward collection, I could see myself wearing every one of these items to work. Wearable, breathable style? Yes please.
Tome SS 2018
Tome is one of my favorite designers, because every season the themes are so different, so I was curious to see what this collection would comprise. The designer duo chose a quiet, intimate theatre in Chelsea to show off their ballet-inspired spring collection.
Models of every age were dressed in loose, pleated striped dresses, which seemed uniquely suited to show off movement. Some outfits featured every color of the rainbow while others made a statement with neutral blue & black hues. I especially loved the accordion style details and how the clothes shine on models, young and old!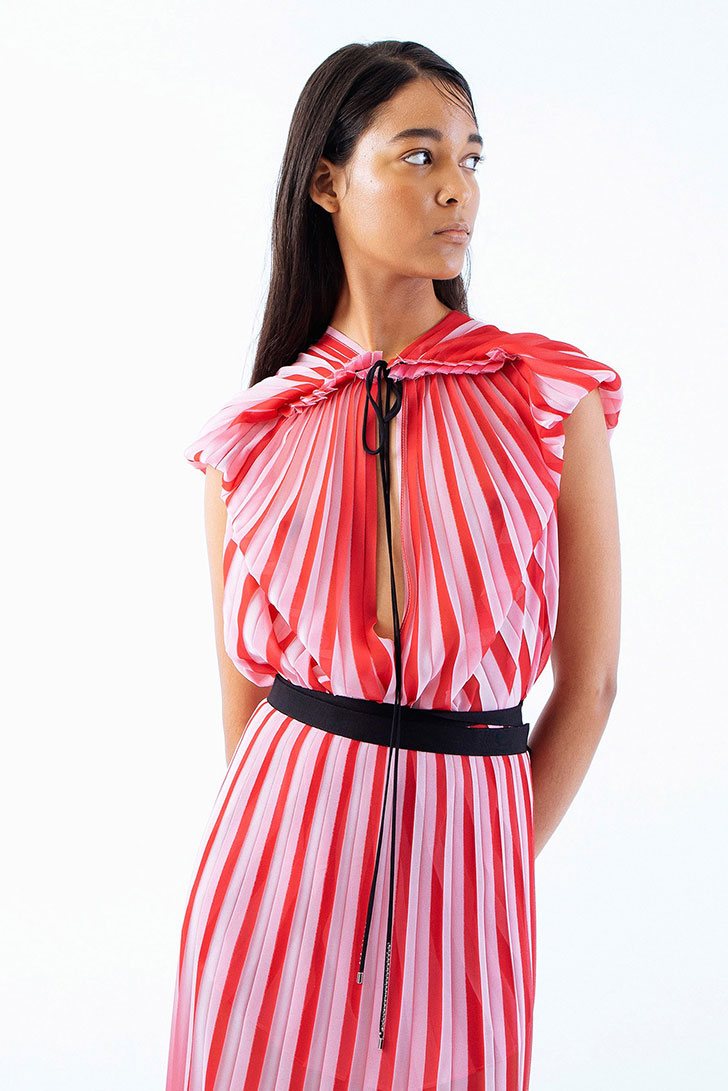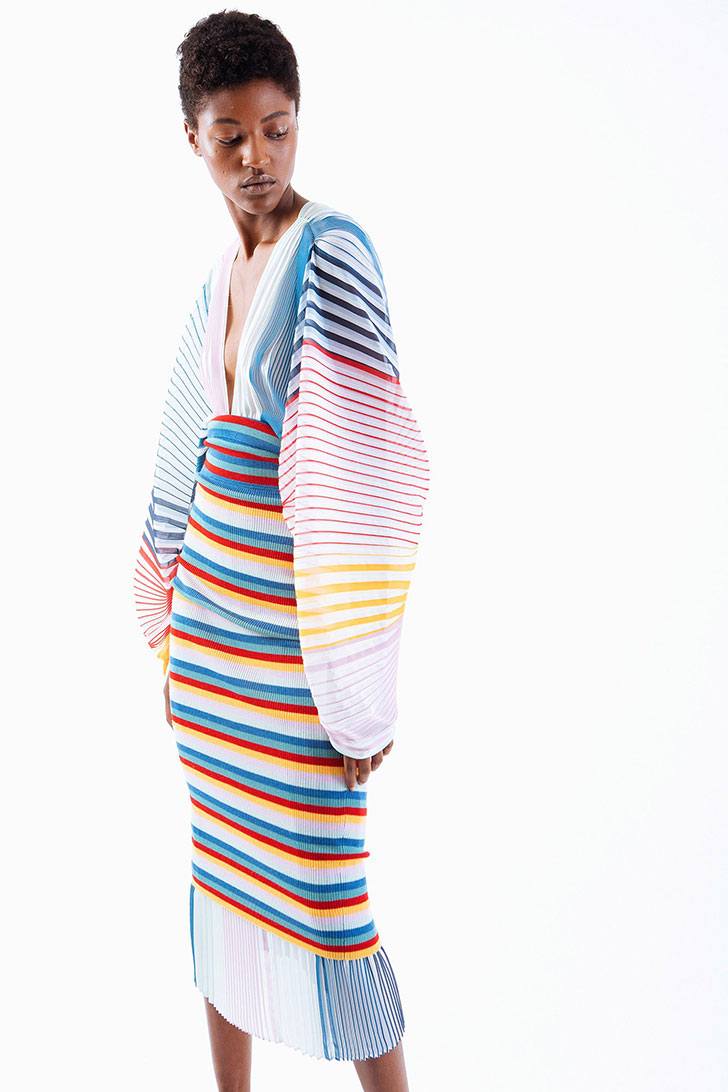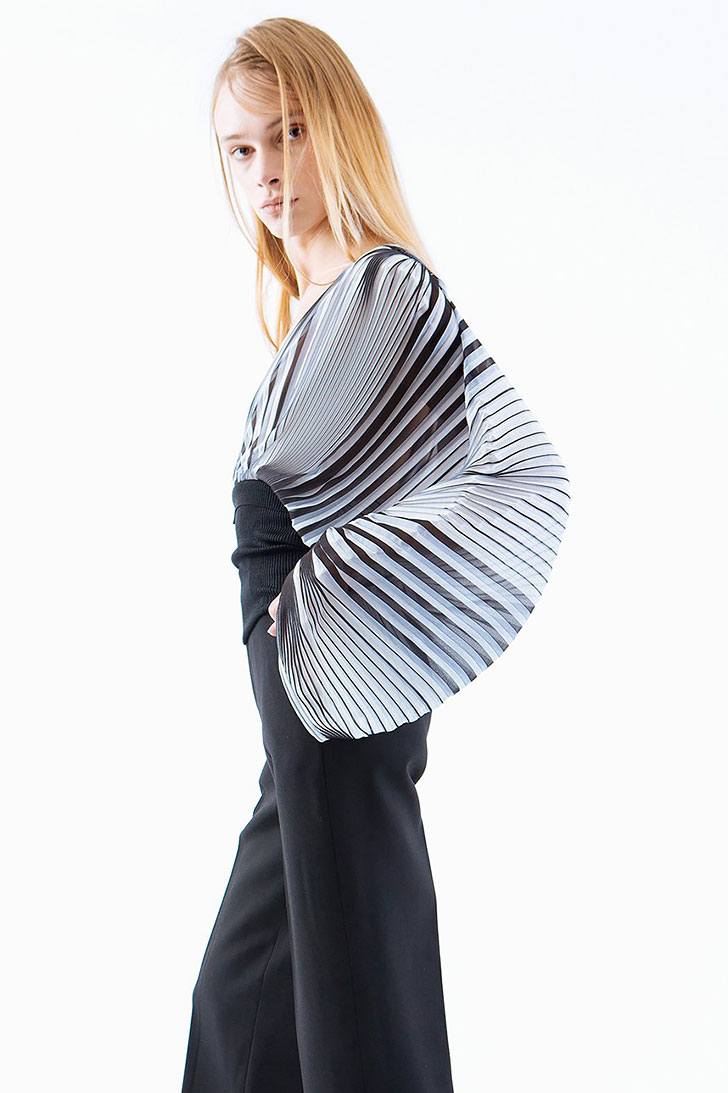 ---
---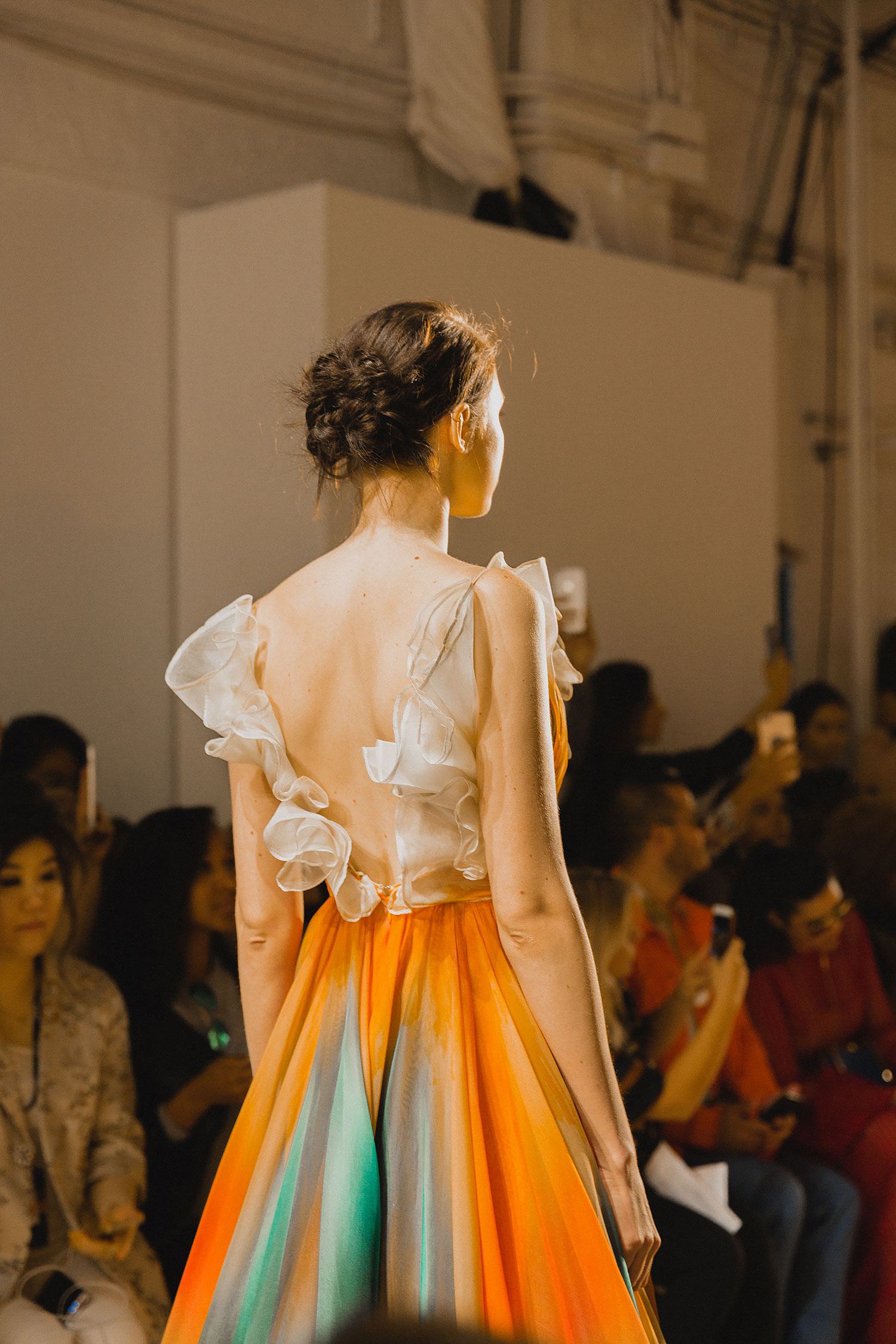 Leanne Marshall SS 2018
Leanne Marshall displayed her signature flowy gowns and ombre dresses yet again! I loved the bolder colors in this season's collection, which featured lots of deep green and bright orange.
Her inspiration behind the collection was the constant construction around New York City. After one too many days staring at the makeshift green construction walls and their diamond windows, she gave in to the urge and wove the colors of the city into the collection.
Tracy Reese SS 2018
Tracy Reese is known for her bold, tailored sportswear and hosted a unique presentation in the Chelsea galleries. She cast models of different ethnicities and encouraged them to speak in their native tongues about their background. I only had time for a quick peek around but loved the bold, female message behind the clothes.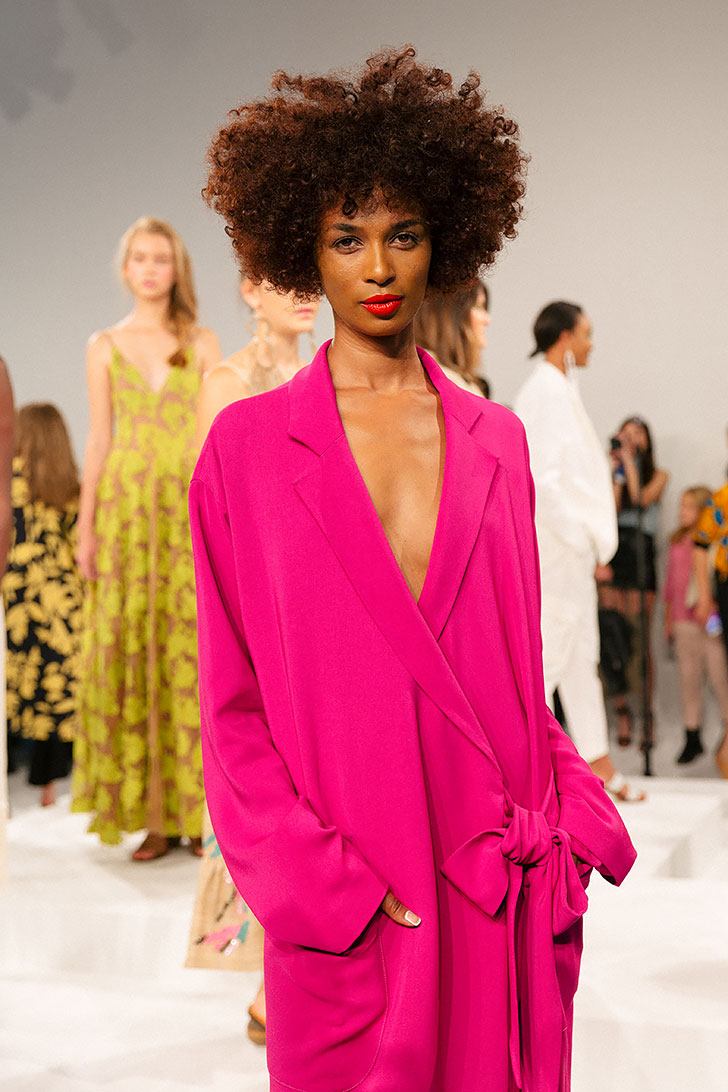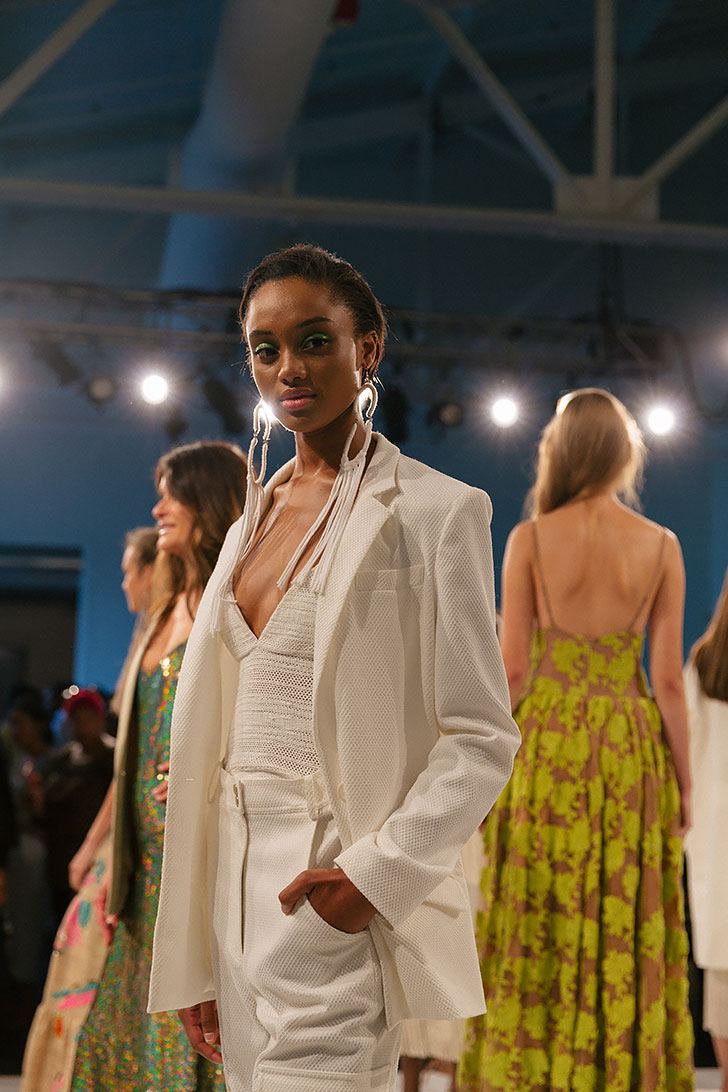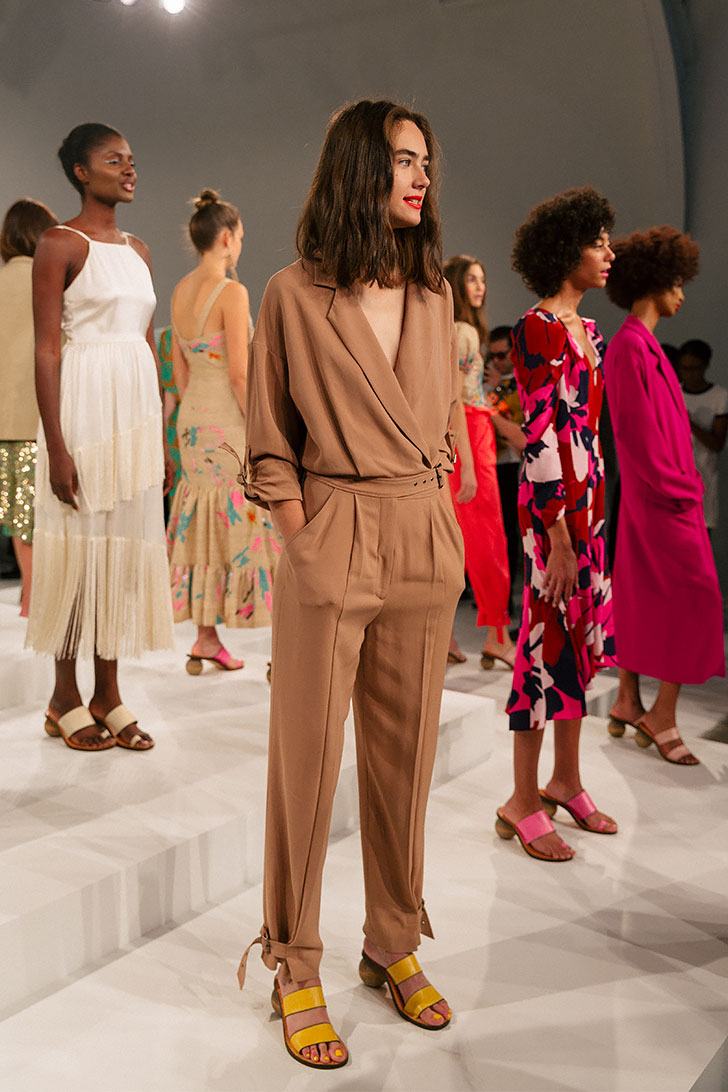 ---
Why Do People Go to NYFW?
I think one of the criticisms people have about NYFW is that's become quite commercial and many designers are actually choosing to skip the week altogether. I'm still very new to it all but there's no question that New York takes a more 'business' approach to fashion. With the rise of 'see now buy now' and the monetization of street style, each progressive season seems a bit more faded, a bit less glamorous.
Meanwhile, the week long series is an eye-opening indulgence in ambition and attention. Everyone from bloggers to photographers to PR mavens are hustling to make their break. It's all a bit much for someone like me but I'm curious, do you even follow along with Fashion Week or care?
If you'd like to read more about the week from various industry folks, here are some great articles:
Hope you enjoyed my mini series on New York Fashion Week 2017! If you have any questions about NYFW, let me know in the comments!