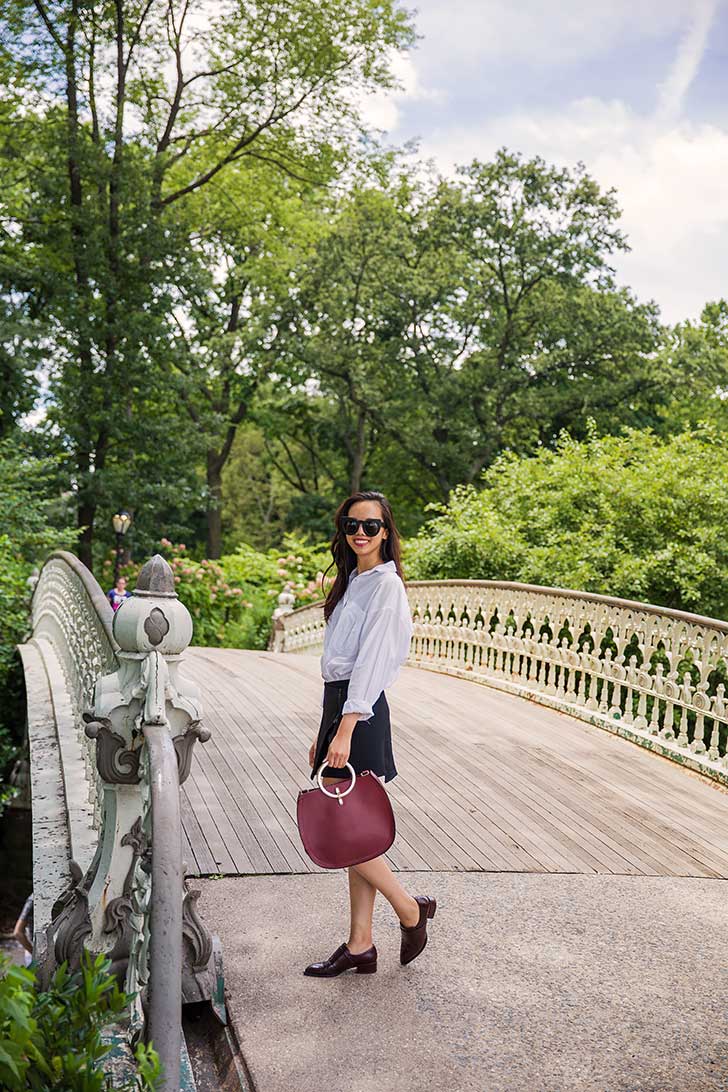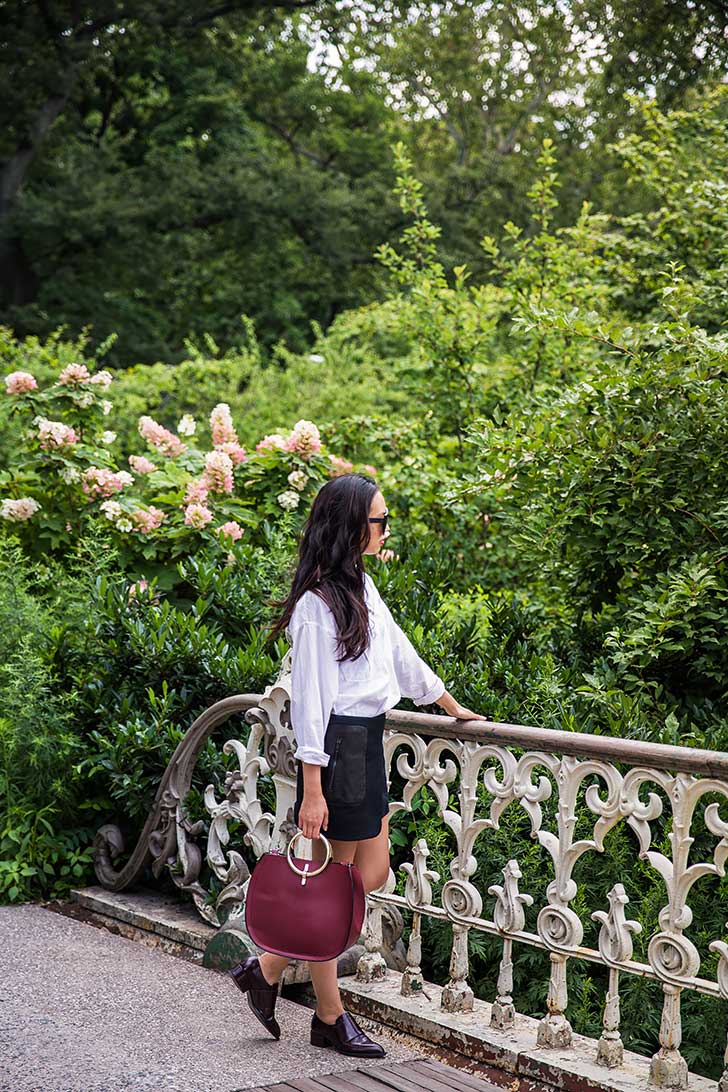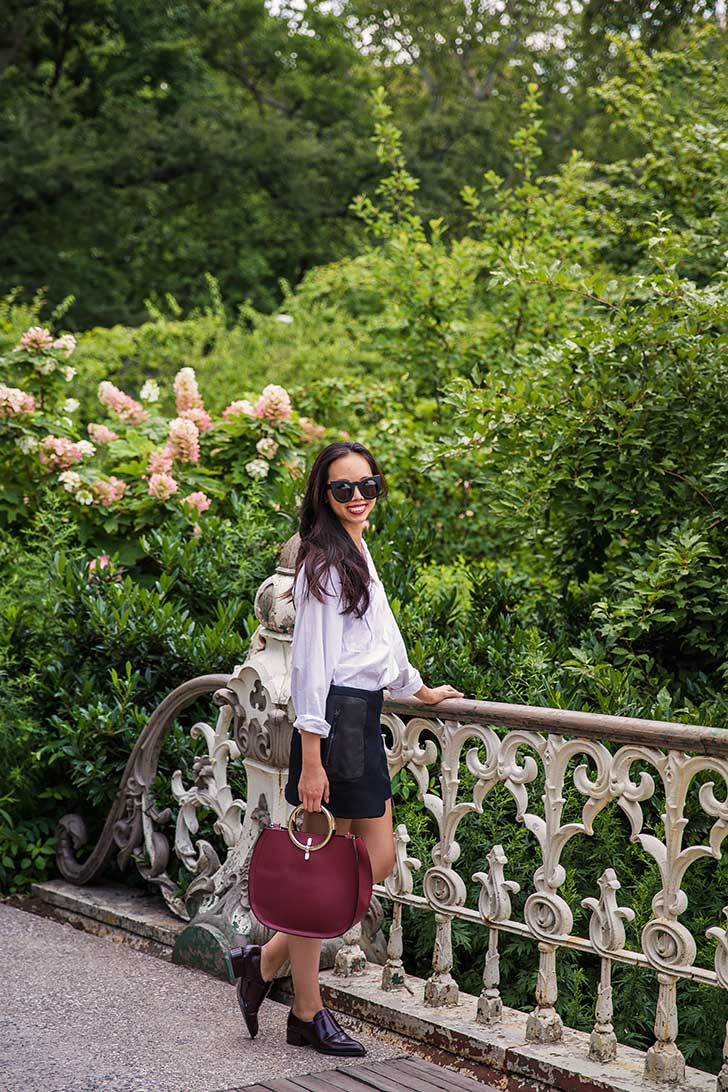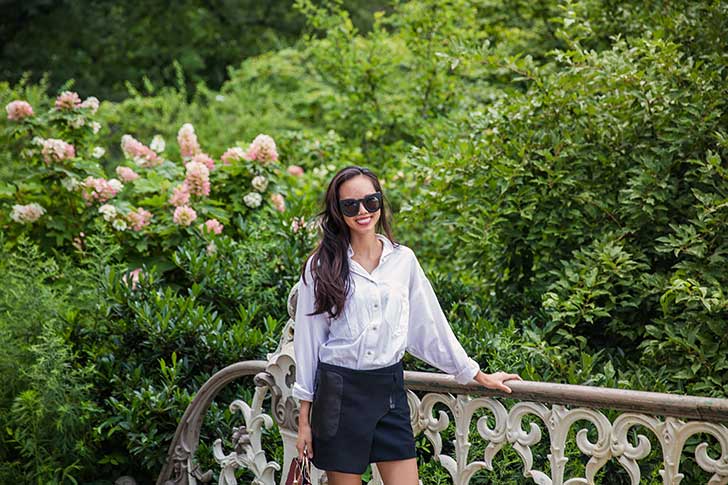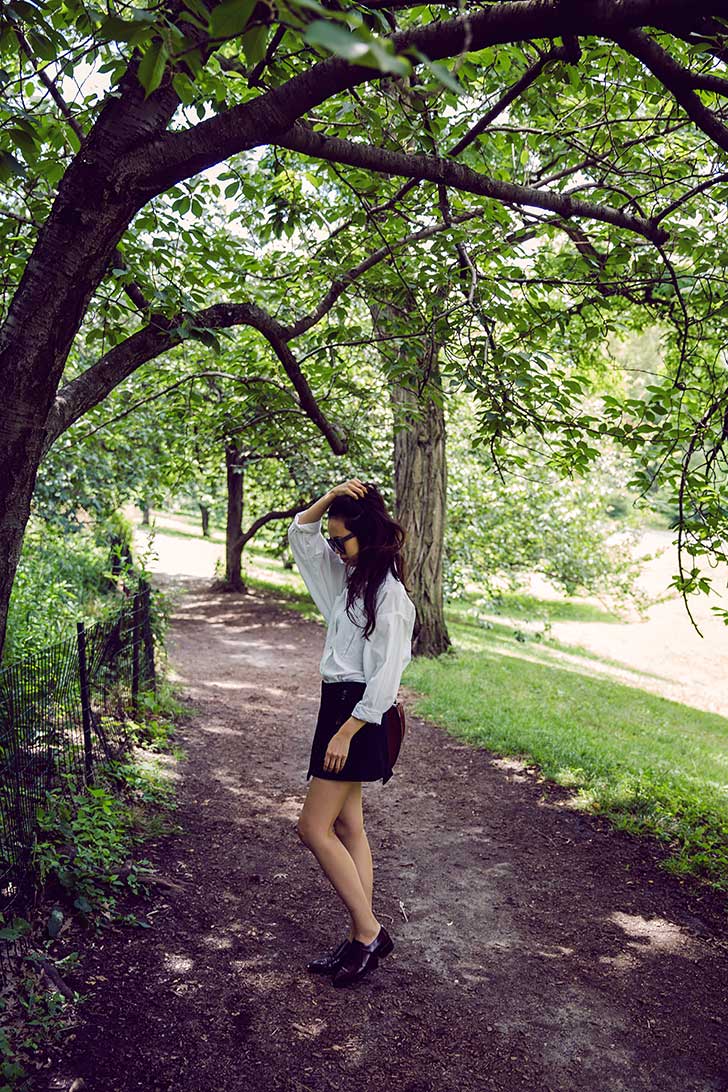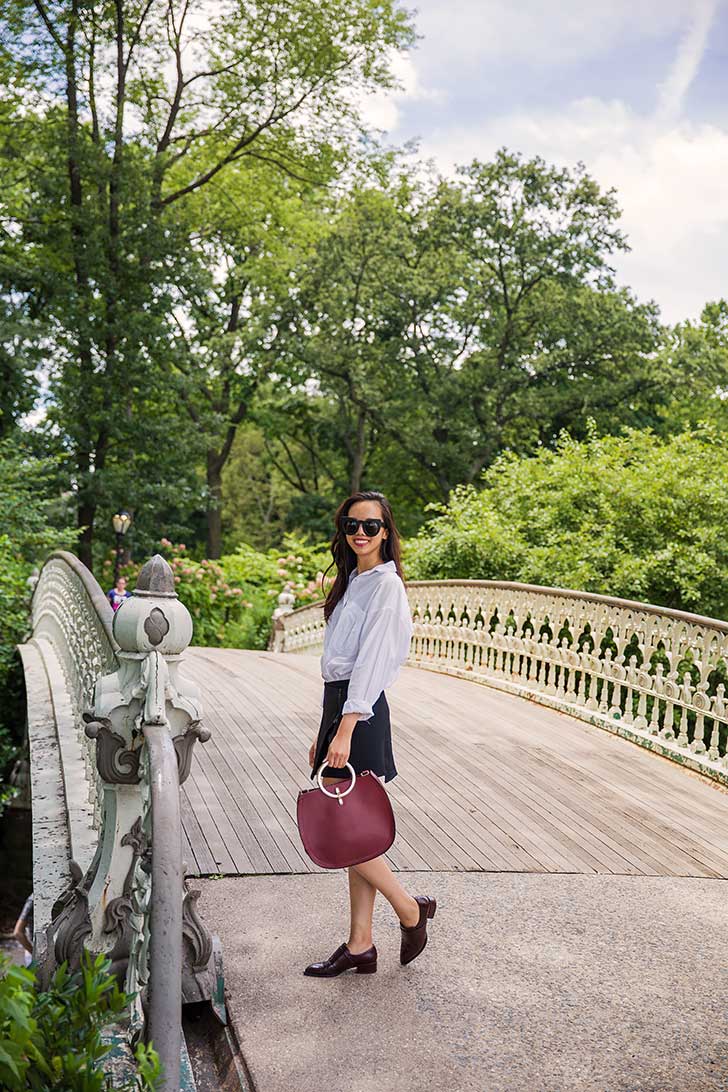 ---
Vintage Over-sized White Shirt (similar here and here) // Rag & Bone Black Zip Wrap Skirt (old) // Vince Oxblood Loafers (old, similar here and here) // Zara crossbody bag with Gold Handles (sold out, similar here and here)
---
My go to summer uniform is a white button down and wrap skirt. I have probably way too many black skirts, of different lengths and fabrics but I can't resist! The wrap around makes them super comfy to wear and easy to transition from day to night with just a change of shoes and bag.
I hope everyone had a great 4th of July! I spent the weekend catching up with friends on Saturday and Sunday and even did an entire apartment clean, which typically happens never. It's so nice to have Monday off – If only the permanent weekend consisted of three days!
To celebrate the 4th of July, the long weekend and the middle of summer, I'm hosting a fun little giveaway. Keep reading to the bottom of this post to enter.
Jacqueline Kennedy Onassis Reservoir
---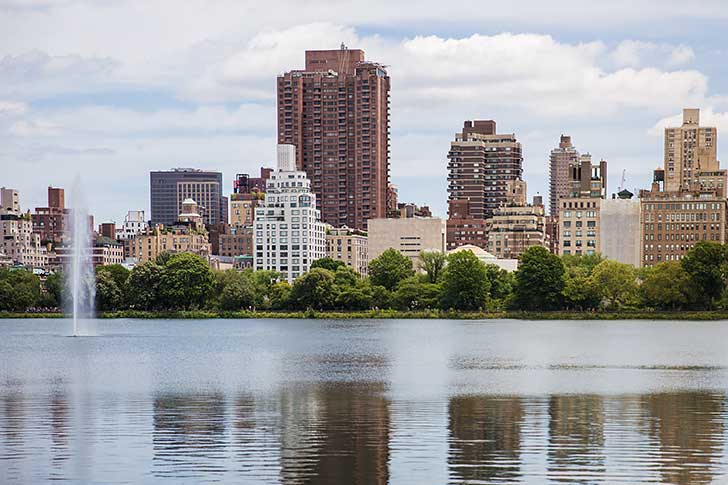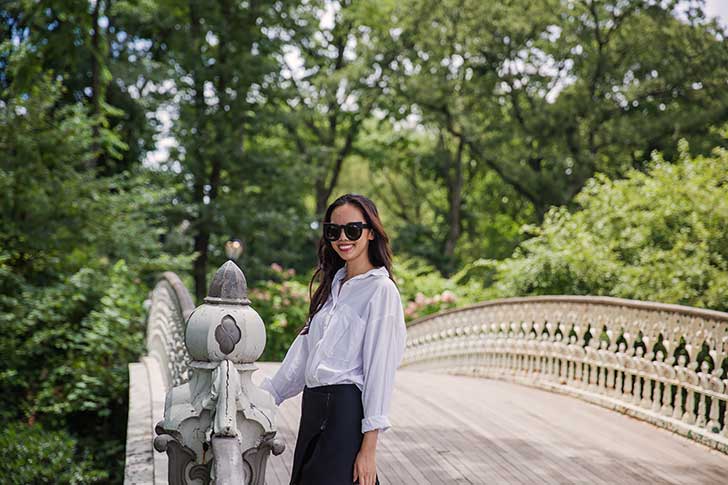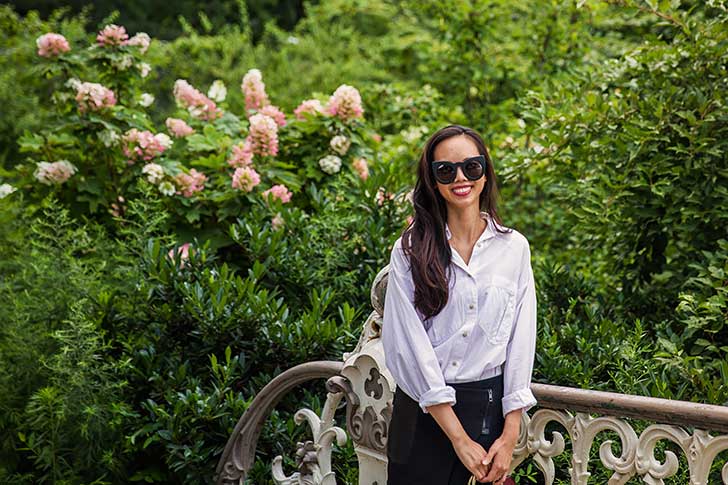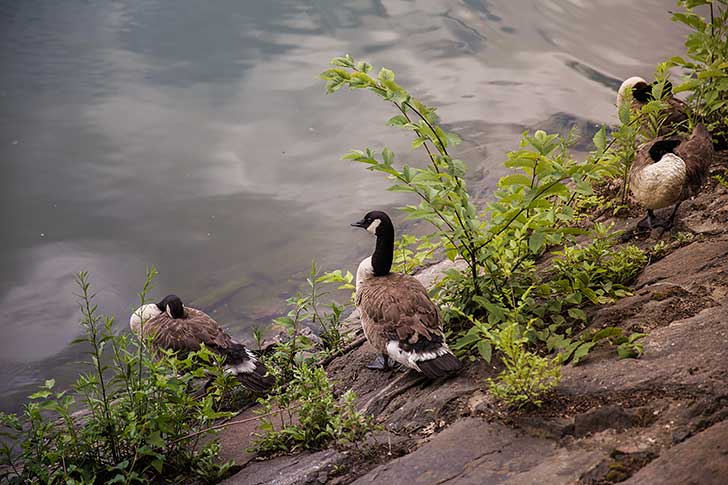 We snapped these pictures while taking a walk around the Jacqueline Kennedy Onassis reservoir loop, near the northern end of Central Park. It's a great leisurely stroll after dinnertime and essentially connects the upper east side and upper west side together. The entire circle is honestly pretty long and it's asked that you walk/jog in one direction. The entire circle is 1.58 miles or about 30-45 minutes walking at a leisurely pace.
Of course, my boyfriend stopped to take multiple photos of the ducks. I remember when we got back from our trip to London and Hyde Park I had 30 pictures of random ducks on my memory card. I included one of his photos this time to be nice haha. The best thing about walking the reservoir (or jogging, it's a big hit with runners) is the beautiful view of the skyline around the entire perimeter. It feels like you're in a private oasis within the city.
Shop Ditto Sunglass Review & Promo Code
---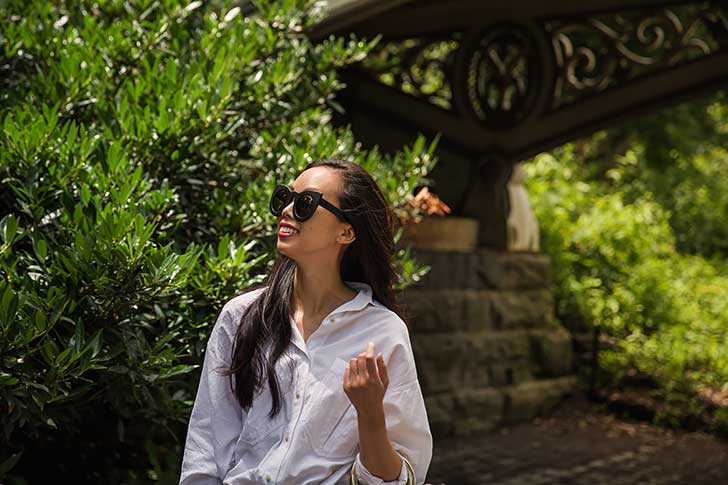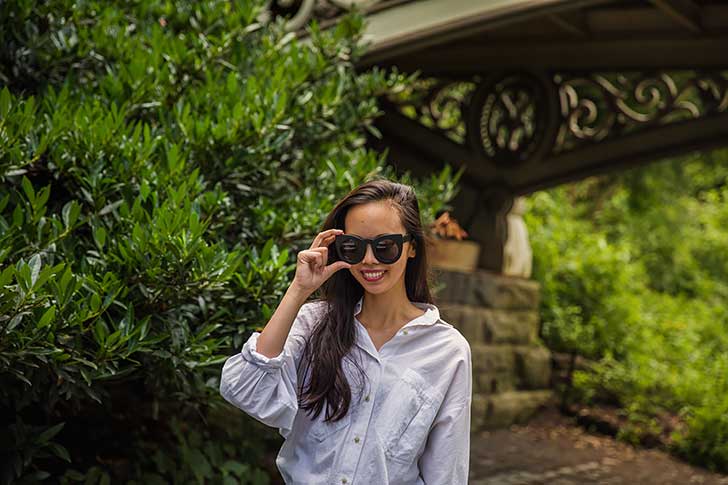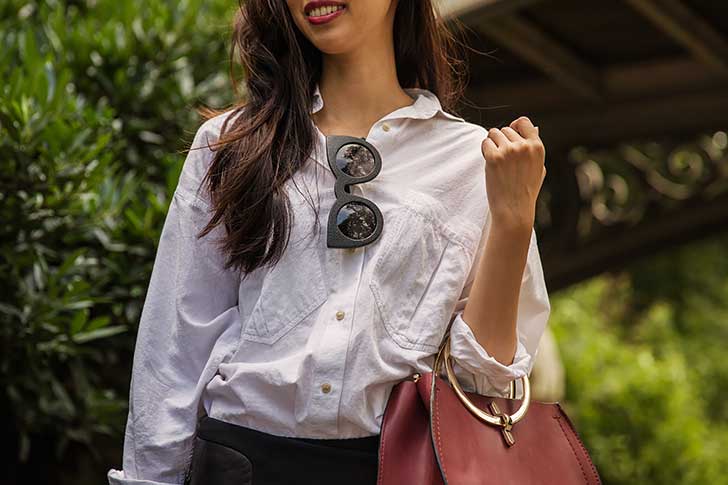 I also wanted to mention a new to me discovery. These oversized cat eye sunglasses are from Valley – I picked them up using Ditto, a rental service company for endless eyewear. Ditto carries both prescription glasses and designer sunglasses and you can rent as many pairs as you want, for however long you want, for $24/month. Just pick a pair to try, keep them as long as you like and then swap them out for a new pair when you're ready.
I love my Prada sunglasses but at $200-300 a pop they are pricey! I definitely can't afford as many pairs as I would like to have so Ditto seemed like such a great concept. I was worried that Shop Ditto might carry old, worn sunglasses but I was really happily surprised to receive a brand new pair, with all the tags and everything! It might be that I just got lucky..
The online store carries all of the designer eyewear brands I've been dying to try, from Prada to Dolce & Gabana, Karen Walker and Ray Ban as well as some newer designers like Valley so I can't wait to mix and match and try a bunch of new sunnies without committing to a couple hundred a pair. I believe you also get a slight discount if after renting the pair, you decide to purchase and keep them. Shipping is free both ways. One of the best features of the site, is that you can upload a picture of yourself and their virtual try on will show you how the frames look on your face, which is really handy.
So far, this leather printed texture is the first pair I got, from new designer Valley Eyewear. I'm also dying to try this quirky Miu Miu frames and this cool pair from Smoke & Mirrors so I'll probably swap mine out soon.
If you'd like to try the service as well, they team graciously gave me a Shop Ditto promo code for my readers. Use 'SHERSHEGOES' to get your first month of designer sunglasses completely free! These are my next picks for the upcoming month :)
$200 Nordstrom Gift Card Giveaway
---
And finally, my favorite sale of the year is coming up: the Nordstrom Anniversary Sale 2016! The sale launches to the public on July 22nd and is my favorite, because it's new fall arrivals that are discounted not old stuff that hasn't sold.
Some of my favorite staples from the past sale include this Barefoot Dreams ultra cozy robe, these capri workout leggings from Zella and basic work skirts from Halogen. Every year there's typically some great stuff from Vince and Tory Burch as well as designer items from Chloe and Longchamp. You can check out the pre-sale catalog here for a preview of the sale items.
Because it's one of my favorite fun sales to shop, I thought I'd do a little giveaway! The winner will receive a $200 Nordstrom gift card and will be announced on midnight July 21st, just in time for the sale launch on the 22nd :) EDIT: Thanks to everyone who participated in the giveaway. The Nordstrom Sale is now open to the public!
Read more: Honest Thoughts on the Nordstrom Anniversary Sale 2016 – What to Buy and What to Pass On
Follow Sher She Goes on
Bloglovin | Facebook | Twitter | Instagram | Snapchat
Nordstrom Anniversary Sale Picks
---