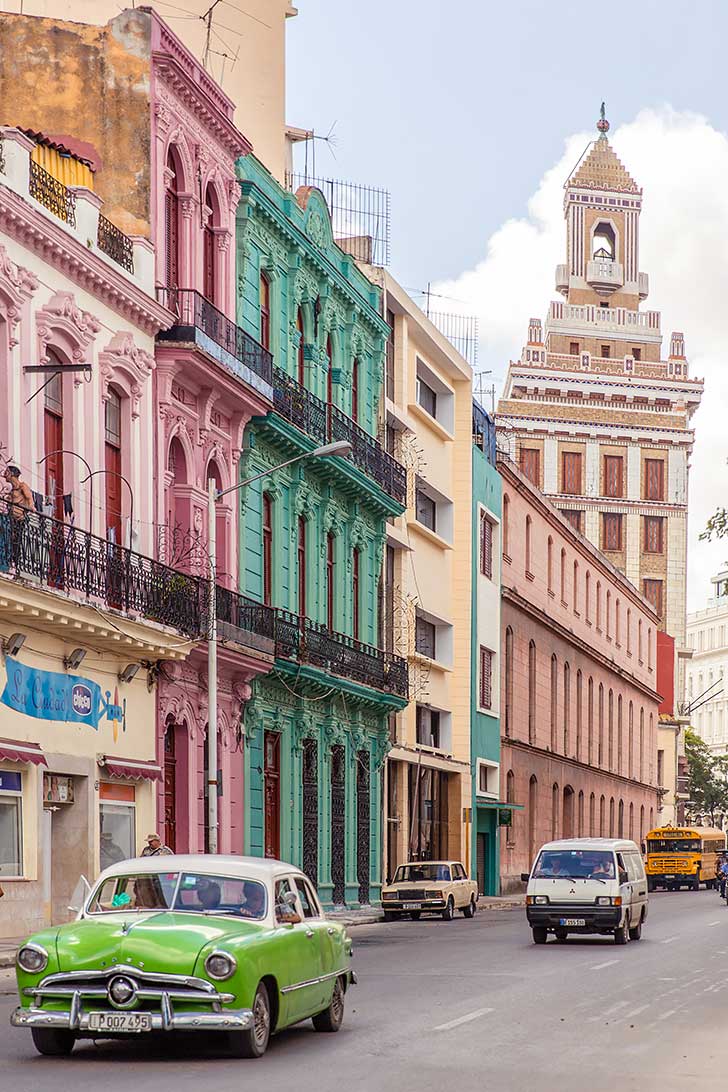 Can Americans Go to Cuba?
The short answer?
Yes!
I visited Cuba for 1 week in 2016. The trip was amazing, but slightly tricky to plan, so I thought I'd compile a list of common questions and answers for other Americans wanting to go to Cuba.
Here's how US citizens can travel to Cuba, including how to get there, passport information, visa costs and more!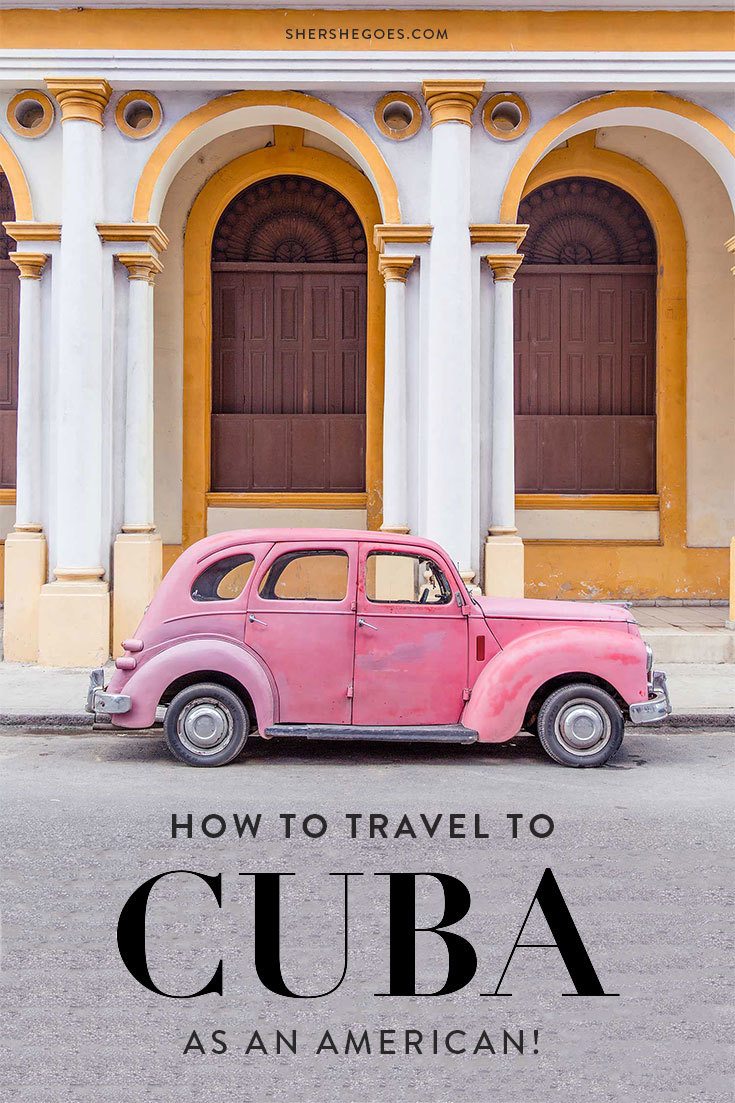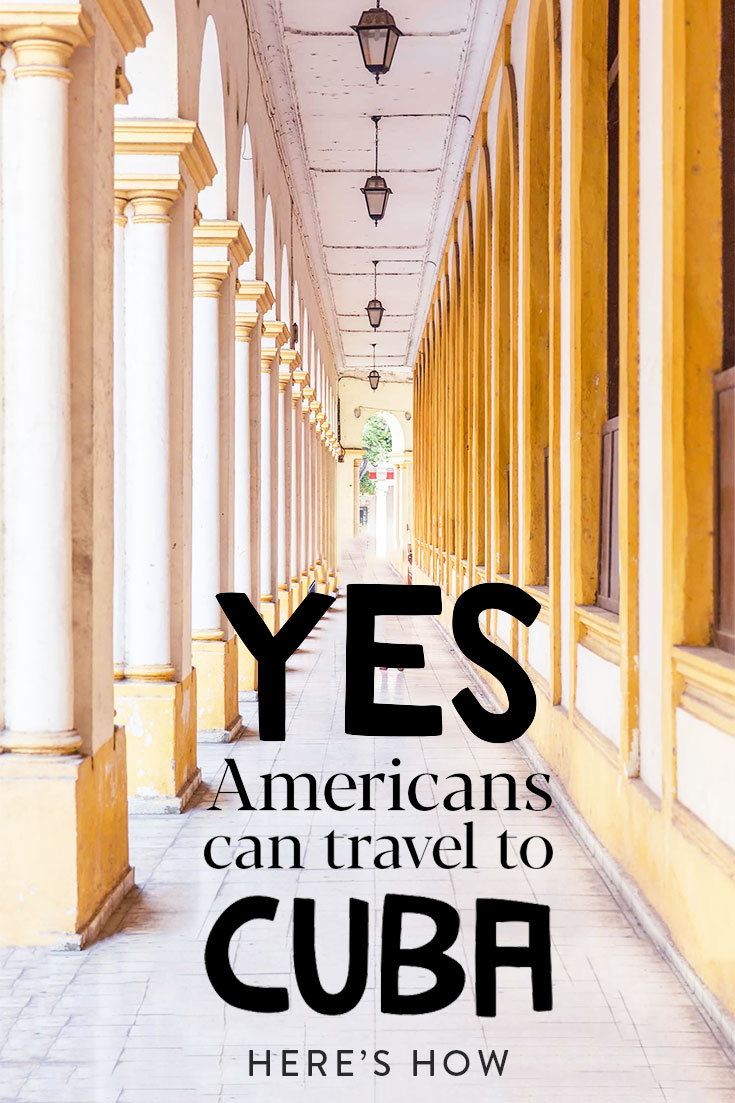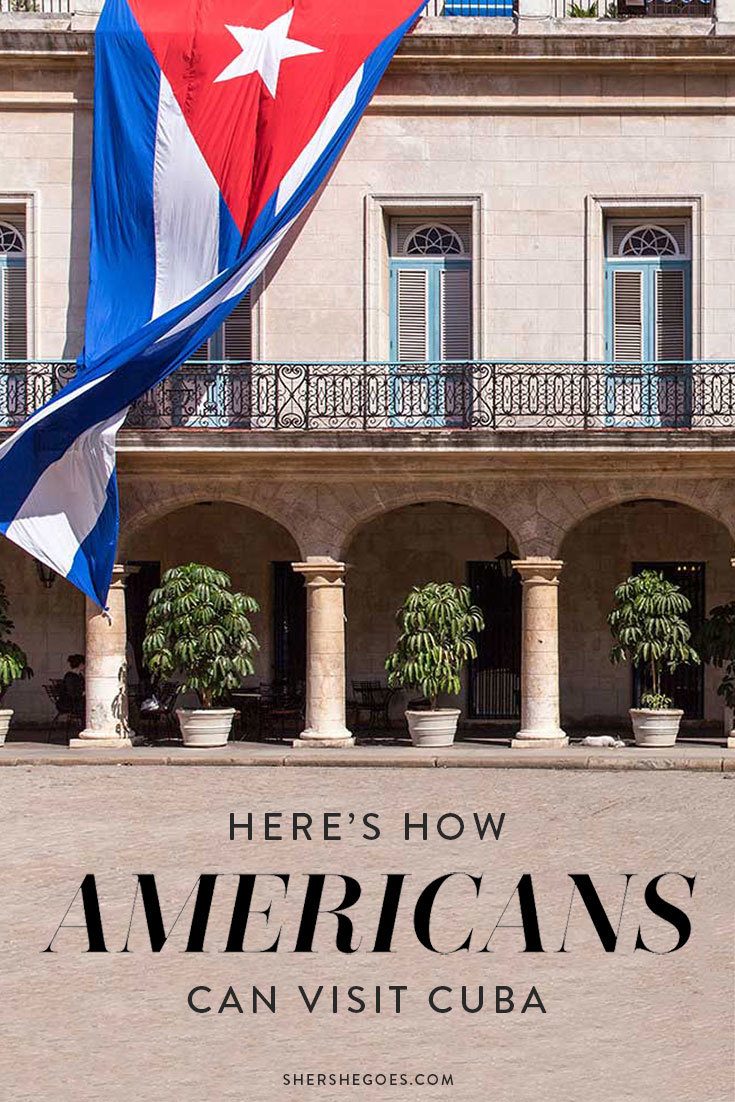 ---
---
Here's How to Visit Cuba as an American
If you're American, it's not quite as simple as booking a flight to Cuba and going.
The US Government wants to control tourist travel to Cuba, so there are a couple extra regulations and fees to keep in mind. The Cuban government on the other hand, couldn't care less – they want tourism dollars and are not the ones imposing these rules.
1. Make Sure Your Passport is Valid
The US Government has a few restrictions on the reason people visit Cuba and also dictates where you cannot spend your money. You can't financially support any Cuban business with ties to the military (so some hotels are on the banned list).
You also need a full sized passport (not a passport card) that's valid for at least 6 months after the date of your trip. Two pages are required for entry and exit stamps.
---
---
2. Research and Declare a Travel Category
The US Government lists 12 approved categories under which you can travel to Cuba. These include visits to close relatives, educational activities, sports competitions, journalistic projects, etc.
Outright tourism (for example: I want to visit Cuba to buy cigars and lay on the beach) is not one of the approved categories.
What you can do instead is to join a cultural organization on either an educational People to People trip (I did this once in high school) or with a legalized tour operator such as Intrepid.
What Is An Educational Trip or People to People Tour?
People to People trips are educational in nature, designed to foster close relations between American visitors and the locals of the countries they visit.
This means an organized trip with activities that produce meaningful interaction – for example, meetings with local politicians, small businesses, community leaders and/or artists. I took a People to People trip to Europe as a teenager which was both lots of fun and highly educational.
I traveled to Cuba on a 1 week cruise with Fathom, which operates tours under the People to People educational category. We sailed through Cienfuegos, Santiago and Havana and the trip was a lot of fun. Unfortunately, the company no longer offers cruises to Cuba, but there are many other cruise lines that do! You can check here for cruises to Cuba.
If you prefer to explore by land, I've heard good things about Intrepid from friends. Intrepid offers small group tours to Cuba and emphasizes supporting local businesses and uniquely Cuban experiences.
---
---
Prefer to visit on your own?
That's fine too – you can choose the "support of the Cuban people" category. Just make sure to create an itinerary that includes activities which allow you to genuinely interact with the local people.
For example: cooking classes, home stays, salsa classes, etc.
Don't let the category stress you out too much!
Declaring a travel category is something you choose for yourself. There's no license associated with this, you don't have to apply for anything, it's not formal. You simply write down the category when you purchase your Cuban Tourist Visa.
Note: Travelers are required to keep receipts for up to 5 years after returning from Cuba, so do abide by the category rules just in case you are ever asked by the American government!
Read more:
20 Fun Things You Must Do in Havana
---
---
3. Get a Cuban Visa
If you're traveling to Cuba via cruise, the cost of the visa is typically built into the tour package. I traveled with Fathom, and the cruise included all meals, on-board activities, cultural excursions and the visa into 1 price – so it was stress free.
If you're planning to fly and visit Cuba on your own, you can buy the visa through your airline. Some airlines will require you to buy the tourist card at the airport of departure, at check in. Others will bundle it into the flight price so you purchase it online and receive it at airport check in.
When you receive the Cuban Tourist Card, you also declare your travel category (under the 12 allowable reasons). It sounds slightly complicated but is really easy when you go through it!
Read more:
Life in Cuba: What We Learned
How to Fly to Cuba
Just look online and book! Some of the most popular airlines that offer flights to Cuba from the US are American Airlines, Delta, Southwest and Jet Blue.
From New York City, American, Jet Blue and United all offer weekly routes to Miami (if you're boarding a cruise to Cuba) and Havana.
Check here
flight options and set a fare alert!
---
---
Cuba Tourist Card
One thing to keep in mind when looking at flights is how much each airline charges for the tourist card. The Cuban Tourist Card only costs $50 but I noticed some airlines were charging much than this.
I suppose they want a hefty an admin fee?
Tourist Card Fees by Airline
| | | |
| --- | --- | --- |
| Airline | Cost | Method |
| American | $85 | Purchase Online, Set via Mail |
| American | $100 | Purchase at Gate |
| Delta | $50 | Purchase at Gate |
| Jet Blue | $50 | Purchase at Gate |
| Southwest | $50 | Purchase Online, Pick Up at Gate |
| United | $75 | Purchase at Gate |
Each person traveling to Cuba needs their own tourist card (it's not per family). Personally, I think it's ridiculous that some are charging such high processing fees, so I would avoid those unless the airfare is significantly cheaper.
---
---
4. Get Health Insurance
Now this requirement is actually a Cuban government regulation.
All international visitors to Cuba must have their own health insurance before arriving. Occasionally, local immigration will check for proof of insurance, so you do want to make sure you have it.
I also recommend getting travel insurance for trip protection. I bought insurance before my trip to Africa since we were worried about Ebola at the time and it was a way to get trip cancellation and trip interruption protection. Whenever we travel to countries where political or health issues might come into play to potentially cancel a trip, we buy travel insurance for piece of mind.
Nowadays, I travel much more frequently and bring electronics with me when I travel (camera gear, laptop, iPhone etc) so another great benefit is that travel insurance comes with property coverage to insure my gear!
Get a Quote
for Cuba travel insurance here
---
---
5. Refine Your Itinerary
While I traveled via cruise, we were given lots of free time to explore so I purchased the Lonely Planet Cuba book for some practical advice on local history, popular sights and information.
You can get the Lonely Planet book for free with a Kindle Unlimited here.
I also read The Other Side of Paradise (novel), which was a great read. The author traveled to Cuba undercover to discover the lives of local Cubans. Other recommended books before you go? Waiting for Snow in Cuba and any Hemmingway books!
You should also book any tours online before you go. Internet is very difficult to get in Cuba so any arrangements should be booked in advance.
---
---
6. Where is the best place to stay in Cuba?
If you're traveling to Cuba on your own, you have flexibility when it comes to where to stay. Just keep in mind that accommodation in Cuba may not be what you expect. Infrastructure is poor, blackouts can occur and sometimes even things like toilet seats are in short supply.
Hotels in Cuba
In June, Starwood became the first American hotel chain to launch in Cuba by renovating a 180-room hotel in Miramar as a Four Points Sheraton. If you're a SPG loyalty member, this makes for a convenient choice.
I have heard that many of the official hotels could use a face lift and carry a high price tag, so do some research and read reviews before booking.
Airbnb in Cuba
I would recommend Airbnb if you're traveling Cuba on a self guided visit. There are over 1,000 airbnb options available and it's a great way to support locals.
This one by the beach looks incredible while this spacious apartment is perfect for families or groups who want to be in the center of Old Havana. Just check the reviews before you book to manage expectations – water shortages and spotty wifi are the norm in Cuba.
Read more:
Our Top 3 Recommendations for Airbnbs in Cuba
---
---
Casa Particular
Other friends recommended a truly local experience by staying at a Cuban bed and breakfast, or casa particular. These are also much cheaper – anywhere from $30-80 /night per person and make for a good budget option.
However since WiFi in Cuba is limited, you would likely have to wait until arrival to book a casa particular and for a travel planner like me, I was hesitant to arrive in a foreign country with zero booked options. I didn't want to get caught up in any potential scams and with the cautious political scene, it gave me piece of mind to know I had somewhere to stay when I landed.
But if you're up for an adventure and more easy-going, give casa particulars a go!
Or, you can have the best of both worlds – Intrepid offers a 1 week Cuba tour that includes casa particular accommodation. Check out the itinerary and more info here.
7. Don't Spend Money on the Restricted List
When the Trump administration came into office, the State Department tweaked the rules a bit. As of November 2018, Americans are not allowed to spend money at any business on this list.
Double check that you aren't patronizing any of these restaurants, hotels or travel companies, as they have ties to the Cuban military.
Read more:
The Best Restaurants in Havana
Do credit cards work in Cuba?
In order to use an American credit card in Cuba you will need to visit a local bank branch and open a bank account so.. technically you can but realistically you can't. Cuba has very few ATMs so as to be nonexistent and local establishments will be hesitant/unable to take credit cards.
---
---
8. Bring Foreign Currency (If You Can)
Due to strenuous past political relationships, Cuba currently levies a 10% tax on any exchanges on the US dollar so if you have British pounds, euros or Mexican pesos – anything other than American dollars – bring those for a more favorable exchange rate.
Cuba also has two local currencies which can sometimes be confusing.
The Cuban Convertible Peso (CUC) is pegged to the American dollar and is the "tourist" currency.
The Cuban Peso (CUP) is the locals' currency and worth less – when you exchange money you will receive CUCs.
Read more:
Cuba in Photos: A Look at Havana, Santiago & Cienfuegos!
---
---
9. Bring Back Cuban Souvenirs
You can now legally bring back Cuban cigars, souvenirs and other paraphernalia but up to a certain dollar limit. Souvenirs are capped at $800 max, including 100 in cigars.
Other local Cuban souvenirs you might want to bring back: rum, honey, Hemingway's books, art and/or perfume (the national Cuban flower is Mariposa, aka butterfly jasmine or white ginger).
I brought back some Cuban coffee, which was amazing! For more on what to pack for Cuba and advice on souvenirs, check out my Cuba packing list.
Read more:
What to Pack to Cuba
---
---
I hope this post was helpful and answered any pre-planning questions about Cuba that you may have! Is traveling to Cuba on your bucket list?
Visiting Cuba – Travel Checklist
Flights | Traveling to Cuba is unpredictable, given the political relations between the U.S. and Cuba. When I visited in the end of 2016, President Obama had relaxed restrictions and as a result, airlines and cruises actively promoted travel to Cuba so long as your journey fell under the approved visitation categories. Today's climate is slightly more dicey, so check regulations before you book flights.
If travel is all clear, set a fare alert here for flight deals.
Insurance | Be sure to visit Cuba with travel insurance. Whether your flight is cancelled, your electronics are stolen or you get injured and need to be hospitalized, travel insurance will help when you need it most. Get a quote for your trip here.
Tours | If you want the same quality of accommodation and food you're used to at home, I would suggest visiting with a cruise company. Cruises offer gourmet, all you can eat meals, western style accommodation with hot showers and air conditioning, plus often there is the option to get wifi on board. Browse cruises to Cuba here.
If you're up for an adventure and more easy-going, give casa particulars a go. You can book a tour with Intrepid on a People to People visa. They organize everything, explore Havana, Vinales, Cienfuegos and Trinidad while supporting local businesses – check out the itinerary and more info here.
You Might Also Enjoy:
Cuba Vacation Planning Articles
How Americans Can Travel to Cuba FAQ + Everything You Need to Know
20 Fun Things to Do in Cuba Cigars, Cars & More!
What to Pack for Cuba to Beat the Heat
Havana, Cuba
40 Breathtaking Photos of Cuba for Trip Inspiration
25 Things I Learned About Life in Cuba
Where to Stay in Havana: A Guide to Accommodation Types
Where to Eat in Havana: Some Restaurant Suggestions!
Follow Sher She Goes on