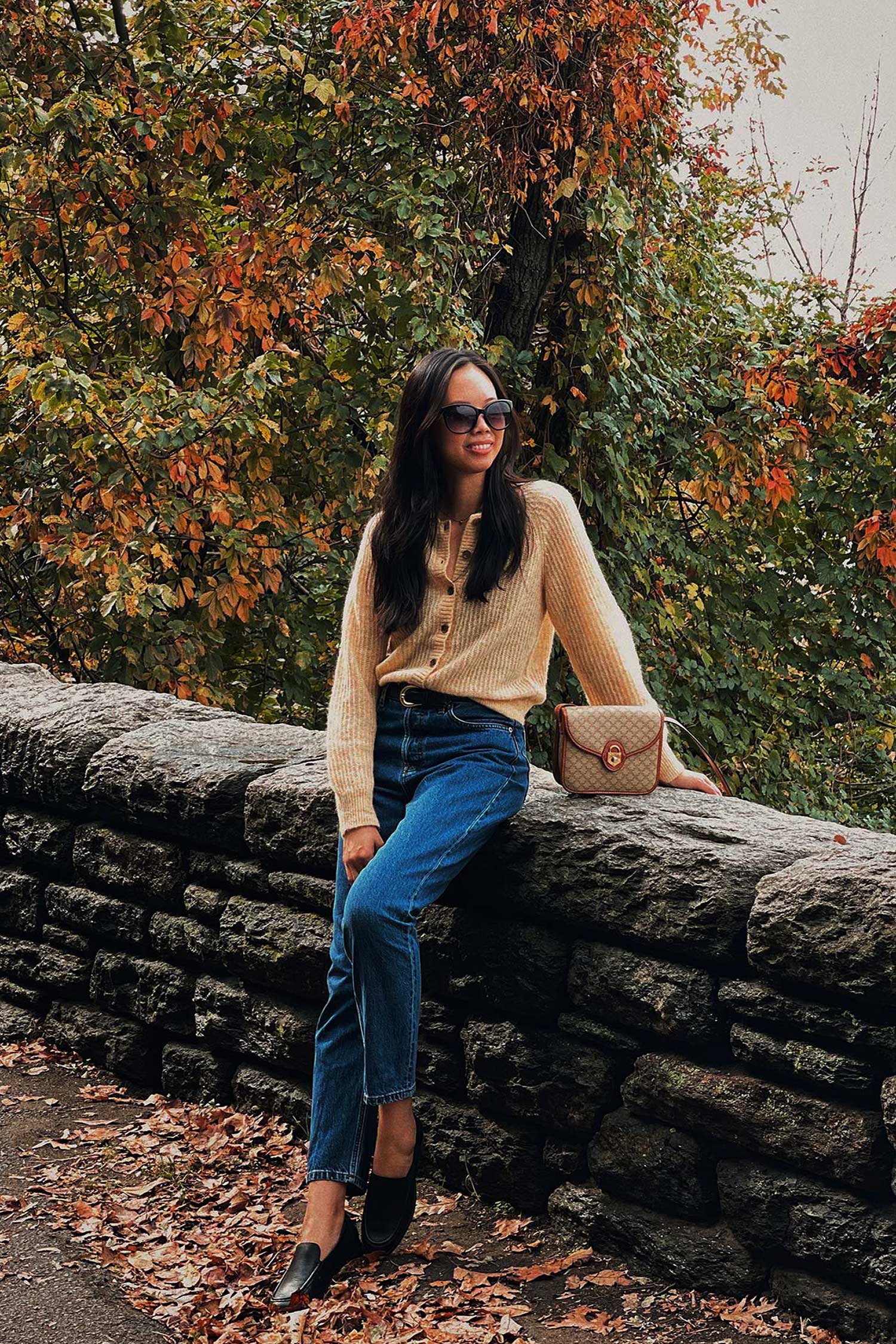 Thank you to Everlane for sponsoring this post.
wearing alpaca cardigan, jeans, loafers & vintage bag
Everlane Alpaca
I've always been hesitant to buy alpaca sweaters.
They're so incredibly soft and lightweight that they feel so luxurious to the touch. But if I even think about putting one on… my sensitive skin will usually break out in itchy hives.
Then I saw a couple adorable alpaca blended sweaters on Everlane and couldn't resist.
I found 3 alpaca sweaters from the brand that are unique, so so soft and even better – scratch proof!
Here are my favorite alpaca sweaters from the brand, reviewed.
ADVERTISEMENT
Everlane Alpaca
I'm much more picky about fabrics these days.
For fall and winter knitwear, I usually stick to merino wool or cashmere because it's not only warm, it's also anti microbial and super soft.
But I never really considered alpaca.
It turns out alpaca is less prickly than wool and lasts longer. Because alpacas are soft hooved, gentle grazers, they're actually easier on pastures than other herd animals so alpaca could be considered even better for the environment.
ADVERTISEMENT
---
---
Everlane Alpaca Sweaters Review
The only downside is sometimes alpaca can be itchy.
These 3 sweaters below are some of my favorites because they don't irritate my skin. I usually wear a base layer underneath anyway for extra warmth (I like these pima cotton tees), but I've also worn these sweaters on their own without a problem.
Alpaca Collared Cardigan
in Heathered Golden Oak, size s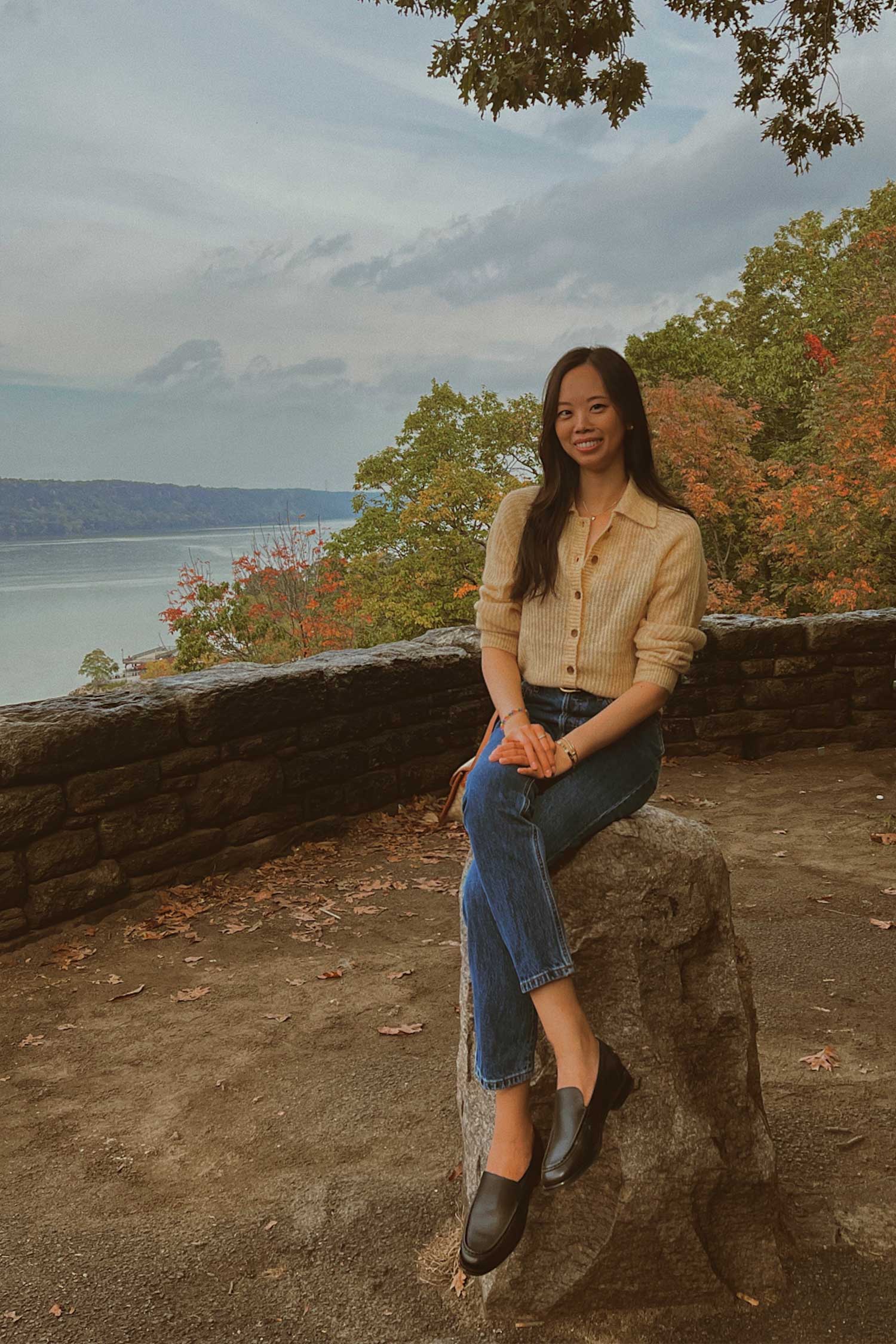 I liked the look of this retro cardigan.
It has 70s style pointed collars, a button front with slightly bloused sleeves and a cropped shape. It looks kind of like a sweater your grandma might have worn.. or one you might have found thrifting in Williamsburg.
I especially love the fun yellow color! It also comes in a punchy turquoise..
I've been wearing this sweater a ton now that the leaves are changing, and my go-to way to style it is with loafers and jeans. It's super simple in a classic prep kind of way.
And finally, it's really thin and lightweight, but still warm! The cut is pretty slim fit, so it hugs the body without being clingy.
Layer this over a bodysuit or underneath a winter trench to stay chic but warm!
Shop on Everlane here
ADVERTISEMENT
---
---
The Puff Sweater
in Heathered Oat, size s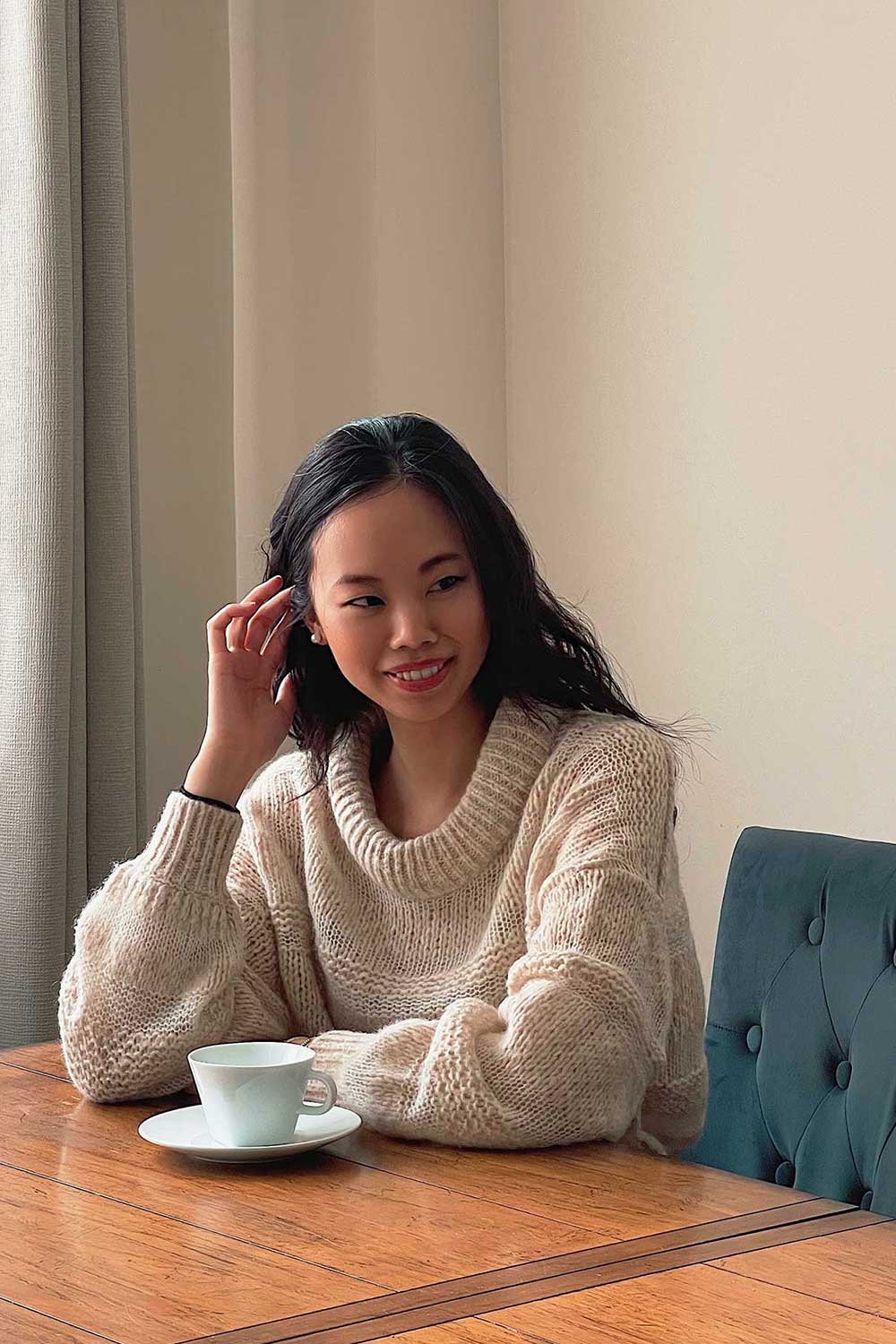 When I saw this sweater, I wanted it immediately.
Made from a blend of merino wool, pima cotton and alpaca yarn, it's extra soft and light – it feels almost weightless. I like the contrasting fibers as they give it a subtle banded stripe pattern that gives it extra texture and dimension.
The sweater looks simple but elegant, in that scandi minimalist way. I really like the rolled boudin neckline and chunky rib hems!
I was most amazed by how lightweight this Everlane sweater is. Usually cotton and wool sweaters can feel quite weighty and substantial, so I think it's the alpaca yarn that makes this sweater so airy and soft. It's a more open style of weave, so it is slightly sheer.
I've worn it on it's own and don't find it scratchy. But usually in winter I'll layer a white long sleeve tee for extra warmth. After a year of wear, it hasn't shed which is always a plus!
I've been wearing it mostly with balloon leg jeans and flats, but it's the kind of sweater that goes with anything.
Shop on Everlane here
ADVERTISEMENT
---
---
Alpaca Knit Cardigan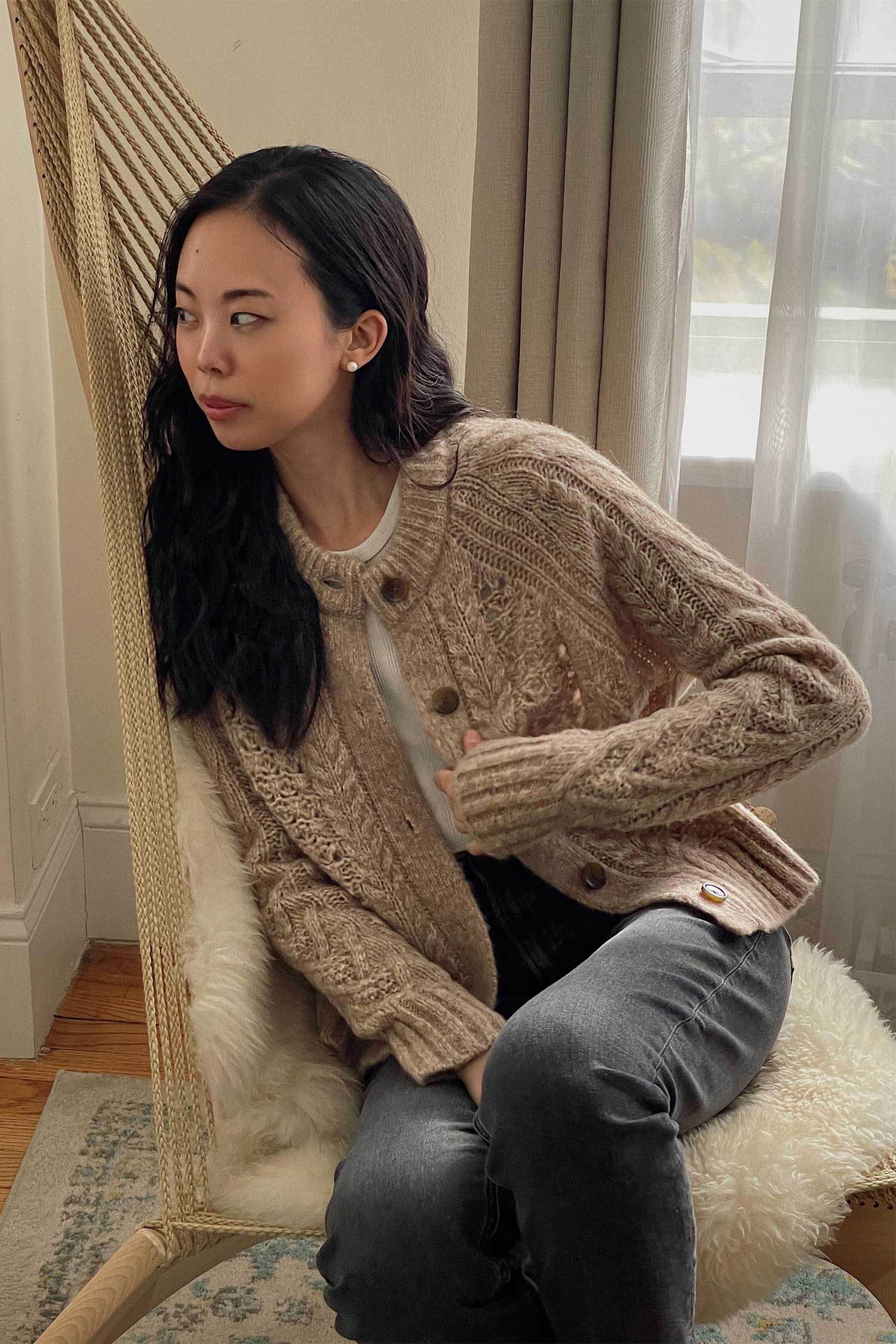 I used to wear cardigans a lot as a kid, since I grew up in the aughts.
This Everlane cardigan reminds me a lot of those old-school knits. It has a chunky button front, a relaxed shape and a hand-knit feel that I really appreciate.
Usually I find alpaca very itchy, but this lofty cardigan is so soft and cozy. It's made from a blend of alpaca, Italian merino wool and recycled nylon and somehow the combination of materials give it all the texture, airiness and softness you could want in a cardigan.
Fit wise, it has nice long sleeves, a cute cable knit pattern on the back, and fits true to size.
I do wish I had sized up one size, since I'm obsessed with the oversized look these days.
Wear it over a white tank with straight leg jeans for a casual everyday outfit, or dress it up over a slip dress with heels for dinner!
Shop on Everlane here
ADVERTISEMENT
---
---
Shop Everlane Sweaters
---

ADVERTISEMENT
---
---
Read More: Everlane reviews:
Everlane Reviews
Everlane Brand Review: Hits, Misses & Favorite Pieces
Everlane Flats - These 5 Pairs are Extra Comfortable
Everlane Denim: Thoughts on 3 of the Brand's Best Selling Jeans
Everlane Cashmere: Is It Worth It? (with Outfit Photos)
How do the Everlane Leggings Perform?
Everlane Underwear Review: Bra & Bralettes
Everlane Bodysuits: Reviewing a Wardrobe Staple
Everlane Outfits
10 Work from Home Outfits, featuring Everlane
Everlane Choose What You Pay Sale - Spring Try On Haul
Everlane Try On Haul Videos
Everlane Summer Basics Try On
Follow me @Sher She Goes on