A complete guide to the best hotels in Atlanta, GA with room reviews, photos and neighborhood advice.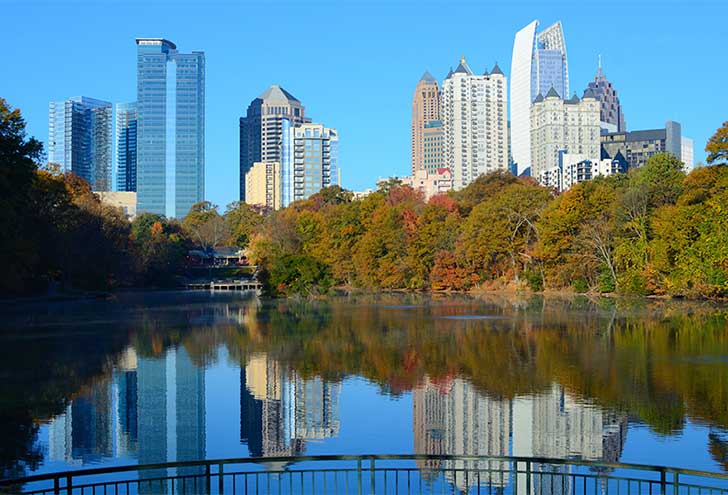 Ultimate Guide to the Best Hotels in Atlanta
Hot-lanta hotel hunting? We've got you covered! As the de facto capital of the American South, Atlanta blends the amenities of a modern urban center with the convenient access to hiking, beaches, and sports that is so emblematic of the South. Many people pass through Atlanta at least once in their life (Georgia's Hartsfield-Jackson Atlanta International Airport has long been the world's busiest), so if you're looking for great places to stay in the ATL, keep reading!
Whatever brings you here, keep reading for our favorite places to stay in Atlanta!
---
Four Seasons Hotel Atlanta
Located in Atlanta's midtown district, the Four Seasons Hotel Atlanta occupies the first 19 floors of a 50-story mixed-use hotel and residential tower. Most of the 244 rooms (including 18 luxury suites) have breathtaking views of the downtown Atlanta skyline, and all guests have access to standard Four Seasons luxury including hotel room options with private terraces, whirlpool baths and saunas, and access to a gorgeous 50th floor ballroom and restaurant.
What makes this one of the best hotels in Atlanta, GA?
While some of Atlanta's luxury hotels may be located less centrally, the Four Seasons Atlanta boasts a prime midtown location that offers great amenities and convenience both inside and outside the hotel. The on-location Bar Margot and Park 75 Restaurant occur frequently on various "best of" Atlanta lists, and an incredible nine museums, concert halls, and cultural centers are located within just a 15 minute walk of the hotel!
Check the latest prices on: Booking.com and Hotels.com
The St. Regis Atlanta
If you're ever heading somewhere on a street with a name like "West Paces Ferry Road", you know you're in for something fancy. Arriving at the St. Regis Atlanta, located in the swank northern Atlanta suburb of Buckhead, is no different. With 151 rooms (including 31 luxury suites that offer butler service) and too much marble and too many chandeliers to process, the St. Regis Atlanta is great choice for an experience loaded with pure luxury.
What makes this one of the best hotels in Atlanta, Georgia?
When you check-in at a place like the St. Regis you know your room will be nice, but everything outside your room can sometimes be a wild card. At the St. Regis, however, everything is simply brilliant through and through. All guests have breakfast for two (we're talking eggs, bacon, and plenty more – not continental, folks) each morning of their stay and full access to the various bars, restaurants, and pools that round out the estate. One of the best deals going right now? All guests checked in on Sunday get 20% at the ultra-luxurious Remede Spa.
Check the latest prices on: Booking.com and Hotels.com
---
---
The Ritz-Carlton, Buckhead
Located in the heart of Buckhead, Atlanta's shopping and dining mecca, the Ritz-Carlton of Buckhead does right by its prestigious location. All guests at the Ritz will feel like kings and queens as the deluxe rooms (360 square feet) and five suite options (720 – 1,800 square feet) feature every luxury amenity imaginable – hardwood floors, walk-in showers, Georgia marble accents, and – if you're feeling Presidential – even a grand piano and billiards table.
What makes this one of the best hotels in Atlanta?
Besides getting a great room, fantastic Atlanta skyline views, and convenient access to the best neighborhood for Atlanta highlife, guests at the Ritz-Carlton are also privy to incredible amenities throughout the hotel grounds. Perhaps trying to outdo the St. Regis, its fellow Buckhead luxury hotel, the Ritz-Carlton offers complimentary breakfast in bed to its guests. And with an entire floor of rooms dedicated as the "Wellness Level", enterprising guests can enjoy things such as meditation corners, fireplaces, and spin bicycles all without leaving their room!
Check the latest prices on: Booking.com and Hotels.com
W Atlanta Downtown
Scattered with terraces and outfitted with floor-to-ceiling glass windows, the W Atlanta Downtown looks more like a chic new apartment development than a boutique hotel located smack in the heart of Atlanta's bustling downtown. Besides the stunning views and rooms replete with modern furniture and art, guests at the W enjoy access to the Living Room (snacks and lounge furniture), WET (outdoor heated pool), and FIT (energy-charged fitness center).
What makes this one of the best hotels in downtown Atlanta?
As great as everything is inside the W Atlanta Downtown, the hotel is even better because of how convenient it is to visit everything you would want to see outside of it. When the world award-winning Georgia Aquarium, Centennial Olympic Park, and Mercedes Benz Stadium (home of the NFL's Atlanta Falcons) are all within walking distance, you and your family are perfectly set up to make the most out of your stay in Atlanta, GA!
Check the latest prices on: Booking.com and Hotels.com
---
---
Loews Atlanta Hotel
Located in the heart of Midtown Atlanta, the Loews Atlanta Hotel offers guests sweeping views of both the Downtown and Buckhead Atlanta skylines through its sweeping glass façade. With 370 rooms, 44 suites, an in-house spa that offers treatment and fitness classes, and Saltwood, one of Atlanta's famed restaurants specializing in charcuterie and tapas, the Loews Atlanta Hotel has everything you need for a luxuriously tasteful entrée into good old-fashioned southern hospitality.
What makes this one of the best hotels in midtown Atlanta?
One of the best (and smartest) things the Loews Atlanta Hotel does is offer compelling packages that suit a variety of trips. Every time you book one of the 44 suites at the Loews, you get $50 of complimentary meal and beverage credit per day of your stay (remember that charcuterie I was telling you about…). And for couples and families alike, the Loews offers packages in partnership with the Georgia Aquarium that include everything from free aquarium passes to complimentary valet parking – the latter being especially clutch when you're lugging the kids around!
Check the latest prices on: Booking.com and Hotels.com
---
And that's it! Our guide to Georgia's best hotels to make the most of your stay in Atlanta. Whether you're looking for the best location in downtown Atlanta, a family friendly hotel in Midtown Atlanta for kids, or a luxurious hotel for couples, these top hotels in Atlanta are sure to please.
The Best Hotels in Atlanta, Georgia – Summary Comparison Chart
To summarize, here's a handy chart of our recommended best Atlanta hotels. All include free wifi and are known for comfort, great locations and great customer service.
Follow Sher She Goes on
Bloglovin | Facebook | Twitter | Pinterest | Instagram
---