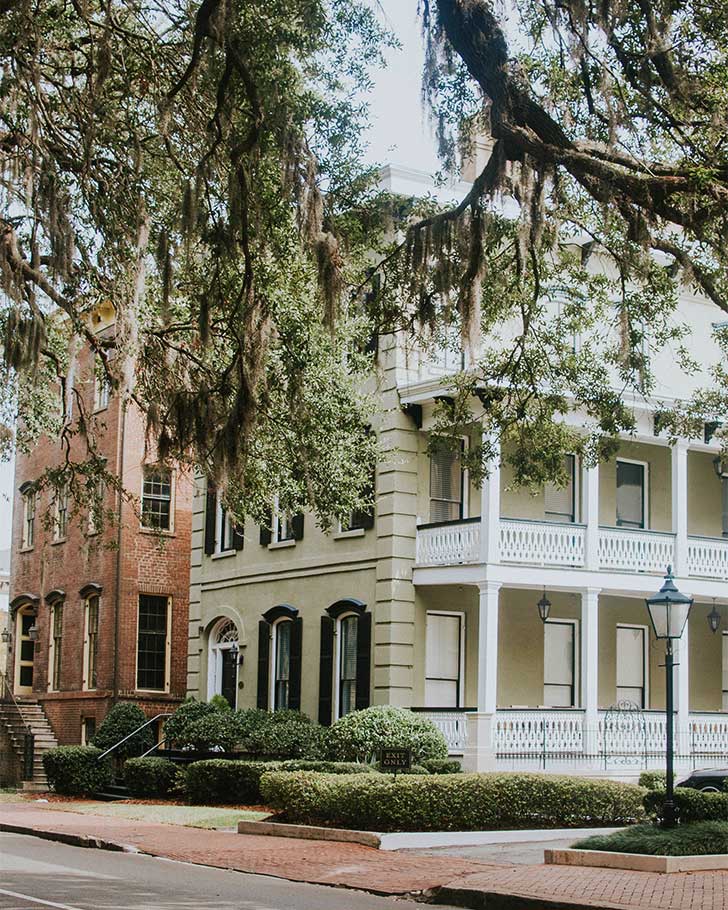 Where to Stay in Savannah
Made famous internationally by the best-selling novel and movie Midnight in the Garden of Good and Evil, Savannah, Georgia has long been renowned in Dixie for its pristine gardens, haunted abodes, and just a touch of voodoo.
Whether the natural or supernatural delights tickle your fancy, there are plenty of fantastic hotel and bed & breakfast options in this coastal Georgia town.
Keep reading for our favorite places to stay in Savannah, Georgia!
---
---
Best Hotels in Savannah
Here's a quick overview of our recommended Savannah hotels. All include free wifi and are known for comfort, great locations and great customer service.
Best Savannah, Georgia Hotels – Summary Comparison Chart
Below are reviews for each hotel, with more info!
---
---
1. Mansion on Forsyth Park
A repeat honoree on Conde Nast's "Best Hotels" lists for both the South and the United States, the Mansion on Forsyth Park is easily Savannah's most recognizable hotel – and that's saying something!
Located across the street from Forsyth Park and the Savannah Historic District, the Mansion is a great place to pair the best in modern hotel luxury with a historic Southern gem.
---
---
2. The Kehoe House
Like many of its counterparts on this list, the Kehoe House is simply lousy with praise and awards. Just this year, this charming Savannah bed & breakfast has been ranked by Trip Advisor as Savannah's best B&B, America's 11th most romantic hotel, and America's 12th best small hotel.
What are you waiting for??
---
---
3. Hamilton-Turner Inn
Yet another entry on Trip Advisor's Top 20 Small Hotels in America, the 17-room inn (well, 16 rooms plus a carriage house option, which is simply too delightful), the Hamilton-Turner Inn offers one of the best boutique aesthetics anywhere in Savannah.
Though the different rooms each have unique designs, each offers luxury touches including walk-in showers, antique four-poster beds, and incredibly gorgeous 11-foot windows!
---
---
4. Eliza Thompson House Savannah
Like many Savannah buildings, the 170-year-old Eliza Thompson House has a reputation for being haunted, but there's nothing spooky about this southern gem!
With 25 rooms across the main and carriage houses wrapped around a gorgeous interior courtyard (and koi pond!), the Eliza Thompson House offers classic Southern charm just steps away from the center of Savannah's historic district.
---
---
5. The Marshall House
Having first opened its doors in 1851, the Marshall House treasures its place as one of Savannah's most historically significant hotels (most guided tours stop outside the Marshall House to discuss its history and, yes, its potentially haunted status!).
Today, however, the Marshall House benefits from a complete renovation in 1999 that earned its rightful place among Savannah's best luxury boutique hotel options!
---
And that's it! Our guide to Savannah's best hotels to make the most of your stay.
Whether you're looking for a hotel in the historic district, a boutique hotel for couples or a family friendly hotel for kids, these top hotels in Savannah are sure to please.