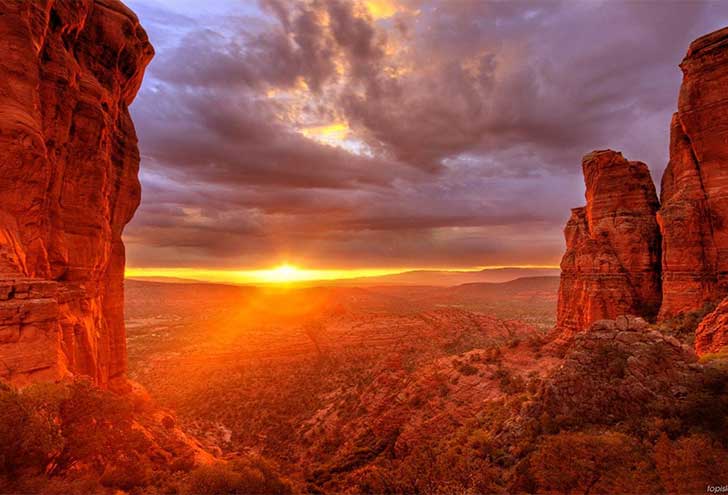 Where to Stay in Phoenix
Ah, Phoenix – the "it's often over 100 degrees but it's dry heat so it's not really that hot" capital of the world!
Whether you're headed to Arizona for the great golf, fantastic natural surroundings, or just to relax and unwind, everyone needs a place to cool down in the desert! Fortunately, Phoenix is known for having some of the most delightfully luxurious resorts & spas in the western United States.
Keep reading for our favorite places to stay in Phoenix, Arizona!
---
---
Best Hotels in Phoenix, Arizona
To summarize, here's a handy chart of our recommended Phoenix hotels. All include free wifi and are known for comfort, great locations and great customer service.
Best Phoenix Hotels – Summary Comparison Chart
Below is more information about each hotel and why we recommend it!
---
---
JW Marriott Phoenix Desert Ridge Resort & Spa
Located about halfway between downtown Phoenix and the gorgeous Tonto National Forest, the JW Marriott Phoenix Desert Ridge Resort & Spa is a truly a luxury oasis in the Arizona desert!
With a whopping 11 room and suite options including everything from stunning desert views to private balconies, the JW Marriott Phoenix Desert Ridge Resort & Spa has something for everyone from business travelers to couples to the entire family!
---
---
Arizona Grand Resort & Spa
Designed to feel more like a residence and less like a typical resort, the Arizona Grand Resort & Spa make it easy to understand why guests keep referring to the property as their home away from home.
The all-suite resort offers one- to three-bedroom suites and can keep everyone in your party entertained with a championship golf course, water park, 6 restaurants and spa all on the premises!
---
---
The Camby, Autograph Collection
Serving as "yin" to the "yang"' of Phoenix's storied desert resorts, The Camby is one of Phoenix's newest luxury boutique hotels. Offering trendy design, chic restaurants, and a hip rooftop bar and lounge scene, it's easy to see why this Phoenix boutique has already earned an AAA Four Diamond Award!
---
---
Arizona Biltmore
Located in the heart of uptown Phoenix, the Arizona Biltmore has been gracing its guests with the best of southwestern luxury for over 86 years.
Voted by Thrillist as Arizona's most beautiful building (you read that right: not just Arizona's most beautiful hotel, but its most beautiful building), the Arizona Biltmore and its multiple rooms and suites, 8 swimming pools, private terraces, and spacious meeting venues will give you one of the best luxury hotel experiences anywhere in the Southwest!
---
---
Royal Palms Resort and Spa
Opened over 85 years ago as a couples' getaway the estate currently housing the Royal Palms Resort and Spa is truly a secluded treasure among Phoenix and Scottsdale resorts.
With a four-star spa, one of the country's most awarded dining locales in T. Cook's Restaurant, and over 20,000 square feet of meeting space, the Royal Palms Resort delightfully pairs its near-century old charm with the best of modern luxury.
Even better?
It's part of the Hyatt Unbound Collection, so hotel loyalists can use their points!
---
---
And that's it! Our guide to Arizona's best hotels to make the most of your stay.
Whether you're looking for the best location in town, family hotels for kids, or a luxurious hotel for couples, these top hotels in Phoenix are sure to please.
Follow Sher She Goes on