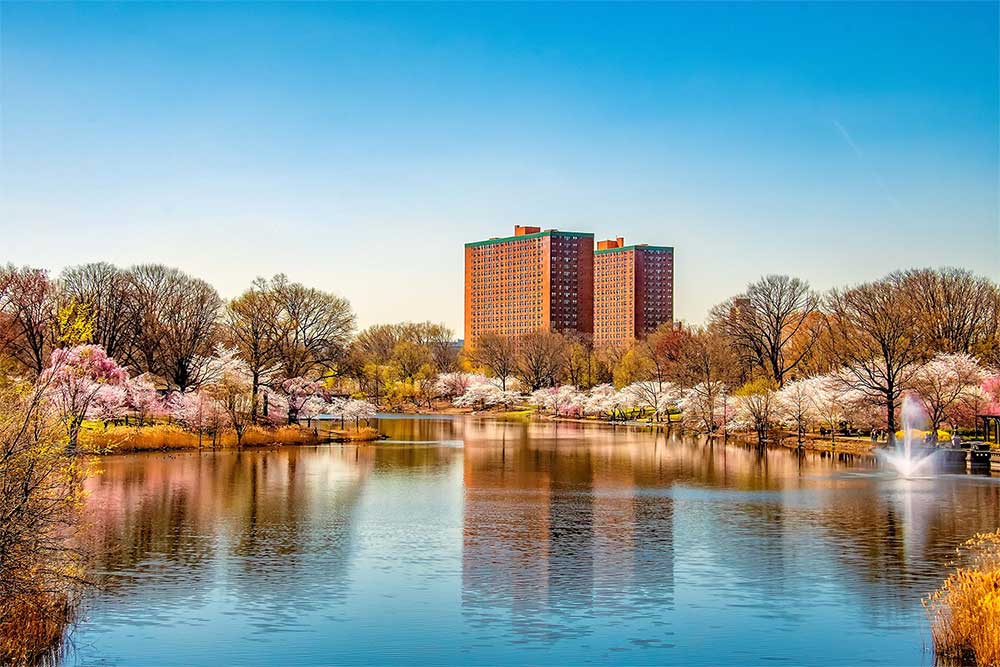 Where to Stay in Newark
If you find yourself needing a place to stay in Newark, bless your heart, that means you are probably planning a trip involving either New York City or leaving New Jersey for home or vacation.
That's the good news.
The bad news is that travel is the theme here, and travel can either be a light headache or full-on migraine. Nowhere is this truer than the Tri-state area, so hotel decisions in Newark need to be based on convenience, convenience, convenience!
Fortunately we've got you covered, so keep reading for our favorite places to stay in Newark, New Jersey!
---
---
Best Hotels in Newark
Here's a quick summary chart of our recommended Newark hotels. All include free wifi and are known for comfort, great locations and great customer service.
Best Newark, NJ Hotels – Summary Comparison Chart
Below is more information about each hotel and why we recommend it!
---
---
Newark Liberty International Airport Marriott
Located on airport grounds, the Newark Liberty International Airport Marriott exemplifies convenience. In 2016, it undertook a major remodeling that earned it distinguished honors among the entire Marriott International family of brands!
Thanks to that, this clean and modern hotel might just make you forget you're stuck in Newark :)
---
---
Hilton Newark Penn Station
Located in downtown Newark and recently remodeled, the Hilton Newark Penn Station offers guests convenient access suiting multiple travel itineraries.
The Hilton Newark offers free shuttles to Newark International Airport, which is less than ten minutes away, and it offers connected access to Pennsylvania Train Station, meaning the big lights of New York City aren't much further than that!
---
---
Best Western Newark
Of all the hotels on this list, none combines form and function better than the Best Western Newark Hotel.
Recently remodeled, the modern-looking Best Western affords its guests a swank rooftop bar and grill, fully-equipped fitness center open 19 hours per day, and complimentary continental and hot breakfast!
---
---
DoubleTree by Hilton Hotel Newark Airport
Though airport hotels are normally – and rightfully so – about convenience, the DoubleTree Newark Airport Hotel has a host of amenities and services that make it feel like something more.
Guests at the DoubleTree enjoy complimentary breakfast and evening hors d'oeurves, a 24-hour fitness center, and the familiar freshly-baked chocolate chip cookie upon arrival!
---
---
Wyndham Garden Newark Airport
With a gorgeous interior garden (also equipped with free Wi-Fi) to honor its namesake, the Wyndham Garden Newark Airport is easily the most verdant of the hotels on this list.
With 349 guest rooms with chic furniture, free Wi-Fi, and sleep sofas, the Wyndham Garden Newark is a relaxing place to spend your time before or after your trip!
---
---
And that's it! Our guide to Newark's best hotels to make the most of your stay.
Whether you're looking for a luxury hotel in downtown, a boutique hotel for couples or a family friendly hotel for kids, these top hotels in Newark are sure to please.
Follow Sher She Goes on