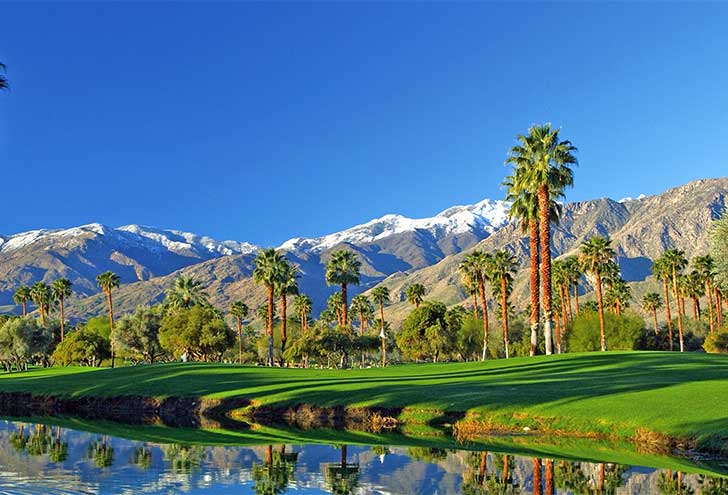 Where to Stay in Palm Springs
At the center of a rough triangle formed by Los Angeles, San Diego, and Phoenix, Palm Springs occupies one of the most geographically and culturally unique locales in southern California.
Known for its luxurious lifestyle, this Coachella Valley (yes, that Coachella) desert town offers everything from the excitement of outdoor sports to the relaxation of southern California valley wine.
Keep reading for our favorite places to stay in Palm Springs, California!
---
---
Best Hotels in Palm Springs, CA
Here's a handy chart of our recommended Palm Springs hotels. All include free wifi and are known for comfort, great locations and great customer service.
Best Palm Springs Hotels – Summary Comparison Chart
Below is more information about each hotel and why we recommend it!
---
---
L'Horizon Resort & Spa
Nestled within the gorgeous Coachella Valley and just minutes away from downtown Palm Springs, the L'Horizon Resort & Spa has all the elements for a luxurious getaway.
Formerly a mid-20th century getaway playground for Hollywood's rich and famous (Marilyn Monroe features prominently on the former guest list), the re-purposed L'Horizon has everything necessary for a perfectly modern boutique hotel experience.
---
---
Parker Palm Springs
Located in the shadow of iconic Palm Canyon, the Parker Palm Springs is truly a landmark in boutique hotel luxury innovation.
Rooms include either two-bedroom villas replete with marble bathrooms or – my personal favorite – Lanais, which offer rooms adjacent to brick and ivy-adorned poolside terraces!
---
---
Desert Riviera Hotel
Designed by famed architect Herbert W. Burns in 1951, the Desert Riviera Hotel is a classic mid-century Palm Springs gem reloaded with plenty of modern amenities and features.
With a heated pool, isolated whirlpool Jacuzzis, and stunning San Jacinto Mountain views, this boutique property truly does provide Riviera-quality luxury in the Coachella Valley desert!
---
---
La Maison Hotel
In an interesting role reversal with its neighbor The Rossi Hotel, La Maison Hotel recently received 2017 Trip Advisor honors as the United States' fifth-best small hotel and second-best hotel for romance!
And when you walk around La Maison's property and find yourself surrounded by towering palm trees, terra cotta floors, and clay tile roofs, it's easy to see why La Maison is so lauded!
---
---
The Rossi Hotel
Located in the prestigious Tennis Club District, The Rossi Hotel occupies an enviable location between the boutique shops of downtown Palm Springs and the rolling hills of the San Jacinto Mountains.
If the name sounds unfamiliar to southern California hotel aficionados, that's because it was recently re-branded as The Rossi in 2017. Known as "The Wigwam" since the 1920s, the Rossi Hotel is the same ole' place that has graced Palm Springs with its luxury for decades!
---
---
And that's it! Our guide to Palm Springs' best hotels to make the most of your stay.
Whether you're looking for a luxury resort in palm springs or the most romantic retreat for couples, these top hotels in Palm Springs are sure to please.
Follow Sher She Goes on