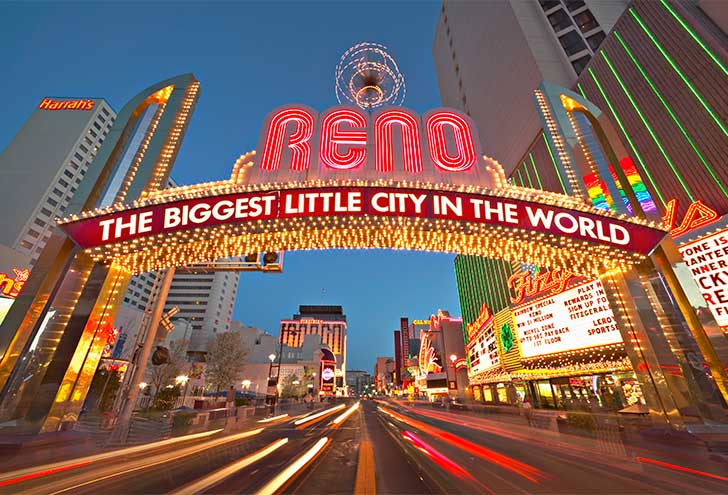 Where to Stay in Reno, Nevada
Affectionately known as "The Biggest Little City in the World", Reno is the gambling and entertainment little cousin of Las Vegas, its Nevada neighbor.
What many people don't know, however, is that Reno sits at the foot of the beautiful Sierra Nevada mountain range and lies just 22 miles from shimmering Lake Tahoe. So whether you're headed to Reno to try your luck or simply take in the beautiful western United States, we've got you covered!
If you need some guidance, keep reading for our favorite places to stay in Reno, Nevada!
---
---
The Best Hotels in Reno
Here's a quick overview of our recommended Reno hotels. All include free wifi and are known for comfort, great location and great customer service! One is a non-casino option for those who don't want to gamble, while the rest have on site casinos for all night entertainment!
Best Reno Hotels – Summary Comparison Chart
Below is more information about each Nevada hotel and why we recommend it!
---
---
Whitney Peak Hotel
As one of Reno's newest hotels the Whitney Peak Hotel takes a new and fresh approach to Reno entertainment as the city's only non-gaming independent hotel.
Located adjacent to the Reno arch, however, the Whitney Peak is perfect for those want the opportunity to visit casinos just a few minutes away yet insulated from the floors below you!
---
---
Silver Legacy Resort and Casino
Located in the heart of downtown Reno, the Silver Legacy Resort and Casino is one of Reno's most beloved gaming resorts.
Whether it's the 13 room and suite options with panoramic views of the Sierra Nevada mountain range, full-service spa, or nightly live entertainment, everyone seems to feel right at home at the Silver Legacy!
---
---
Eldorado Resort Casino
Nestled at the epicenter of Reno's gaming action, it's easy to see why the Eldorado Resort Casino has one of the best reputations for those looking to strike gold in Reno's gaming scene.
The Eldorado's 81,000 square foot casino gaming floor includes over 1,200 slot machines, more than 100 table games, and the most popular sports and racing book in town – how many more opportunities to dance with Lady Luck could you want?
---
---
Best Western Plus Boomtown Casino Hotel
Located on the western outskirts of Reno in the town of Verdi, the Best Western Plus Boomtown Casino Hotel offers the best of both worlds when it comes to greater Reno entertainment. It also probably offers the best hotel name created in the history of hotels.
Newly renovated with 316 rooms, a full-service casino, and four upscale restaurants, the Boom has everything you need for a perfect Reno vacation.
---
---
Circus Circus Hotel and Casino
With two sleek towers, nine room and suite options, and countless entertainment opportunities, the recently remodeled Circus Circus Hotel and Casino is a true Reno favorite.
Throw in the fact that the Circus Circus has a reciprocal relationship with the Eldorado, and you're getting twice the event and amenity space for the same price!
---
---
And that's it! Our guide to Reno's best hotels to make the most of your stay.
Whether you're looking for a luxury hotel in downtown, a boutique hotel for couples or a family friendly hotel for kids, these top hotels in Reno are sure to please.
Follow Sher She Goes on