A huge thanks to Vital Proteins for partnering on this post.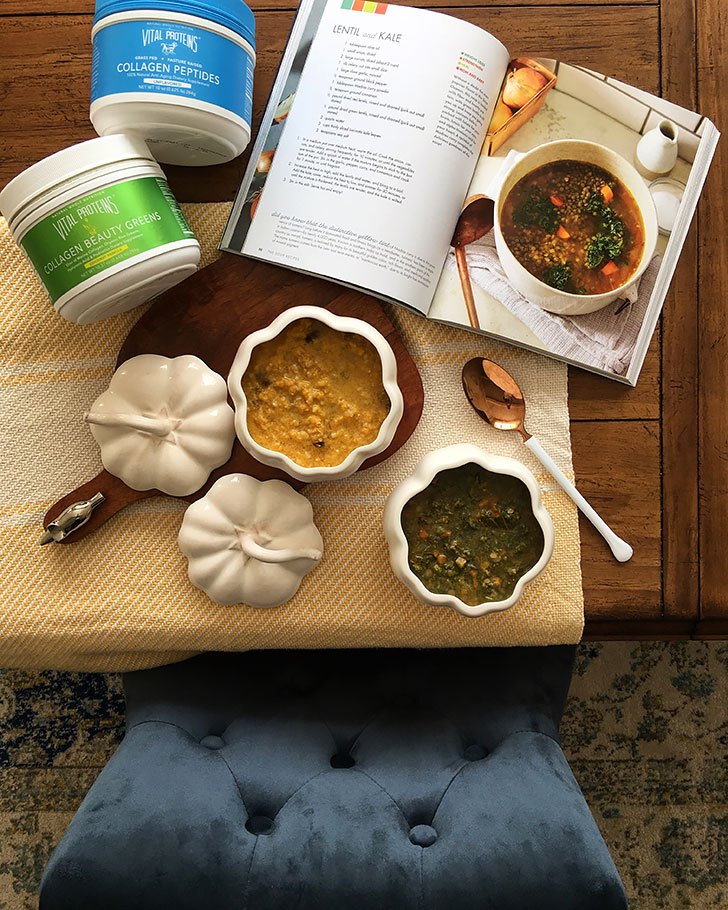 Beauty Begins With Diet
For the past two months now, I've been slowly incorporating beauty supplements into my diet. Read on to find out which supplements I'm taking what has worked so far and what I've stopped taking!
Apple Cider Vinegar for Digestion and Weight Loss
First, I started to re-incorporate apple cider vinegar into my diet. Apple cider vinegar is great for digestion. If you've ever felt too full after a meal, add 1 tablespoon of the vinegar to a glass of water and slowly drink the mixture. The tonic is antibiotic so if your gut is suffering from a bacterial infection, the vinegar will help cleanse your digestive tract. Some friends of mine who take it also credit it with weight loss, as it's reputed to increase your metabolism, suppress your appetite and reduce water retention.
Initially I took apple cider vinegar every day. The initial taste was quite strong and disgusting, but I got used to it very quickly and actually enjoy the taste now. I have always suffered from digestion issues so I love how I feel immediately better after drinking it. If you really dislike the taste, I recommend adding it to flavored water (but try to avoid juice, as the added sugar and vinegar are a bad combo for your teeth!)
Try It: I recommend Bragg's unpasteurized apple cider vinegar or any vinegar that is unpasteurized. You want the floating, unidentifiable mass inside the bottle.
Biotin for Hair and Nails
Then, I began suffering from massive hair loss so I picked up some biotin pills and vitamin c to encourage hair growth/stronger nails as well as provide a general auto immune boost. My hair loss was pretty significant – I would sit down in a chair, feel something weird on my head and a large, knotted clump would fall apart into my hands. Every time I showered, a floor of straggly strands carpeted the tub. I started getting really paranoid that my hair felt very thin, that I was balding… it felt very scary.
After taking 10,000 mg of biotin a day, within about 1 week the hair loss slowed considerably. I take one tablet every morning with my coffee and an extra pill of vitamin C. Not only has my hair loss dramatically slowed, but my nails feel stronger and are growing faster.
I did read recently that biotin is a "hoaxy" kind of supplement that isn't proven to quicken hair growth. I will say that for me personally, it felt immediately beneficial but perhaps that was a placebo. Let me know if you take biotin and what you think!
Try It: I like this brand as each pill is the maximum recommended amount of 10,000 mg. Other brands are sold in 5,000 mg capsules so you should take 2 pills.
Collagen for Skin Elasticity, Bones and Joints
Most recently, I've started adding collagen to my food. Collagen is the basic building block for your cells, organs and tissues and is found naturally in the body in our bones and joints. Collagen is credited with giving our skin elasticity, structure and strength but over time, our bodies naturally produce less of it and therefore our skin becomes looser, less firm and less plump. Degradation of collagen in our bodies leads to wrinkles and even osteoporosis.
If you are on a Paleo diet, you're likely very familiar with collagen. The theory behind adding it to our diets is that collagen was once very prevalent in our ancestral food chain but relatively scarce in modern day fare. Collagen is naturally derived in the odd bits and bones of beef or animal products (bone broth is essentially one big bowl of collagen).
I've started added a scoop of collagen peptide powder to my morning yogurt bowls, smoothies and even coffee. Now that it's fall, I've also started adding a scoop to my soups. While I still try to drink in a green juice from week to week, soups are my new favorite way to get in a large healthy dose of veggies without an overly "green" taste.
Try it: I get collagen from Vital Proteins as it's sourced from pasture raised cow hides from Brazil. The cows are naturally raised without antibiotics, steroids or hormones which gives me significant piece of mind.
Vital Proteins offers a couple different collagen peptide types:
collagen peptides – sourced from pasture raised, grass fed beef, unflavored. I use in smoothies
beauty greens – coconut flavor, I use this primarily in green smoothies or anything with coconut.
marine collagen – sourced from wild snapper, unflavored. I use in all soups
If you'd like to try incorporating collagen into your diet, I found it pretty simple. Just add one scoop to your coffee, yogurt bowl or smoothie and mix well. The collagen peptides dissolve in both hot and cold liquids. I think the collagen peptides are an easy way to start incorporating collagen as you can add them to almost anything you regularly eat. I keep the canisters on my kitchen counter to remind me each morning and also because I think the packaging looks great! It's not at all like the traditional protein type containers that scream "dude".
Vital Proteins also sells a collagen gelatin, which is the cooked form of collagen. Gelatin does not dissolve in hot water and causes liquids to gel so do not use this in your smoothies/shakes etc. I would eventually love to try adding gelatin to some baked goods or desserts!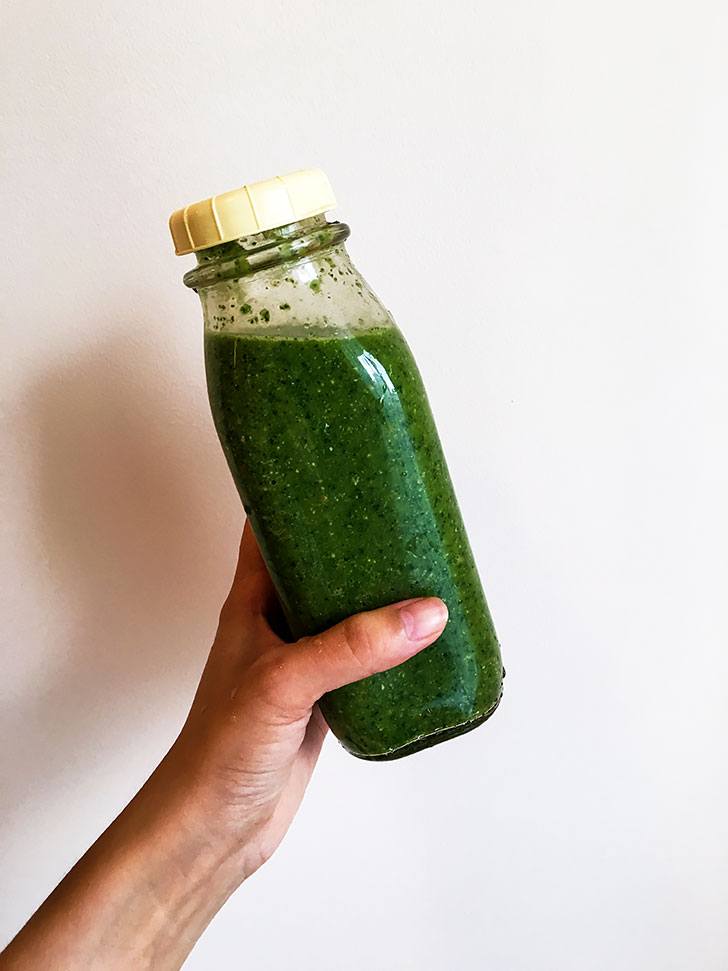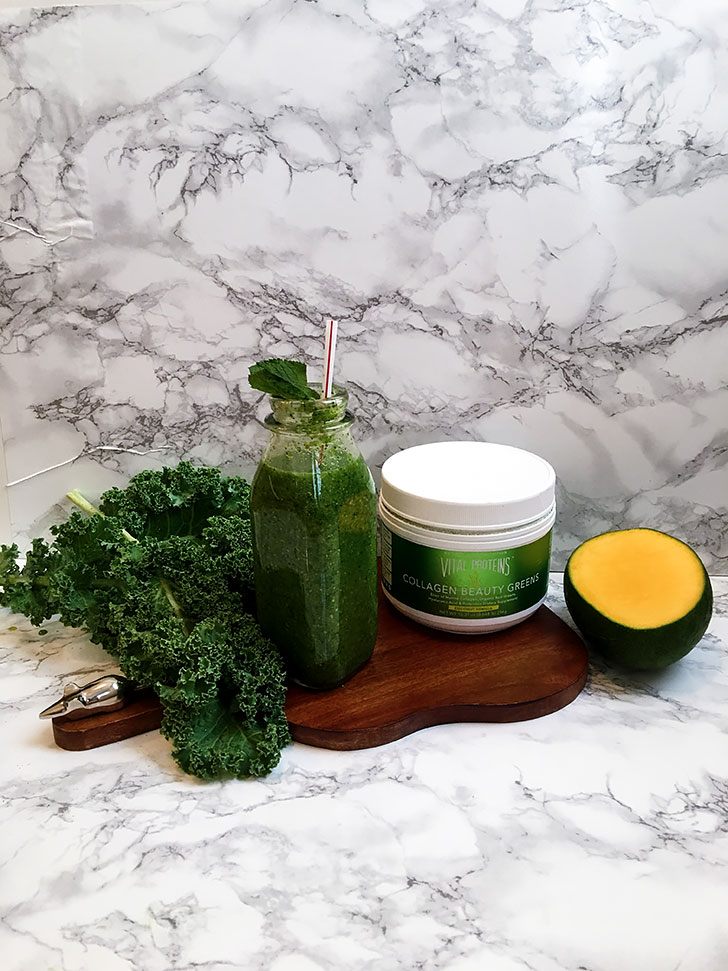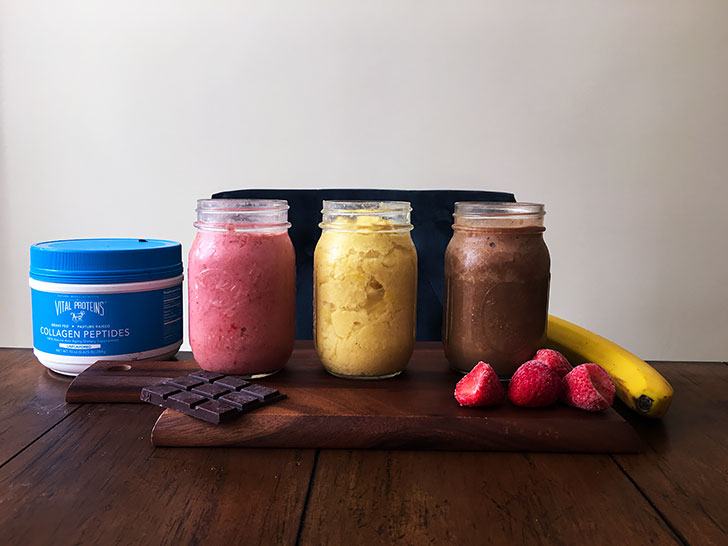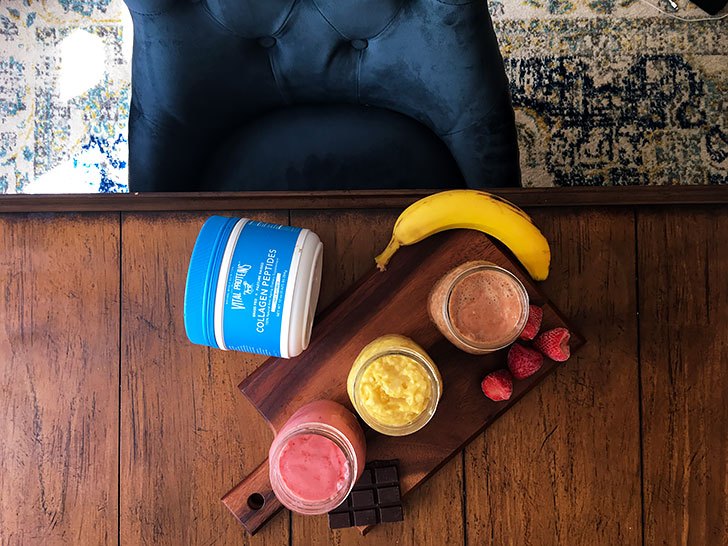 My Favorite Collagen Recipe:
---
As I mentioned, I currently like incorporating collagen into soups. For soup recipes, I've been using this Splendid Spoon cookbook. I showed some clips of the book interior a couple days ago on my Instagram Stories and Snapchat – the book is from a food blogger based in Brooklyn and very well done. I'm not a fan of buying cookbooks that just show text recipes – I really think a good book should show pictures of each recipe and this one does that for 99% of the recipes in absolutely stunning imagery.
I initially tried her soup cleanse delivery service and was pleasantly amazed by how delicious and filling the soups were (even with names like squash porridge – not my usual go to at all) so I have started to use the cookbook regularly.
I've included my favorite soup collagen recipe below, in case you'd like to try incorporating collagen into a lunch or dinner meal!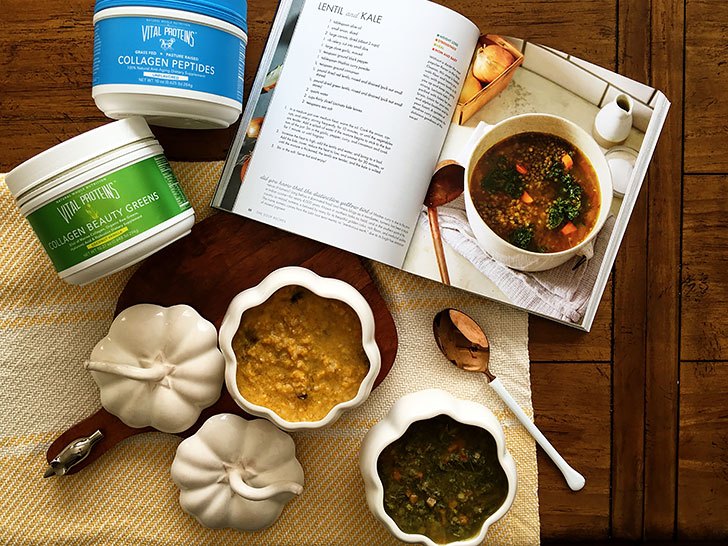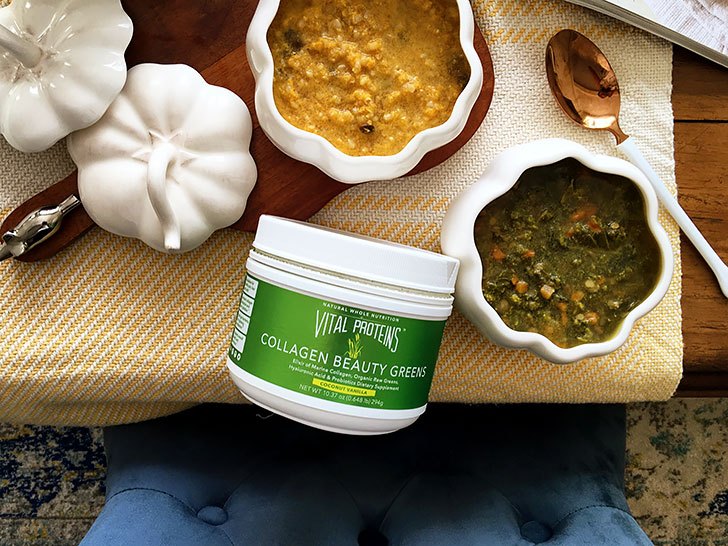 Cranberry Beans and Pumpkin Squash Stew
via Splendid Spoon
---
Ingredients
4 cups chopped pumpkin (or squash)
1 scoop collagen (I use Vital Proteins marine collagen)
3 tablespoons olive oil
1 small yellow onion, diced
3 cloves garlic, minced
1 tablespoon chopped fresh sage
1 teaspoon ground cinnamon
1/2 teaspoon red pepper flakes
1 cup cranberry beans (or chickpeas, cannelloni beans)
1 quart water (add 2 cups if using dried beans)
1 teaspoon sea salt
Directions
Preheat the oven to 400 degrees.
Roast the pumpkin with 1 tbsp of olive oil for 40 minutes in the oven
With remaining oil, cook the onions and add garlic, sage, cinnamon and red pepper until fragrant
Add the beans, stir to combine
Add the water and pumpkin. Increase heat to high and bring to a boil
Reduce heat to medium and add in 1 scoop of collagen
Simmer for 45 minutes or until stew has thickened and collagen has fully dissolved
Add salt to taste and serve hot!
---
Note: I used this super strong and affordable $30 blender to puree veggies for soups. I would say that it does a fantastic job at grinding down fruits and veggies but it produces a chunkier finish. If you really want that smooth, traditional soup consistency, you can strain the puree or use a Vitamix.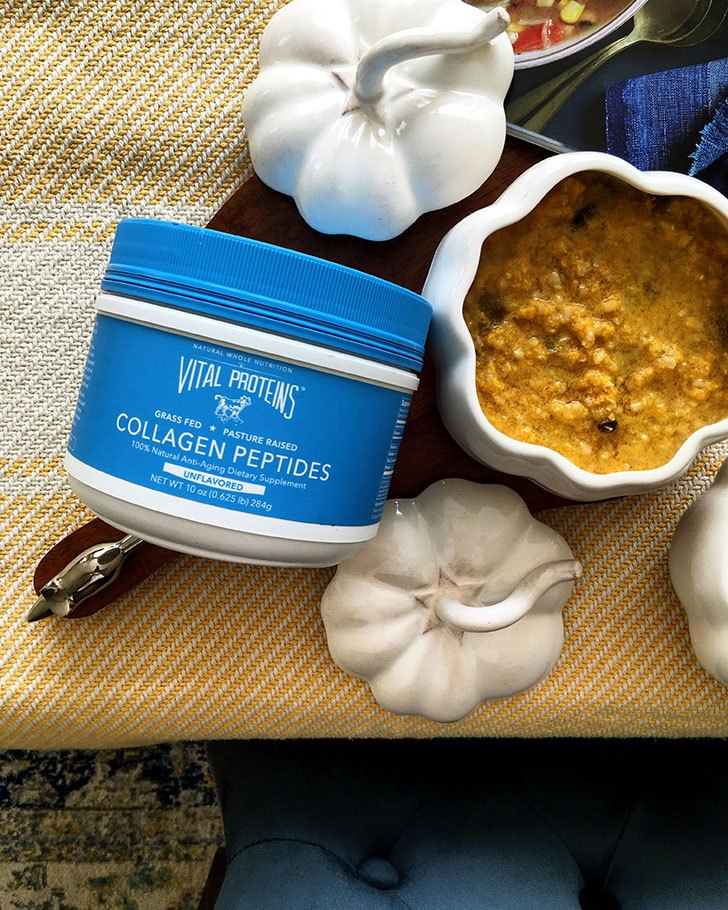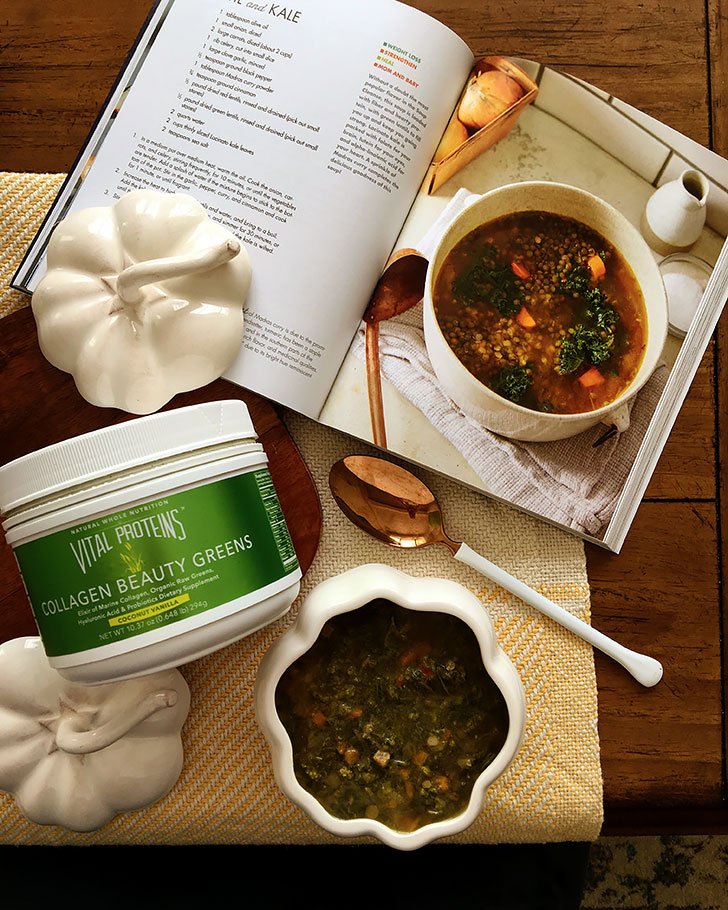 Vital Proteins Collagen Giveaway
---
Now that you know my collagen recipe, try incorporating collagen into your own diet! Vital Proteins has generously offered my readers a collagen peptide product of their choice. Enter below: