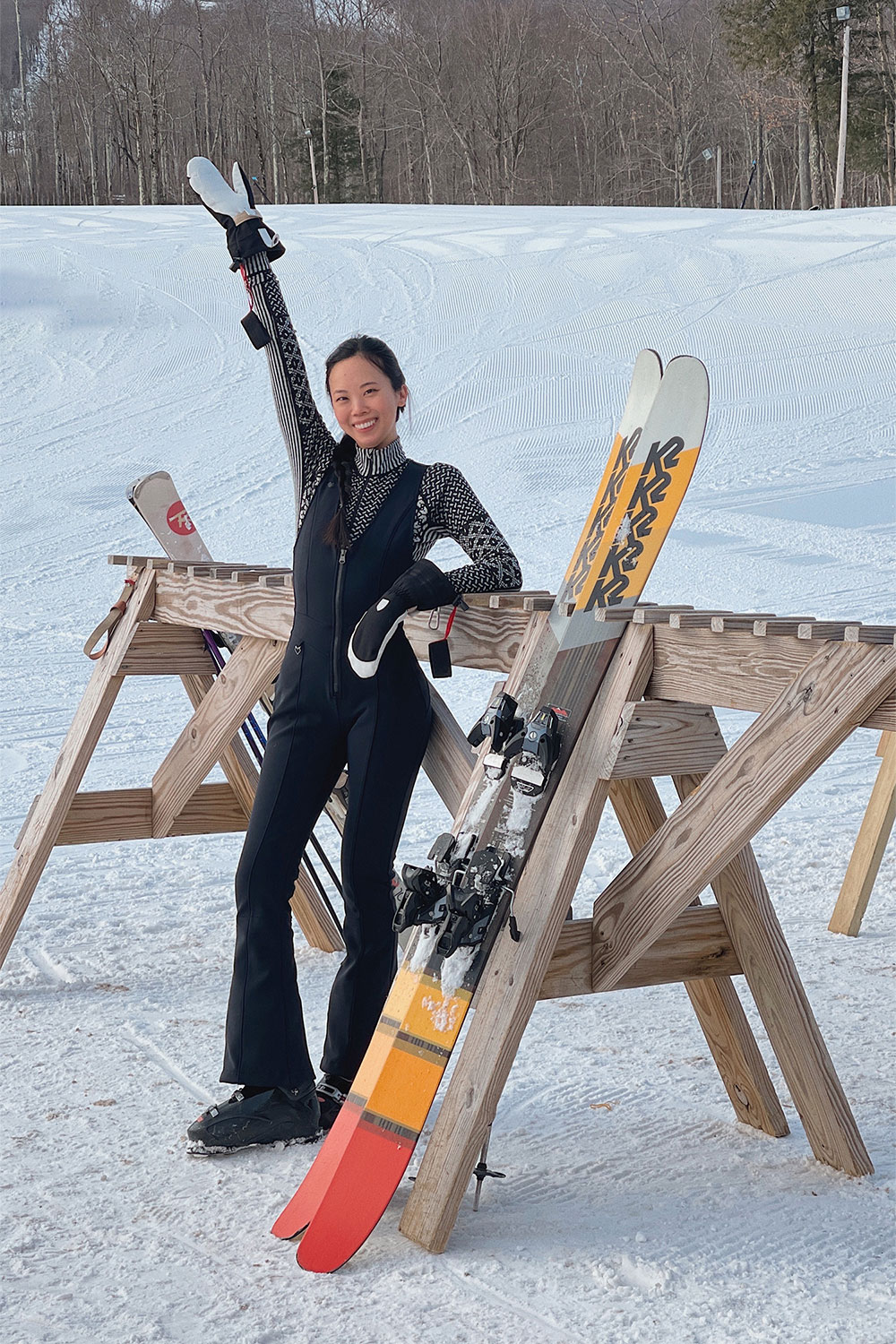 Obermeyer Ski Clothes
When I was searching for cute ski clothes, I came across Colorado-based brand Obermeyer.
They've quickly become one of my favorite ski wear brands for fashionable, functional ski clothes and best of all, they're not astronomically expensive.
I've worn their one-piece ski bib on multiple ski trips and always get asked where it's from. So I decided it was time to share the secret and write an in-depth brand review one of my favorite ski clothing companies!
Here's a look at Obermeyer's ski bibs and snow pants for women.
Keep reading, or pin this article to save it for later ⇟
ADVERTISEMENT
---
---
Obermeyer
Obermeyer is a ski apparel brand based in Aspen, Colorado.
Founder Klaus Obermeyer started skiing in the Bavarian alps from the early age of 3. He studied to become an aeronautical engineer in Germany before arriving to the states at 27, where he eventually settled in Aspen as a ski instructor.
At the time, skiing was still a new sport and Obermeyer saw a gap in the market for proper ski clothing.
He took a down blanket his mother had packed for him when he first left for America, and crafted a jacket out of it, creating an early version of the down ski jackets.
Today the company is still family owned and focuses on high performance ski wear. They make everything from ski jackets to snow pants, base layers and a whole range of winter accessories.
ADVERTISEMENT
---
---
Obermeyer Review
Obermeyer Bond Pants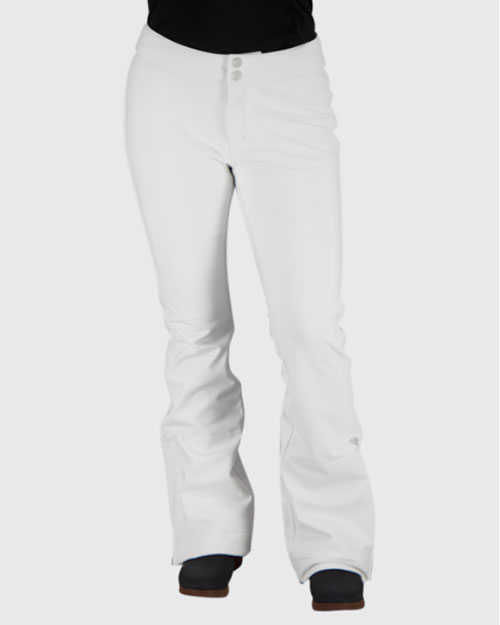 Obermeyer is most famously known for their Bond pants.
I'm not sure if the ski pants are so named because you'll look like a Bond girl in them… but for how good they look on, it could be!
These snow pants are a fitted ski pant with flared legs. The waist band comes a little higher in the back (to prevent snow from falling into your pants when you fall) and they're insulated with a cozy fleece lining.
They also have a hidden pocket at the waist and zippers on the backs of the legs to expand over ski boots.
Overall, these are designed to look really sleek.
I recommend sizing up one size in these for a more comfortable fit, especially if you plan to wear base layers underneath.
Shop on Zappos, Backcountry, Moosejaw & Amazon
Read my in-depth Bond pant review here.
ADVERTISEMENT
---
---
Obermeyer Clio Pants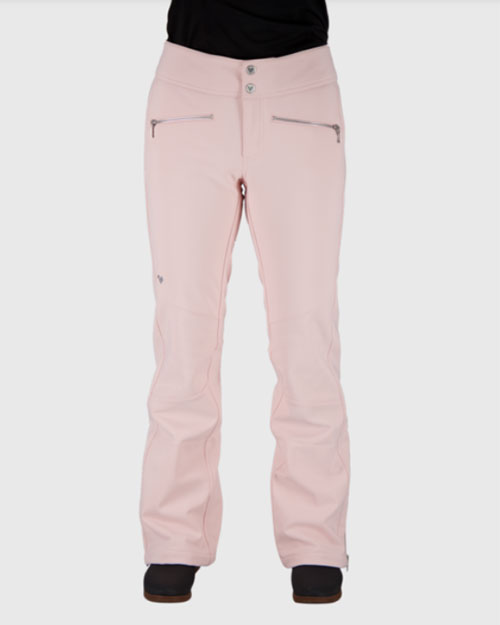 Obermeyer's Clio ski pants are unique in that they don't look like traditional frumpy snow pants.
They're sleek, fitted and have contrasting metal zippers and in fact.. look like normal pants!
If you're looking for a cute ski outfit, you have to try these on. They're an insulated ski pant so quite warm (which is great for cold snowy days) and they have two pockets on the waistband plus a back butt pocket, so quite functional!
The flared legs have metal zippers to expand over boots and they fit true to size.
Shop on Zappos, Moosejaw & Amazon
Read my in-depth Clio ski pant review here.
ADVERTISEMENT
---
---
Obermeyer Malta Bib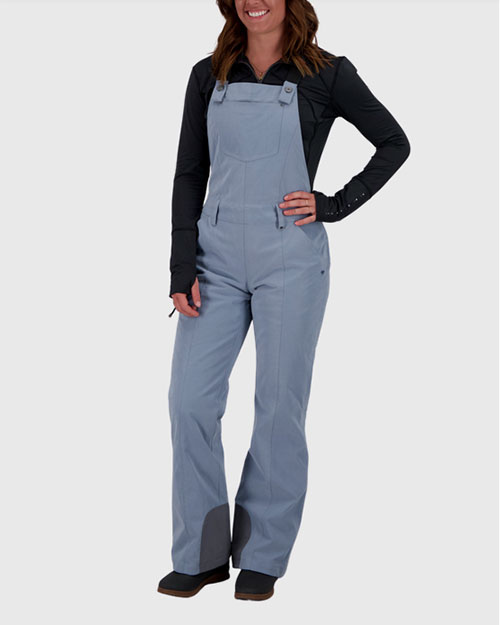 If you like to snowboard, you have to try Obermeyer's Malta bib.
It has a relaxed fit and comes in a ton of fun colors (my favorite is the pastel blue grey).
The bib comes up high in the front, for extra coverage, and there's a chest pocket to easily store your phone. The bib itself is very easy to get on and off, thanks to a long zipper running down the side of the ski bib.
The ski jumpsuit is designed like a pair of classic overalls, with straps that crisscross in the back. It's designed to have light insulation (40gm of thermore classic) which gives you flexibility to layer to suit your own body temperature.
Finally, it has tons of pockets for you to store hand warmers, tissues, chapstick, etc!
Shop on Zappos, Backcountry, Moosejaw & Amazon
Read my in-depth Malta bib review here.
ADVERTISEMENT
---
---
Obermeyer Cybele Bib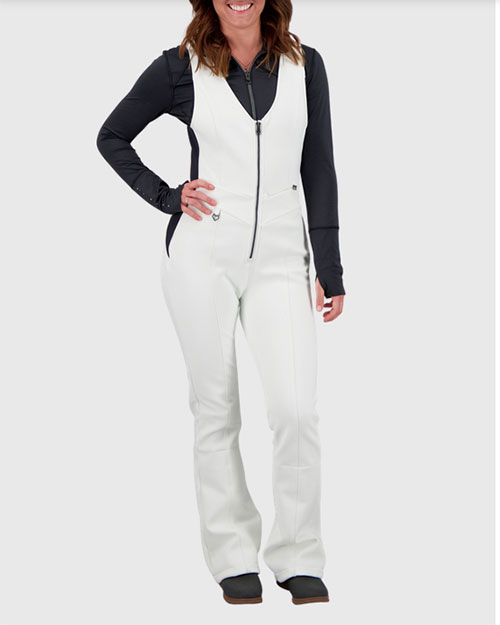 I reach for the Cybele bib the most when I go skiing.
Personally, I love how sleek fitting and flattering it is. It's fleece lined, so it's quite warm, and there's stretchy panels on the sides and back, so I can layer base layers and a thin down jacket underneath and still be comfortable.
The pants flare out and unzip to easily fit over ski boots, and the softshell fabric has tons of stretch so I can easily move about.
Highly recommend this ski bib, especially for the price!
It's fully waterproof and well designed.
Shop on Zappos, Moosejaw & Amazon
Read my in-depth Cybele bib review here.
ADVERTISEMENT
---
---
Shop Women's Ski Pants
---

ADVERTISEMENT
---
---
Ski Wear Haul
SKI CLOTHING TRY-ON HAUL: do cute ski pants exist ?? | women's ski pants + bibs review
ADVERTISEMENT
---
---
ARE DESIGNER SKI PANTS WORTH $$$? | luxury ski pant try-on (bogner, cordova, holden, helly hansen)
I posted a couple try-on hauls of all the ski wear brands that I've tried. You can check them out on my Youtube channel here.
I also did a livestream on Amazon Live chatting all about dressing for the cold.
I talk about winter fashion essentials, ski gear and cute (but affordable) ski clothes that you can shop on Amazon!
Watch a recap of the video here. Make sure to follow my Amazon shop page to join future livestreams!
ADVERTISEMENT
---
---
Read More: in our ski style series:
Ski Trip Packing Essentials
What to Wear Skiing: Packing List Must Have's
The Best Ski Pants for Women (Stylish & Functional)
I Found the CUTEST Women's Ski Pants (Video)
Are Designer Ski Pants Worth It? (Try-On Haul)
The Best Ski Clothes on Amazon (Livestream)
The Best Ski Sweaters for Apres-Ski 
The Most Festive Christmas Sweaters
The Cutest Christmas Socks for the Entire Family
Ski Trips
10 Tips to Plan the Ultimate Ski Trip to Stowe
What to Know Before Skiing in Vermont for the First Time
5 Things to Know Before Skiing at Bellaeyre Mountain, in the Catskills
Skiing in Stowe, Vermont (Youtube Vlog)
Skiing in the Catskills VLOG (Beginner Friendly Resort!)
Cold Weather Tips
What to Pack for NYC in Winter
8 Winter Skincare Tips You Should Follow
How to Plan the Perfect Winter Picnic
3 Benefits of Adding a Wet Skin Moisturizer
Follow Sher She Goes on