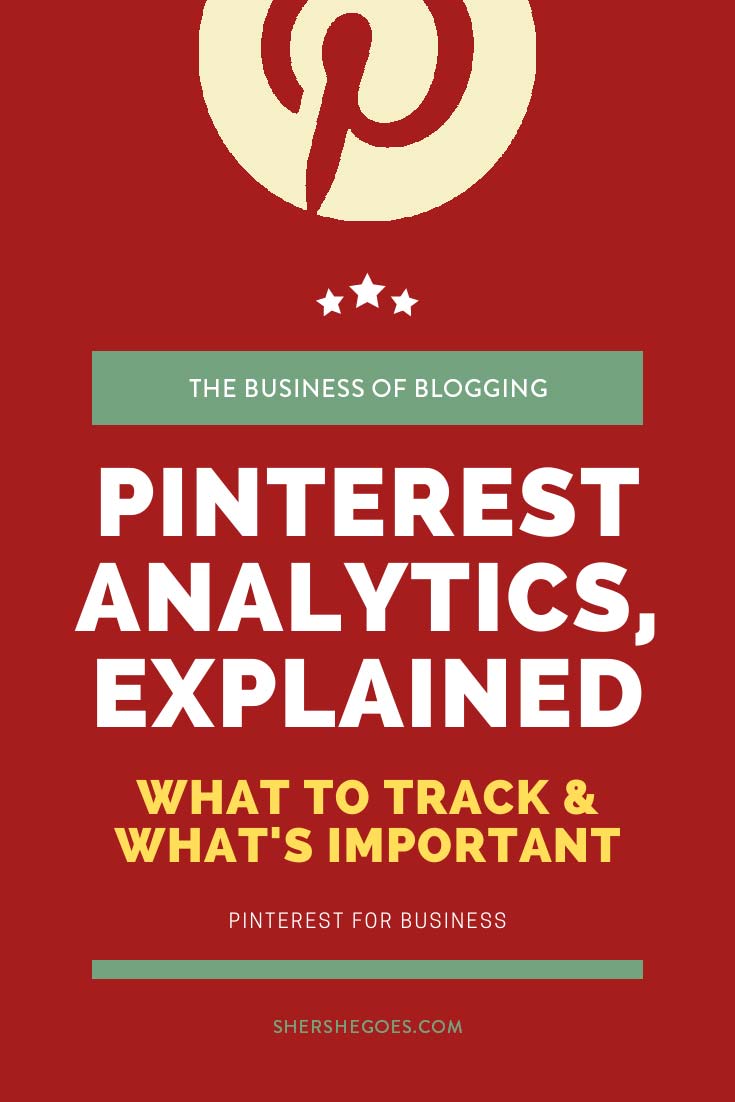 Pinterest Analytics
Today's post is a continuation of our Blogging series and it's a deep dive into Pinterest Analytics.
Unfortunately, the work on Pinterest isn't done when you create a beautiful Pin and hit "publish". To really get the most out of the platform, you'll want to take a deep dive into the Analytics of your pins and your overall Pinterest platform.
Why?
Because leveraging Pinterest Analytics will allow you to track your reach and compare your actual performance to your expected performance.
ADVERTISEMENT
Utilizing the additional insights from Pinterest Analytics will help you to continually refine and re-calibrate your Pinterest publishing strategy so you can get more traffic to your website!
If you're a blogger, this is one post you won't want to skip.
Keep reading for tips and tricks to better understand Pinterest Analytics!
Understanding the Pinterest Analytics Dashboard
Compared to other social media platforms, we're actually quite impressed with the Pinterest Analytics dashboard and capabilities.
For newer users, Pinterest Analytics can be a little overwhelming. This is actually a good thing though, because the dashboard provides a really rich amount of information!
Read more:
How to Get Started with Pinterest for Your Business
ADVERTISEMENT
---
---
Overview
To navigate to the main portion of your Pinterest Analytics dashboard, simply hover over "Analytics" in the top left corner of your Pinterest home page and select "Overview" from the drop-down menu.
The "Overview" section of Pinterest Analytics section is divided into 3 main reports:
Before we dive into the reports, let's look at how we can filter the data.
ADVERTISEMENT
---
---
The left-hand column offers useful filters for each of these reports, including:
by date
content type (organic vs. paid)
claimed account
device (i.e., mobile, desktop, or tablet)
format
source
While all these filters are nice and occasionally useful, we think the detail is actually a little unnecessary. Since all our publishing is organic, we really only play with the dates filter.
ADVERTISEMENT
---
---
By Date
Changing the time frame is important, as the default 28-day time window doesn't capture short-term movements in Pin performance.
Like other social media platforms, Pinterest contains Pins with highly volatile rises and falls in terms of popularity or virality.
Getting a sense of your month-level performance is obviously valuable, but we definitely recommend analyzing all your key metrics on narrower time frames.
This allows you more (although as we will shortly discuss, imperfect) visibility into which Pins are performing well right now as well as which Pins were performing well and may have recently lagged.
Now that we've discussed the filters you can apply within Pinterest Analytics, let's talk reports!
ADVERTISEMENT
---
---
Performance Over Time
The first report is your "Performance Over Time". Here, the X-axis represents whatever date range you have selected, and the Y-axis can be any of the following 13 metrics:
Impressions
Engagements
Close-ups
Clicks
Saves
Engagement Rate
Close-up Rate
Link Click Rate
Save Rate
Total Audience
Engaged Audience
Monthly Total Audience
Monthly Engaged Audience
If this seems like an overwhelming number of options, that's because it is!
After a closer look, however, we realize many of these 13 metrics have very simple mathematical relationships.
ADVERTISEMENT
---
---
For example, the 4 "rate" metrics (engagement, close-up, link click, and save) are simply the total number of each of those metrics divided by impressions.
So, what we normally do is focus on the overarching total impressions (this is the key metric defining our reach, after all), and then scroll through the various "rates".
Those 4 metrics (engagement, close ups, link clicks, saves) are easy to define but less easy to interpret. You also have the option to segment these metrics by
total vs. engaged
overall vs. monthly
Briefly, your total audience is anyone who has seen or engaged with your Pin. Put differently, anyone who has given your Pin an impression, close-up, save, or click is a member of your total audience.
Your engaged audience is a subset of your audience, and represents the portion of your total audience that has engaged with any Pin via a close-up, save, or click.
ADVERTISEMENT
---
---
Generally, we believe looking at the "monthly" total and engaged audience figures is a little extraneous.
Remember, you can filter the time period in the left-hand column, so you easily have visibility into monthly, weekly, or even daily audience metrics by adjusting the time period.
We also think that looking at total audience is a bit unnecessary, because all total audience captures beyond engaged audience is the subset of your audience that only gave your Pins impressions – rather than engagements.
As long as we analyze the total impressions figure to get a sense of our overall reach, we allow ourselves to focus mostly on the total engaged audience figure.
In our opinion, this figure gives us the best summary of our audience providing the most valuable form of interaction – engagements!
ADVERTISEMENT
---
---
Top Boards
The next 2 reports within Pinterest Analytics are beautiful in their simplicity and usefulness.
The 2nd and 3rd reports respectively showcase "Top Boards" and "Top Pins". The "Top Boards" report features up to 30 boards, while your top 50 Pins are reported within "Top Pins".
Top Pins
For either report, you can use the nearby drop-down menu to filter the output by impressions, total engagements, close-ups, saves, and clicks.
These last 2 reports are a fantastic way to succinctly get a sense of your best-performing boards and Pins across a range of metrics.
We discuss more specific strategies regarding how to utilize this information in our ebook, The Pinterest Playbook.
However, with no further guidance, these reports offer a great window into the types of Pins and content that resonate most with your audience!
ADVERTISEMENT
---
---
Pinterest Audience Insights
Heading back to the main drop-down menu under Pinterest Analytics, you will find "Audience Insights" as the 2nd listed option.
The bottom sections of Audience Insights segment your audience by
device used
location (including metropolitan-level visibility)
gender
age
ADVERTISEMENT
---
---
The most importation section of Audience Insights, however, is the first: "Categories and Interests".
This incredibly useful feature breaks down the percentage of your audience showing the most affinity for broad categories such as "travel" or "gardening".
The interface allows you to select one of these broad categories, at which point you will see more granular "interests" within each category.
For example, within "travel" we can see what percentage of our audience is interested in impressively specific sub-topics such as "travel hacks" or "Asia destinations".
ADVERTISEMENT
---
---
The key here is understanding whether your intended or target audience aligns with your actual audience.
Let's think through a hypothetical example.
Men and women can both have reasons to be interested in men's fashion. However, if you're a men's fashion blogger and 80% of your audience is female, you probably aren't reaching your target audience as much as you would prefer.
Audience Insights is also a great way to understand – regardless of your target audience – what your existing audience connects with most on your Pinterest profile.
This can obviously augment the brainstorming process as you consider future topics to publish with your viewers!
Read more:
Are You Making These Pinterest Mistakes?
ADVERTISEMENT
---
---
Pinterest Trends
Trends is a new feature within Pinterest Analytics, and while we think it's still got some fleshing out to do, it looks super promising for publishers.
We are still understanding how best to utilize this feature ourselves, but we're pretty sure Pinterest is trying to create a "trending" section similar to what you might find on Instagram or Twitter.
The output and interface will likely change in the coming months since Trends is a new feature, but what's currently reported is the Top 9 trending ideas within 5 categories:
Pinterest overall
Fashion
Food & Drink
Beauty
Home
ADVERTISEMENT
---
---
Each "trending idea" features several representative Pins and a basic graph showing the weekly searches for that idea over time.
For us, there are 2 awesome aspects of this new report within Pinterest Analytics.
The first is that any topic – trending or not – can be analyzed using the search bar at the top of the page. Input a topic like "South Carolina", for example, and the output will be a graph showing weekly searches for that topic.
Since most content creators have publishing schedules with limited flexibility, the Trends feature could prove essential.
Say you just published an article on Indonesia travel and, for whatever reason, Trends is showing declining search volume for that topic. What you should probably do is delay publishing your Indonesia travel Pins and wait until they rebound to strike while the iron is hot.
Read more:
Grow Your Blog with these 2020 Pinterest Strategy Tips
ADVERTISEMENT
---
---
Second, the "trending ideas" within each category are impressively specific. For example, "summer family picture outfits" is currently trending within Fashion, whereas "alfredo sauce recipe" is currently trending within Food & Drink.
What causes something as specific as "summer family picture outfits" to trend this week and not the following week, who the heck knows! The reasons why a topic is trending on Pinterest don't really matter.
What matters is the visibility into these randomly specific trending topics and incorporating this information into your publishing strategy.
ADVERTISEMENT
---
---
Notice "alfredo sauce recipe" is trending?
Have a few relevant pictures from restaurants or an Italian vacation you could easily convert into several relevant Pins? You might as well take advantage of this information and quickly publish any relevant content you have!
Our opinions on Trends will evolve along with the feature itself.
For now, we are very optimistic that the information within Trends will help users
recognize currently trending topics for which a publisher can quickly Pin relevant content
brainstorm ideas for future publishing based on what is most popular among the entire Pinterest user base.
ADVERTISEMENT
---
---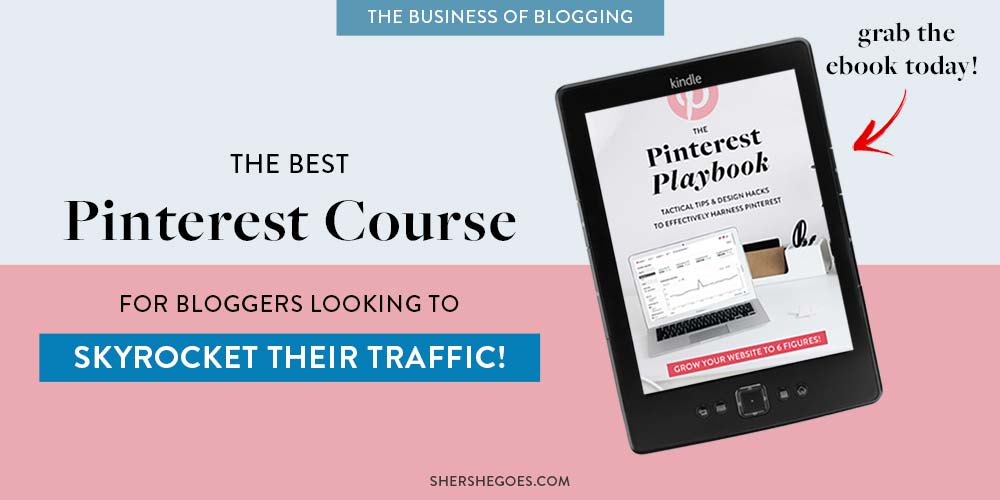 Learn More!
Like what you've read so far about how to use Pinterest for business?
Want to learn more tips that can help you develop a comprehensive strategy?
If you answered "Yes" to either of these 2 questions, you're in luck!
The Pinterest Playbook
We recently published The Pinterest Playbook, the complete story on how we drove our Pinterest reach from nothing to over 5 million views.
The ebook breaks down our complete Pinterest strategy and all the advanced strategies we use to re-purpose existing blog content into highly clickable pins. As a result of our methods, we grew our website from a hobby blog with a handful of visits a month to over 7 million visitors a year!
ADVERTISEMENT
---
---
Read More in my blogging series:
Blogging 101
10 Clauses You Must Include in Any Freelance Agreement
Grab My Blogger Contract Template
How to File Taxes as a Blogger or Small Business Owner
How to Use Pinterest for Business
The Complete Pinterest Playbook to Growing a 6 Figure Blog
How to Use Pinterest for Business: a Step by Step Guide
Want to grow Your Blog? Here's the Latest 2020 Pinterest Strategy
Avoid these 7 Pinterest Mistakes: Follow these Best Practices Instead!
Understanding Pinterest Analytics: A Deep Dive to Improving Your Reach
Conference Recaps & Course Reviews
Is Masterclass Worth It? A Review
5 Takeaways from InfluenceHer Collective's Her Conference
What to Wear to a Business Conference
Follow me @Sher She Goes on