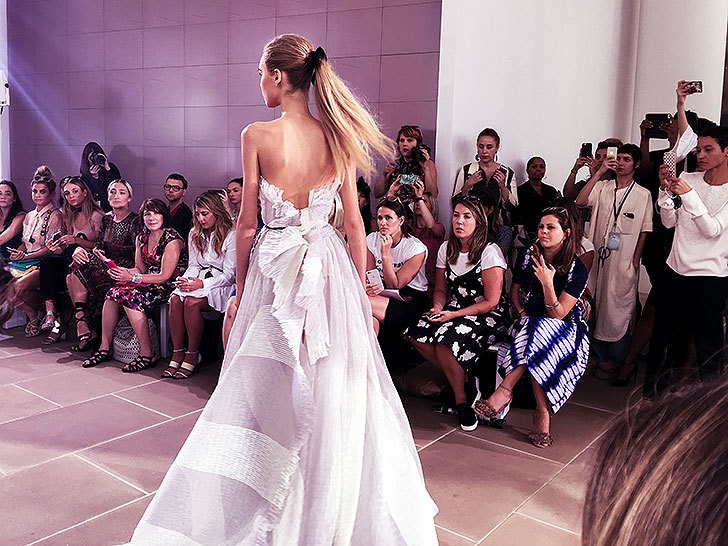 September NYFW 2016
I'm really excited about this post as this September 2016 will be my first ever New York Fashion Week! I have about 10 shows that I'll be attending and a couple fun parties lined up.
I'll also do some live coverage of the shows and backstage on snapchat (@shershegoes) and on my Instagram stories (@shershegoes) so that you guys can experience September NYFW 2016 in real time with me!
---
Before the Madness
How Does One Get Ready for Fashion Week?
---
I feel like September came around so quickly and I just got back from the Dominican Republic so I didn't have much time to prepare. I did manage to squeeze in a new hair cut and color though!
I had been trying to grow my hair for about 6 months but it got to about halfway down my back and just stopped growing and even worse, started falling out! I was shedding incredible amounts of hair in the shower and all around the house that I freaked and bought some biotin pills – a lot of people credit it for healthy, shiny hair (you can read about my experience with biotin here). The pills did work well but eventually I took the plunge and cut off ~5 inches.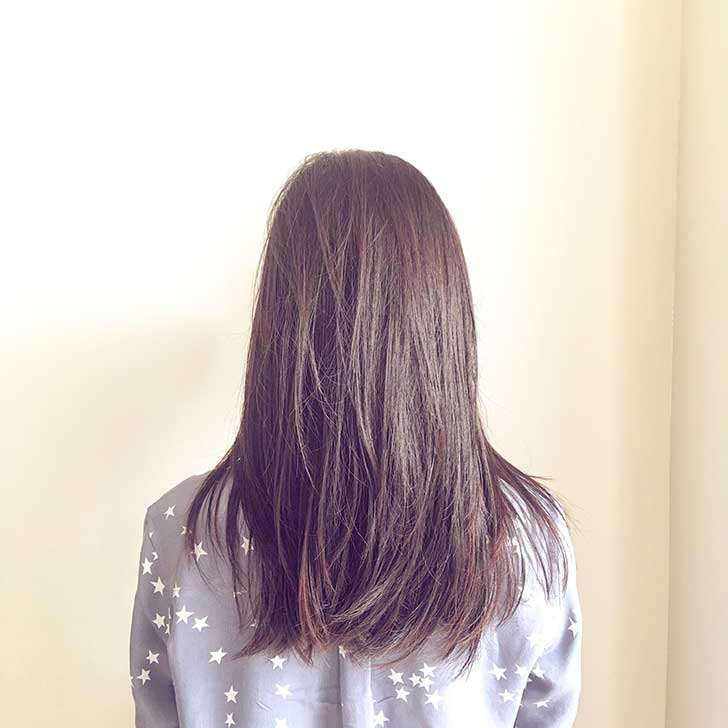 The Cut
For the cut, I tried out a new-to-me salon in SoHo called Ion Studio, which is a beautiful loft like space with two floors of just gorgeous white space and tree trunk stations. I saw Brooke Shields getting a blow out as my hair was being washed, which is crazy!
My stylist Sarah did an amazing job of adding movement to my hair with long layers while still keeping a lot of the length. I love the swoop on the side too, which is less maintenance than bangs but still has the look of a shorter front piece. Sarah did a really great curl and blowdry job that I haven't had any success replicating just yet (ha).
For girls with straight, fine hair – especially smooth Asian hair that doesn't traditionally hold a curl – Sarah recommends adding volume while the hair is still wet.
First, liberally spray in a texturizer or surf spray before drying. While drying it, really toussle + roughen up the hair by massaging the scalp and twisting the strands through your fingers.
Then, curl the hair with a 1.5″ barrel, rotating the barrel for each curl (barrel in for one strand, barrel out for another). Often one side of my curled hair looks really different from the other – Sarah stressed that it's important to hold the barrel in the same direction when doing both sides of the head.
Obviously it helps if someone is curling your hair for you!
I love how it came out and had such a great experience that I posted a gratuitous selfie on Instagram. When Sarah saw, she was kind enough to offer any reader of mine a generous deal.
A cut with her typically costs $95 but you can mention 'SherSheGoes' for $25 off!
The Color
About two weeks later, I decided to add some color and popped down to FOURTEENJAY, a salon in Tribeca. I love how minimalist and chic the space was and was really lucky to nab an appointment with the head colorist David.
Fourteenjay is affiliated with Aveda and I learned that David was the creative director of Aveda for many years, experimenting with different color techniques and is also a colorist to the stars. I was super relaxed in his hands, to say the least!
The team at Fourteenjay offers everyone an initial consultation where you can sit down, have a coffee or glass of wine, do a scalp analysis (do this! It was super interesting) and talk through what you'd like to get done and what the stylist recommends. At the end of the consult, you'll know the full price and can decide to come back or get it done the same day – there's no pressure.
I initially was planning to do an "eclipting" color job, where the top layers are lighter and the underlying roots are left darker. After the consult, David recommended reverse eclipting with subtle toffee caramel highlights to accentuate the outer layers while leaving the roots dark. It was very refreshing to see how they take your hair, lifestyle and overall look into account for a really personal treatment.
During the color process, David pieced out individual strands and back combed the hair, painting on the color to the ends. That way, the old and new colors blend together in a natural and subtle way.
For each color job at Fourteenjay, they also provide a complimentary protein or moisture treatment, depending on what your hair needs. "Beautiful color begins with healthy hair!" is their motto – I love it!
My cut and color were complimentary but neither salon asked me to write this post. I am just very happy with the results and wanted to share, as I know it can be so frustrating to find a great salon in the city.
---
What I Wore:
My First New York Fashion Week
---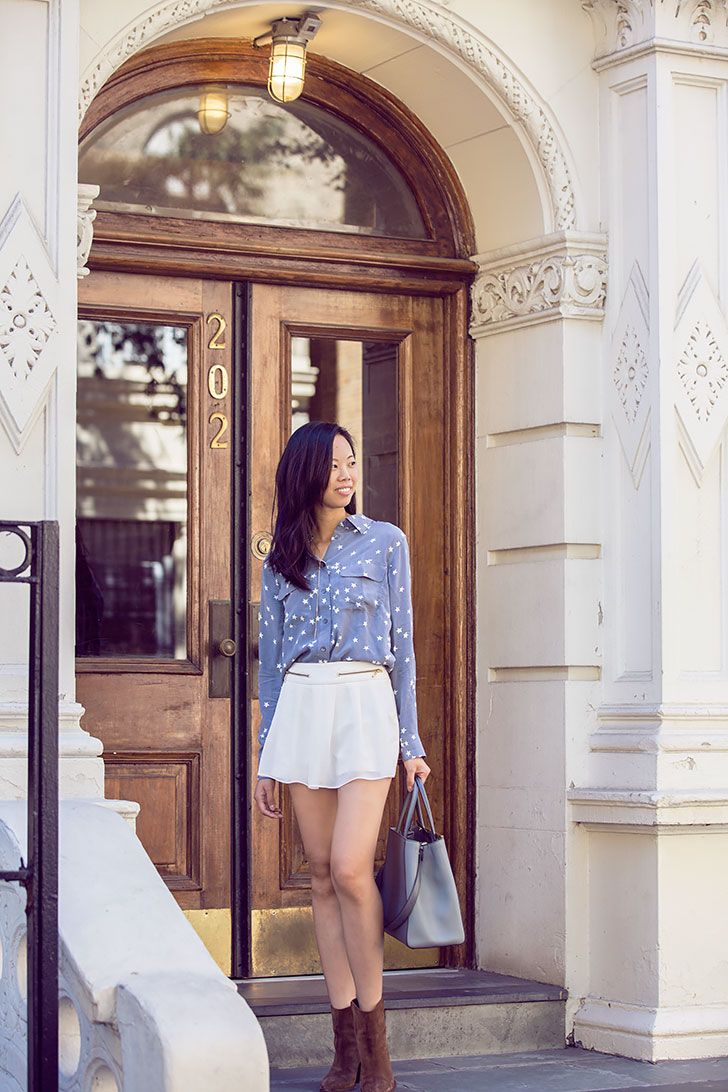 NYFW Day 1
I'm wearing…
Zara Skort
Vince Booties (old, affordable version here)
Fendi Bag (similar tote for $50)
Bauble Bar Necklace (similar here)
I wore this blue equipment star blouse that I have been loving. As you can probably tell, I wore it to get my hair cut above, again to do errands, for the first day of shows.. etc etc ha. I go by the "if you won't run in to anyone who saw you yesterday…then it's okay to wear again" motto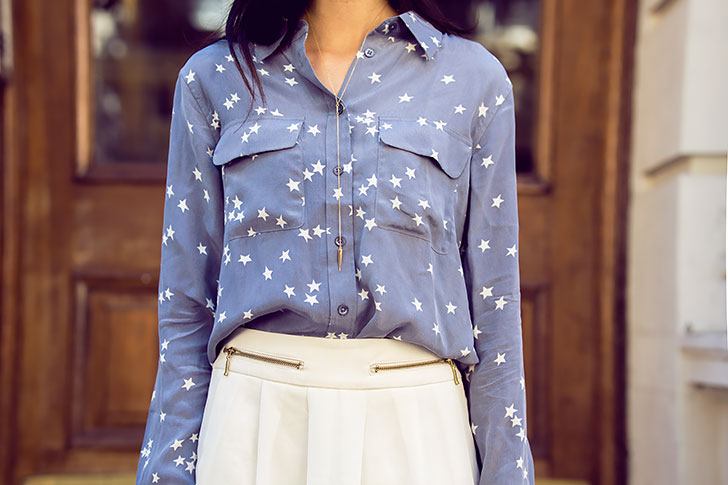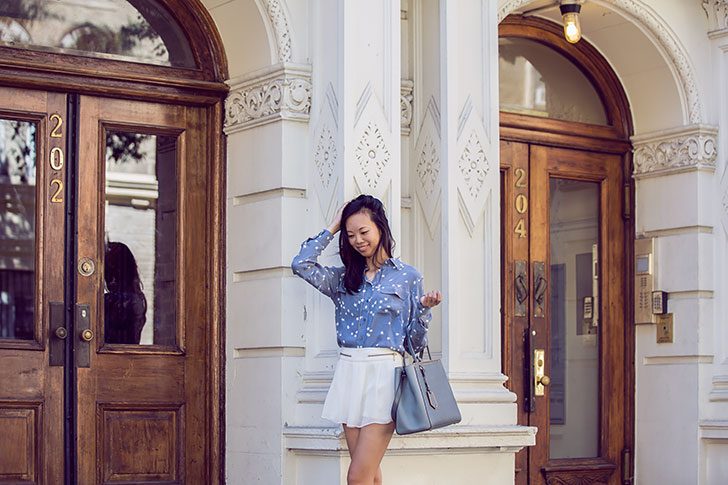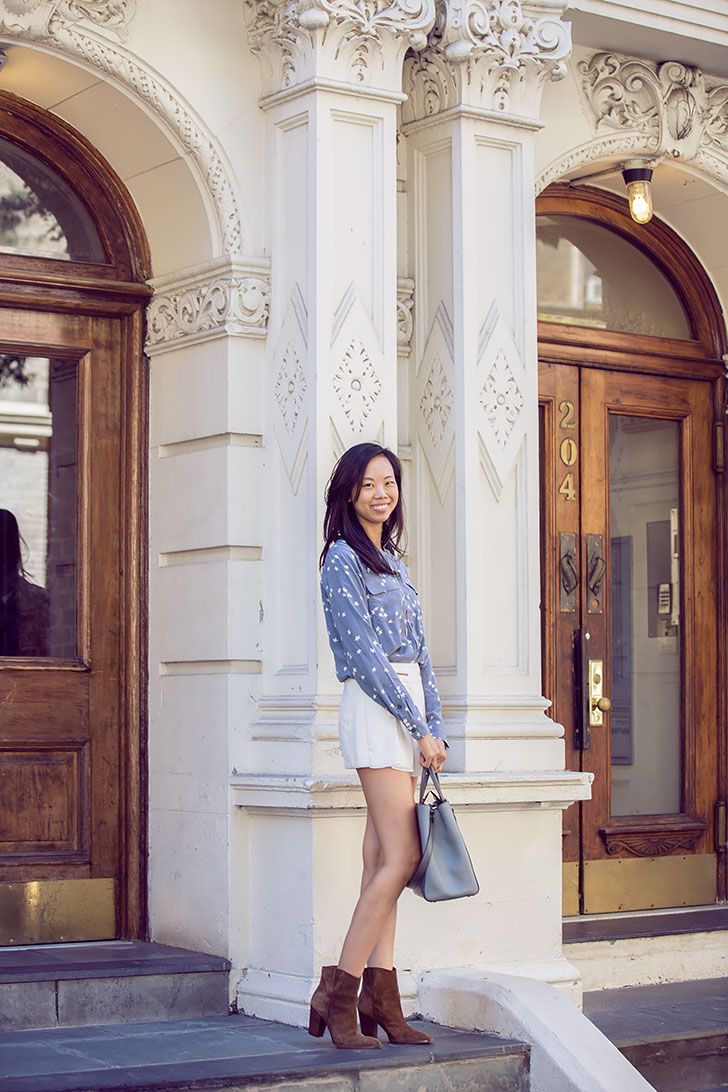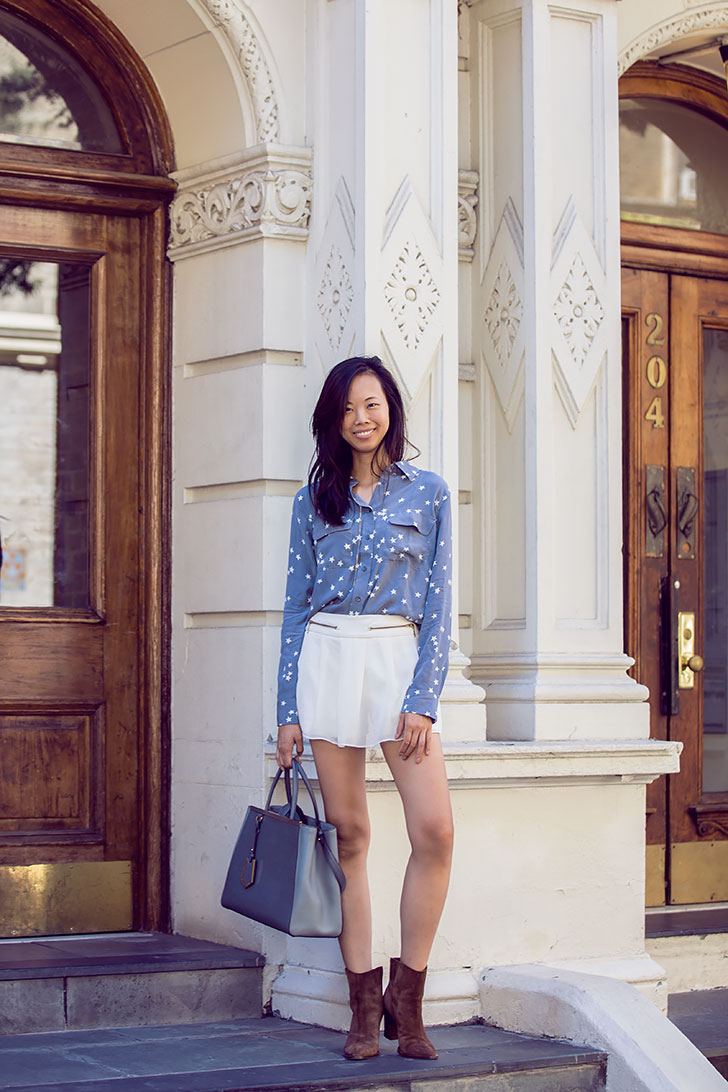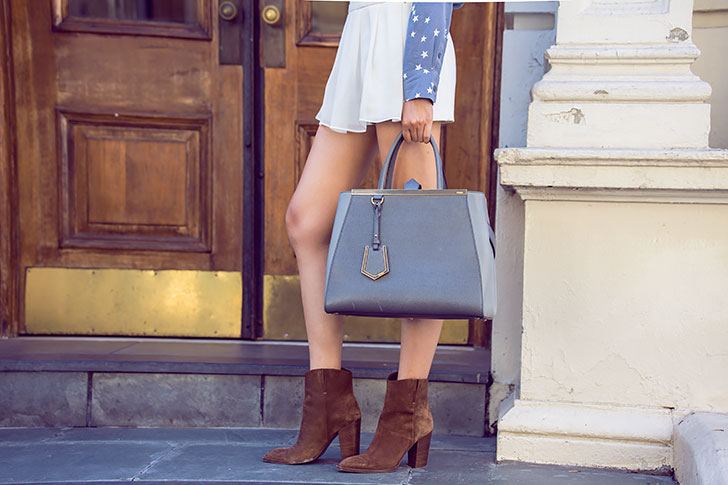 ---
As soon as I saw this one piece, I had to have it. I am so obsessed with one pieces, especially unique ones and I love the cut outs on this affordable Express suit. The quality is quite nice, especially as the outfit is under $50, and I love the square back. With one pieces, sometimes they can be really tricky to gauge the sizing.
I found this one to fit very well on the top (I do have a smaller, shorter torso) but the crotch and pant area are a little baggier than I'd like so I would recommend this for both athletic and pear shaped bodies. I got a ton of compliments when I wore this that day, especially with the platform heels. Just this morning I found out that I made it on GQ's list of 'sexiest girls at NYFW' – totally crazy but I'll take it ha!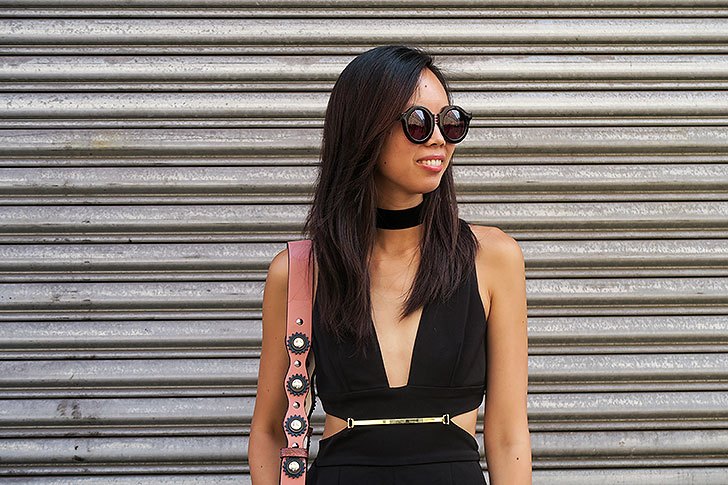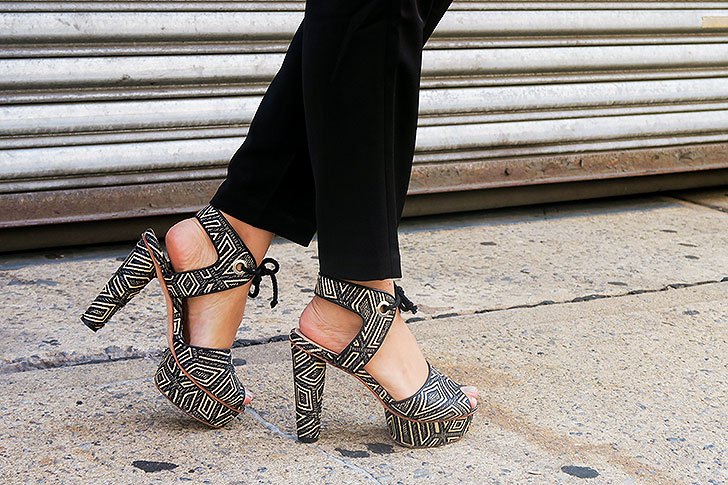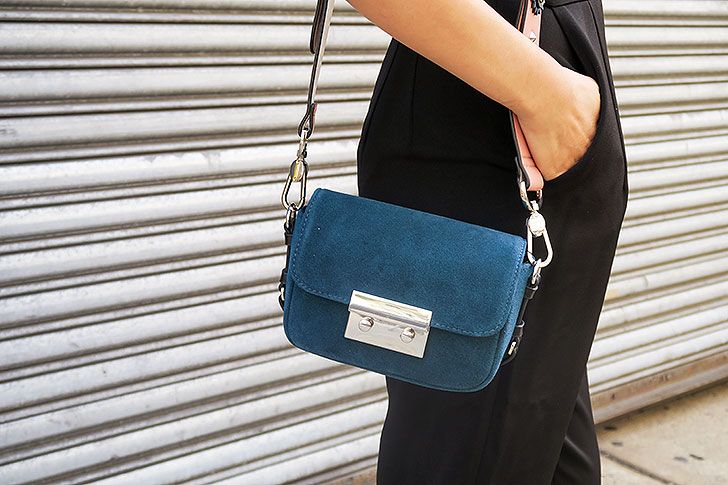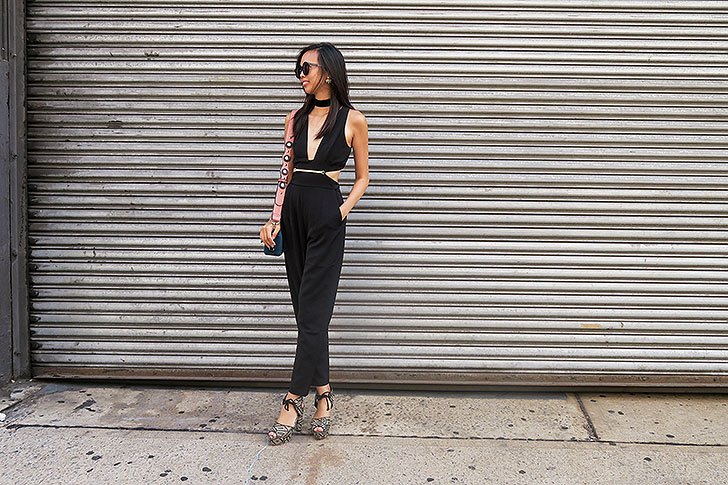 ---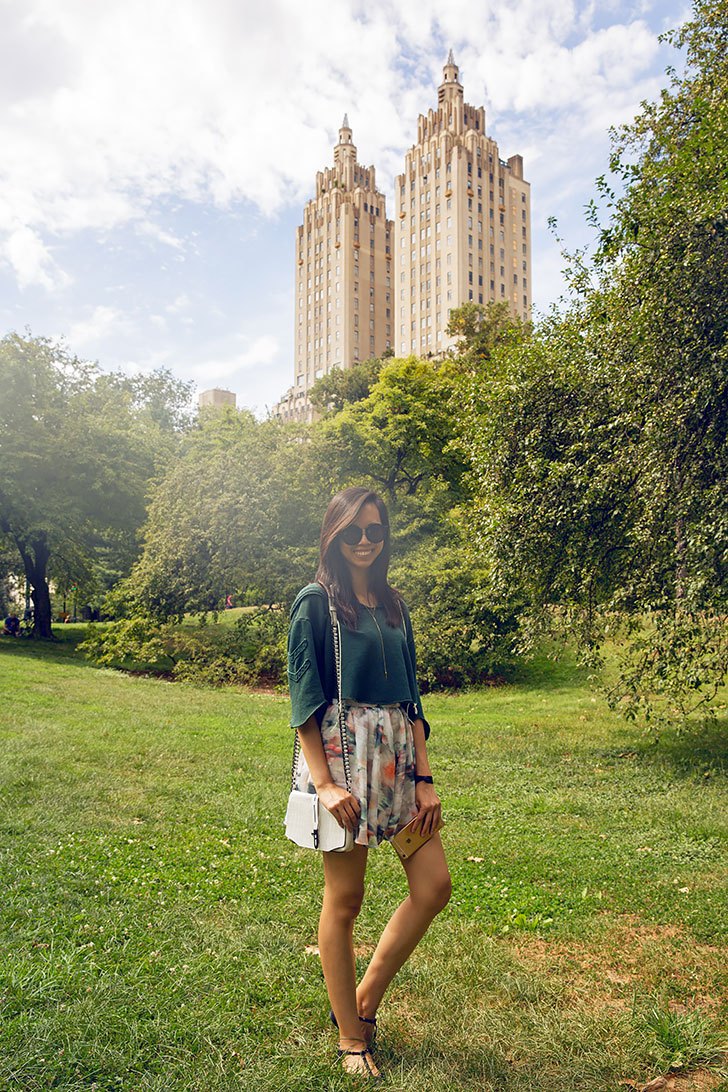 NYFW Day 4
I'm wearing..
I found this cropped loose sweatshirt and loved it immediately. I am a huge fan of comfy leisurewear but looking at the top, I figured it would be way too casual for something like fashion week. Then I got this pretty watercolor skirt that ended up being quite small (it's actually sitting up on my rib cage in these photos ha) and the cropped sweatshirt and flare skirt seemed to match!
I wore these backstage to Tome and they were comfortable enough to run around to capture all the behind the scenes craziness.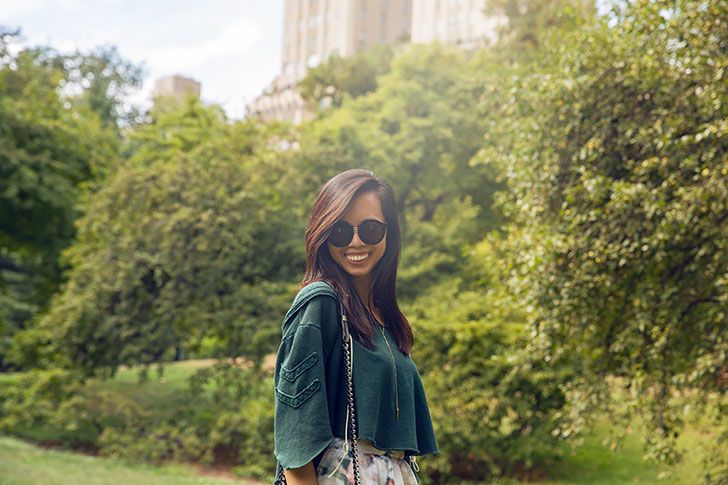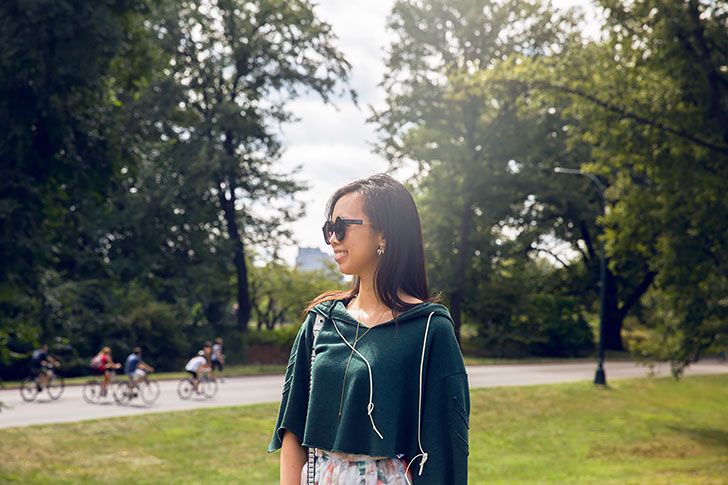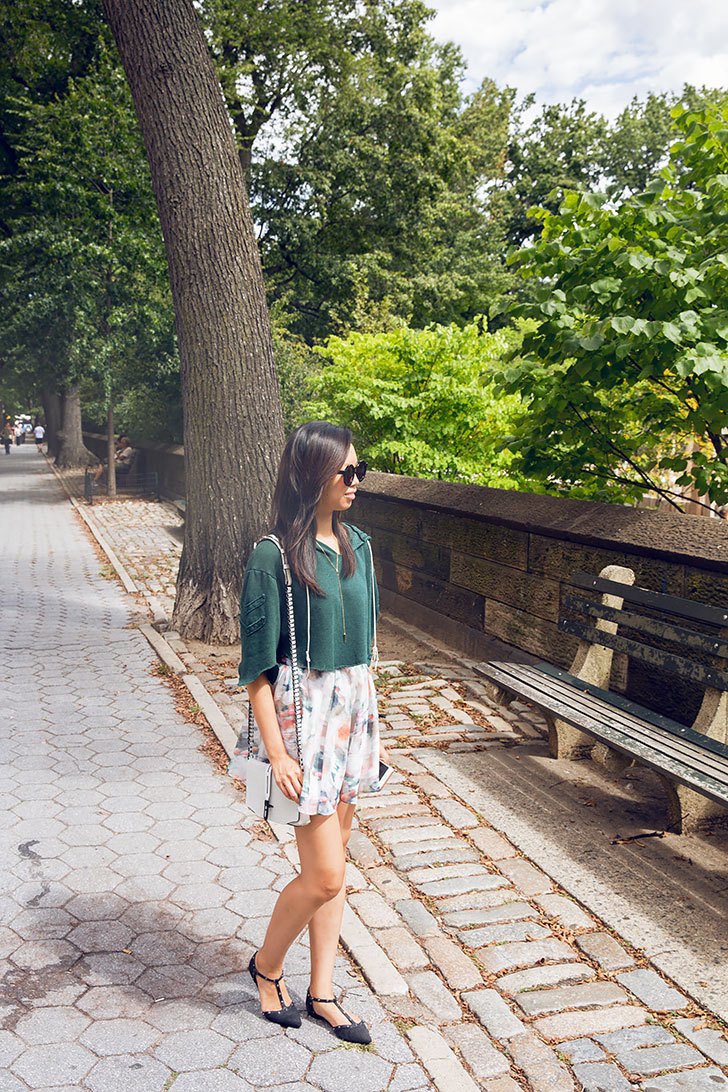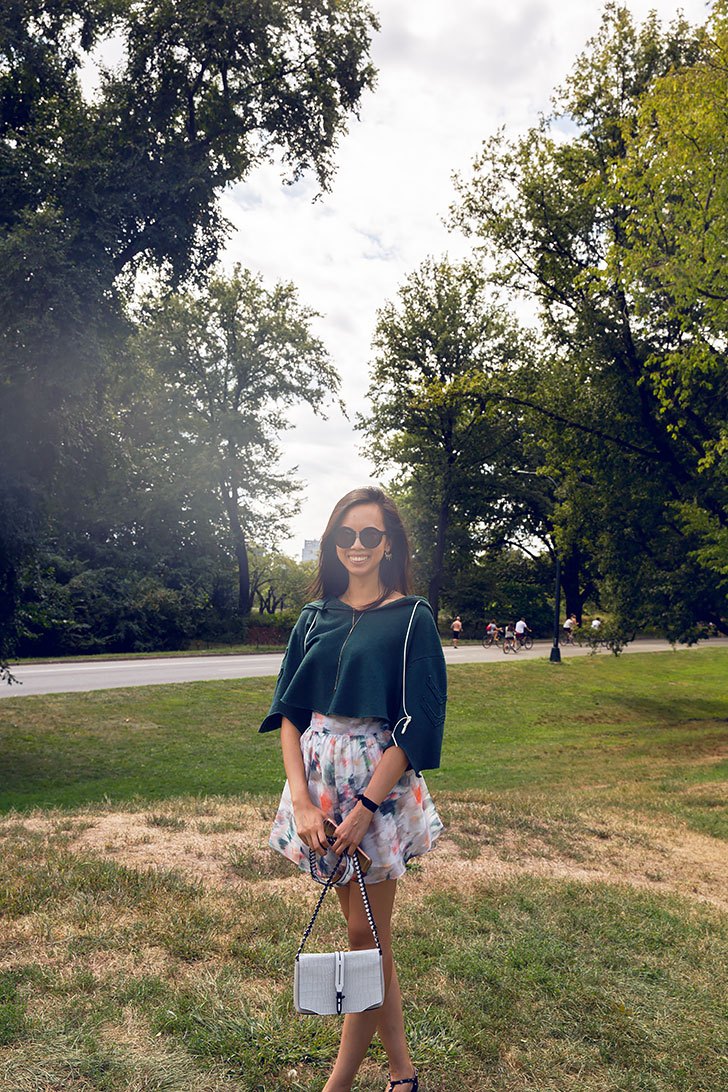 ---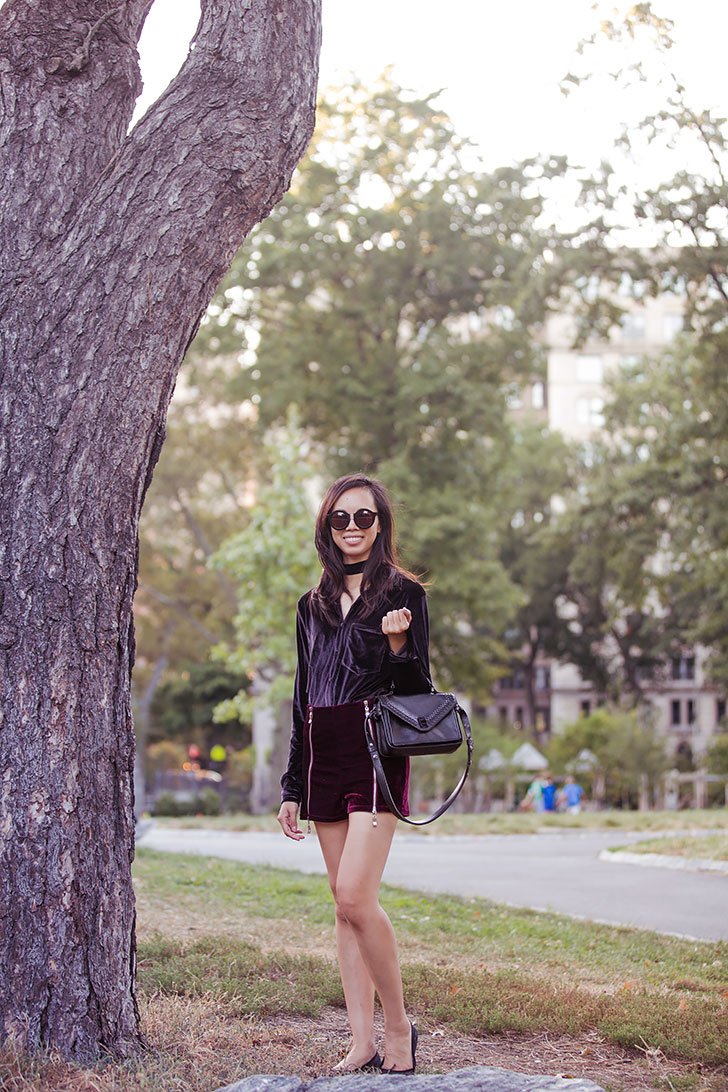 NYFW Day 5
I'm wearing…
Cecico Zipped Shorts
Zara Flats
Bauble Bar Choker (also love this one)
I found these zip velvet high rise shorts and loved them! When I brought them home, C looked at me like I was crazy but I just thought they were so different. I paired them with a velvet top in a deep purple and a black choker – you guessed it, again in velvet – for a bit of a jewel toned, over the top velvet look.
Now that I'm looking at the photos, I'm slightly questioning this entire outfit. Is it so out there it works or just plain bizarre? Also I brought my large Prada tote for the show to take DSLR photos then switched to my smaller crossbody when I finally met up with my photographer. I really need to get a smaller camera!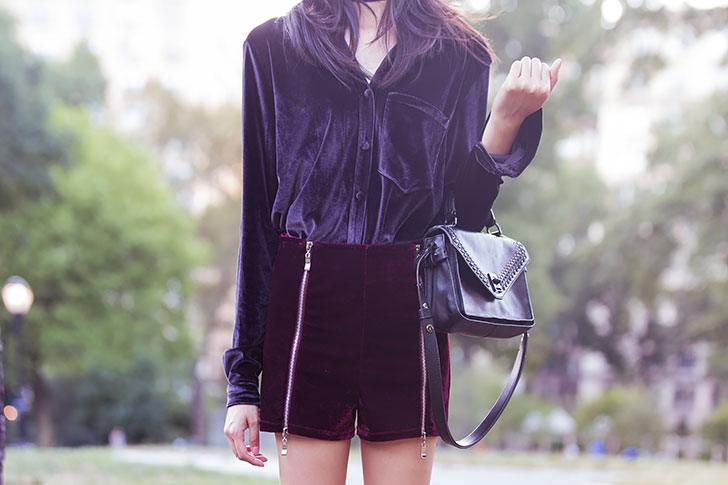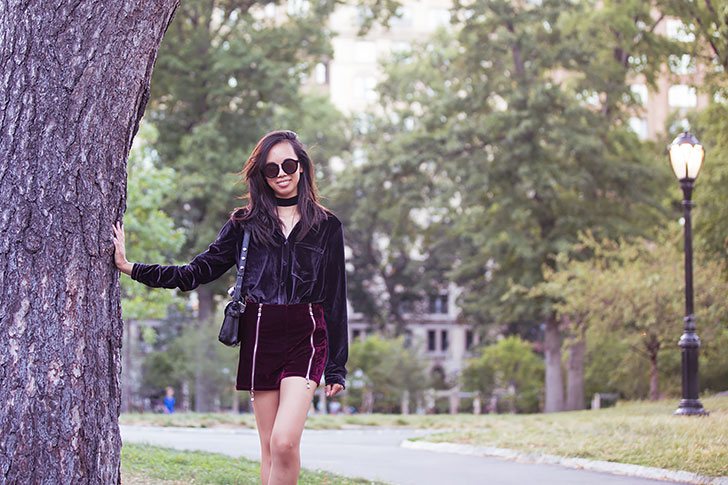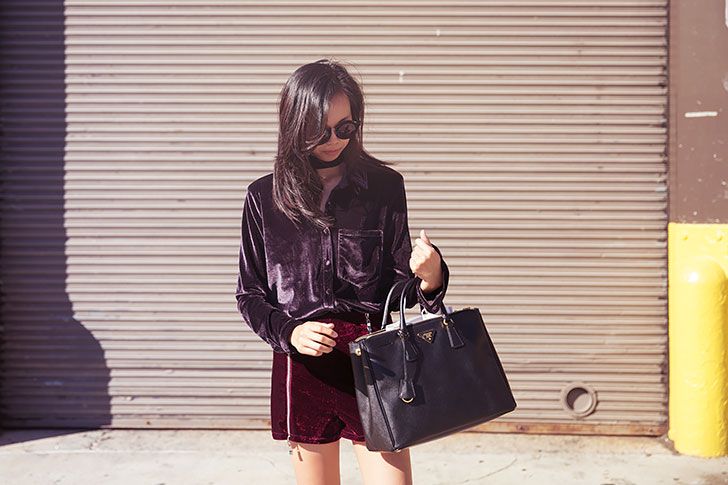 ---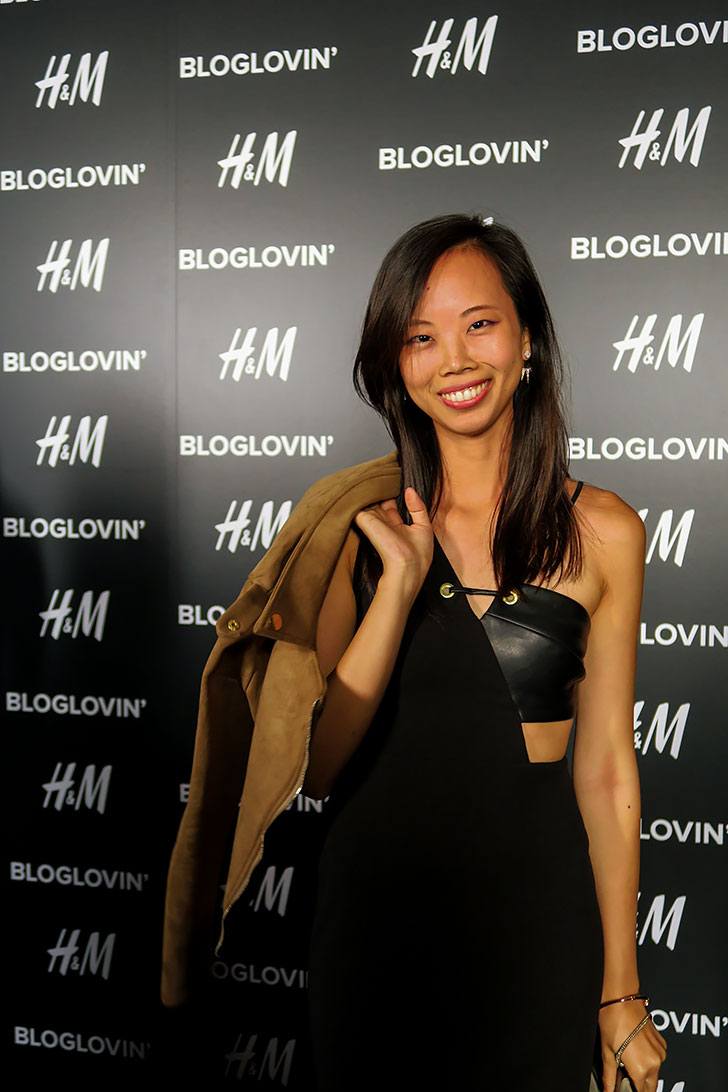 NYFW Parties
I'm wearing…
Express dress (now 50% off)
I LOVED this dress and had to have it as soon as I saw. I ordered online, so I was so pleasantly surprised when it arrived and fit like a glove! The dress is super affordable so I definitely recommend picking one up before it sells out. It's a sexy take on a classic LBD and the daring shoulder/neckline is balanced out by the long hem length – it reaches the knees. I almost want to hem it a little shorter!
I wore this to the Reward Style party and Bloglovin awards and had the best time, although you can bet my feet were killing me at the end of the night! Luckily the clutch is large enough to slip in a pair of flip flops…shhh!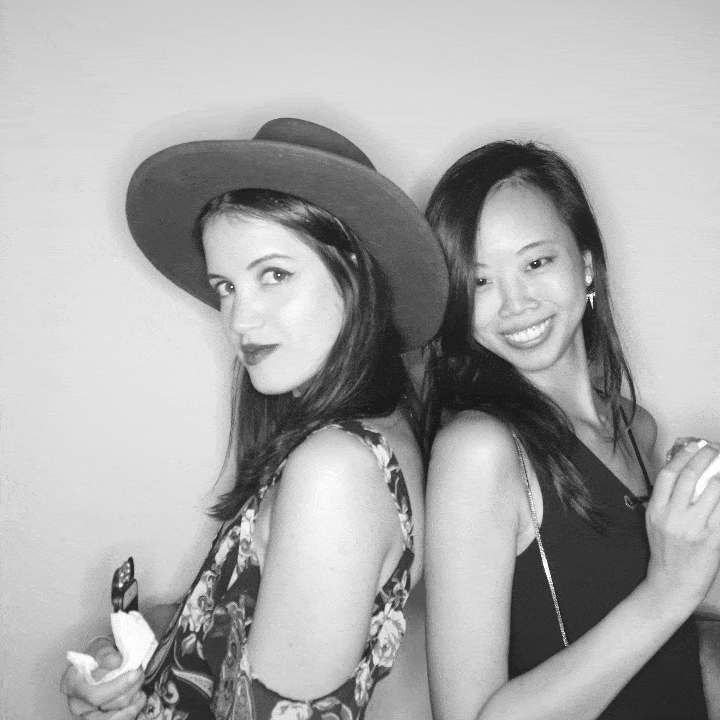 ---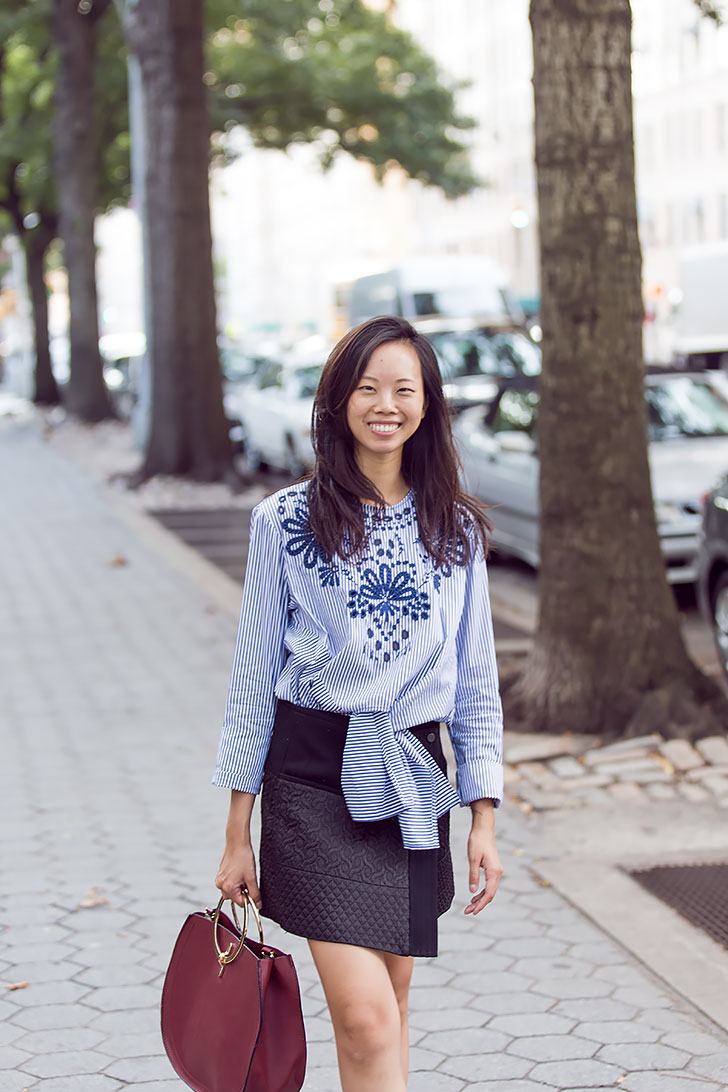 NYFW Day 6
I'm wearing…
Zara Shirt
Zara Skirt
Zara Bag
By Day 6, I was getting super tired (and I didn't even go to many shows!) plus it was a Tuesday so I threw on a casual wrap skirt and headed to midtown to see Monique Lhuillier. I love this tie top from Zara – it's colorful, comfortable and goes with everything. I also have a gazillion black wrap skirts but I think they always look classic with a button down and are versatile enough to pair with a blouse for a "downtown chic" night out.
Also – zara makes amazing bags! I love stopping inside whenever I want something new that's still extremely affordable. I'm not sure if this bag is still in stock but I think it was under $50 and looks way more expensive – you can wear it with the long shoulder strap or by the gold circle handles so it's multi functional.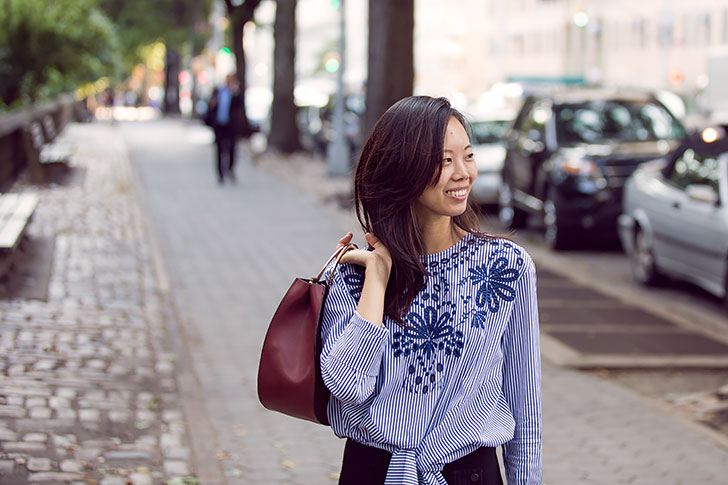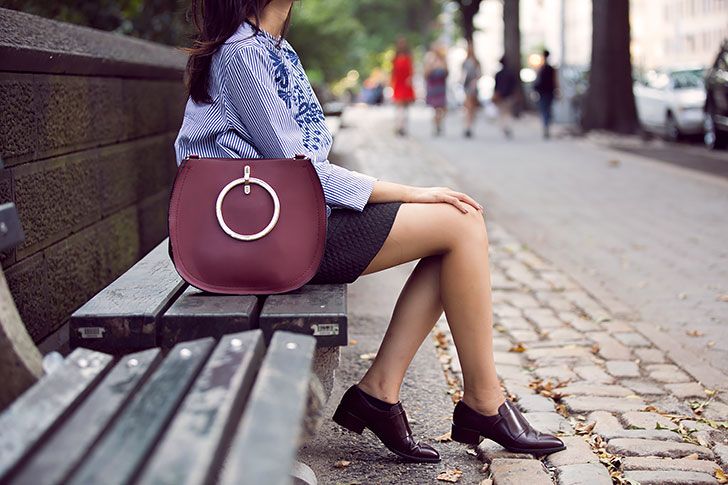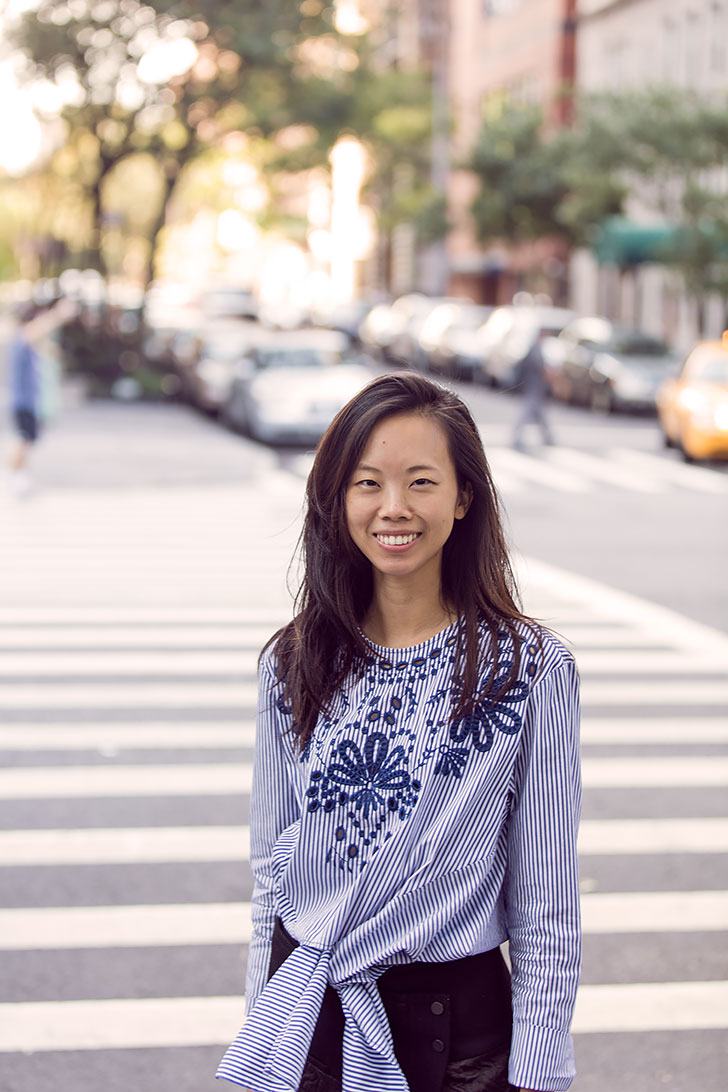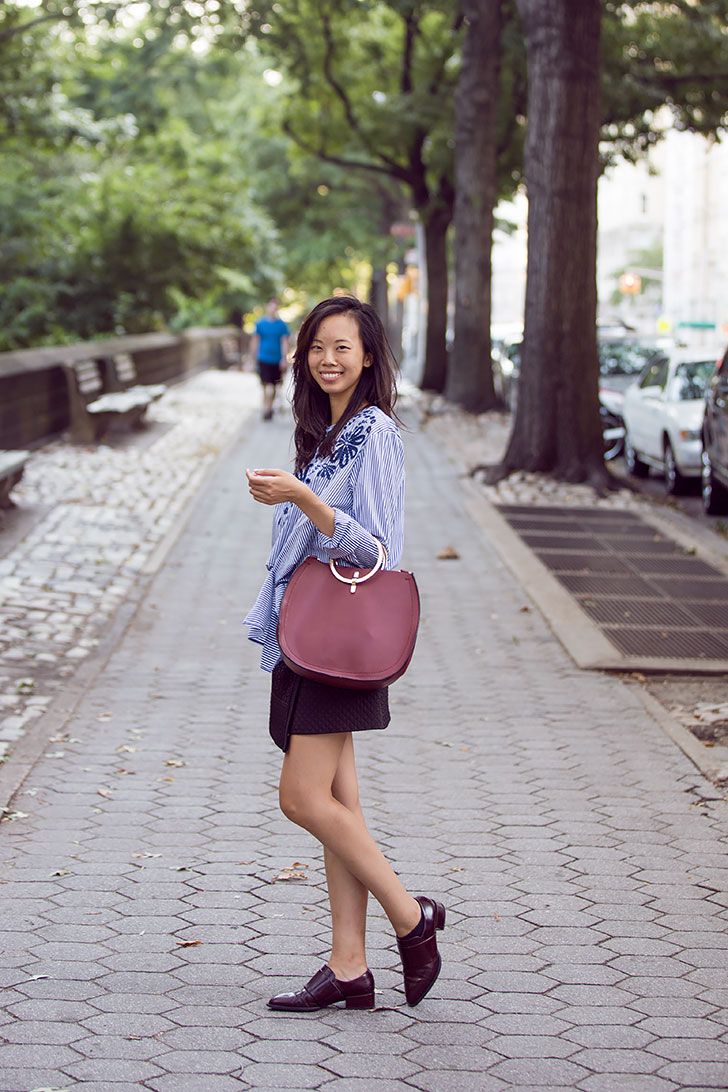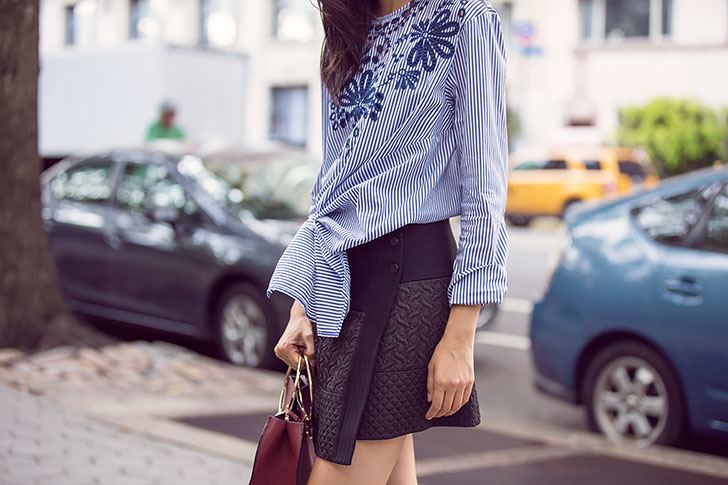 ---
Fashion Week SS 2017
Runways, Presentations & Backstage!
---
Tome was my favorite of all the shows I had the opportunity to see! The prints on prints, the geometric shapes and the muted colors – I loved it all! I couldn't narrow it down to just 4 favorites so I included a couple more below. I think you'll like the ruffles, flounces and geometry!
Backstage, hair was kept relatively minimal with wing like silvery makeup on the sides of the eyes. For this show, the emphasis was definitely on the clothes! I absolutely loved the opportunity to see a couple shows backstage – being right in the middle of the madness, seeing all the creative artists work their magic so quickly and efficiently – it was surreal.
Backstage photos: Mine | Collection photos: Vogue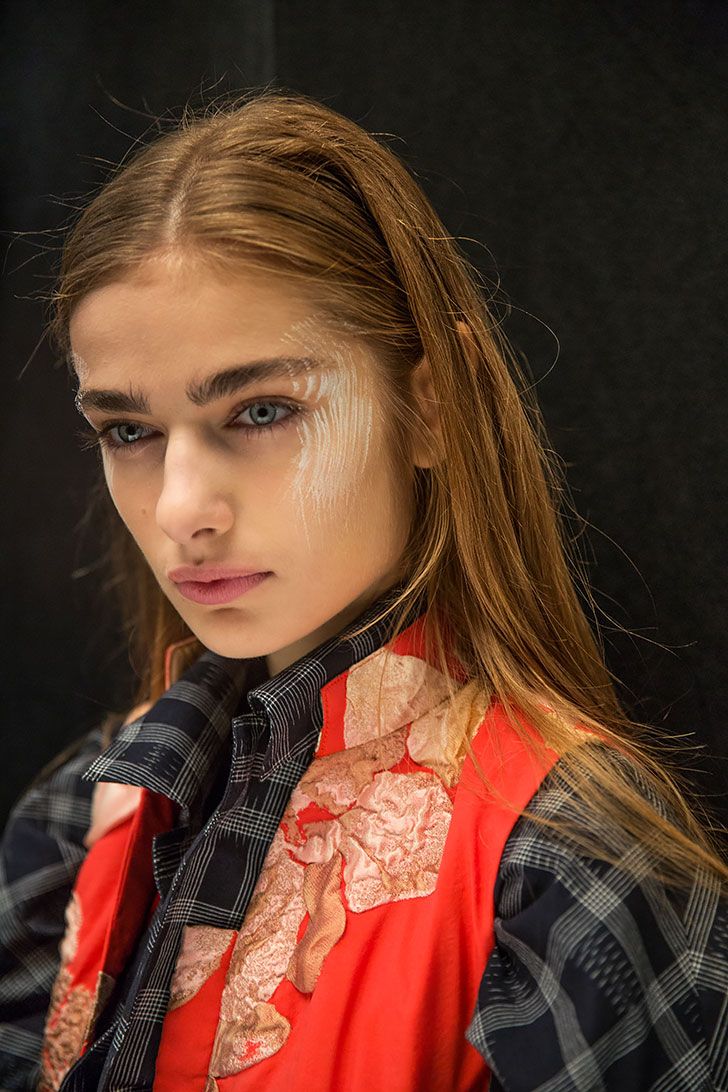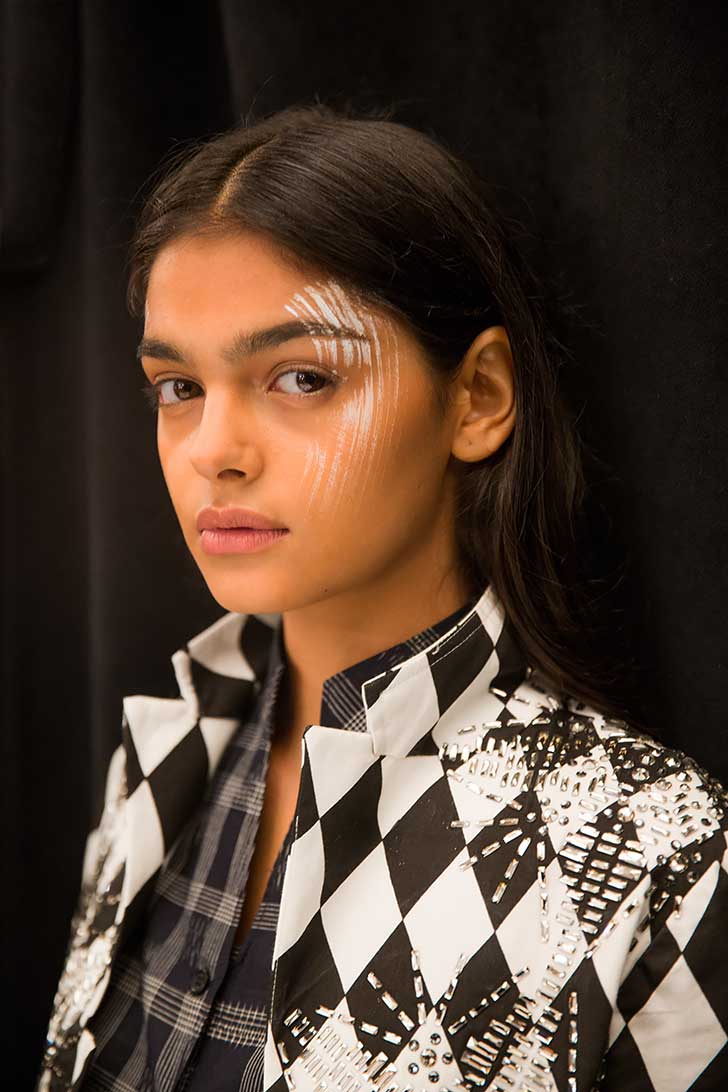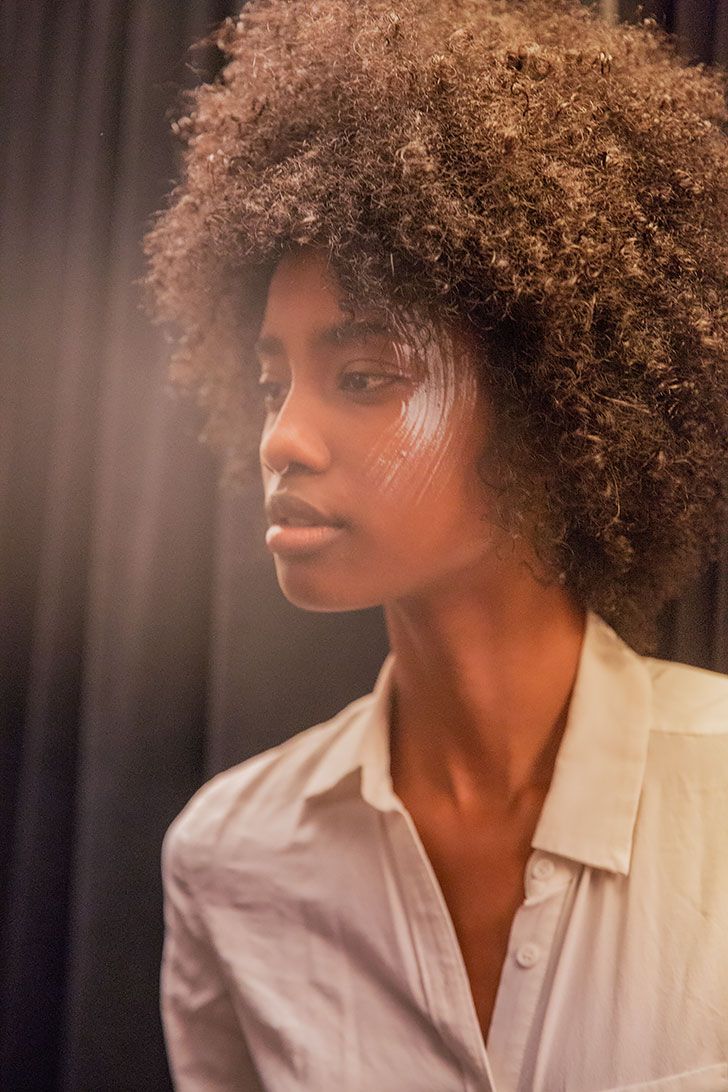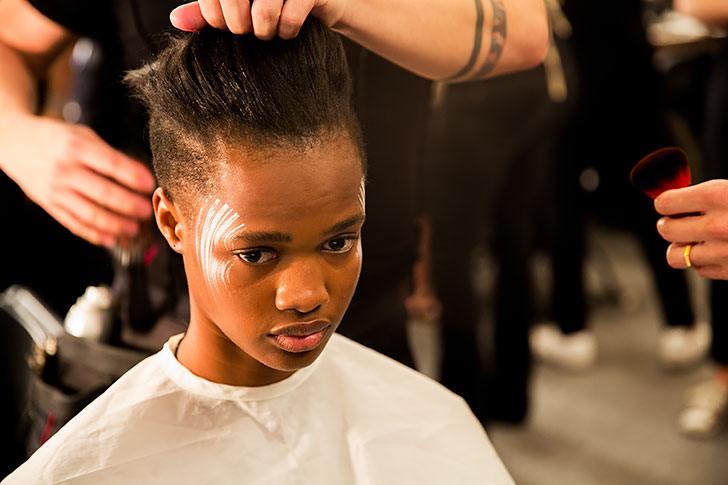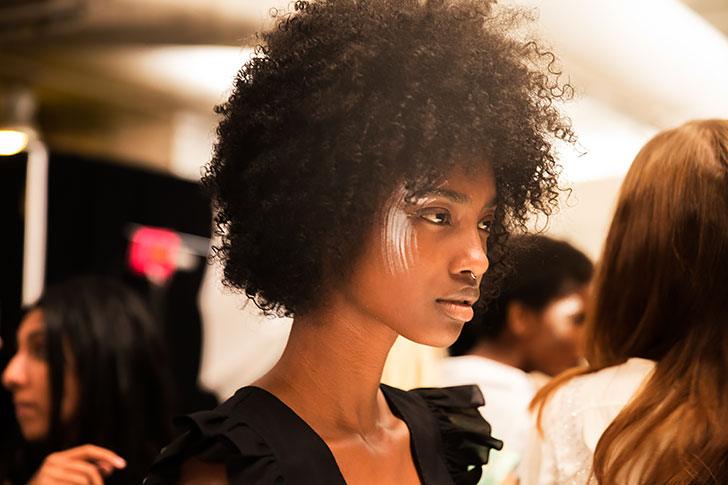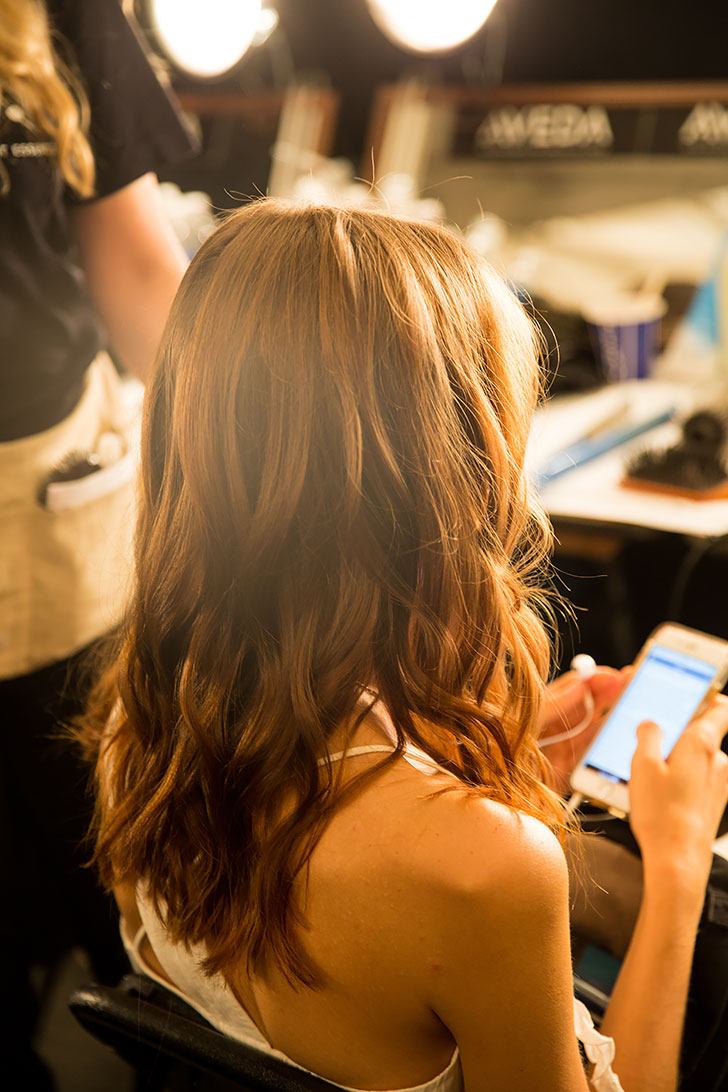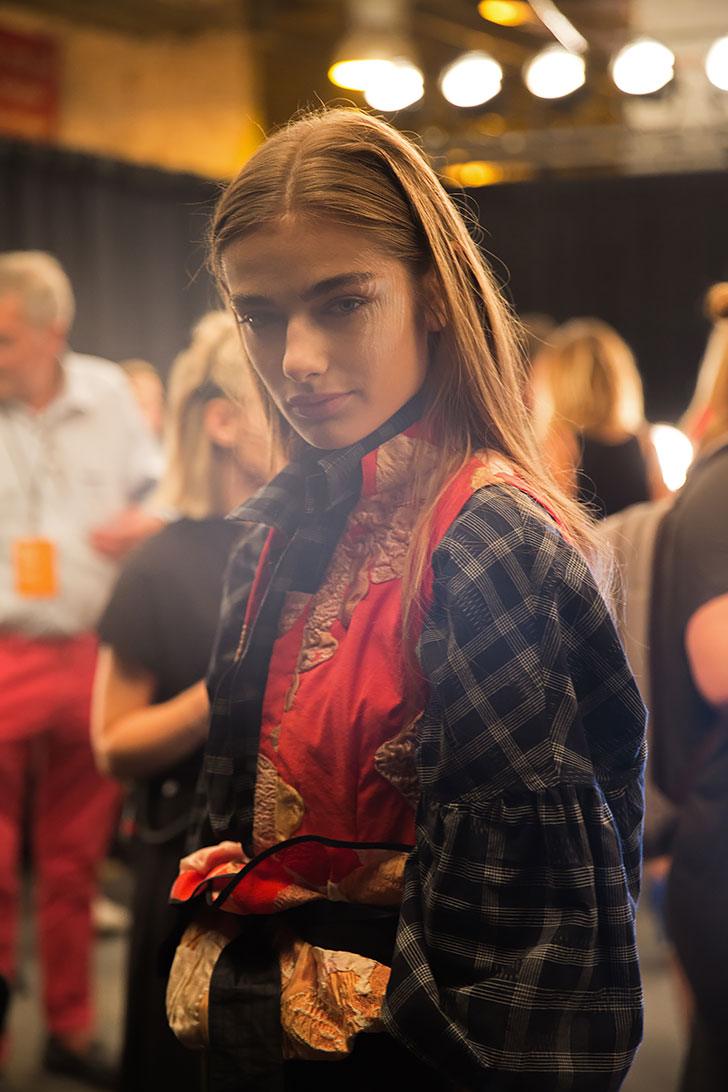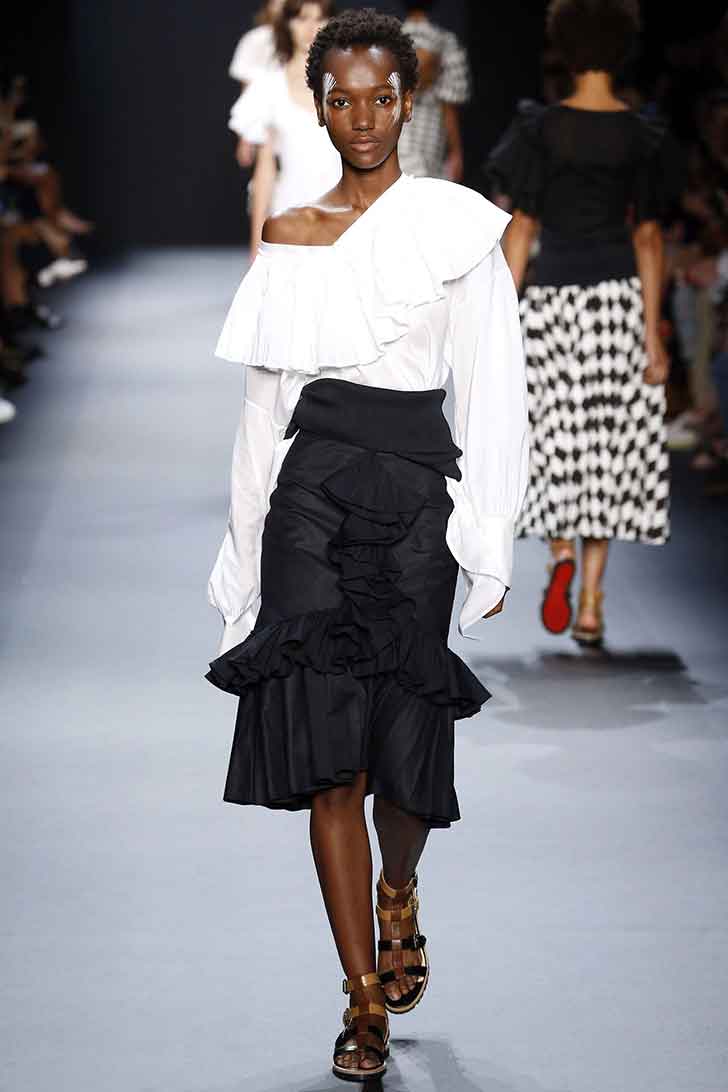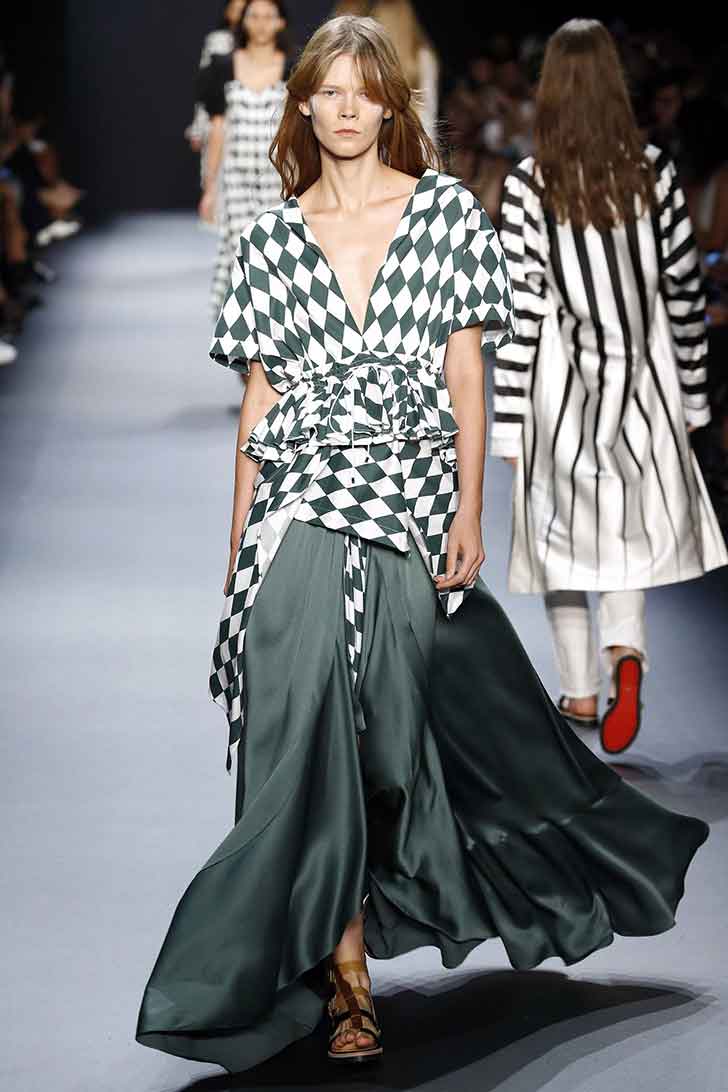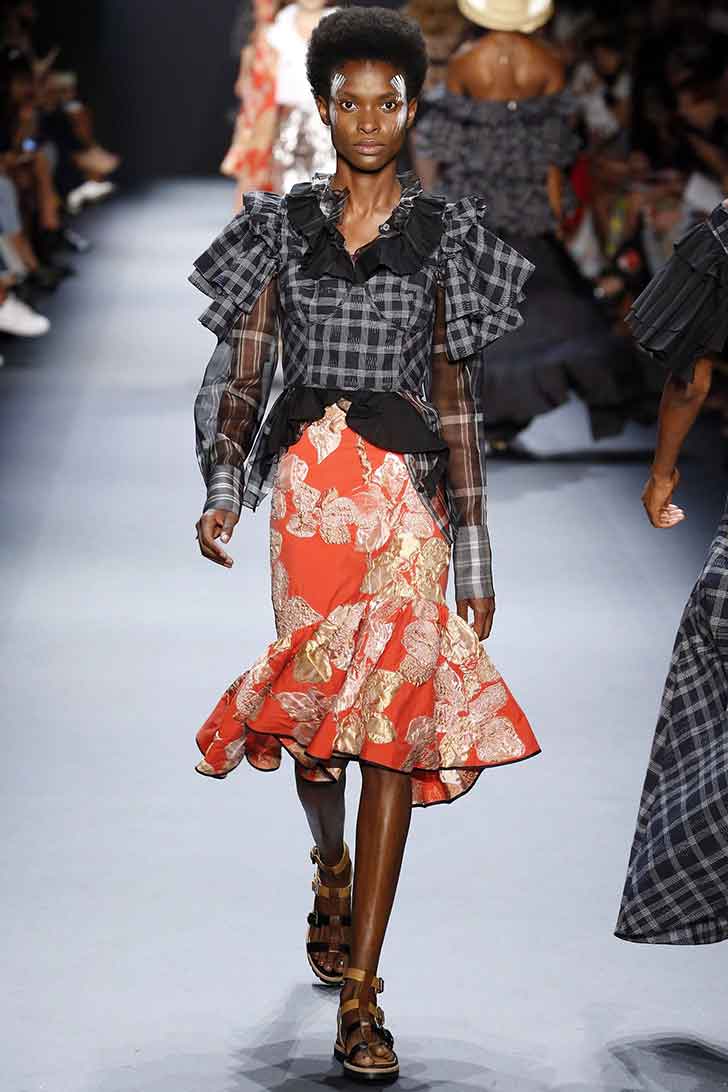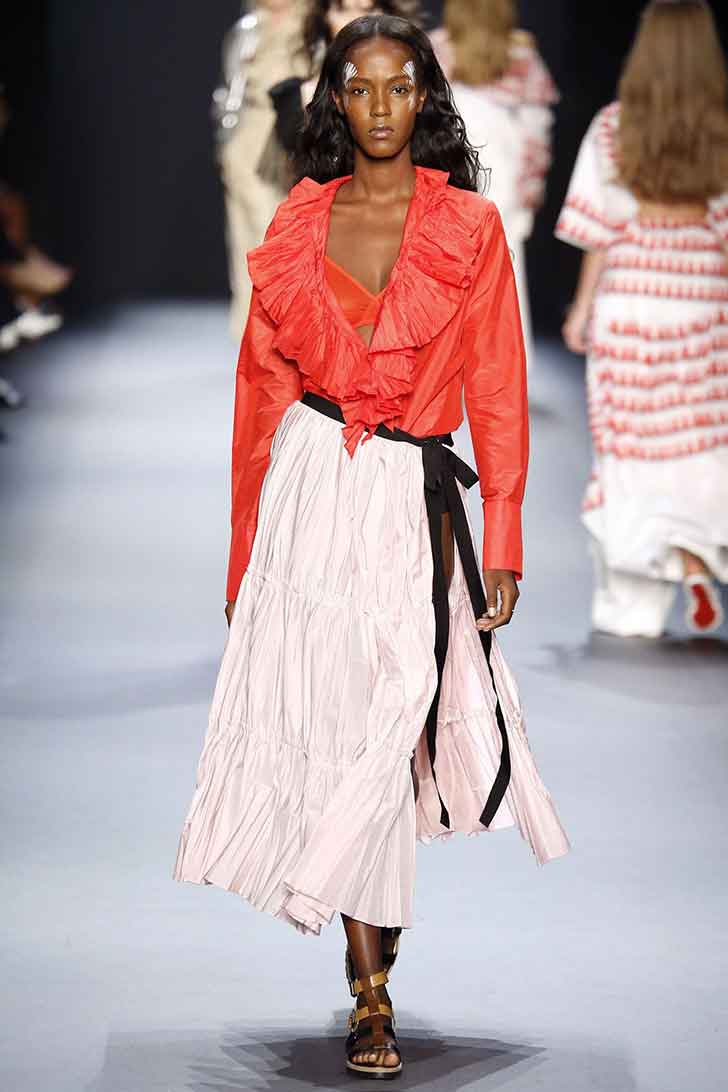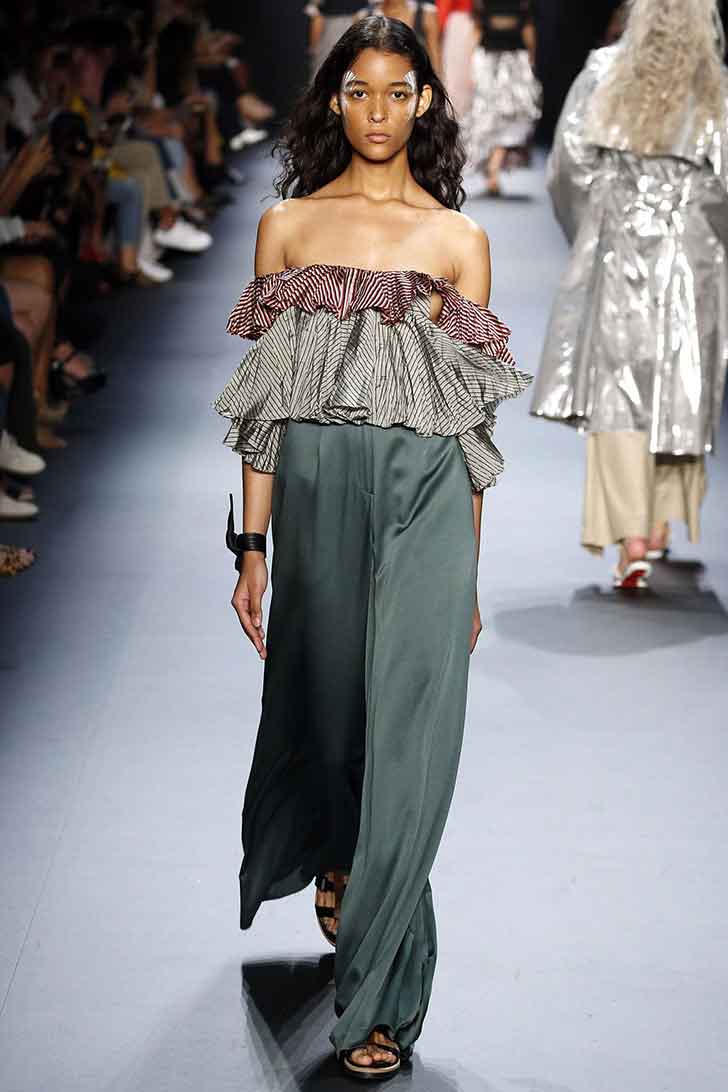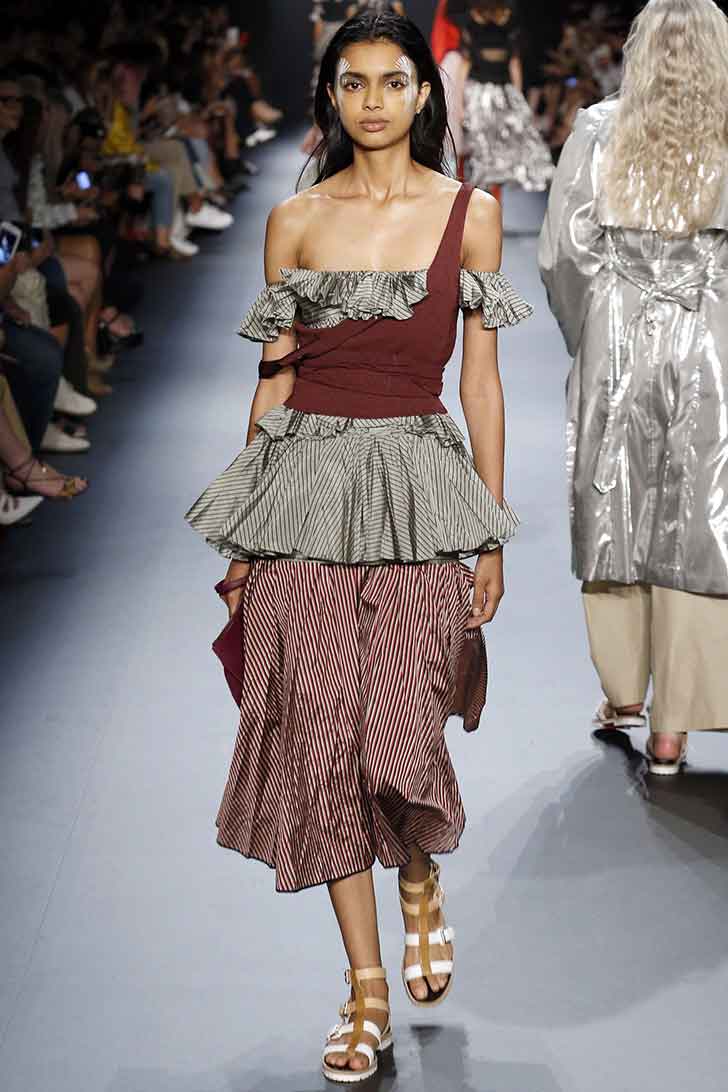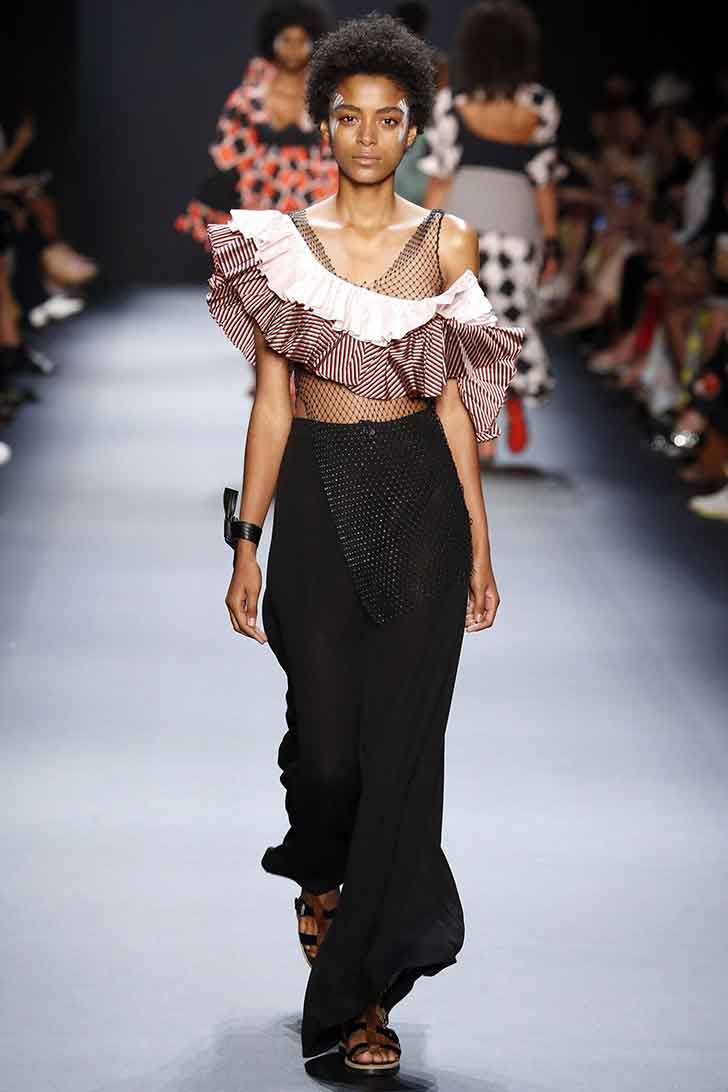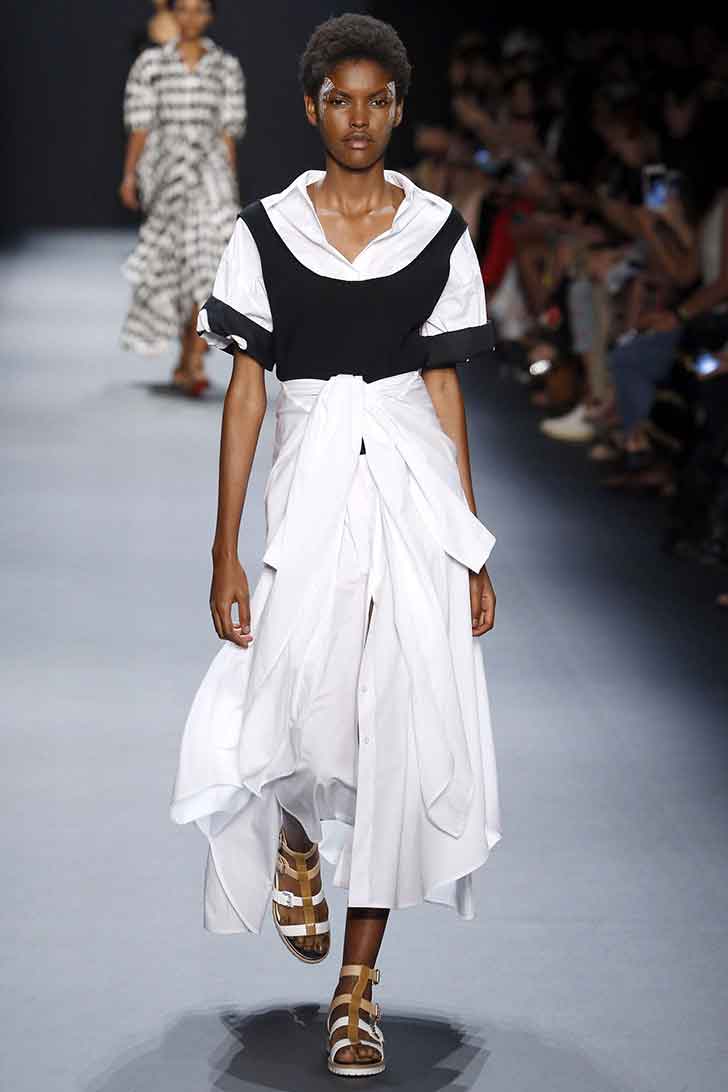 ---
Tibi was so much fun to see – backstage hair was kept in a chic and simple low pony by Aveda with the most gorgeous belt-buckle ties, nails were by Jin Soon and makeup was by Bobbi Brown.
The runway show was beautiful as well. Light, neutral colors with a couple head to toe bright looks – I loved the airy setting of the show at Industria and all the small details that elevated wearable looks into stunning sophisticated pieces. This was one show were the back of the clothing was as beautiful as the front! Unfortunately the official collection photos don't show off the back, but I managed to get a couple snaps of the show.
Backstage photos: Aveda | Runway photos: Mine | Collection photos: Vogue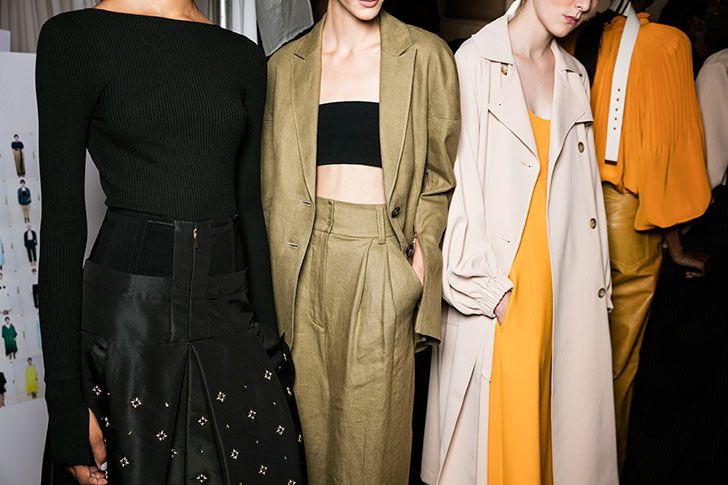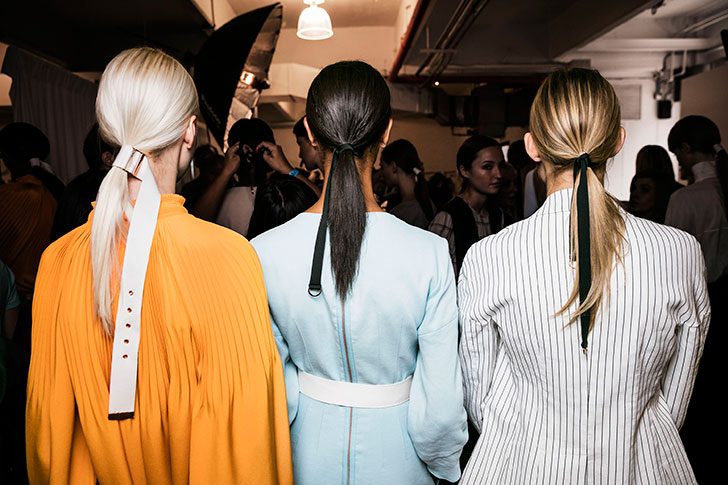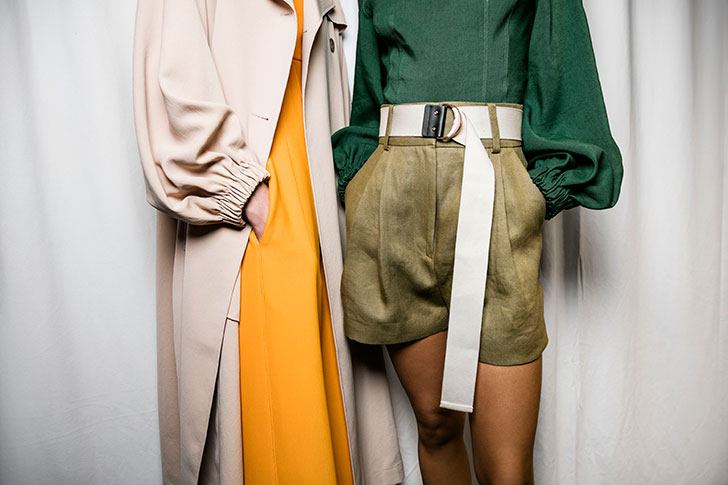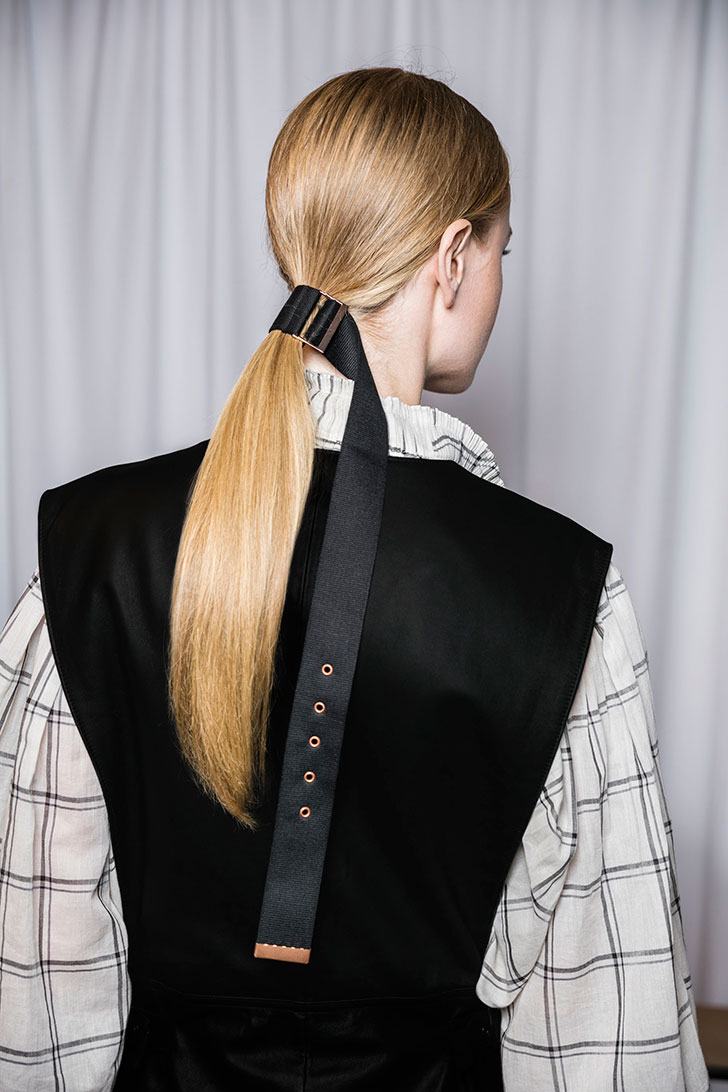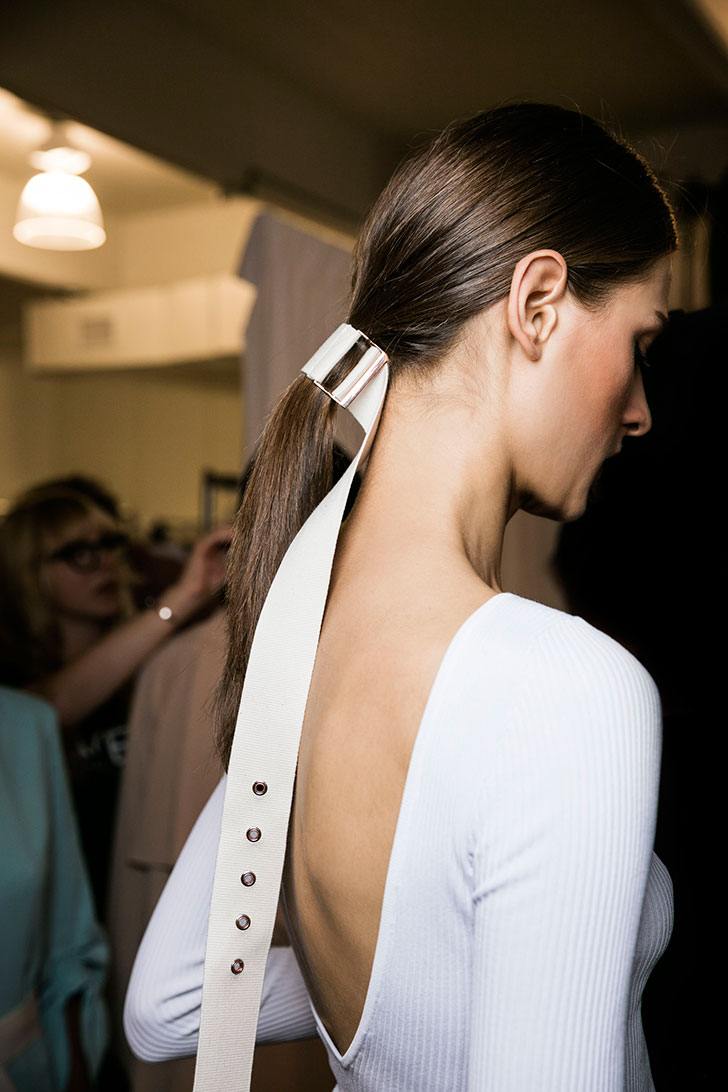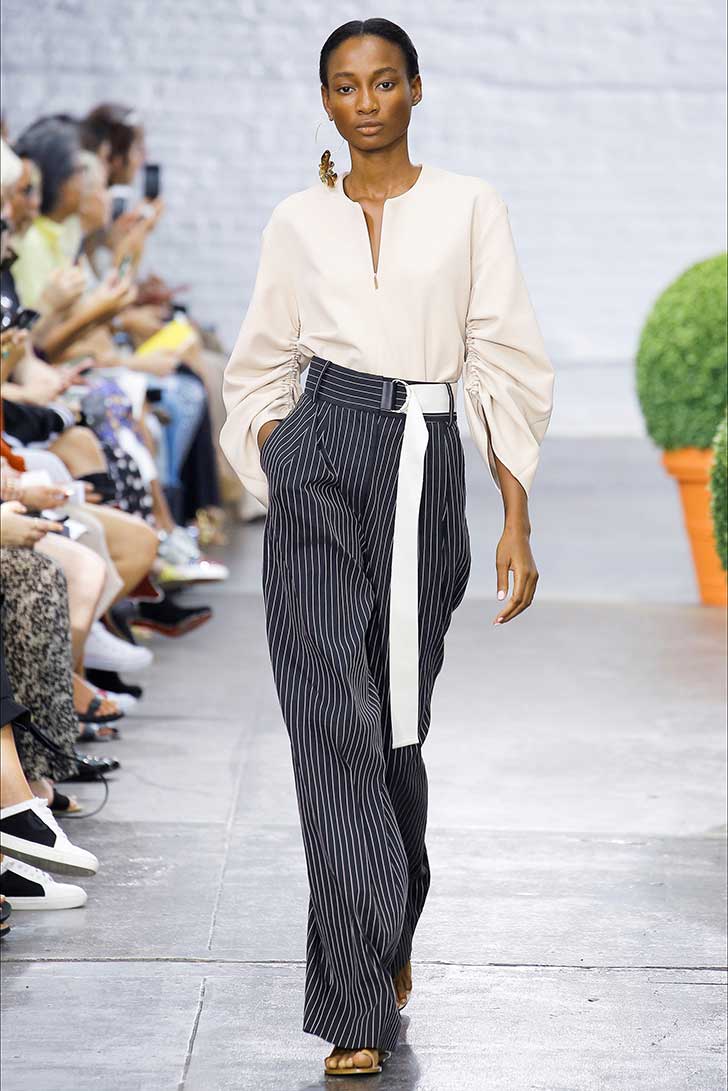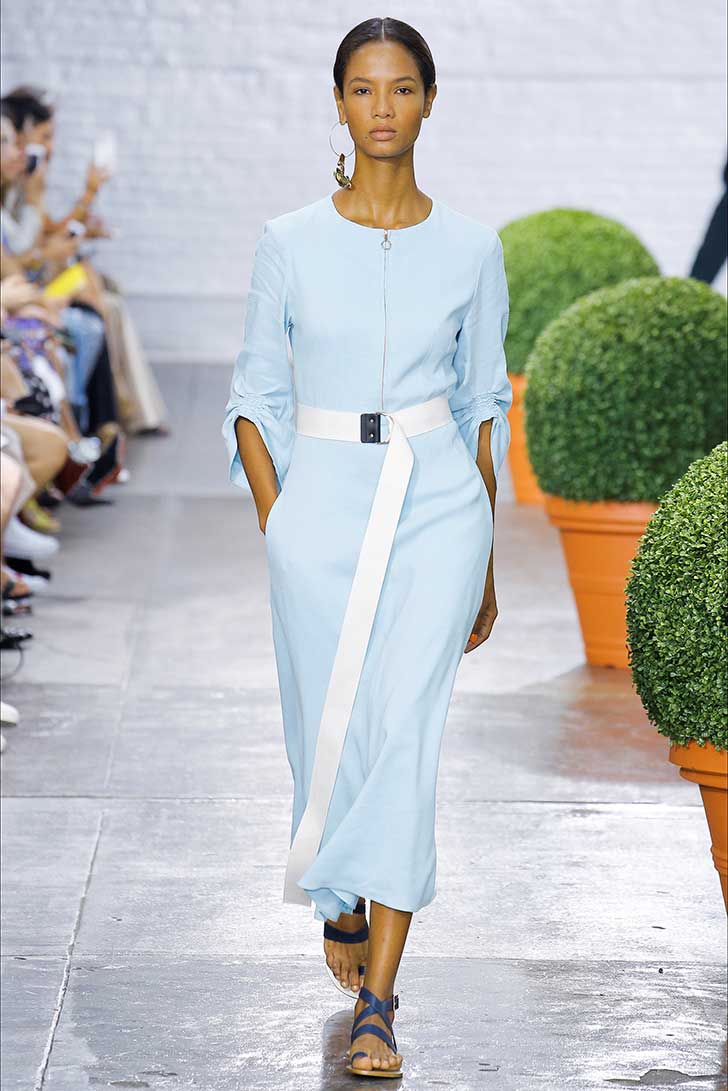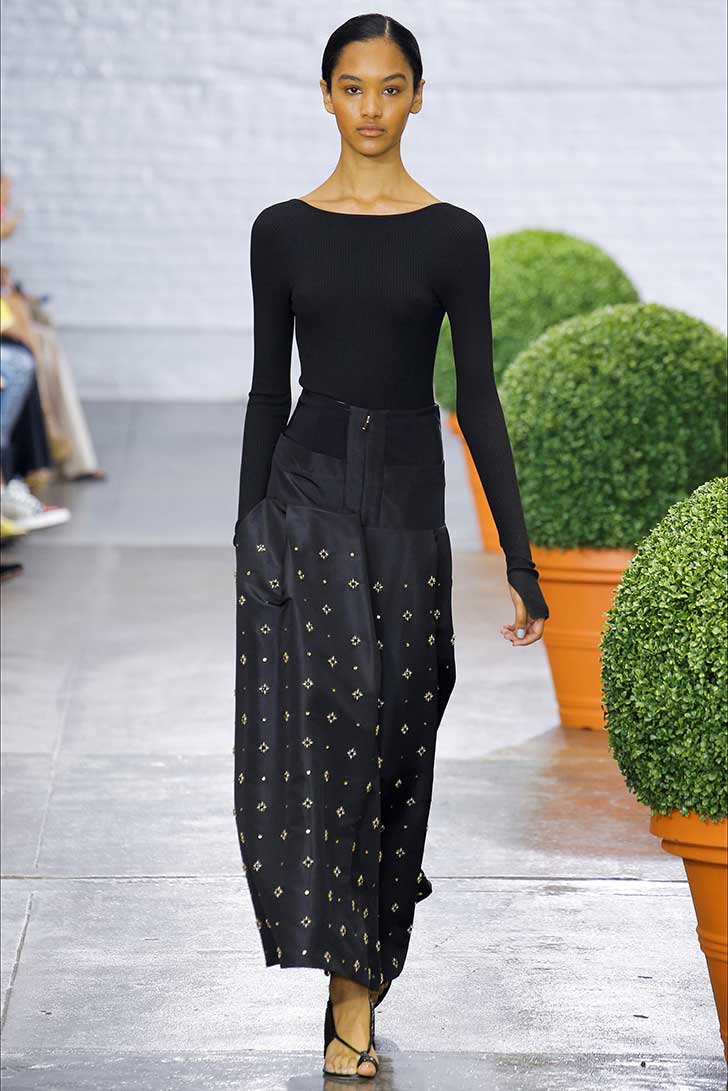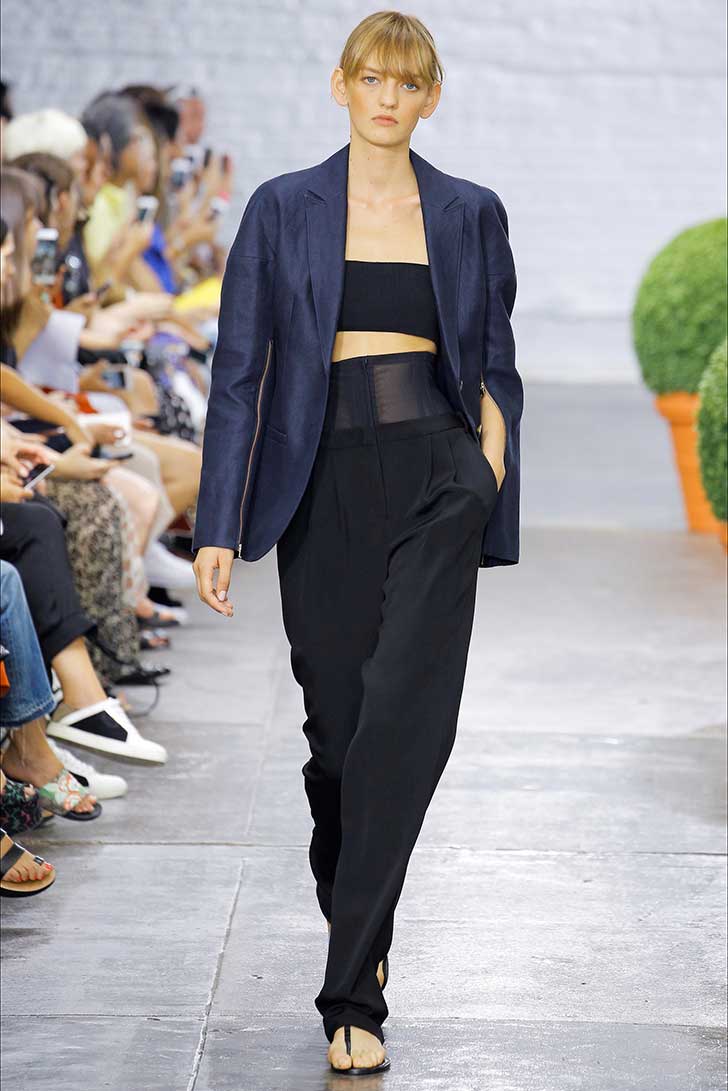 ---
Monique Lhuillier was stunning! The runway was held in the IAC building which was a unique venue with lots of beautiful light. I sat in the 'blogger' section right near the photographer pit and it was amazing to see each gown come down the runway more fabulous than the last. Sitting near the end, I had a great view of the model turn, and captured a lot of each gown's back details.
Runway photos: Mine | Collection photos: Fashion GPS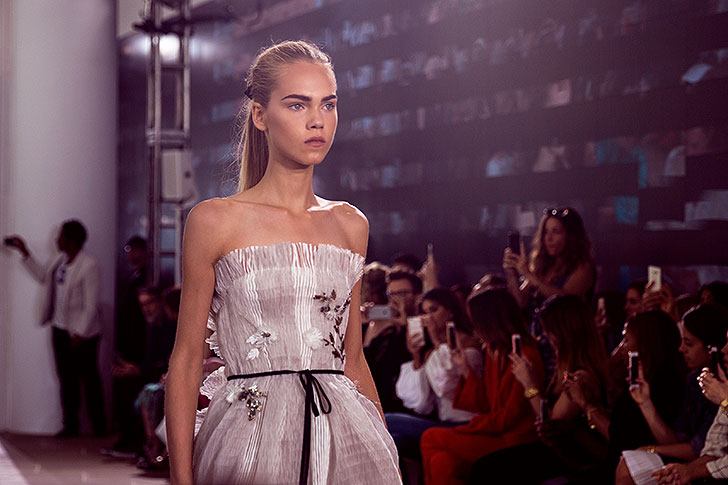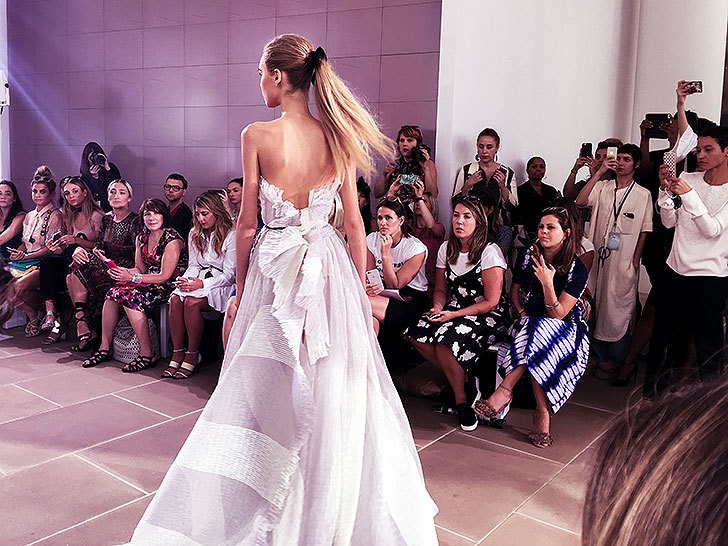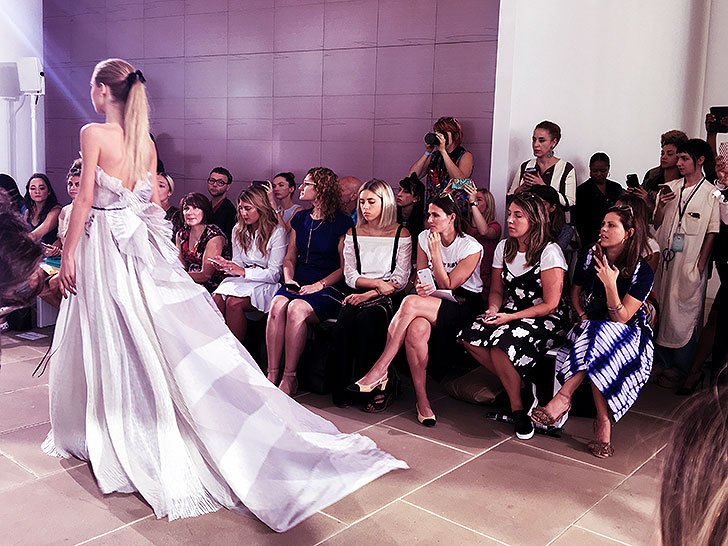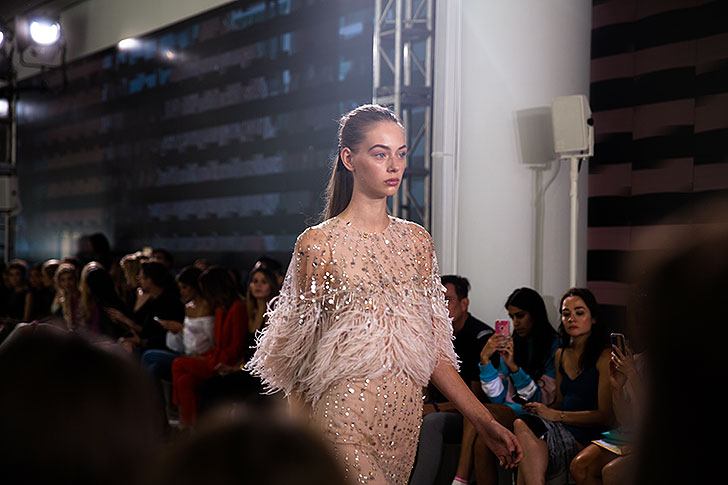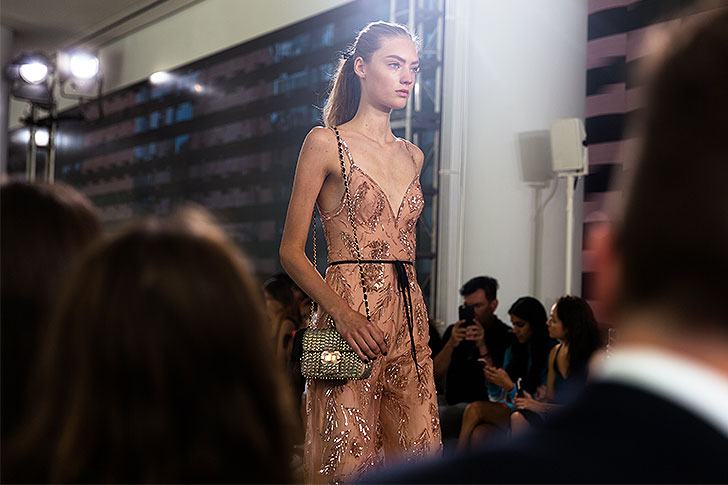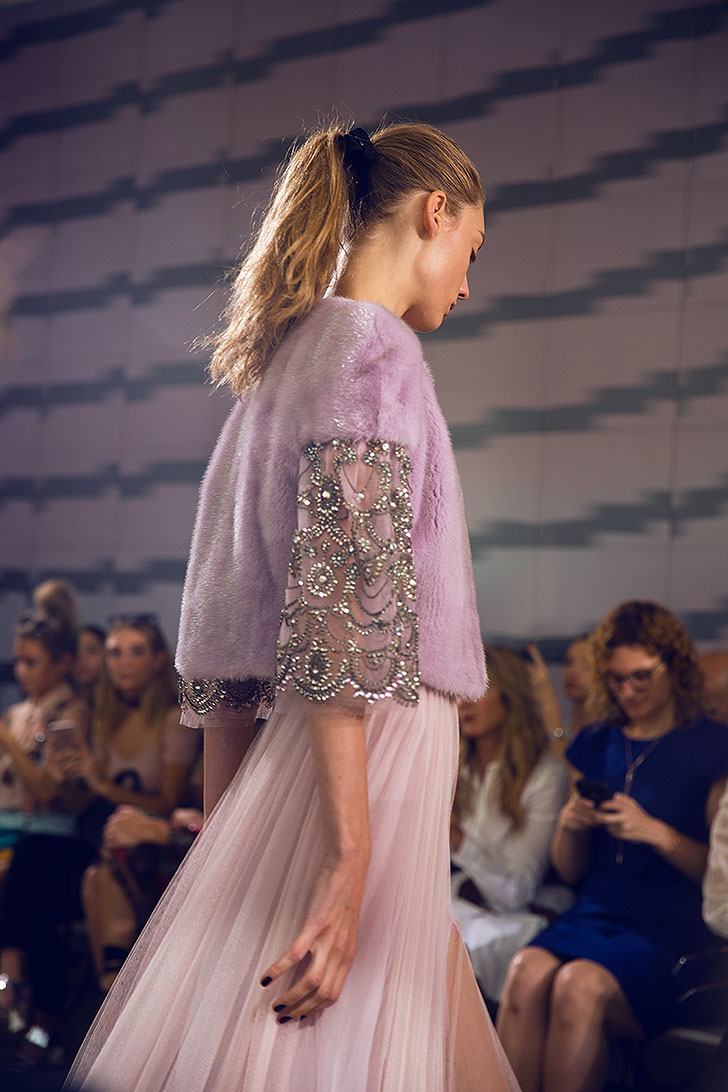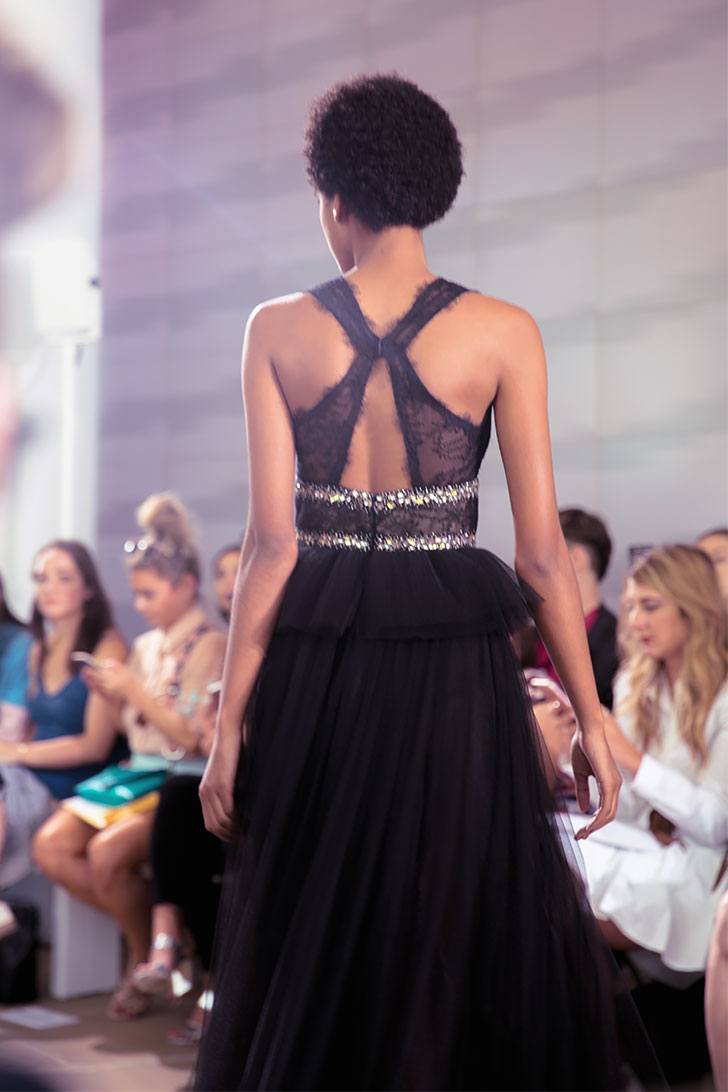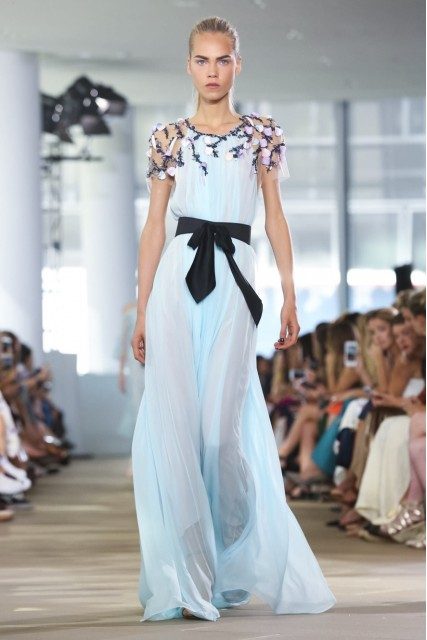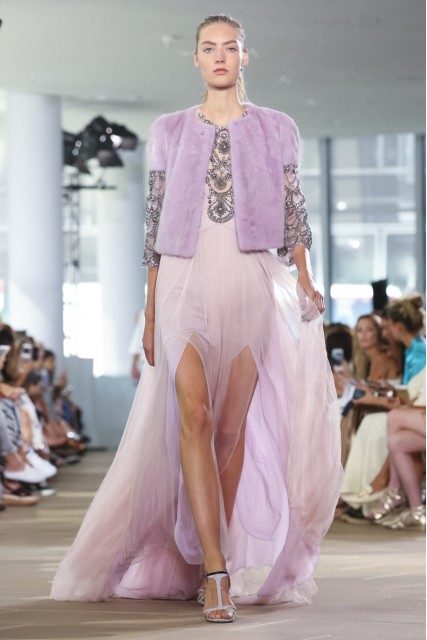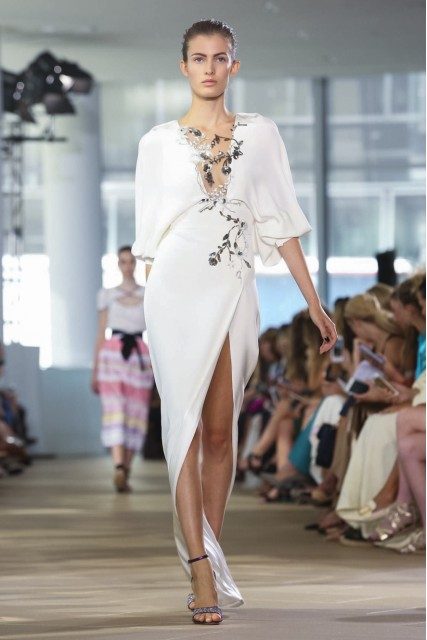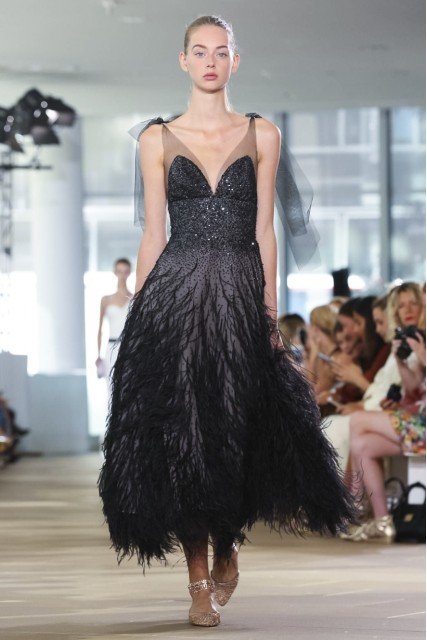 ---
I was lucky to be invited backstage at Hellessey to see the models get prepped for hair and makeup. That was such a fun experience to be in and around all the magic and madness!
I included my favorite 4 looks from Hellessey at the end! I love the flow and drape of the fabrics and how slouchy cool all the outfits were. Backstage, I heard the stylist mention that she used double sided tape in order to keep the shirts "effortlessly" off the shoulders.
Backstage photos: Mine | Runway photos: Vogue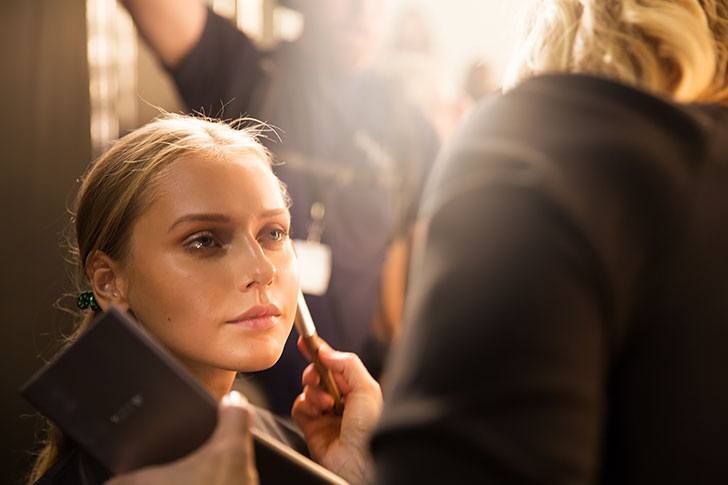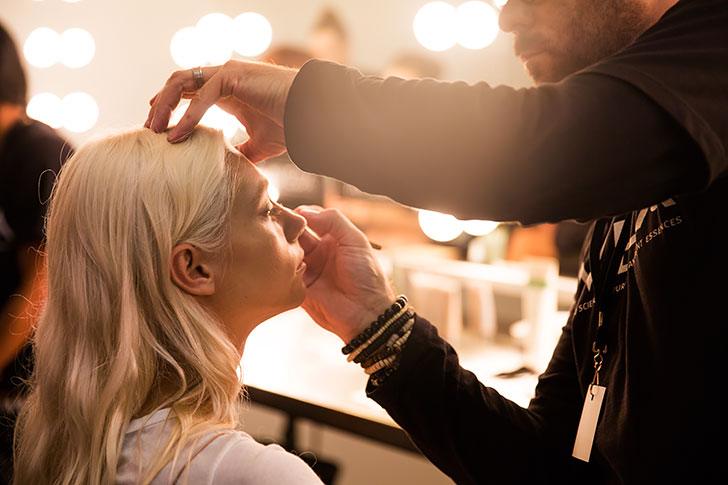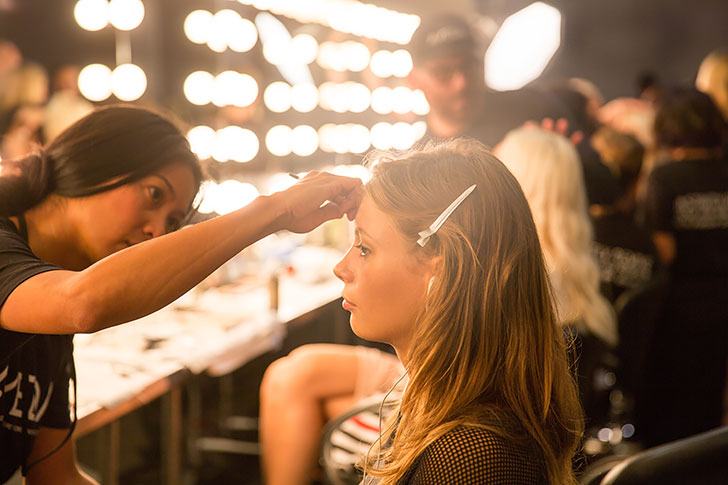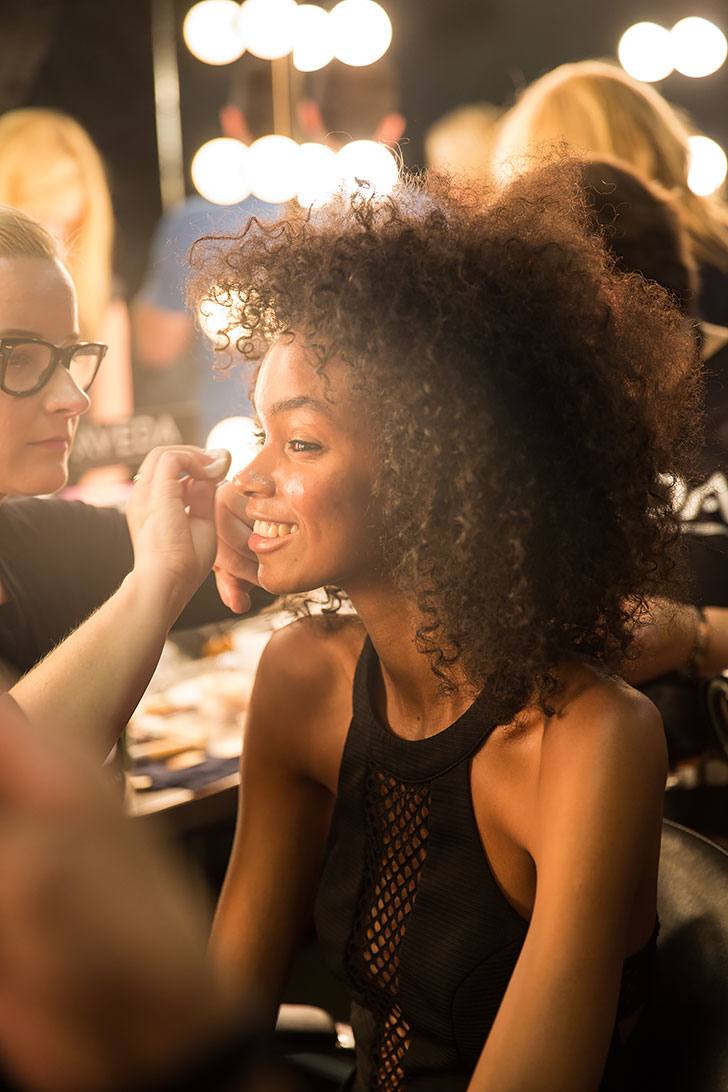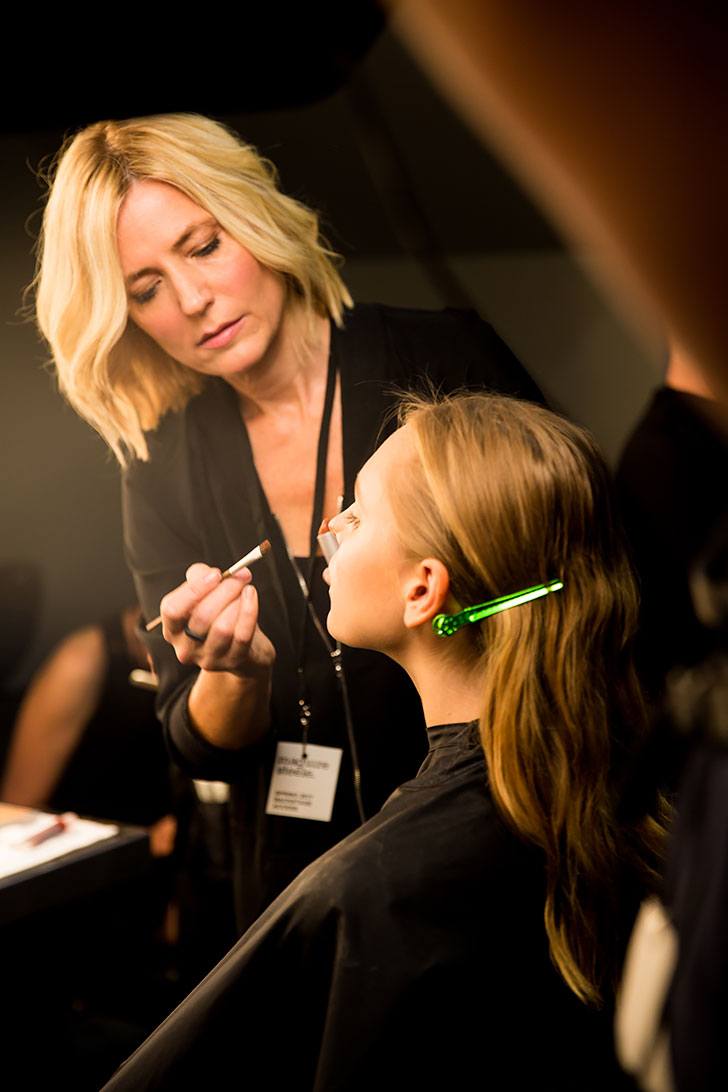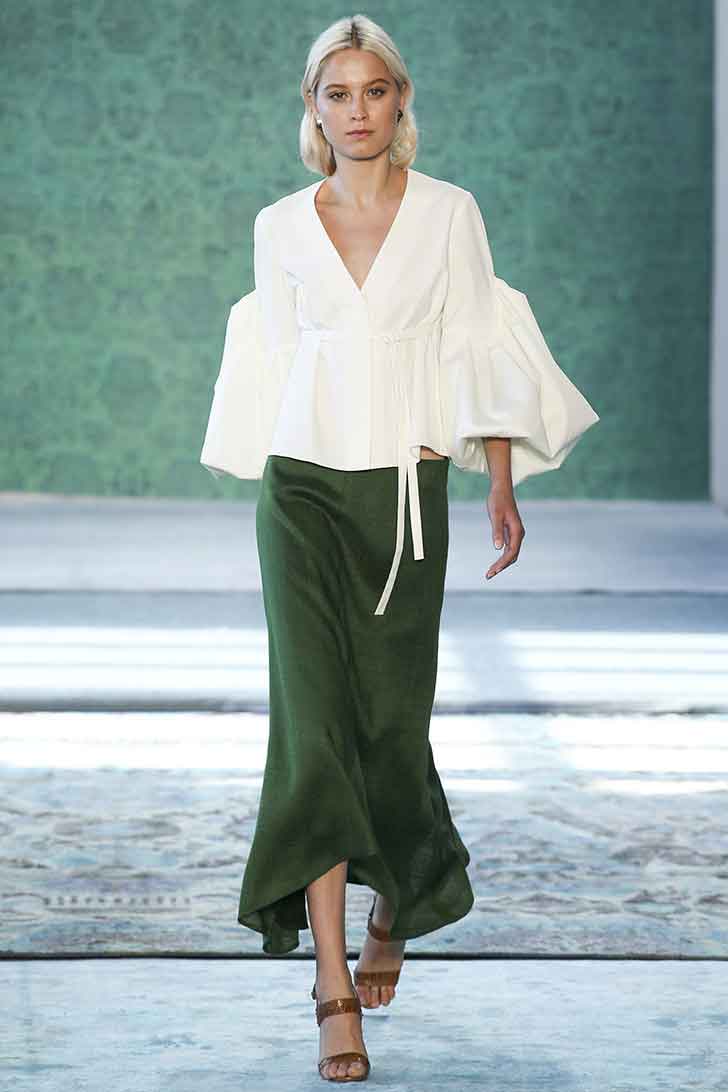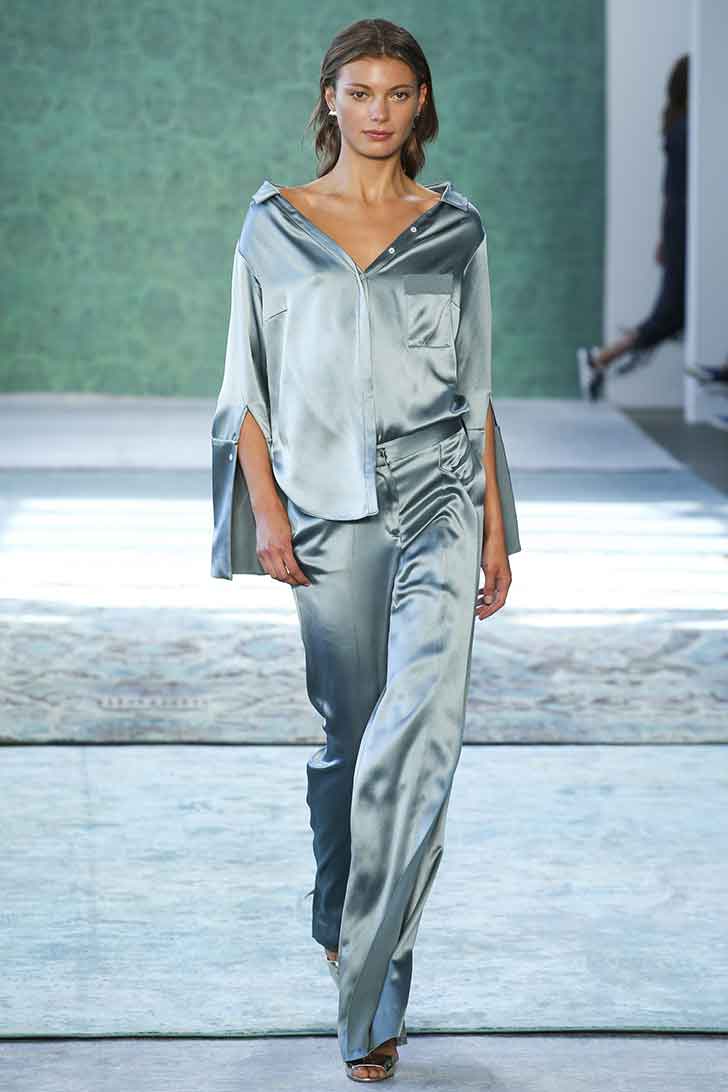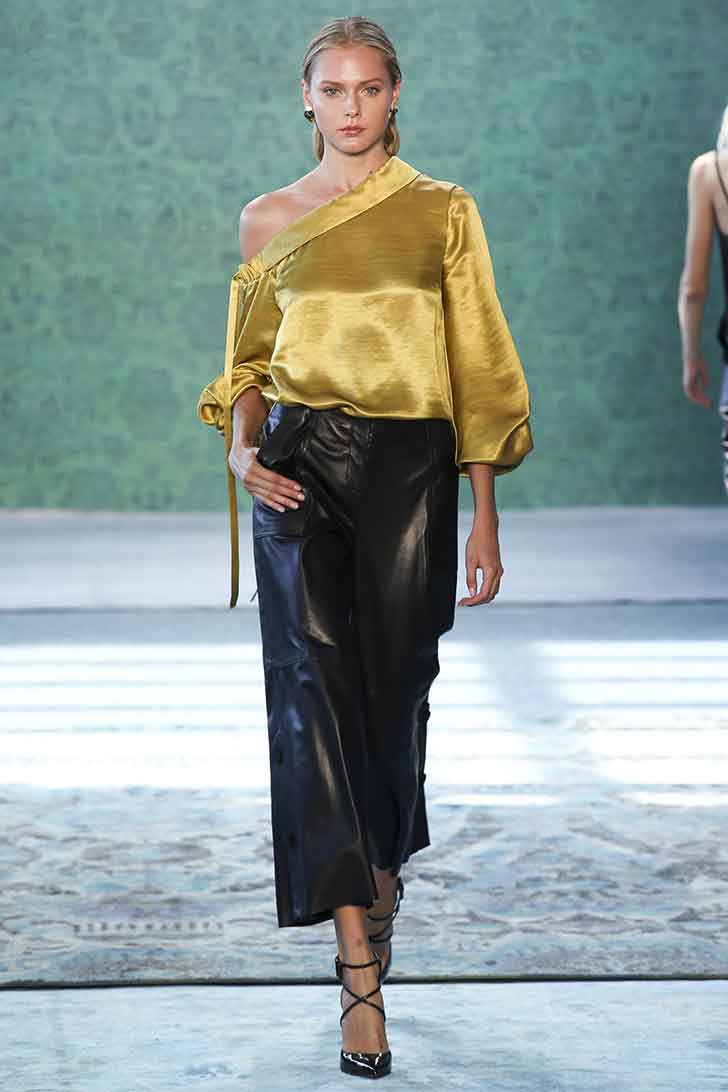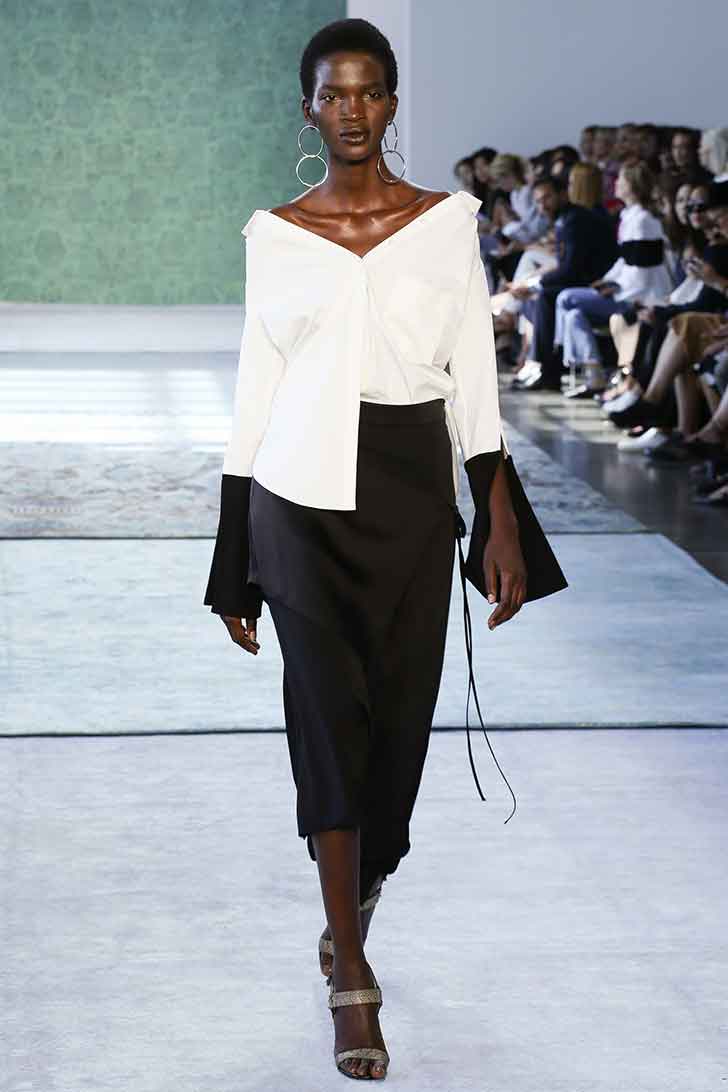 ---
Leanne Marshall showcased beautiful, flowy gowns that were deceptively simple. I loved seeing all the gorgeous fabrics swish down the runway – this was definitely a show that was great to see up close and in person. I also loved the color palette that she chose – soft, spring colors in lilac, muted pinks and blues and a blushy orange tone for perhaps a spring getaway. Perfect!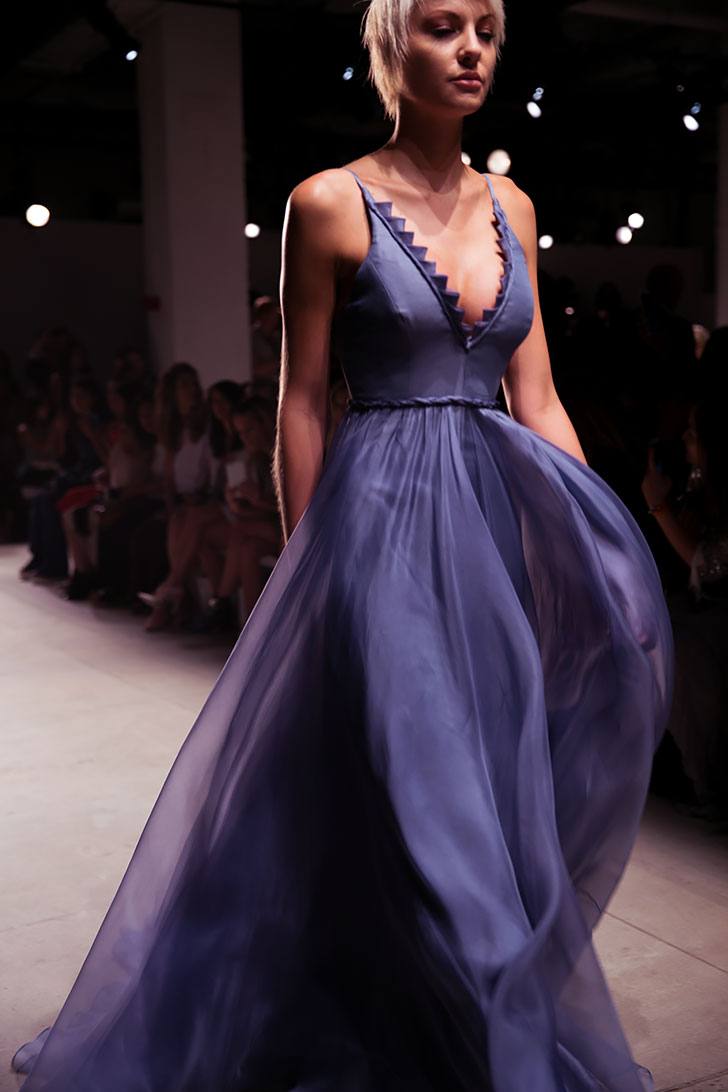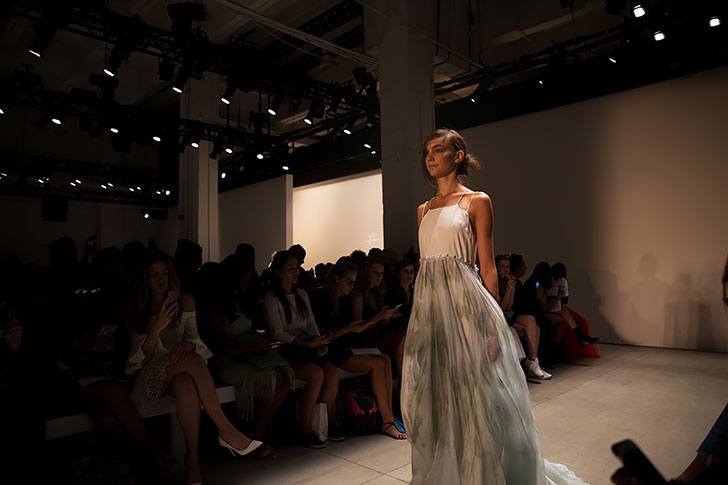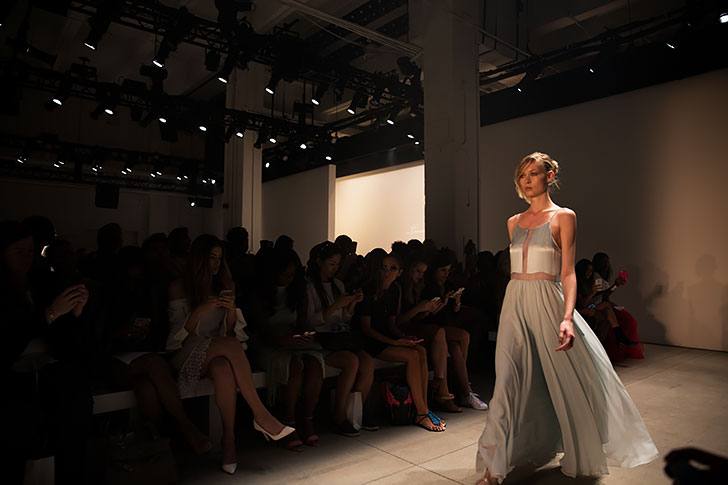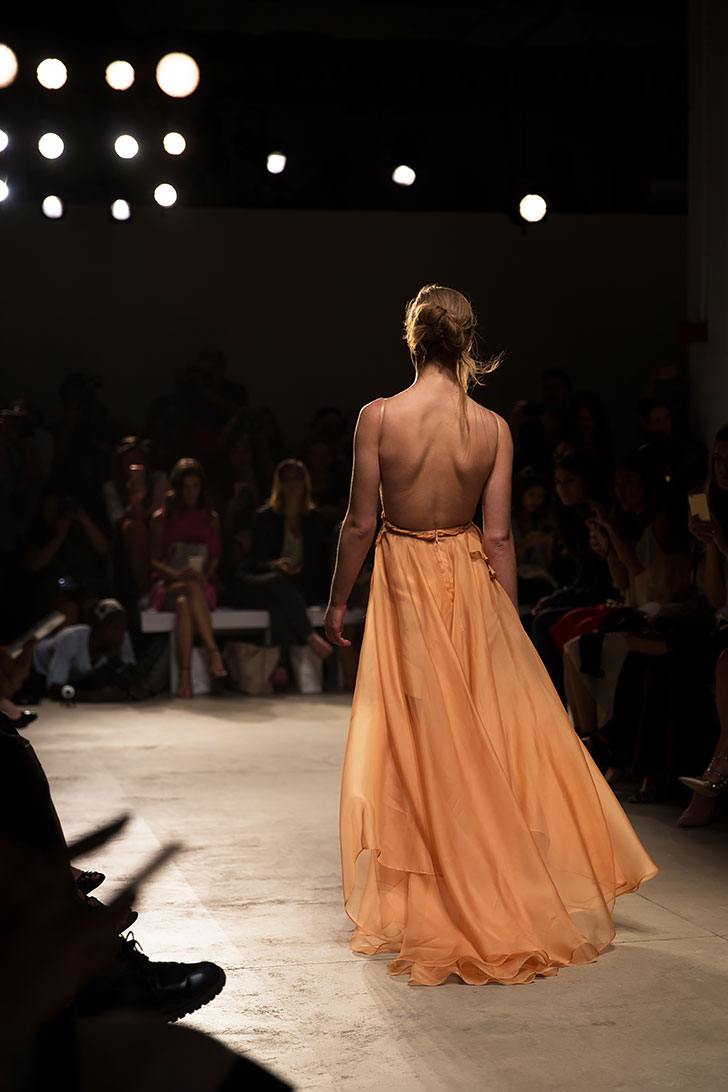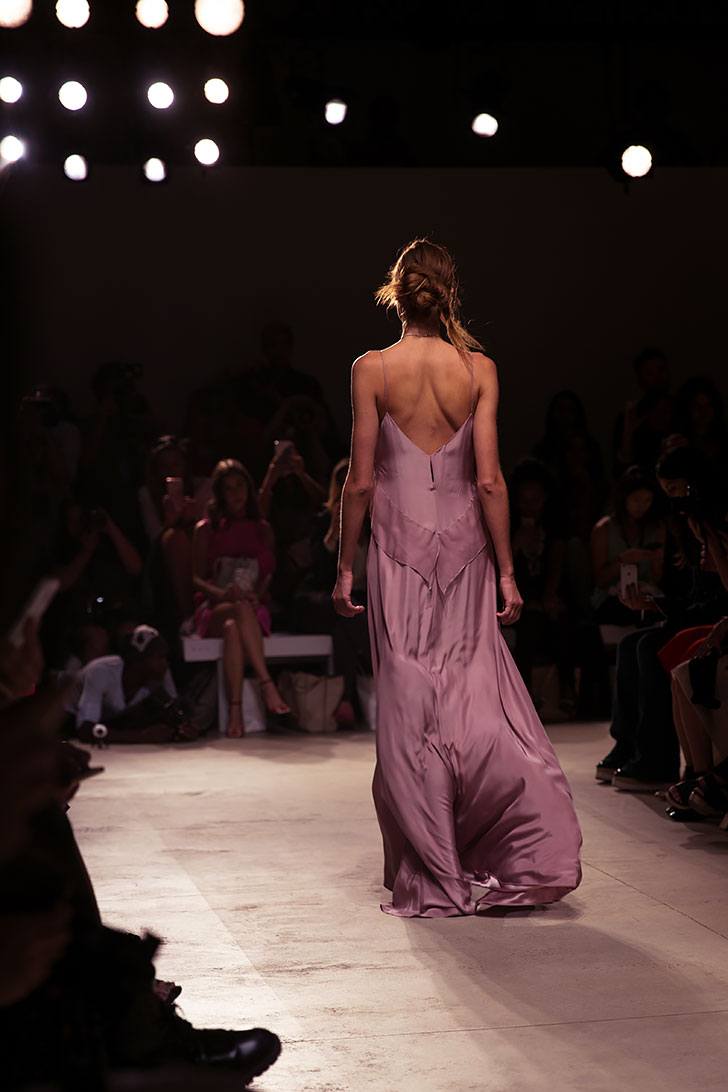 ---
Dan Liu is a Chinese-Japanese-Canadian fashion designer who showcased quite pretty and wearable looks down the runway. I loved the short dresses in particular, which had embellishments and were cute, girly and perfect for spring.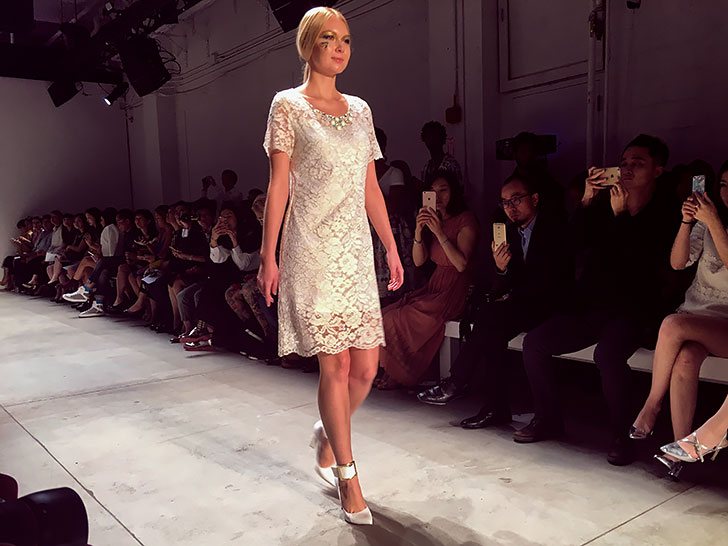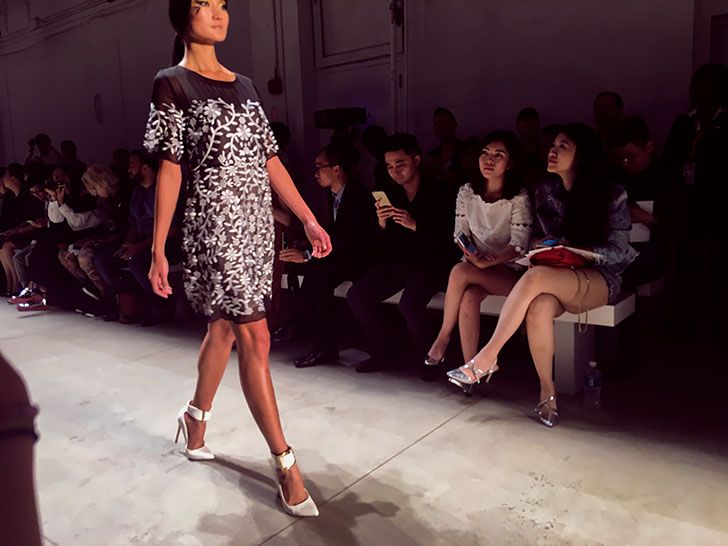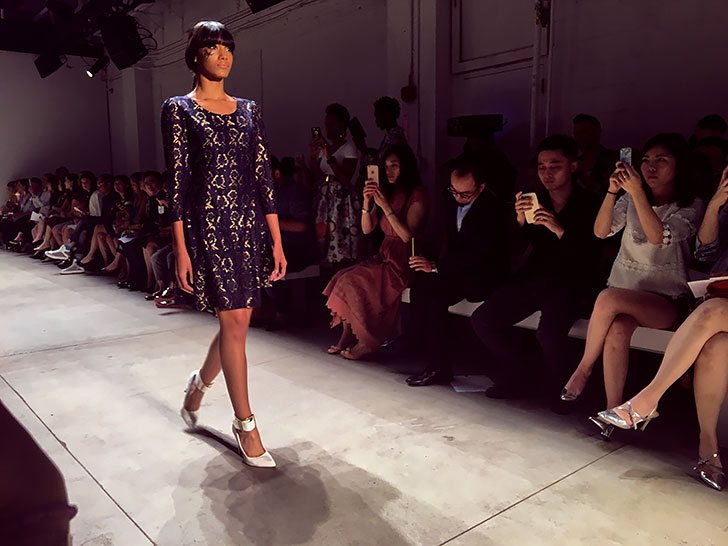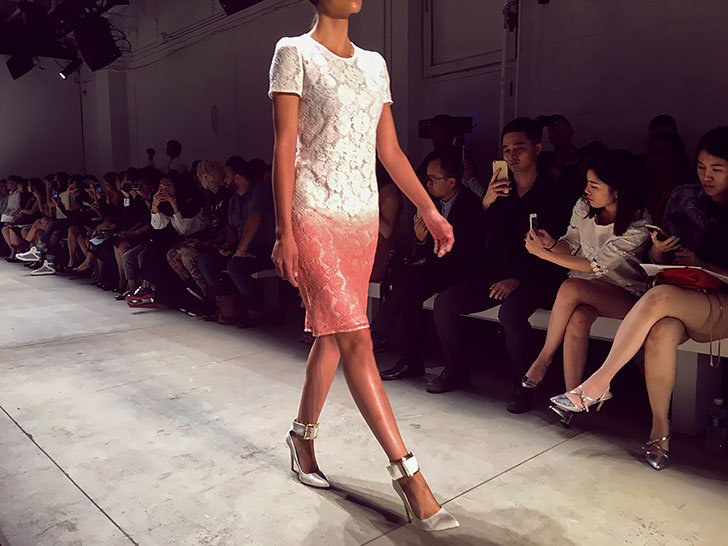 ---
I didn't know what to think of Namilia to be honest. The show was certainly high energy, unique and a crowd pleaser. There was a great mix of buggy headwear, chains and bieber/trump patches. I was super shocked when a model walked past me and her entire backside was exposed! Definitely a shocker of a show but in a unexpectedly refreshing way.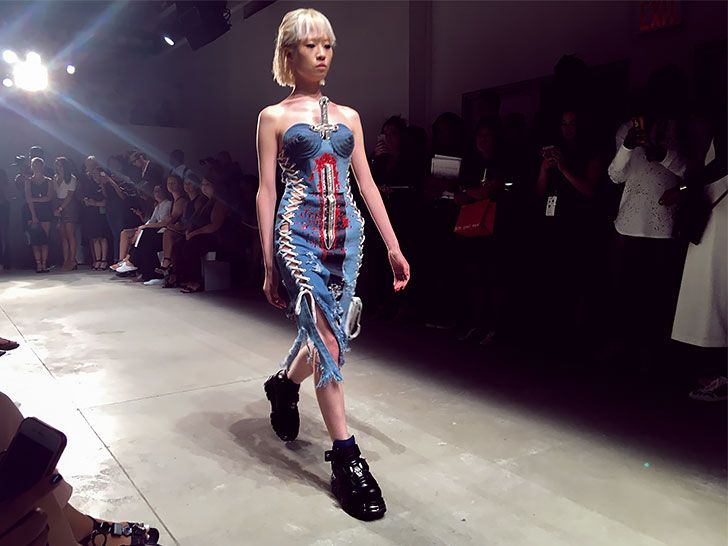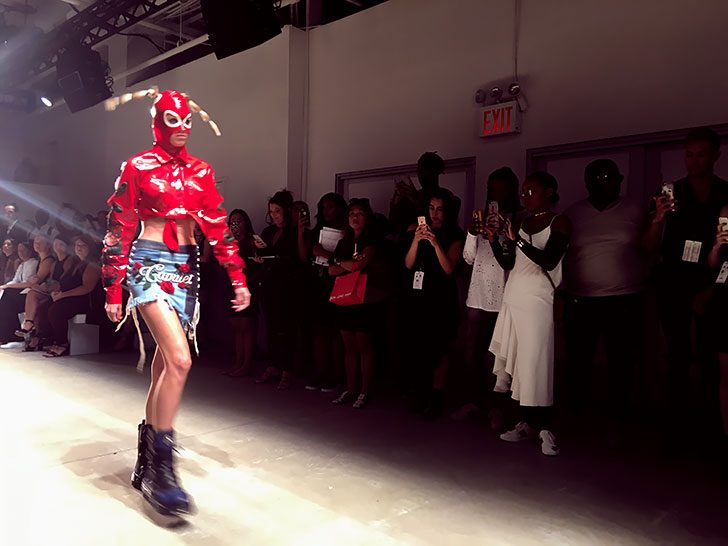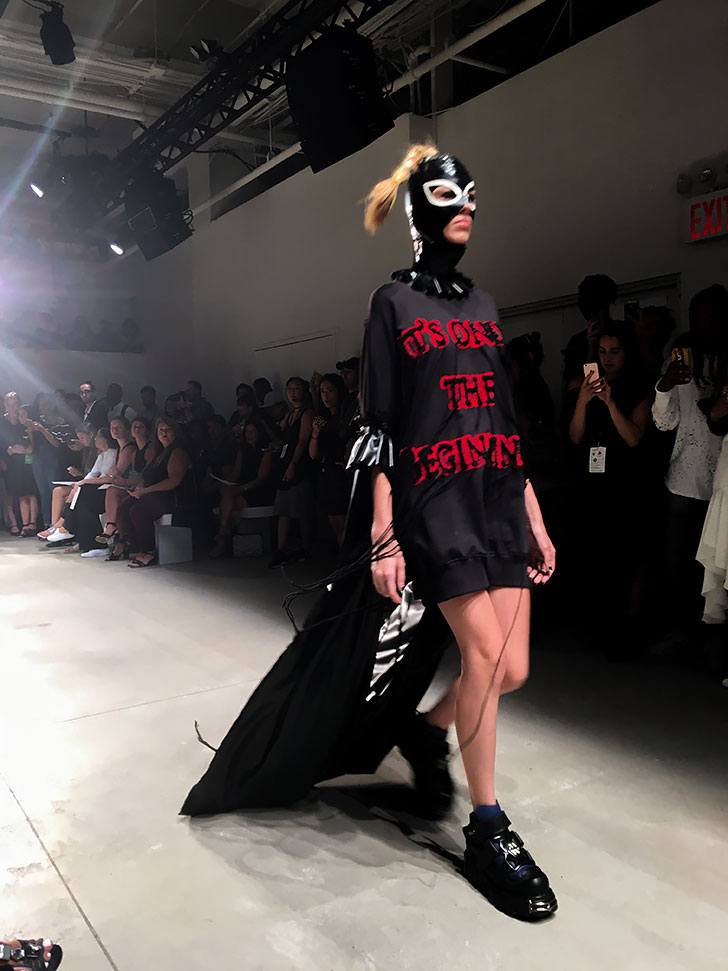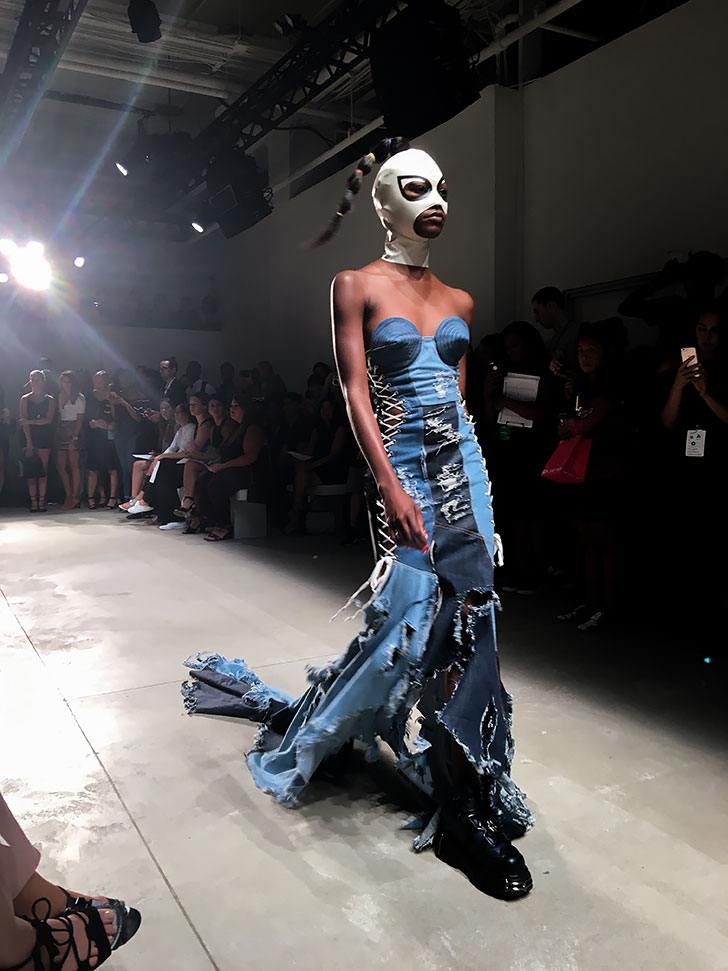 ---
And that's a wrap! I hope you guys enjoyed following along. For next season, I'd love to know what kind of fashion week content would you guys be most interested in seeing? Street style / my outfits / backstage / the runway outfits / the parties / runway trends?
Let me know and I'll do my best to capture it all!