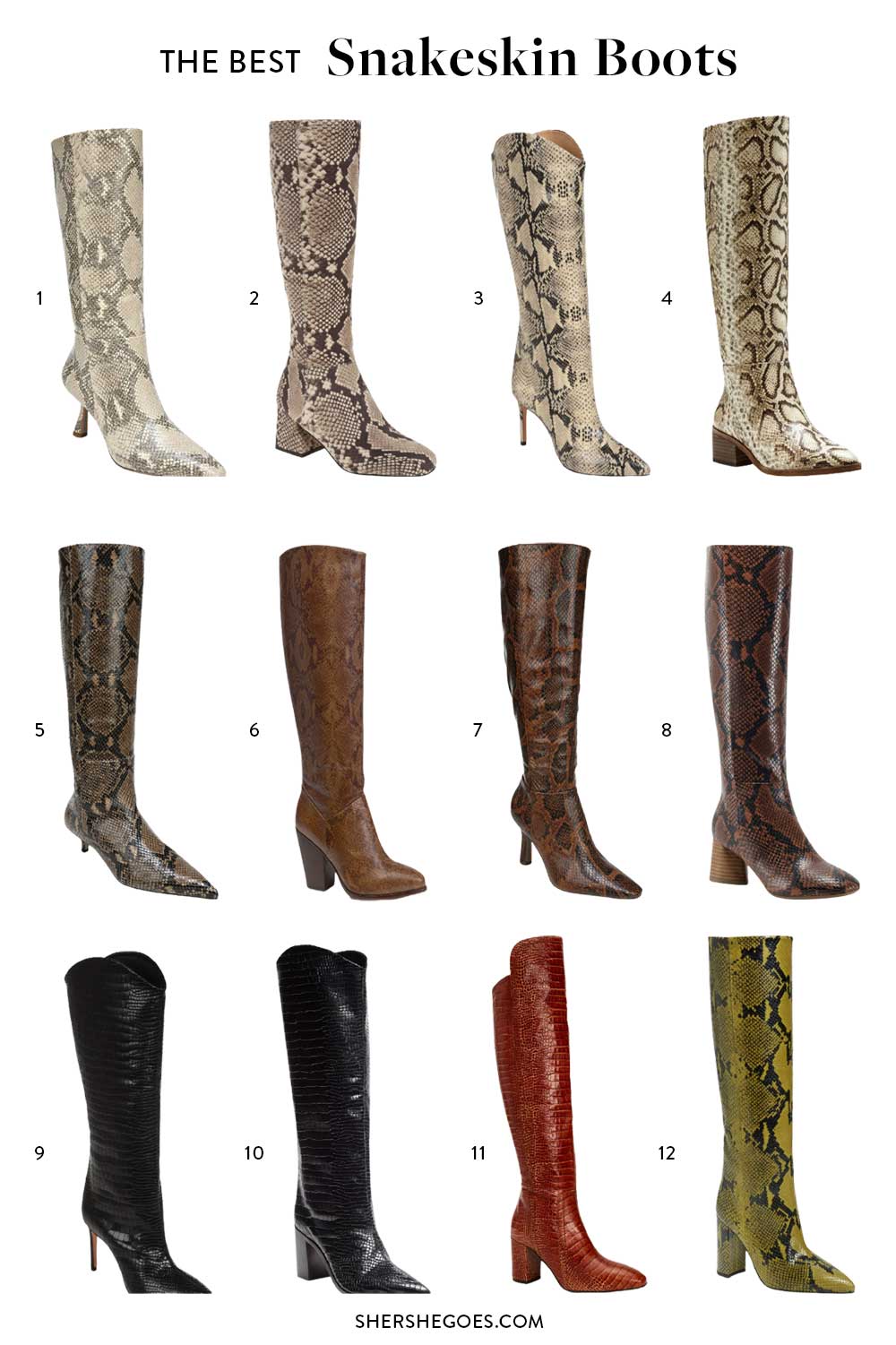 The Best Snakeskin Boots (2021)
When it comes to so-called "exotic" fabrics for shoes, I can't blame you if your mind naturally gravitates toward alligator or crocodile.
These are, after all, the standard bearers.
Immediately recognizable and featuring large, bold pebbling, crocodile and alligator skins make a fashion statement without even trying.
But what about snakeskin?
ADVERTISEMENT
Compared to its larger reptilian cousins, snakeskin has 2 clear advantages.
First, snakeskin is cheaper.
While this may be rightfully the case given the relative scarcity of snakeskin versus that of alligator or crocodile skin, there's no bad time to save some extra money – especially given the current global environment.
Second, snakeskin has smaller pebbling.
To me, this has several benefits. First, this makes the overall pattern of the shoe slightly more subtle. And second, it means that snakeskin boots better take on different dyes, coloring, and patterning.
To see how much snakeskin boots can accentuate your cool weather wardrobe, keep reading for our 5 favorites!
Keep reading, or pin this article to save it for later ⇟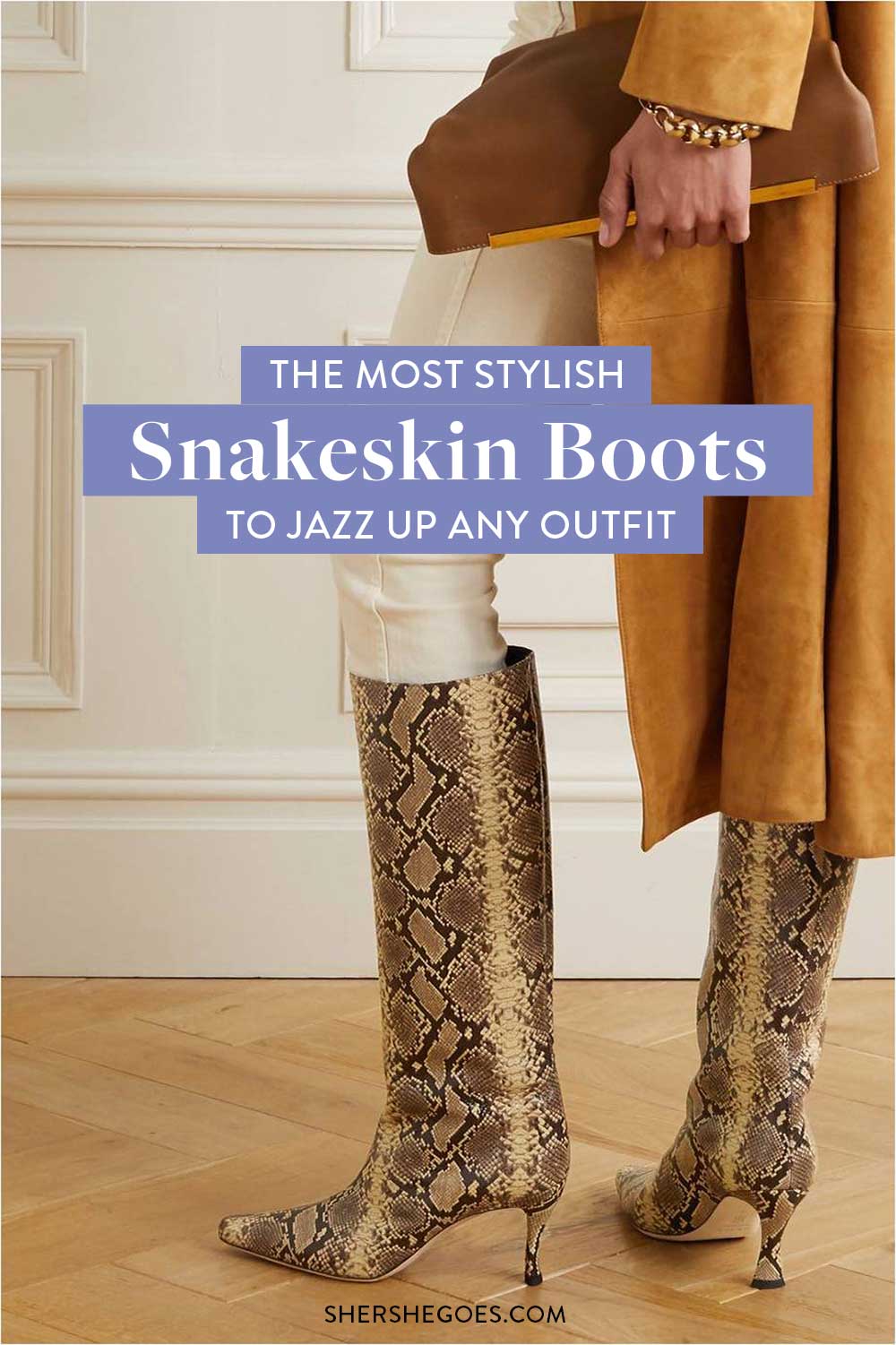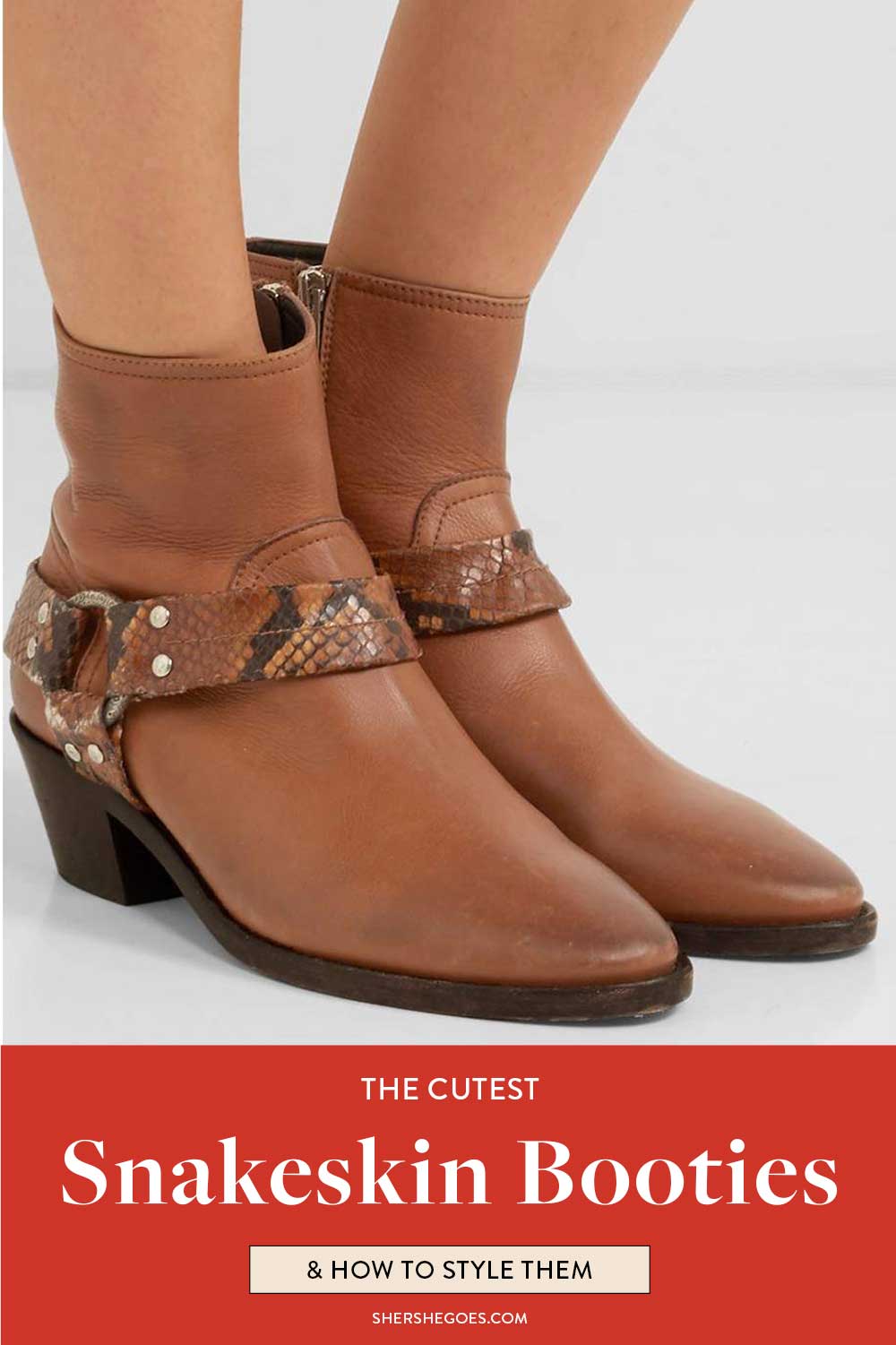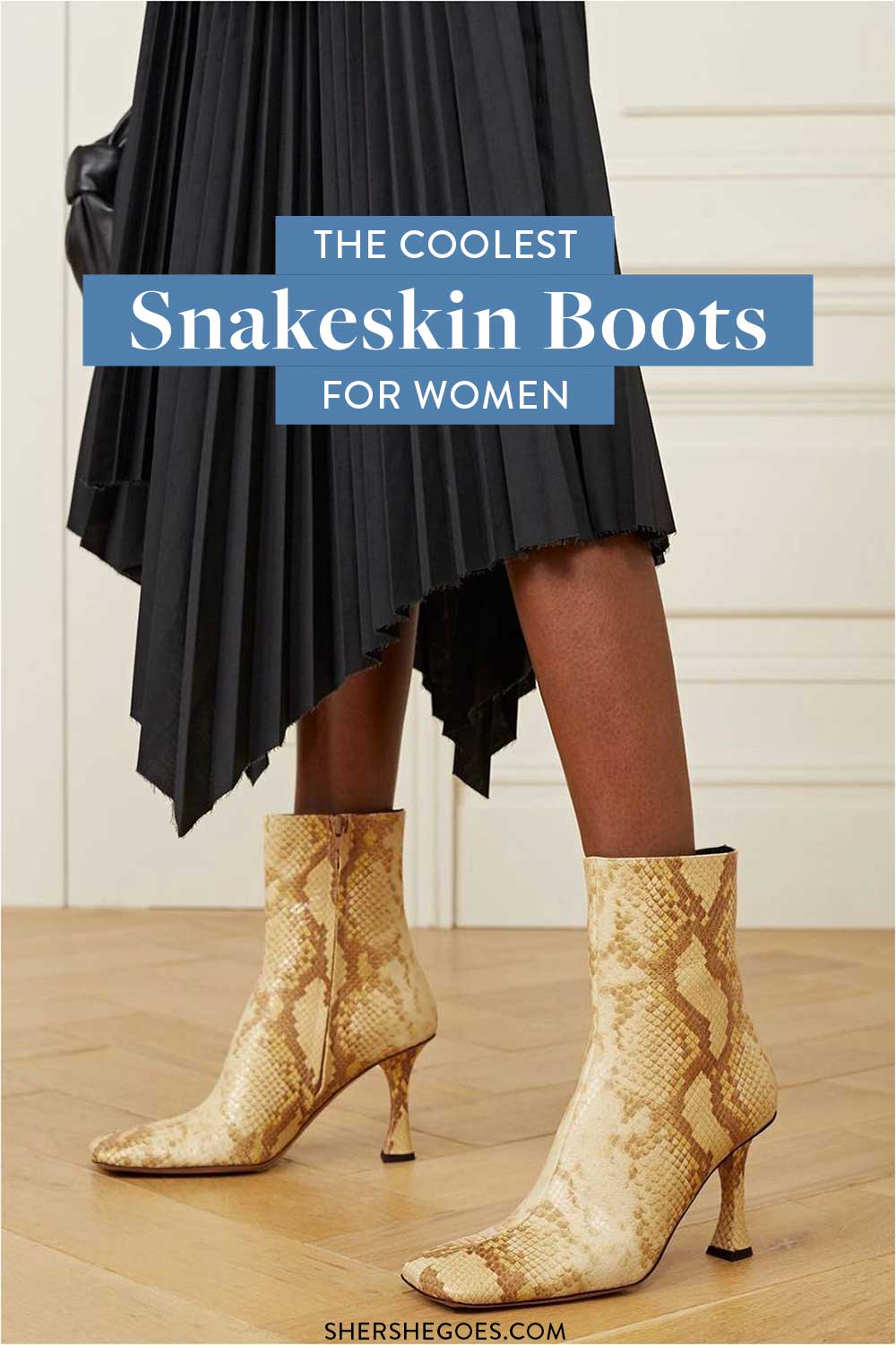 ADVERTISEMENT
---
---
The Best Snakeskin Boots for Women (2021)
When you wanna rock the reptile look, check out these candidates for the best snakeskin boots for women!
Top Snakeskin Boots Brands
ADVERTISEMENT
---
---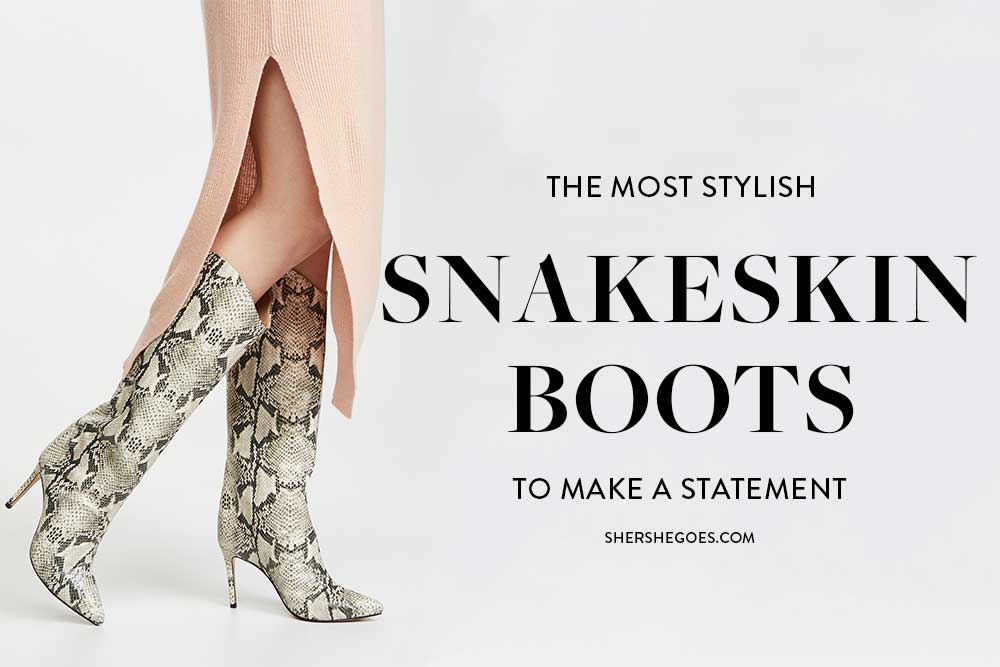 The Best Snakeskin Boots
Best Overall Snakeskin Boots: Matisse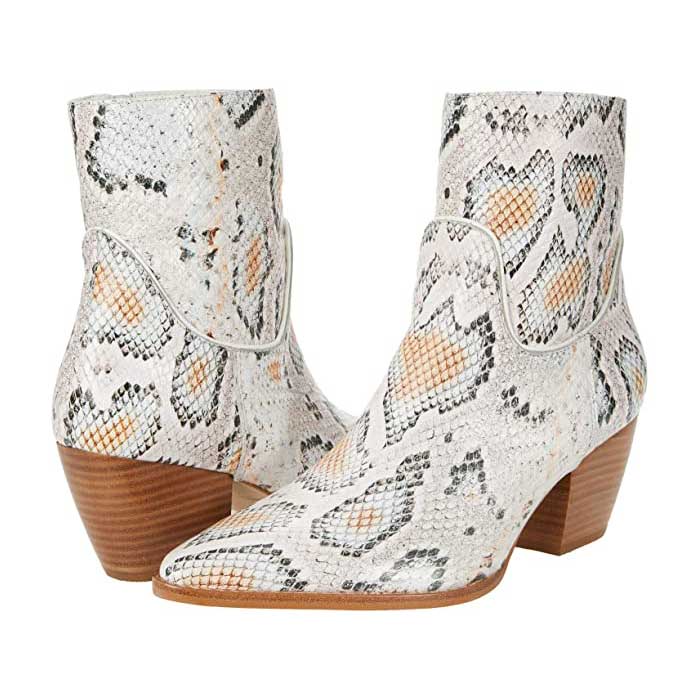 These Brazilian-made snakeskin boots from Matisse are easily among the best I have ever tried on.
The modest 2.5″ block heel is comfortably reinforced, the full leather lining & insole are durable, and the snakeskin patterning is lightly (but stylishly!) colored.
ADVERTISEMENT
---
---
Best Snakeskin Booties: AGL
It was a huge toss up between the Matisse boots and these cute little booties from AGL for my overall favorite.
I love everything about these snakeskin booties, from the sculpted kitten heel to the embossed leather upper to the incredibly unique black-and-blue snakeskin pattern!
ADVERTISEMENT
---
---
Best Snakeskin Ankle Boots: Steve Madden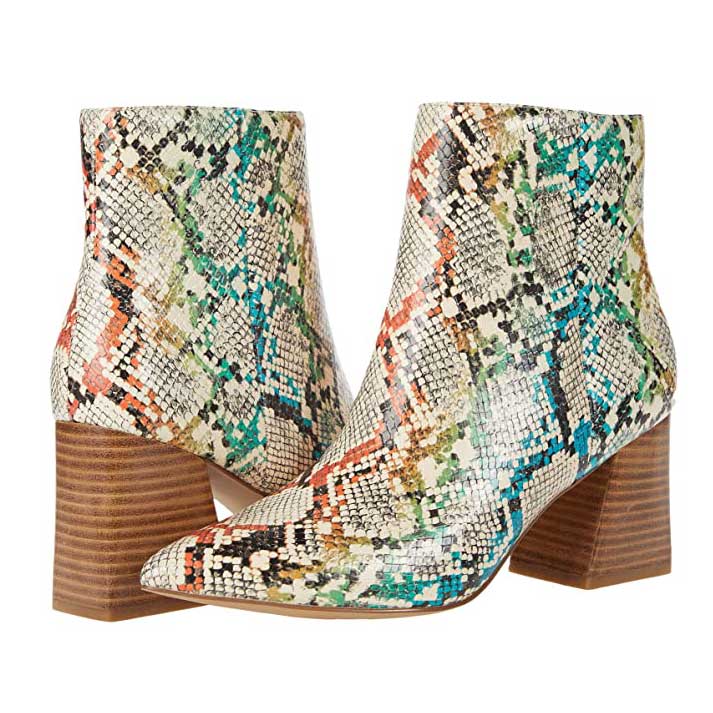 These snakeskin ankle boots from Steve Madden are the perfect choice for when the weather is still mild in fall or spring.
The ankle height provides the perfect coverage, the zip-up closure is reminiscent of the classic Chelsea boot, and the bright colors will add the perfect seasonal touch!
ADVERTISEMENT
---
---
Best Snakeskin Cowboy Boots: Dan Post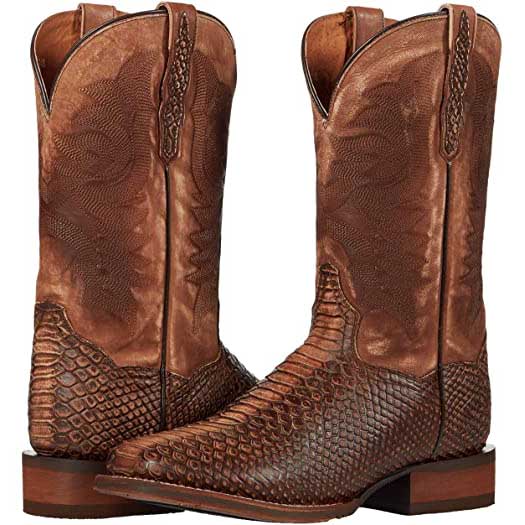 Unlike some shoes on this list, what I like most about these snakeskin cowboy boots from Dan Post is how tastefully they cast the snakeskin as the supporting actor in these award-worthy boots.
Featuring a full-grain leather upper with some thoughtfully-appointed snakeskin designs around the base, these cowboy boots integrate the snakeskin look in a subtle yet stylish manner!
ADVERTISEMENT
---
---
Best Snakeskin Flats: M.M. LaFleur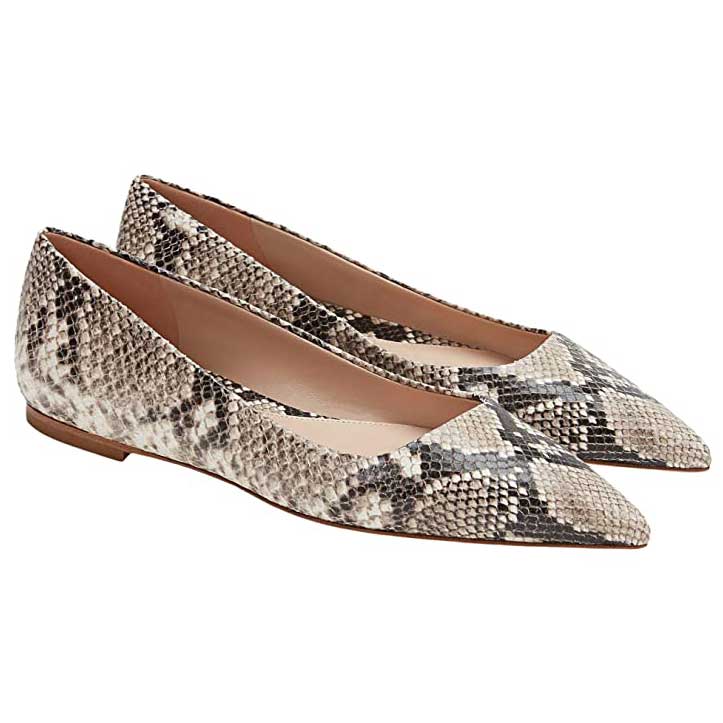 Ok, these obviously aren't exactly boots, but we just had to include these wonderful snakeskin flats from M.M. LaFleur, one of our new favorite brands.
Made with full Italian snakeskin leather and featuring a rubber-injected outsole and full-leather lining and footbed, these flats are perfect for when the weather finally turns in a few months.
Plus, who doesn't like bonus shoes, anyway?
ADVERTISEMENT
---
---
Shop Snakeskin Boots
---

ADVERTISEMENT
---
---
Read More in my cozy at home series:
Loungewear
Amazon Fashion Finds: Comfortable Loungewear
The Cutest Matching Loungewear Sets
Comfortable Jumpsuits & Rompers to Work from Home In
The Best Pajamas to Netflix & Chill
Matching Pajama Sets that Still Look Stylish
Cozy & Comfortable Bralettes
Fun Tie Dye Lounge Wear Outfits
10 Work from Home Outfit Ideas
Everlane Bralette Review
Athleisure
The Best Athleisure Outfits You Can Grab on Amazon
6 of the Best At Home Workouts - Currently Free!
Comfy Faux Leather Leggings that Work with Any Outfit
Everlane Legging Review
Comfortable Shoes
The Best Minimalist White Sneakers
Cute Casual Sneakers to Wear Anywhere
Slip on Sneakers for Casual Days
The Best Comfy Slippers for Women
The Best Comfy Mens Slippers
The Most Comfortable Boots to Wear All Winter Long
Cozy Home
How to Program Smart Lights to Act as a Sunrise Clock
The Coziest Home Decor to Create a Sense of Hygge
How to Dress a Bed as Luxuriously as a 5 Star Hotel
Follow me @Sher She Goes on