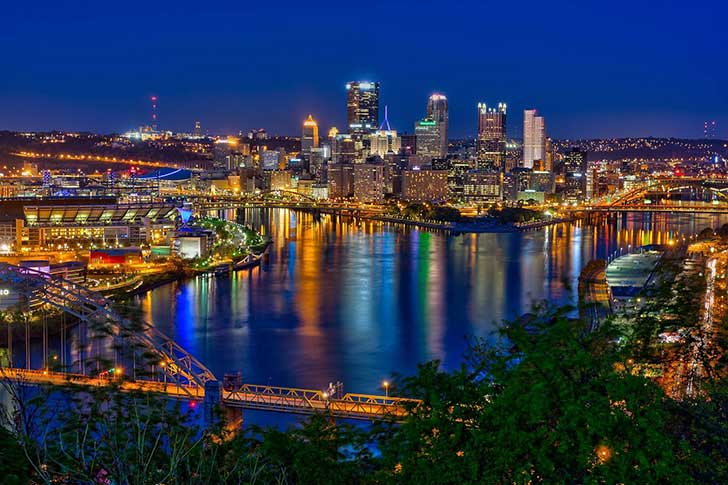 Where to Stay in Pittsburgh
Having long played Pennsylvania second fiddle to Philadelphia, Pittsburgh (goodness, this state loves its P's!) has quietly blended its blue-collar, working class roots with a burgeoning arts, technology and counterculture scene to create one of the most unique and appealing environments anywhere in America.
Whether you're in Pittsburgh to meet with one of the city's new startups or established Fortune 100 countries, catching a game in one of America's best sports cities, or simply enjoying the natural beauty of the Allegheny Mountains, there's plenty to do in the City of Bridges.
Fun fact: Did you know that Pittsburgh is the only American city that uses the same colors – black and yellow – for its professional sports teams?
Keep reading for our favorite places to stay in Pittsburgh, PA!
---
---
Best Hotels in Pittsburgh
To summarize, here's a handy chart of our recommended Pittsburgh hotels. All include free wifi and are known for comfort, great locations and great customer service.
Best Pittsburgh, Pennsylvania Hotels – Summary Comparison Chart
Below is more information about each hotel and why we recommend it!
---
---
Omni William Penn Hotel
Located in the heart of downtown Pittsburgh, the Omni William Penn Hotel is the standard bearer when it comes to Pittsburgh luxury hotels.
Having both opened 101 years ago and recently undergone a multimillion dollar renovation, the Omni William offers its guests the stately brick, marble, and wrought iron of any classic luxury hotel with all the modern amenities that cater to today's traveler!
---
---
Fairmont Pittsburgh
Located at the epicenter of Pittsburgh's restaurant and business scene, the Fairmont Pittsburgh is one of the Three Rivers' newest luxury hotels, having opened in 2010.
With a striking steel and glass façade, full service spa, and 185 luxury guest rooms and suites to boot, the Fairmont Pittsburgh truly is the embodiment of Pittsburgh's old and new cultures.
---
---
Renaissance Pittsburgh Hotel
Located in the heart of downtown Pittsburgh, the Renaissance Pittsburgh Hotel blends a prime location in the center of the Steel City's Cultural District with the historical richness of the Fulton Building, the Renaissance's home and one of the most famous buildings throughout Pittsburgh.
With 5 room and suite options, complimentary English breakfast, and stunning terrace-level views of downtown Pittsburgh, the Renaissance has everything needed to create the perfect luxury vacation or business experience.
---
---
Hilton Garden Inn Pittsburgh Downtown
With a futuristic, sleek, and imposing glass façade, the Hilton Garden Inn Pittsburgh Downtown looks more like a post-modern airport or train station than a Hilton in the American northeast.
As one of downtown Pittsburgh's newest hotels, the Hilton Garden Inn offers its guests the latest in modern hotel amenities, all set among the best of Pittsburgh's attractions.
---
---
Ace Hotel Pittsburgh
Located in the East Liberty neighborhood of Pittsburgh, the Ace Hotel probably has one of the most unusual yet heartwarming stories of any Pittsburgh hotel.
Located in a former YMCA building that's over 100 years old, the Ace Hotel was founded and supported by a grassroots community effort to exemplify all that's bootstrapping and enterprising about the city of Pittsburgh. If an authentic look into the culture of Pittsburgh sounds appealing, the Ace might be just the place for you!
---
---
And that's it! Our guide to Pittsburgh's best hotels to make the most of your stay.
Whether you're looking for a luxury hotel in downtown, a boutique hotel for couples or a family friendly hotel for kids, these top hotels in Pittsburgh are sure to please.
Follow Sher She Goes on