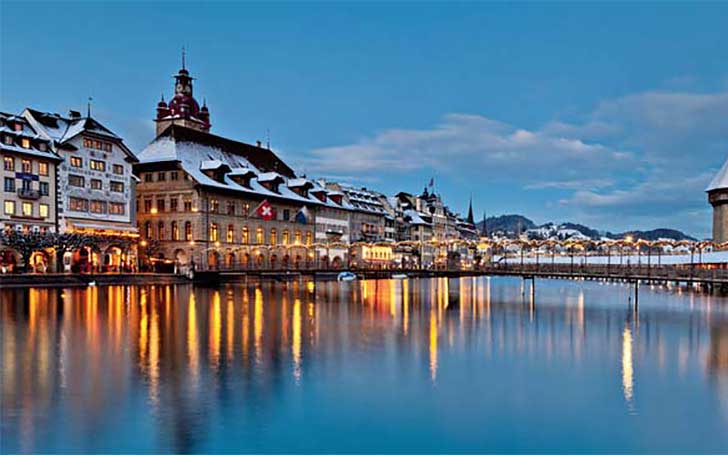 Where to Stay in Lucerne
It's hard to believe there are still hidden gems in a place like Western Europe, but, if there are, Lucerne, Switzerland, would be right at the top of that list.
Known as one of the most picturesque cities in an already gorgeous country, Lucerne is a fantastic city that has something for everyone. Adventurers are just minutes away from famed Swiss Alps peaks Mount Pilatus and Mount Rigi, and historians will enjoy the city's famed medieval architecture.
For those looking to be more relaxed on vacation, the strolls along Lake Lucerne or classically Swiss shopping will leave you looking for excuses to extend your stay.
For everything you need to know about our favorite places to stay in Lucerne, Switzerland, keep reading!
---
---
Best Hotels in Lucerne
To summarize, here's a handy chart of our recommended Lucerne hotels. All include free wifi and are known for comfort, good location and great customer service.
Best Lucerne, Switzerland Hotels – Summary Comparison Chart
Below is more information about each hotel and why we recommend it!
---
---
Hotel des Alpes
Located in the heart of downtown Lucerne, the Hotel des Alpes puts guests in a building with quintessentially beautiful Swiss architecture right on the stunning river Reuss.
Rooms on the building's façade also enjoy sweeping panoramic views of the river, greater Lucerne, and Mount Pilatus in the distance.
---
---
Hotel Waldstatterhof
Just feet from the main train station in Lucerne, the Hotel Waldstatterhof blends a modern design with a historic location to provide one of the most unique hotel experiences available in Lucerne.
With six types of room sizes including two suite options, the Hotel Waldstatterhof makes the most of its limited space to provide lodging options that will suit travelers on all types of European vacations!
---
---
Hotel Wilden Mann
Originally a bar and tavern before converting to a hotel, the Hotel Wilden Mann is one of Switzerland's most tradition-steeped locales, having been in continuous operation for exactly 500 years!
Because the facility has been consistently remodeled, renovated, and repurposed over that time, the present day Hotel Wilden Mann is in itself a twisting, turning, and simply gorgeous tour through the history of Lucerne, Switzerland.
---
---
CASCADA Hotel
Conveniently located near many of Lucerne's top attractions, the CASCADA hotel is a spunkily designed 66-room space that exudes a more modern pan-European feel than some of the more classically Swiss hotels on this list.
For a great example of the CASCADA's unique personality, check out the paella cooking course at CASCADA's own award-winning Bolero Restaurante!
---
---
Hotel Chateau Guetsch
With architecture inspired by the famed Bavarian castle Neuschwanstein, the Hotel Chateau Guetsch was originally built in 1888 by the architect Emil Vogt as a private residence with connecting hotel and dining facilities.
Nestled on a hilltop overlooking old town Lucerne, the Hotel Chateau Guetsch offers unrivaled views of Lucerne while still offering convenient trips to many of Lucerne's main attractions.
---
---
And that's it! Our guide to Lucerne's top hotels to make the most of your stay.
Whether you're looking for ultra-luxurious comfort, the best location in town, or no-frills budget cheap hotels, these top Switzerland hotels are sure to please.
Read more about Switzerland:
How to spend 1 perfect day in Basel!
Where to find the Best Hotels in Basel that won't break the bank!
What it's Like Sailing through Europe on a Rhine River Cruise
Follow Sher She Goes on