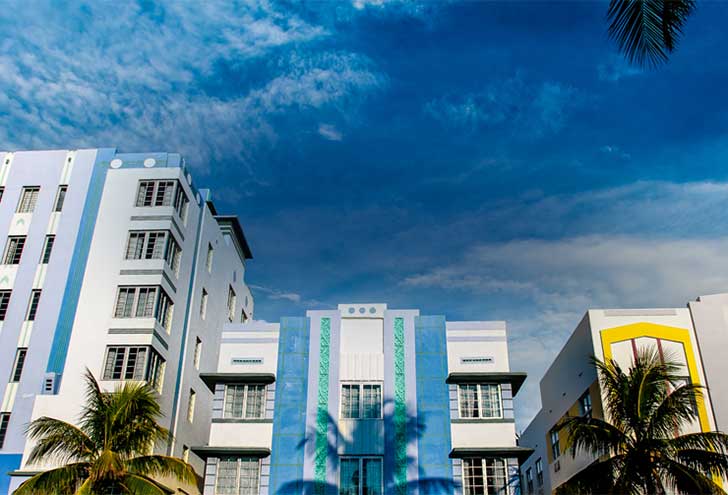 Where to Stay in South Beach
Miami is the sandiest, sunniest, and sexiest city in America, and nowhere is that on brighter display than South Beach!
Whether you're looking for South Florida's hottest places to party or eating at the Magic City's finest restaurants, there's plenty to do in the nervous system of Miami's social life.
Here's our complete travel guide for where to stay in South Beach, Miami!
---
---
Best Hotels in South Beach Miami
To summarize, here's a handy chart of our picks for best hotels to stay in Miami Beach. All include free wifi and are known for comfort, great locations and great customer service.
Best South Beach, Florida Hotels – Summary Comparison Chart
Below is more information about each hotel and why we recommend it!
---
---
The Setai
Located in South Beach's historic Art Deco District, The Setai is South Beach's most beloved Art Deco installment.
Originally opened as the Dempsey-Vanderbilt Hotel 80 years ago, The Setai has everything you could need from a South Beach hotel – a spa featuring treatments curated from various tea leaves, brunch restaurants featuring daily live jazz, and ocean suites with stunning Atlantic Ocean views.
---
---
Delano South Beach Hotel
One of South Beach's trophy boutique hotels, the Delano South Beach Hotel is truly a one-stop shop for Miami partying. With 13 rooms and suite options offering stunning downtown Miami or Atlantic Ocean views and two of South Beach's hottest nightlife options in the Delano Beach Club (poolside lounge) and Doheny Room (nightclub lounge), the Delano is absolutely Del-ightful!
---
---
W South Beach
When you pair a hotel brand known for its modern design and amenities with the party life, of South Beach, you know you're in for a treat.
And that's just what you get at the W South Beach, which has everything from private balconies attached to every room and suite, the world-famous Mr. Chow restaurant on-site, and a stunning rooftop featuring a cabana-laden pool deck, basketball and tennis courts, and, of course, stunning Miami Beach views.
---
---
The Betsy
With exquisite seaside views from its Ocean Drive home, The Betsy hotel offers its guests gorgeously decorated rooms and suites (the largest of which contain multiple bedrooms and private balconies), live jazz daily, and one of Miami's hottest restaurants in LT Steak & Seafood!
---
---
Fontainebleau Miami Beach
Ok, so I've cheated a teensy bit here as this hotel is located on Miami Beach proper (just a tad north of South Beach), but the Fontainebleau Miami Beach is one of the most significant and well-known hotels in America let alone Miami, earning its place on this list.
The Fontainebleau has two towers containing 1,504 rooms and also features 12 restaurants and bars and a whopping 40,000 square foot spa!
---
---
And that's it! Our guide to South Beach's best hotels to make the most of your stay.
Whether you're looking for a luxury 5 star hotel right on South Beach, a boutique hotel with excellent nightlife or a family friendly hotel for kids to enjoy, these hotels in South Beach are sure to please.
Follow Sher She Goes on