Thank you to Curel for partnering on this sponsored post.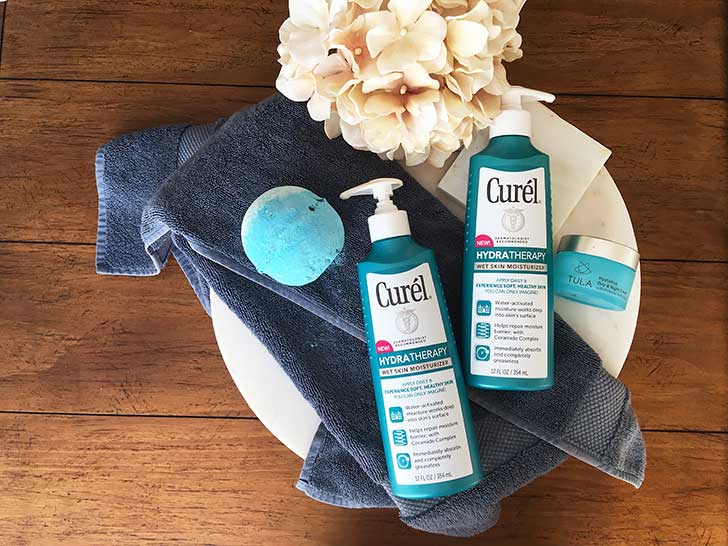 I think the moment I turned 22, my skin showed its true colors. It felt constantly tight, the small section between my brows always seemed to be rough and flaky and those oil blotting papers that all my friends loved never worked on me – there was just no oil to remove. My skin had settled into maturity and decided it was wholly dry.
I think most people in their 20's have normal to oily skin so for me, it always felt like I was navigating the dry skin route alone with just geriatrics for company. Dry skin remedies are often combined with anti aging and while there's certainly nothing wrong with both, I was looking for products for just dryness. Many trials and hefty Sephora bills later, I think I've narrowed down my skin care routine to a small group of life changing favorites. If you also suffer from dry skin like me, read on! I have some easy affordable at-home remedies for you.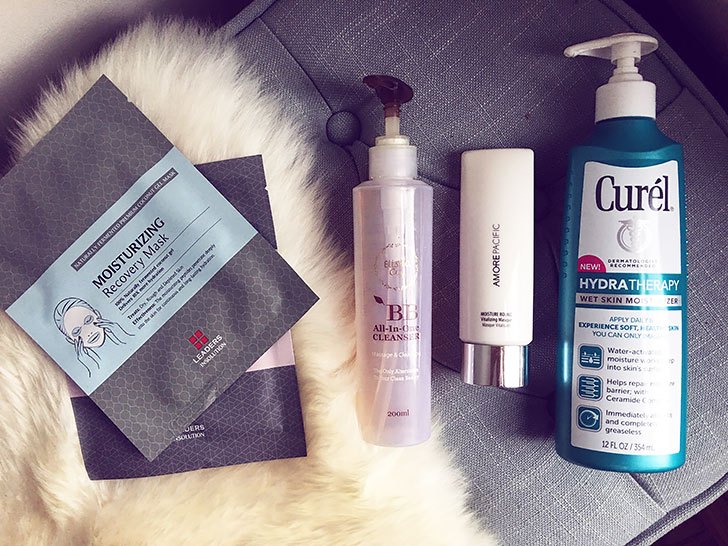 Milky and Oil Based Cleansers
I cleanse my face morning and night and used to love those grapefruit Neutrogena ones. Unfortunately most drugstore ones are marketed towards teens (who suffer from acne typically) and tend to be anti bacterial and very very drying. Nowadays, I stick to light, milky cleansers in the AM and oil based cleansers in the PM.
For mornings, I love this Clarins one for its zingy citrus scent. It wakes me up immediately and the tiny scrub beads make me feel like all the gross overnight build up is removed.
For nights, especially if I've worn any kind of face make up, I recommend this Elisha Coy one as it removes everything without any tingling dry sensation afterwards. One bottle is under $20 and has lasted me for over a year.
For travel, I bring along this gentle Amore Pacific exfoliater which actually comes in powder firm and becomes a paste when combined with water. I can tap out the powder into a jar (I like this affordable travel case set which has 6 assorted bottles in a clear pouch) and not have to worry about TSA liquid limits. The Amore one is expensive but the unique powder form is worth it – a tiny teaspoon of powder is enough for the whole face!
Sheet Masks and Mists
I love sheet masks. I tend to get dehydration lines around the mouth which is when I know I need to use a sheet mask, stat. I also am a huge fan of facial mists – they make your skin feel so refreshed. I cycled through a couple different face mists and then when they ran out, went a couple months without repurchasing. For those months, my face felt so tight and uncomfortable – that's how I knew face mists were worth the buy!
For sheet masks, I love trying new ones but always come back to My Beauty Diary masks because they're cotton-based, very affordable and highly effective. There are also hydrogel versions on the market which typically come in two pieces and can give a better fit, depending on your face shape. The most popular hydrogel masks are by Donkey Milk and Whamisa. Most recently, I'm trying this fiber based moisture mask from Leaders which is SO hydrating.
For face mists, I love the original OG Avene thermal water.
Body Moisturizers
I focus a lot on my face and have a tendency to neglect the rest of my body but in the winter, my legs feel so dry and even grosser – in the dead of a New York winter when I take off my jeans, the skin on my legs will flake off because I'm just so dry! Gross. This winter, I'll be more prepared since I've discovered a couple great remedies.
For all-over body and convenience, I use my Curel Wet Skin Moisturizer, which containers ceramides that deeply penetrate the skin's cells. Ceramides are vital building blocks to maintaining the skin's moisture barrier. If you have sensitive skin, environmental factors, genetics or various irritants can strip your skin of its ceramide barrier.
The Curel moisturizer is specially formulated, not only to replenish your ceramides but also for easy application. I apply this post shower before toweling off while the skin is still wet – this makes it incredibly easy and ensures that I don't forget!
For the room, I have started to use a humidifier which keeps the room temperature at a more comfortable "wet" level and means that turning up the heat doesn't immediately dry out my skin. I use this massive Honeywell humidifer so that I don't have to constantly refill the water.
Meanwhile, for toners, serums and essences I'm in the process of using a a couple different products so I'll have a part 2 once I've had a bit longer to test them. Do you suffer from dry skin and have any products to recommend me? Let me know in the comments if so!