ADVERTISEMENT
Caudalie Spa NYC
It's been a while since I've done a beauty pamper session!
So, last Thursday I booked an appointment at Caudalie Spa to try their signature service – the Grand Facial Treatment.
I've used Caudalie products for years so I was curious what the spa experience would be like. It didn't disappoint! Here's a quick look at Caudalie L'Appartement spa, the treatment and overall experience.
Keep reading or pin this article for later ⇟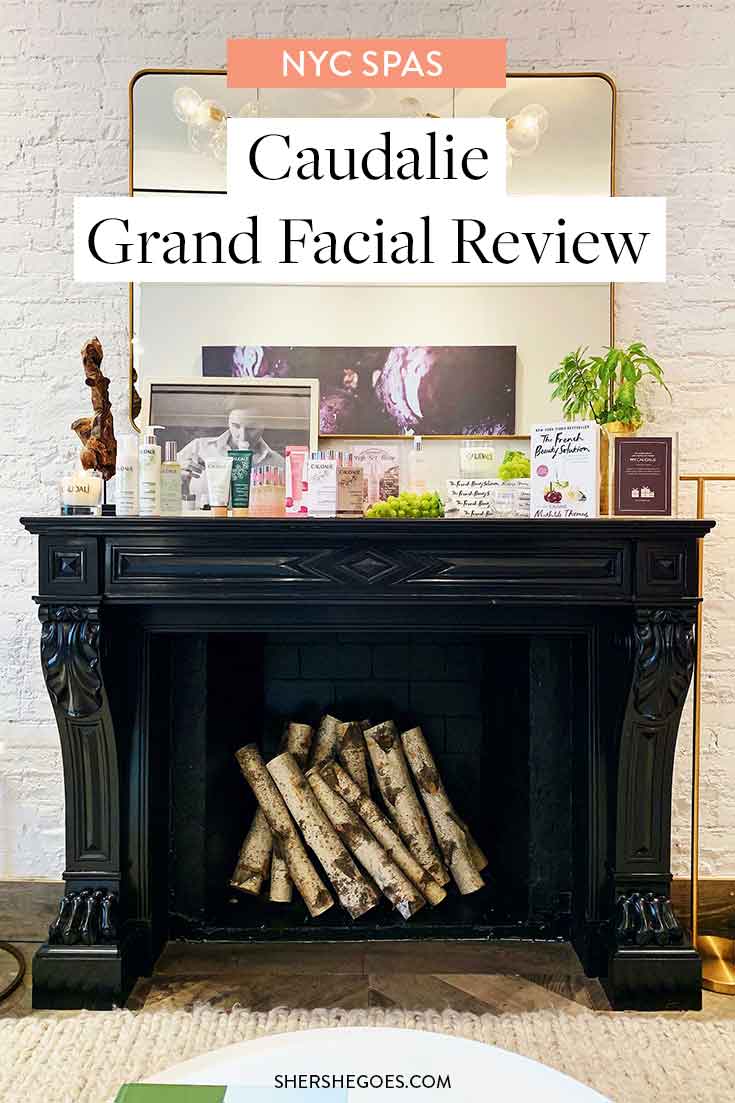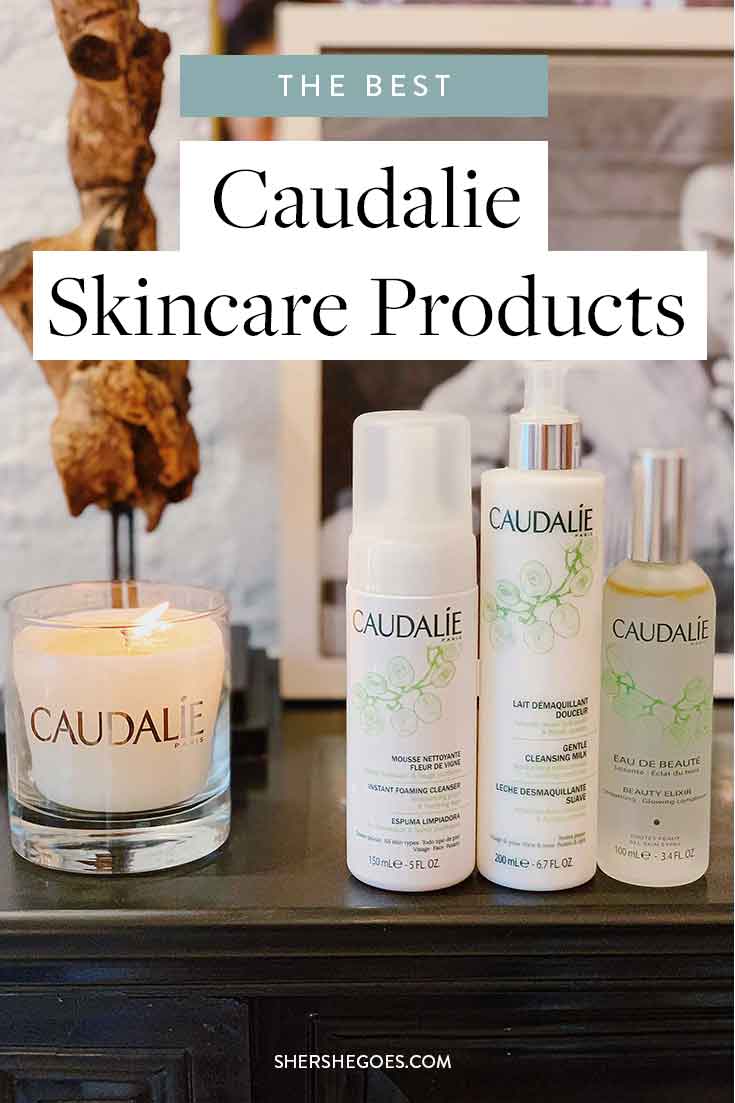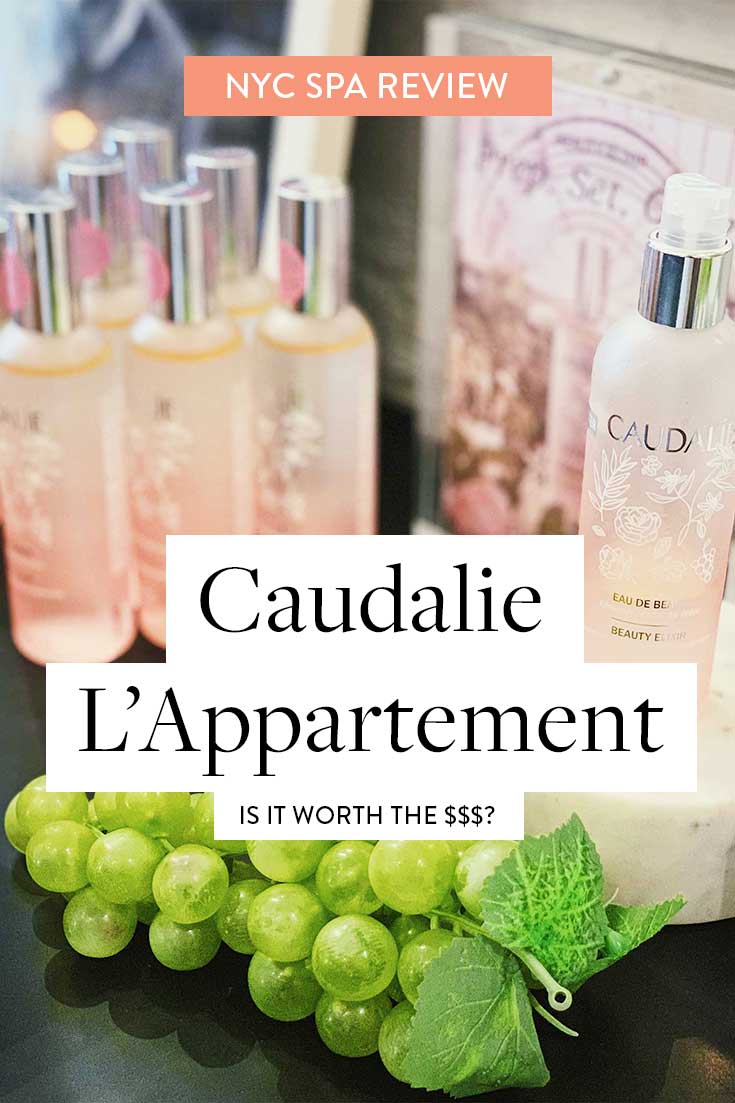 Caudalie L'Appartement
Before they re-located to Madison Avenue, Caudalie's spa was located inside the Plaza hotel. The moment I stepped into the Caudalie Apartement, I could see why they moved!
The light, warm space is decorated like a chic Parisian apartment. In fact, my esthetician Daphne revealed the space was inspired by Caudalie cofounder Mathilde Thomas's Parisian apartment! From the statement fireplace to the shelves stocked with Caudalie products, it was beautiful.
I was a bit early, so I settled on the couch and was about to sip my tea and flip through some design magazines. Instead, they offered to start my treatment early – a nice surprise!
ADVERTISEMENT
---
---
Grand Facial Treatment
I couldn't wait to see how the French would approach the standard facial.
The esthetician started off with some routine questions, about what products I use, any concerns and what I was hoping to achieve. She immediately noticed that my skin was a bit clogged and promised to take care of the pesky blackhead on my T zone.
The Grand Facial is customized to your skin. Based on my summer skin (not great, to be honest), we agreed to focus the facial on cleansing and brightening.
ADVERTISEMENT
---
---
Cleansing
Daphne started off with a combination of Caudalie's foaming cleanser and cleansing milk. While I mix my Vitamin C and retinol in with creams, I never thought to mix cleansers – so I stored that tip away for later!
The combination of the deep purifying foam cleanser and lighter cleansing milk was perfect. To really ensure a thorough clean, she used a Foreo device.
I have a Clarisonic at home, which I use ~1-2x a week. I've never used the Foreo Luna before but was always curious to how the devices compare. The Foreo vibrations are much stronger – I could really feel my skin pulse. Daphne mentioned the spa prefers Foreo devices as they're made of silicone and don't hold on to bacteria. It makes sense, especially when a spa has patients all day long.
For me – I'll be more diligent about keeping my Clarisonic brushes clean and swapping them out frequently!
ADVERTISEMENT
---
---
Extractions
Next, she sprayed some of the famous Caudalie Beauty Elixir (one of my favorite products from the brand for that misty pick me up, refreshed feeling) and used a steamer to open up my pores.
Once my skin was cleansed and ready, she went to town on the extractions.
I have to say, these did hurt slightly. My nose especially was so clogged with blackheads that I was relieved to have her professional hands tackle the job but also glad when it was over. My skin is pretty sensitive so I left with a bit of a Rudolph nose, ha.
ADVERTISEMENT
---
---
Mask & Massage
Finally, the mask stage.
Since my pores had been steamed and cleaned, we used the Caudalie Purifying Mask to help tighten the pores back up and soothe the skin.
And an unexpected bonus was the massage! The luxurious Grand Facial includes a solid neck, arm and foot massage that felt like bliss.
After, she applied a concoction of Caudalie products, including the famous Vinoperfect serum for dark spots, Vinosource hydrating cream and Premier Cru eye cream.
She mixed in a bit of sunscreen into the day cream and recommended that for everyday use, a small amount of sunscreen is enough. A full layer of SPF across the face can clog the pores and is unnecessary if you'll mostly be indoors.
ADVERTISEMENT
---
---
The more I try out spas in New York City, the more I learn!
At Caudalie, they recommended a facial massage to really stimulate the blood vessels in the face and help with product penetration. I loved the feeling of the two jade rollers, so they're on my next Amazon order.
They also reinforced the idea of mixing products and exfoliation. A gentle buffing cream can help loosen up the dirt and blockages from the pores and is soothing enough for everyday use.
I'm going to try combining a deep cleanser and milky cleanser at home too, to see if that helps with keeping my skin clean!
ADVERTISEMENT
---
---
Caudalie Spa Review
Throughout the treatment, Daphne explained which products she was using and why. I always appreciate learning more about skincare and knowing what the esthetician is doing, so that was nice.
The room itself was incredibly peaceful and relaxing. Behind the mirror, there was a clever closet to store my clothes. Sometimes in NYC, spas are so small that there's just a single hook to put all your clothes, so I always appreciate a well ordered treatment room!
Afterwards, Daphne lined up the products that she used on the counter, so I could get an up close look.
She met me in the living room and left me with some final recommendations for how to maintain my skin in between treatments and provided some product suggestions.
There's plenty of Caudalie products in the gorgeous apartment library, so you can pick up anything you need. But, the entire process wasn't sales-y or pushy (which I can't stand) so overall, the treatment was great!
The Caudalie Grand Treatment is definitely a splurge over an everyday facial. If you're looking to treat yourself, I would recommend it for the attention to detail, service and bonus massage!
ADVERTISEMENT
---
---
Caudalie Spa
If you're looking for a magical French oasis in New York, head to the Caudalie spa. The transformative Parisian apartment is beautiful, Instagrammable and luxurious – with a full array of services.
There are 4 service rooms in the compact Caudelie Madison Avenue spa, offering both facials and body treatments. I asked which were the most commonly requested treatments and the staff mentioned that 3 in particular are highly requested:
the Grand Facial (which I got)
the Vinosculpt Instant Lift (which uses micro current)
the Hydra-Cleanse
There's also a Caudalie Spa in Greenwich Village if you live downtown.
Best of Caudalie
---

Follow me @Sher She Goes on