Nordstrom Anniversary Sale 2020
Back when COVID was hitting New York City pretty hard in March, I heard from people in the retail industry that it had thrown a wrench into planning for the rest of the year.
Fashion operates on a long cycle and brands typically place orders for their fall and winter months in advance, in order to plan for Q3 and Q4 (the busiest time of year for retail).
Nordstrom is no exception and apparently their plans for the annual Anniversary Sale were due to be made right around the time of the pandemic.
So it seemed like the was going to be cancelled in 2020, like most other events this year…
ADVERTISEMENT
But it turns out the sale is happening!
Nordstrom decided to continue their annual tradition, with a couple changes for the unique impacts of operating during a pandemic.
Here's a quick overview of everything you need to know about the Anniversary Sale in 2020.
Read more:
The 9 Best Picks from the Nordstrom Sale, in Every Category
ADVERTISEMENT
---
---
Nordstrom Sale Most Popular Items
In the past, these were the best selling brands and items from the NSale.
ADVERTISEMENT
---
---
Nordstrom Anniversary Sale Best Sellers
Historically, fall shoes, cardigans and jackets were the most popular items. But with the current situation, I'm thinking active wear and cozy lounge wear might be more popular this year.
I took a look at everything on the site and here's what stood out to me from the 2020 Nordstrom Anniversary Sale:
Top Picks

ADVERTISEMENT
---
---
Best Nordstrom Sale Picks Under $50

ADVERTISEMENT
---
---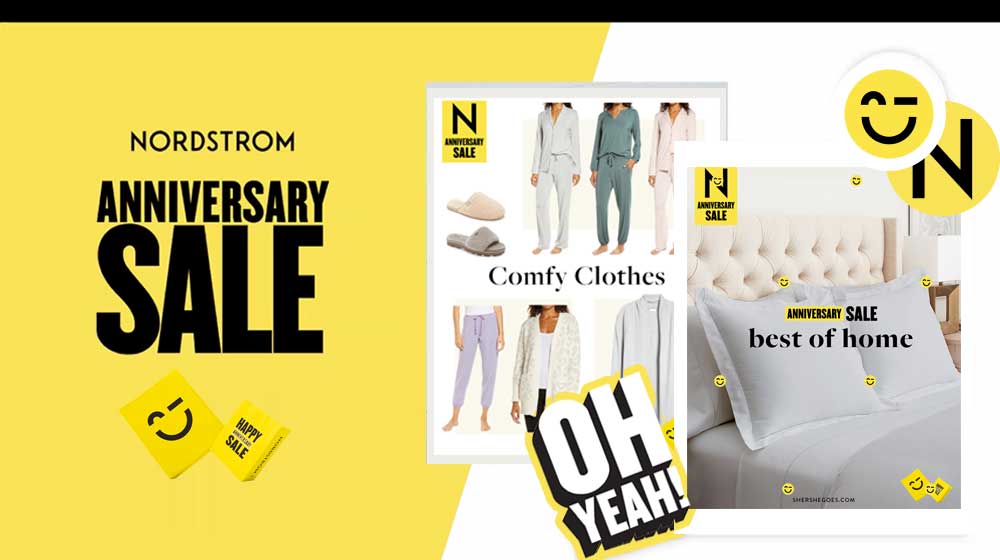 What is the Nordstrom Anniversary Sale?
The Nordstrom Anniversary Sale is a flip on the traditional meaning of a sale. Instead of discounting late season stock to clear out shelves for the new season, the NSale offers discounts on new arrivals for the upcoming Fall season.
Then after the sale, they raise the prices back to 'regular' rates.
What Brands are Included in the Nordstrom Anniversary Sale?
Nordstrom has a pretty solid mix of participating brands.
Brands like Vince, Topshop, Madewell, Nike, UGG and The North Face are included.
You'll also find brands like Halogen, Zella, Leith and Caslon which make great basics.
Then there's typically some designer and higher end brands like Longchamp bags, Michele watches, Stuart Weitzman shoes and Tumi luggage.
ADVERTISEMENT
---
---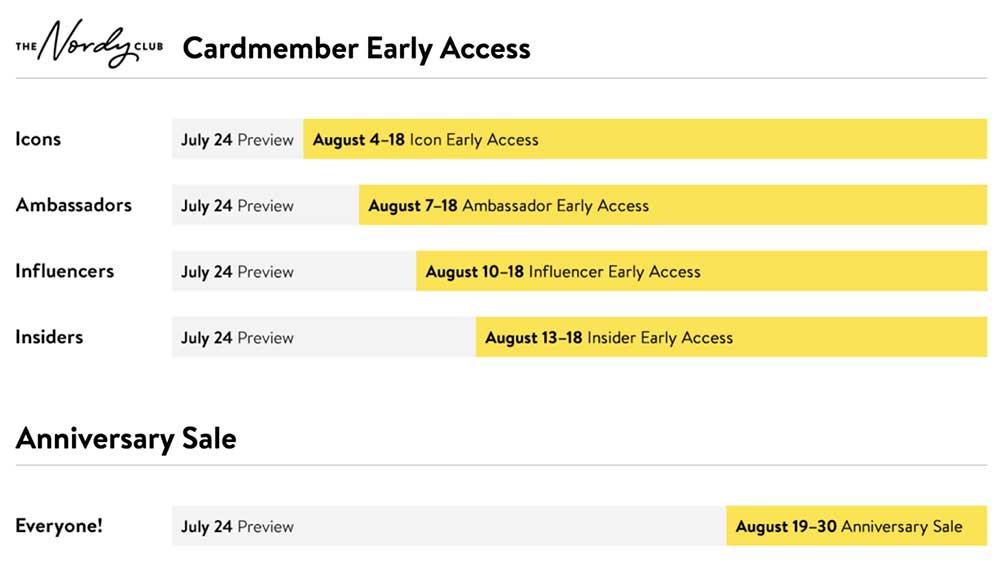 When is the Nordstrom Anniversary Sale?
This is one of the big changes about the NSale in 2020.
In the past, you'd get a catalog in the mail in late spring, where you could preview a small selection of what would be included in the sale. Then the Nordstrom Sale would launch in mid July.
This year, the Nordstrom Anniversary Sale will be from August 19-30th, 2020.
You don't have to wait or be a past customer to get the catalog preview – instead you can see the entire sale merchandise here.
ADVERTISEMENT
---
---
Nordstrom Anniversary Sale 2020 Dates
For the public, the sale is open to shop on August 19th.
But if you're a Nordstrom cardholder, you can shop the sale early depending on your card status (eg, Icon, Ambassador, Influencer, Insider).
Status is dependent on how much you spend, kind of like how airline status is these days. You can check your status by logging into your Nordstrom account.
Here's the Early Access shopping dates:
| | |
| --- | --- |
| July 24 | Nordstrom Anniversary Sale Preview Begins |
| August 4 | Icon Early Access |
| August 7 | Ambassador Early Access |
| August 10 | Influencer Early Access |
| August 13 | Insider Early Access |
| August 19 | Sale Opens to the Public |
| August 31 | Anniversary Sale Ends |
Online shopping begins at 9:30am ET/6:30am PT on each access date.
You can also shop the sale in person, although I don't know how many people are doing that these days due to the pandemic. I walked by the Nordstrom flagship in NYC last week and it was pretty empty.
ADVERTISEMENT
---
---
Best Way to Shop the Sale
The easiest approach is to shop online, so you avoid the madness in store. Nordstrom carries the full inventory online and only a small portion in store.
I hate paying for shipping, so in past years I've chosen the regular standard shipping option. That was a mistake – the free shipping option takes forever (close to 2 weeks).
At checkout, you can also select 'store pickup' if there's a location near you and you want to pick everything up to receive it ASAP. That's usually much faster than waiting for shipping.
But, this year with the pandemic I'm not sure driving to the store is worth it.
Nordstrom Shipping Rates
Standard shipping: FREE
Two Business Days: $12
Next Business Day: $20
Saturday Delivery: $35
Same Day Delivery: $15 (but $20 in NYC)
Same day delivery is an option if you want your stuff right away. Orders placed by 4pm local time are delivered by 8pm the same day, otherwise orders placed after 4pm will be delivered the following day.
ADVERTISEMENT
---
---
No Coupon Code Needed
The Nordstrom Anniversary Sale does not need a coupon code. To shop it online during Early Access, you just need to be logged into your Nordstrom account.
In store, the anniversary sale items are curtained off from the regular merchandise. To shop in person during Early Access, the sales assistants will verify your status and give you a wristband.
Are there Restocks?
Years ago, Nordstrom used to have an early access period and a public access period. The sale would restock some of the most popular items once the public sale opened.
But in recent years, the Anniversary Sale gets more and more popular and Nordstrom seems to want to encourage cardholders to shop early. I've noticed less restocks happening as things sell out faster, and the only want to grab items that you missed is to wait for returns.
ADVERTISEMENT
---
---
Nordstrom Notes
If you're a Nordstrom Rewards member, you can earn Rewards points on all of your purchases. Every 2,000 points you earn can be redeemed for $20 Nordstrom Notes.
Depending on your cardholder status, you can earn up to 3x points per $1 spent.
Getting Double Points
Nordstrom allows any Nordstrom member to schedule a Personal Double Points Day for special occasions.
Usually this would be for a big purchase event or your birthday, but you can also schedule this to take place during the Nordstrom Anniversary Day!
Just select 'Personal Double Points Day' at checkout.
ADVERTISEMENT
---
---
What are you buying in the sale? Do you still get excited by the Nordstrom Sale?
Read More about the Nordstrom Anniversary Sale:
Nordstrom Anniversary Sale 2020
Everything You Need to Know about the NSale: Dates, Catalog & Shopping Tips
The 9 Best Things from the Nordstrom Anniversary Sale 2020
Previous Nordstrom Anniversary Sale Coverage
The Best of the Nordstrom Sale 2018
Nordstrom Anniversary Sale 2017: Workwear Picks
Is the Nordstrom Sale 2016 Worth Shopping?
Follow me @Sher She Goes on