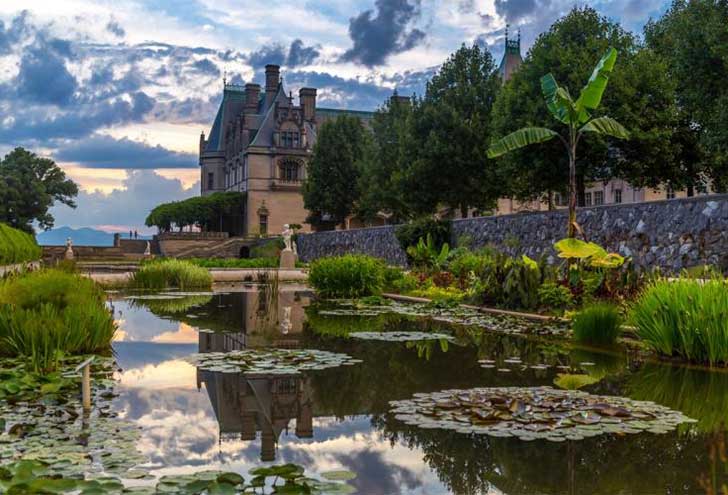 Where to Stay in Asheville
Nestled in the Blue Ridge Mountains of Western North Carolina, Asheville has for years been quietly developing a reputation as one of the South's most treasured under-the-radar vacation spots.
Whether you're interested in checking out the historic Biltmore Estate, heading downtown for some craft beers and live music, or simply enjoying the experience of the great outdoors, there's something for everyone in the Land of the Sky.
Keep reading for our favorite places to stay in Asheville, NC!
---
---
Best Hotels in Asheville, North Carolina
To summarize, here's a handy chart of our recommended Asheville hotels. All include free wifi and are known for comfort, great locations and great customer service.
Best Asheville, North Carolina Hotels – Summary Comparison Chart
Below is more information about each hotel and why we recommend it!
---
---
The Omni Grove Park Inn
When it comes to a one-stop shop for all that's wonderful about modern luxury resorts, it doesn't get much better than Asheville's Omni Grove Park Inn.
The Inn's 513 guest rooms means there's something to fit every vacation, but for a truly elevated experience check out the Club Floor, an adults-only oasis of 28 suites with spa-style bathrooms and even personal concierge service!
---
---
The Inn on Biltmore Estate
When it comes to pure and speechless beauty, there is little that compares to the Inn on Biltmore Estate. The hotel is iconic and stunningly decorated with over 200 beautiful guest rooms and 9 elegant suites.
Located on the world-famous Biltmore Estate grounds, the Inn is the most luxurious of the grounds' three lodges and contains everything from multiple tennis courts and golf courses, a series of incredible luxury boutiques and, remarkably, the most visited winery in the entire United States!
---
---
Grand Bohemian Hotel Asheville
Located just steps away from the palatial Biltmore Estate in nearby Biltmore Village, the Grand Bohemian Asheville is a beautiful blend of worlds old and new.
Don't let the Tudor-style façade or antique, hand-carved furniture fool you: the Grand Bohemian has all the amenities of a modern luxury hotel including a full-service spa, multiple fine dining restaurants, and even a jazz bar with live music daily!
---
---
Hilton Asheville Biltmore Park
Located in picturesque Biltmore Park Town Square, the Hilton Asheville Biltmore Park pairs the old-town charm of Asheville with the modern amenities and convenience you would expect from a Hilton hotel.
With a full-service spa, multiple restaurants, and over 4,500 square feet of business and event space, the Hilton Asheville Biltmore Park is a perfect destination for families, couples, and business travelers alike!
---
---
At Cumberland Falls Bed and Breakfast
Having operated in Asheville for nearly two decades, it's difficult to say what has become the most famous aspect of the treasured At Cumberland Falls Bed and Breakfast Inn.
Whether it's the spacious and rocking chair-adorned front porch, the gorgeous koi pond and garden, or the beautiful pineapple water fountain (a famed symbol of Southern hospitality), the At Cumberland Falls B&B will give you a tantalizing crash course in all that's naturally beautiful about the South.
---
---
And that's it! Our guide to North Carolina's best hotels to make the most of your stay.
Whether you're looking for the best location in town, family hotels for kids, or a luxurious hotel for couples, these top hotels in Phoenix are sure to please.
Follow Sher She Goes on