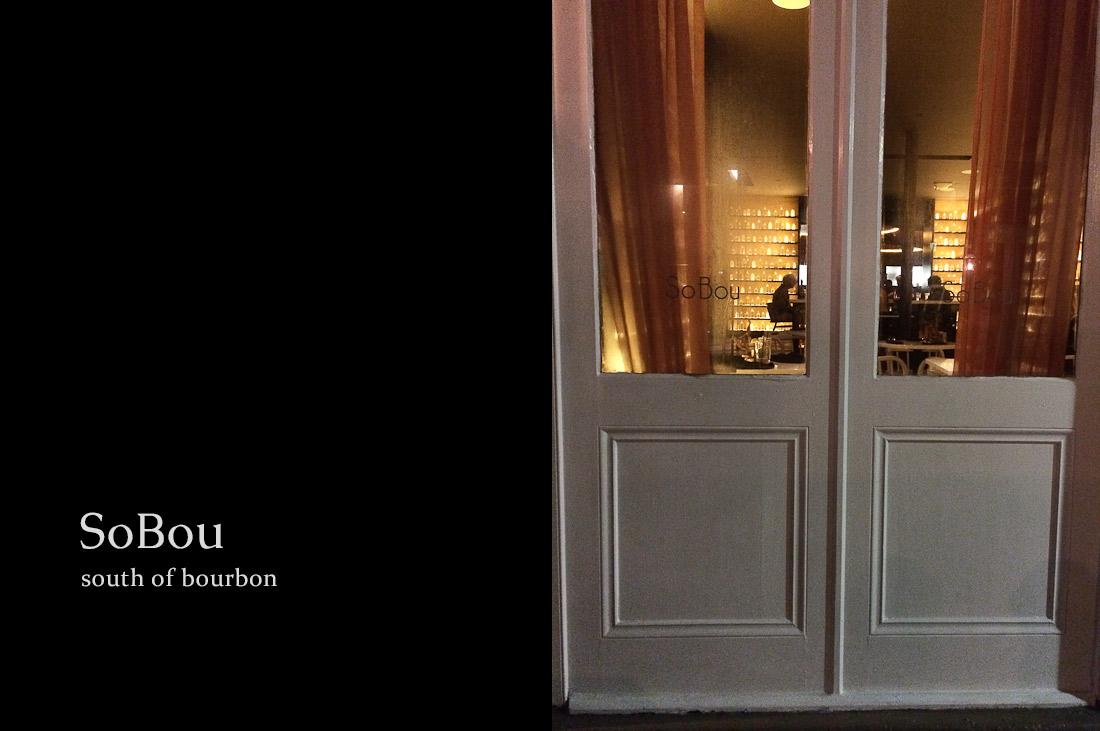 Dinner at SoBou New Orleans
Restaurant Review
We stepped into Sobou while in New Orleans looking for something different and boy, is this restaurant unique! There are illuminated glass bottles and glowing walls as part of the decor, cozy booths and a large bar in Sobou, an eatery that bills itself as a "spirited restaurant". The name of the restaurant itself is an abbreviation for its location south of famed Bourbon Street.
The menu is eclectic and not for the conservative eater. We tried the yellowfin tuna cones, which were topped with basil avocado ice cream and packed with pineapple and yellowfin tuna underneath, as well as the sweet potato beignets, which featured foie gras fondue and duck debris served with a chicory coffee ganache. Despite the odd sounding ingredients, both appetizers were quite delicious! The cones were quite small, but the creamy ice cream and tarte ceviche paired well together. I was hesitant about the beignets, as I absolutely detest foie gras but the taste wasn't really noticeable.
FYI – duck debris is the drippings and juicy bits that fall off the bird when you roast it – I had to ask the waiter what this was, as it doesn't exactly sound all that appetizing. The ganache was great too! I definitely tasted chocolate and chicory and the glaze gave a little sweetness to counteract the savory.
For our main, we chose the SoBou surf and turf, which is a two-person family style entree of smoked cochon de lait (that translates to pig in milk but is a french term for suckling pig), crispy Louisiana oysters and grilled tortillas. It's a fun make-your-own tacos and get-your-hands-messy kind of dish. I alternated between making separate oyster and then pig tacos but I imagine it might be good to combine them in one? Overall, the dish was great. I was a little worried about it not being filling enough for two people, but we made three tacos each and still had some pork, oysters and toppings left over on the side.
Unfortunately we didn't get to have dessert, as my first pick, the candied pecan chocolate fudge brownie and my second pick, the pecan pie, not pie were both sold out. This is one hip happening spot! If you ever visit New Orleans and try the desserts, let me know how they taste! Also get their early and order the dessert with your entire order, so they know to save you some ha! Generally, most of the desserts in New Orleans are to be ordered with the rest of your entrees, as they state that things like bread pudding, pies etc are made to order and need 20 – 30 minutes advanced notice. We didn't do it for this one meal and boy – did I regret it! Still the meal was great on its own.
Also one last thing – I didn't know it at the time, but I found out that SoBou is a creation of the owners of Commander's Palace, where we ate on our first day in New Orleans. As this was our last meal of the trip, our culinary adventures certainly came full circle! I would whole heatedly recommend this spot – the prices aren't bad (for the French Quarter), and I thought the inventive dishes were really unique and not to be missed.
Headed to New Orleans for a long weekend? Check out my city travel guide and 4 day itinerary here.