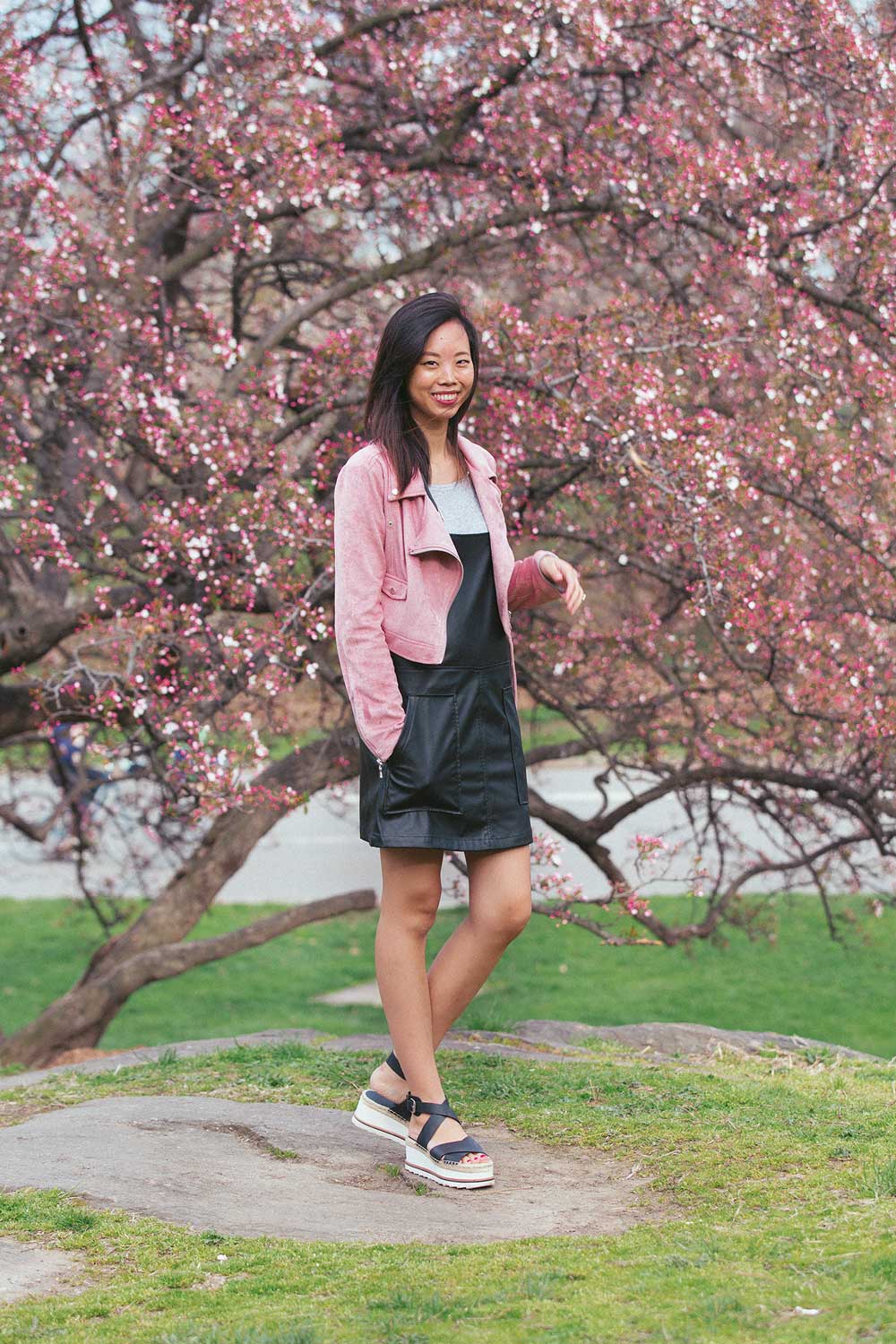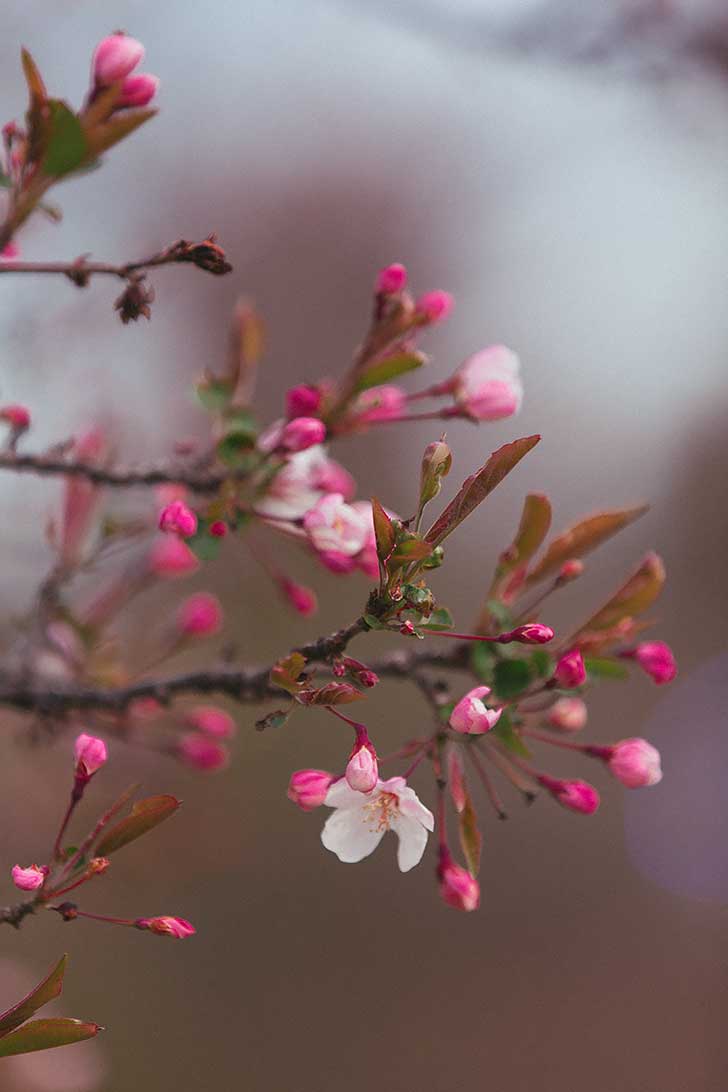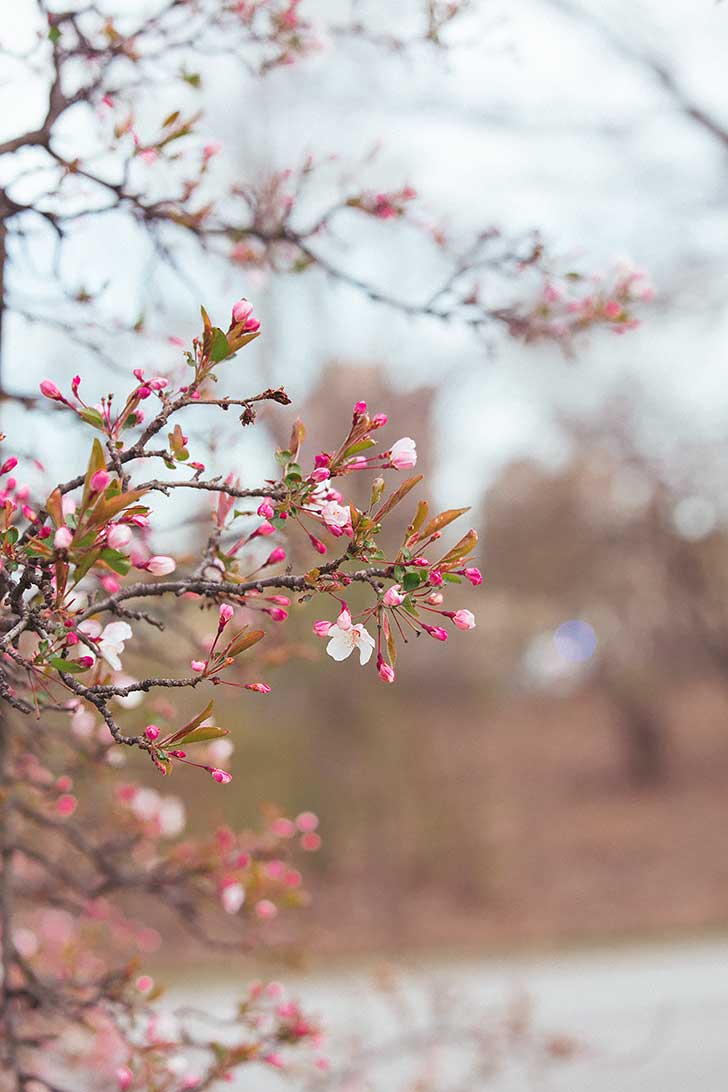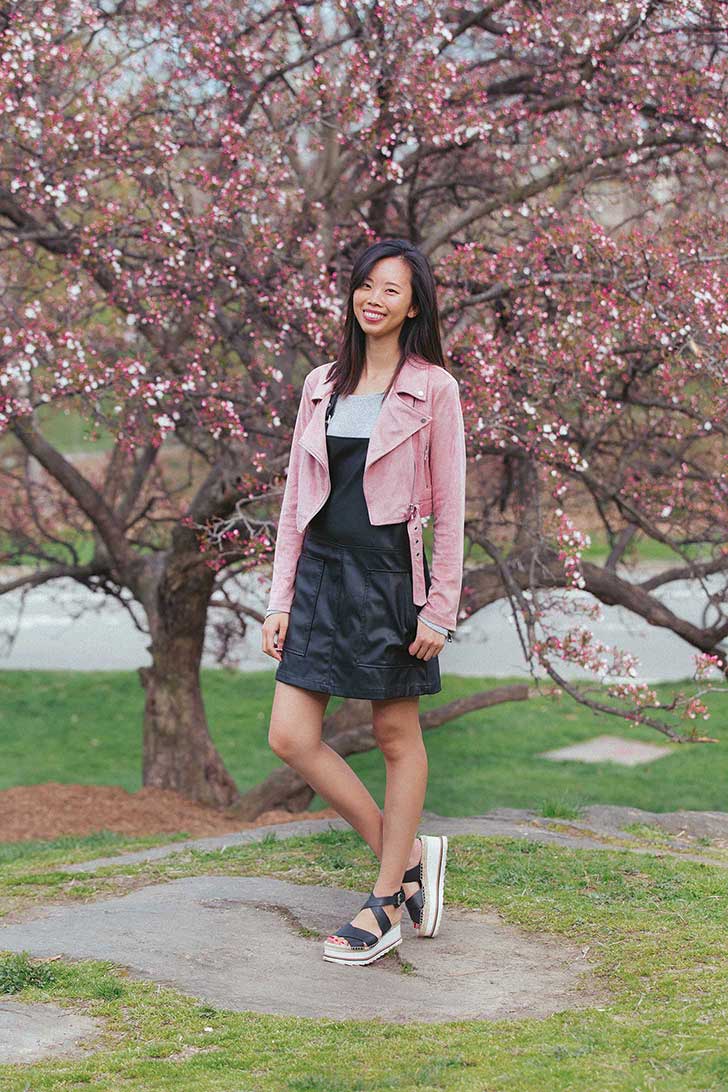 ---
L&T Suede Jacket (under $60 + extra 30% off) / Asos Pleather Overalls (under $40, also similar here)/ Marc Fisher Flatform Sandals (also like these, 40% off)
---
Happy Friday
I realized I've been writing a lot of travel-heavy posts so I wanted to pop in with a quick "life in NYC" update and share some spring sales happening this weekend.
Spring Workouts
This week the weather was fantastic so we started working out again. We are on Week 1 of the BBG and my legs are killing me. Somehow I seem to always start week 1 and not progress very far, so this year I'm really hoping to complete all 12 weeks.
For LISS, we do the full lap around the Central Park reservoir. It's a nice, scenic walk around the lake and just a little over 1.5 miles in length, so we get in the full 30-45 minute LISS workout that way.
We also took the opportunity to snap some more photos by the cherry blossom trees! I love the beginning of spring and hearing all the birds chirp again. Outside my apartment windows we have a bit of a ledge and all winter the pigeons would stroll back and forth along it and now my AC unit has so much pigeon poo. I'm hoping they migrate now that it's warmer.. even though I know they probably won't.
I've also been thinking of trying out Class Pass again. They are offering some amazing deals where all plans are 70% off and the intro plan is 3 classes for $13.50!
Upcoming Plans
Next Saturday (one week from today), I'll be stopping by the Macy's flagship store in Herald Square for the Harlem Eat Up! event. It's going to be centered around food, music and culture and co-hosted by Marcus Samuelsson and Harlemite Karl Franz Williams.
One of the restaurants on my long NYC-dinner bucket list is Red Rooster so I'm so excited to attend this event! You can read more about the Macy's event I attended last month here. There will be a chance to taste Harlem's dynamic culinary scene with a number of other prominent Harlem eateries. Here is the full list:
Red Rooster Harlem
Streetbird Rotisserie
blujeen
Vinateria
Chaiwali
Oso
Melba's
I hope to see some of you there! You can grab a ticket through Eventbrite here. All festival attendees will receive 2 drink tickets, a $25.00 Macy's gift card and wristbands for samples from the participating restaurants.
If you purchase $40 or more from the Home Department the day of, you'll also receive a copy of The Red Rooster Cookbook, which Marcus will sign! I can't wait and hope you'll join me.
Weekend Sales
Lord & Taylor – 30% Off
Also going on this weekend are some really great sales! The Lord & Taylor Friends and Family sale is still going on for a couple more days where most everything is 30% off. You can get an extra $20 off if you spend $160 or more on Sunday 4/16 only, using my secret code BONUS.
I am loving the suede pink jacket I got and have been wearing it nonstop (you can see more outfit photos of the jacket from different angles in this previous post). I took a quick look once more and there's lots more sandals and handbags for spring that I thought were cute.

Ann Taylor – 50% Off
And finally, my workwear favorite Ann Taylor is offering 50% off all weekend. I try to avoid looking on their website because I rarely leave without buying something. They have really cute and comfortable blouses for work (none of that stiff cotton button down stuff), unique blazers and some fun skirts that are still work appropriate. I've included my favorites from the sale below. I usually scoop in when their sale stuff is 60% off but 50% off everything (even new arrivals) is pretty rare and a really good deal.

Shopbop – up to 25% Off
Also going on is Shopbop's annual sale – it's 20% off if you spend under $500 and 25% if you spend over $500. Shopbop is one of my absolute favorite online stores but they carry some higher end designers that also leave my wallet hurting, so I love when they do a sale! Last day is today! Almost all the items below that I picked are under $100, to keep it reasonable :)

Hope you all have a great weekend!