Thank you Calphalon for sponsoring this post. Calphalon products are the perfect addition to your wedding registry and home kitchen.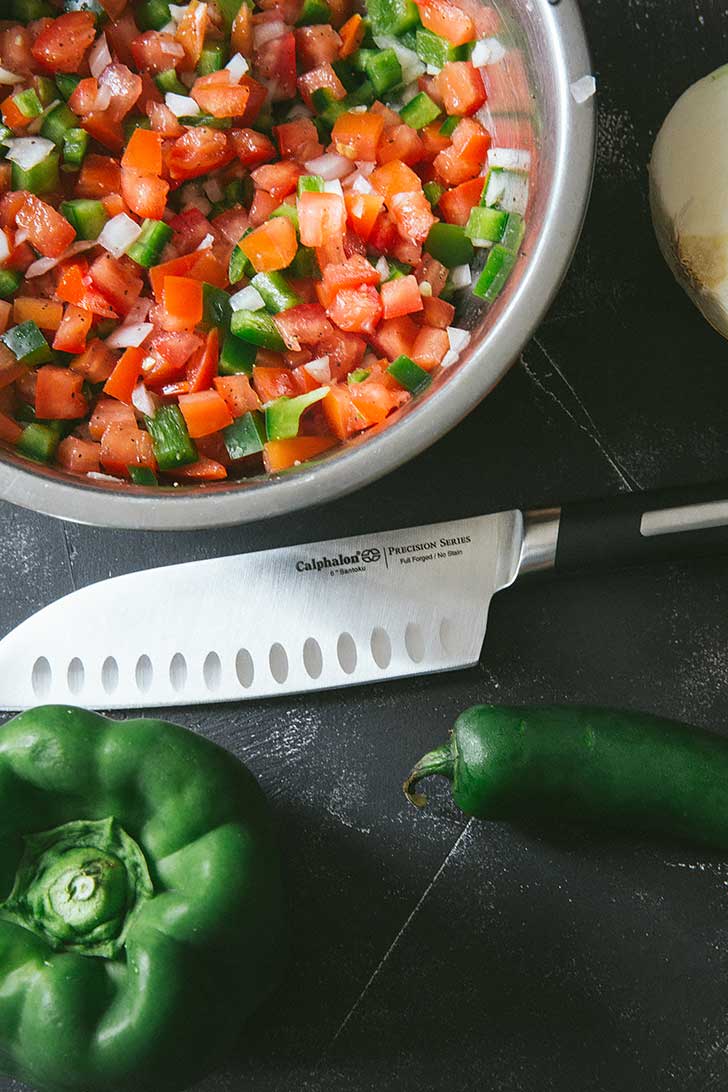 Ever since we moved uptown, we've had a bit of a lifestyle change. Uptown NYC is much more family friendly and residential – we have schools every block, the park as our neighbor and lots of fresh produce and grocery stores. As a result, we've morphed into homebodies and find our new date nights to be at-home cooking marathons.
Today I wanted to share one of our absolute favorite date night recipes to cook. While we definitely love to experiment, we have a couple "go-to's" that we reach for over and over. They're comforting, they're homey and best of all – they're easy and delicious!
Our 2 favorites are everyday meatballs and beef tacos with salsa. I shared our everyday meatball recipe in this post (which is one I usually make) so today I thought I'd share our tacos (which C makes)!
I also wanted to share a little kitchen update. It's taken me a little bit longer than I anticipated to fully furnish our apartment and new home but thankfully the kitchen is finally complete! Our registry is chock full of kitchen items, appliances and cookware and thanks to Calphalon, we now have a full set of Calphalon cookware and baking products.
Previously we had a mish-mash of old pans and cheap pots and there is nothing worse than trying to whip up a great meal with bad pans. My baking sheets were warped and browned, my inexpensive pots were charred on the bottom and had handles that got really hot to the touch. We also had a set of colorful rainbow knives (which C referred to as teletubby knives) that were inexpensive but quickly dulled after about 6 months of use. Let me tell you, there is nothing more annoying that reaching to cut a vegetable and having to sharpen knives before every use.
Now that we've used the Calphalon products for about a month, I wanted to share how they performed and compared. Spoiler: I love them!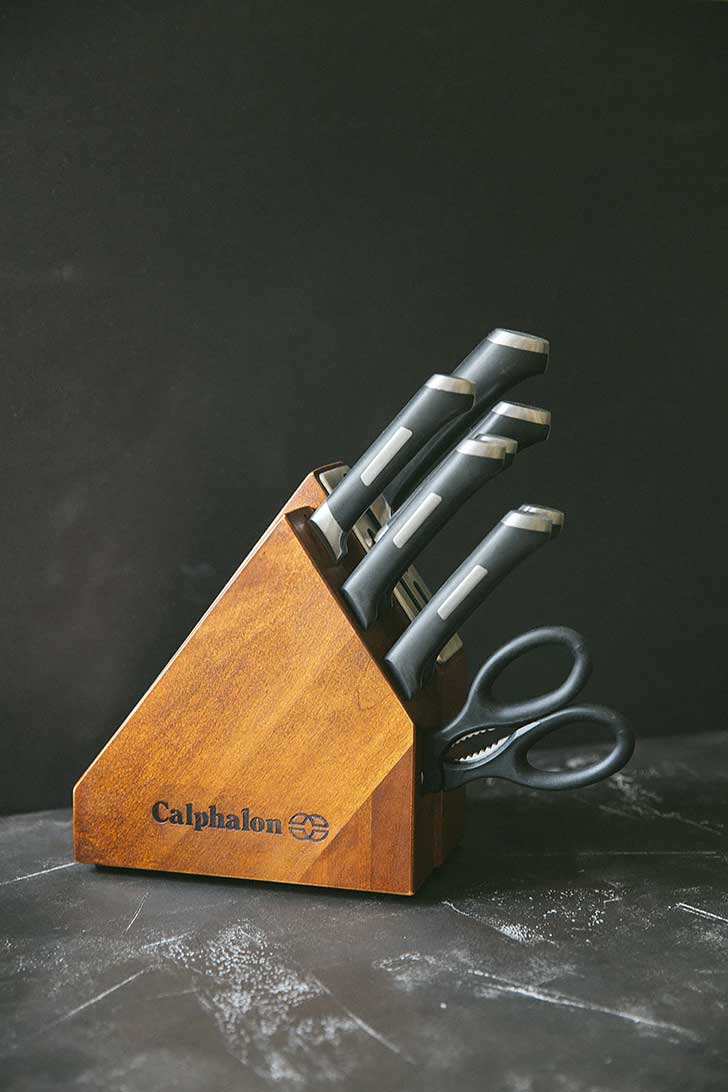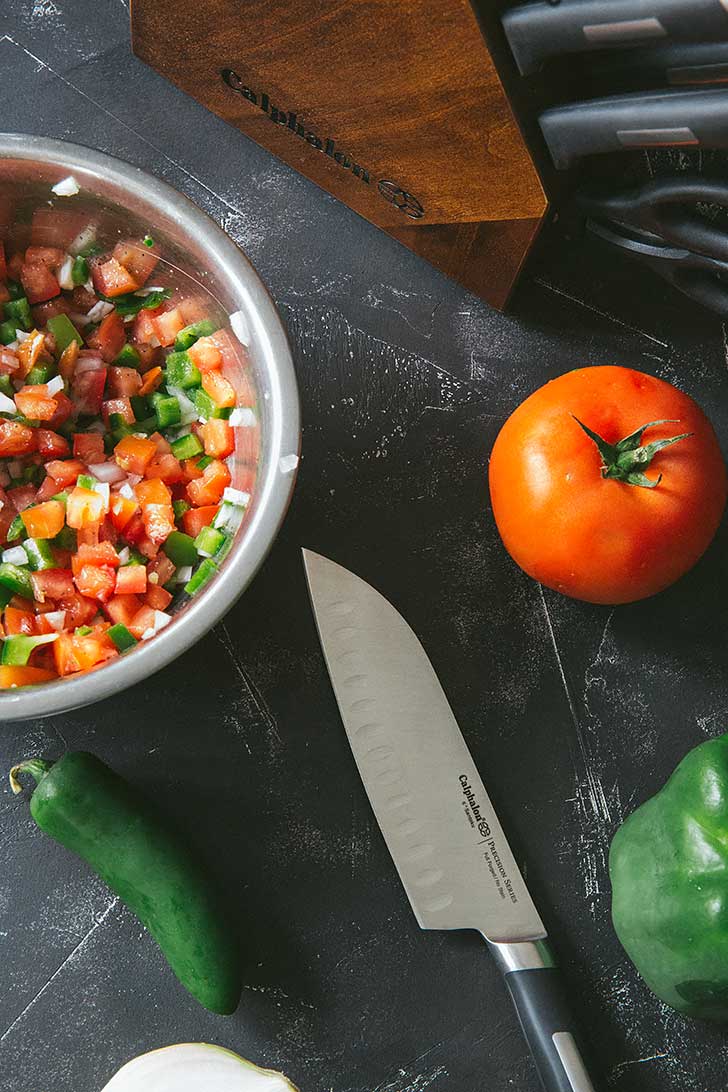 If you're putting together your wedding registry, I highly recommend Calphalon for all your cooking and baking needs! The Calphalon Precision™ 10-Piece Space-Saving Self-Sharpening Knife Block Set is our favorite. The knives come in a gorgeous wooden block that helps keep the blades sharp and best of all it comes with a set of kitchen shears. For a while we shared one pair of scissors to open both delivery packages and for kitchen usage and it was grossing me out.
I also love their nonstick bakeware. The Calphalon Signature Nonstick Bakeware 6-Piece Set we received is hefty and makes beautifully done baked goods that don't stick and crust to the pan. Lifesaver! Best of all, the cookware set is made of solid construction, with stay-cool handles and matching lids, so I know we will be able to use it for years to come. The entire Calphalon Contemporary Nonstick 12-piece Cookware Set set is also dishwasher friendly which helps to keep the household argument free :)
Calphalon products are available for you to add to your registry at many fine retailers, including Bed Bath & Beyond, Crate & Barrel, Macy's and Williams-Sonoma. You can also learn more about Calphalon product offerings by visiting here or by following them on Facebook, Twitter and Instagram at @Calphalon!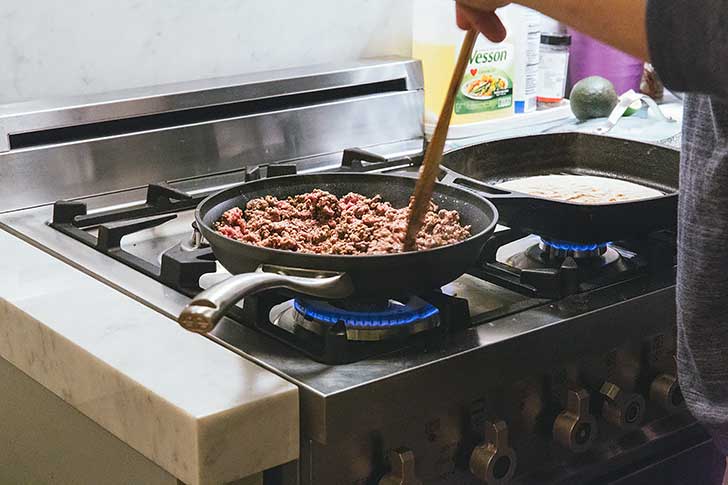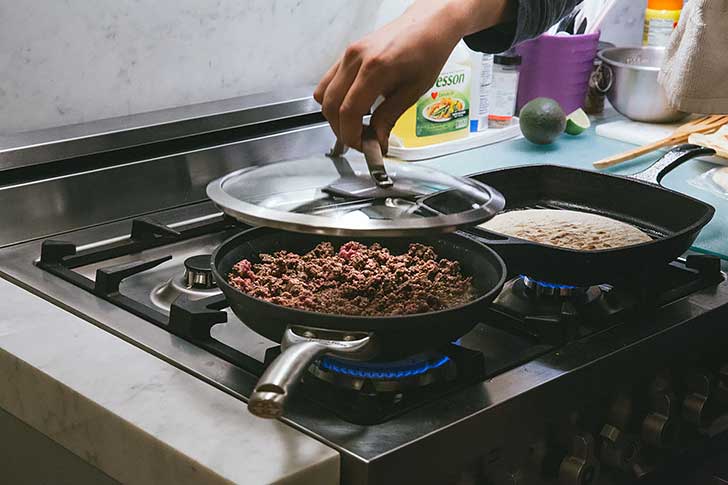 Beef Tacos with Guacamole and Mango Salsa
Ingredients
1 large avocado
2 ripe mangos
1 medium red bell pepper
1 medium white onion
fresh cilantro
1 jalapeno
1 large tomato
1 lime
1 lb ground beef
tortillas
For the beef: This is our go-to recipe for a reason. It's easy and delicious. Brown the beef in a pan on high heat – if you have a cast iron skillet it helps add extra flavor but isn't crucial. Liberally season the ground beef with salt, taco seasoning, onion powder, garlic powder, paprika and pepper. Heat up tortillas and keep warm.
For the salsa: chop mangos, tomato and onion finely. Mix, add salt to taste and keep refrigerated. If you like a bit of kick, add small jalapeno.
For the guacamole: the secret to great guac is cilantro, lime and salt. Make sure your avocados are perfectly ripe and add finely chopped onion. Mix and add a pinch of salt (don't overload if your tortilla chips are also salted). Then add finely chopped cilantro and squeeze lime juice until you achieve the right consistency. I like my guac to stay relatively chunky so I use about 1/3 of one medium sized lime. Mix and keep refrigerated.
Make your own tacos with the beef, salsa and guac! We never have leftovers when we make these (sadly). Enjoy :)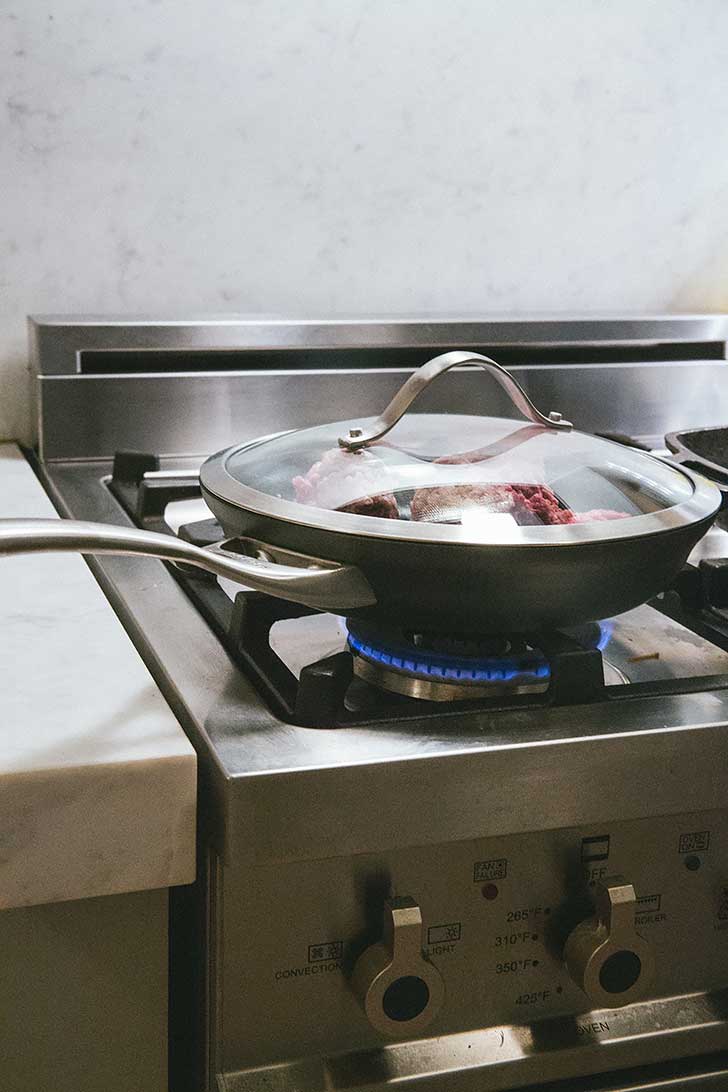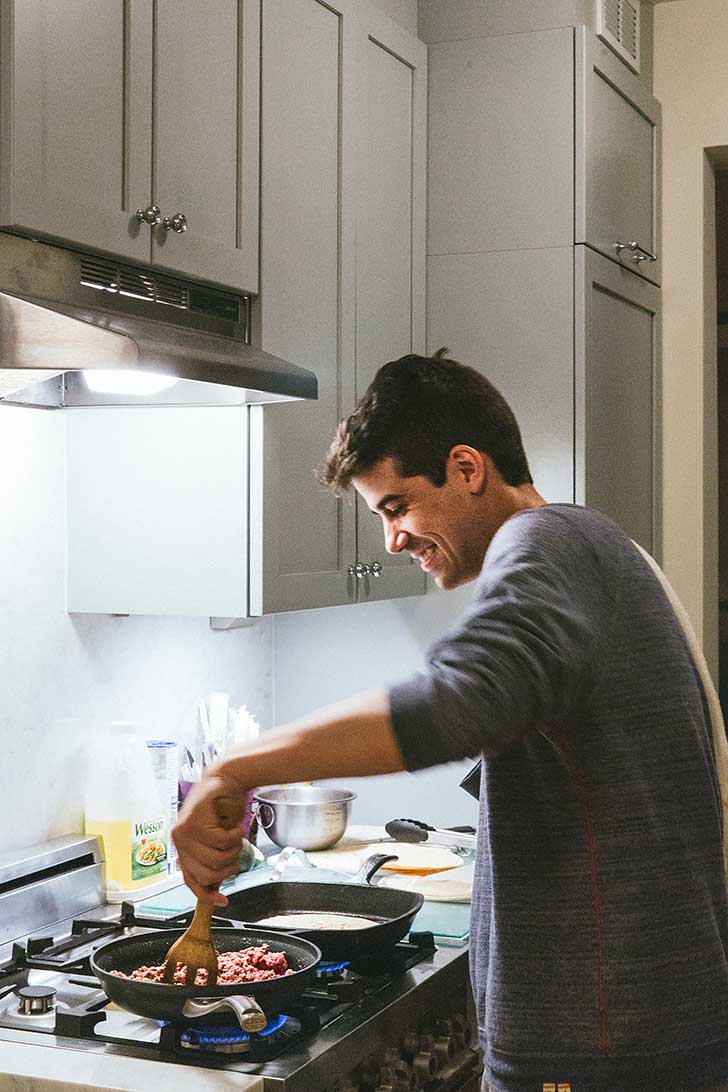 Follow Sher She Goes on
Bloglovin | Facebook | Twitter | Pinterest | Instagram
---
I was selected for this opportunity as a member of Clever and all content & opinions expressed here are my own.