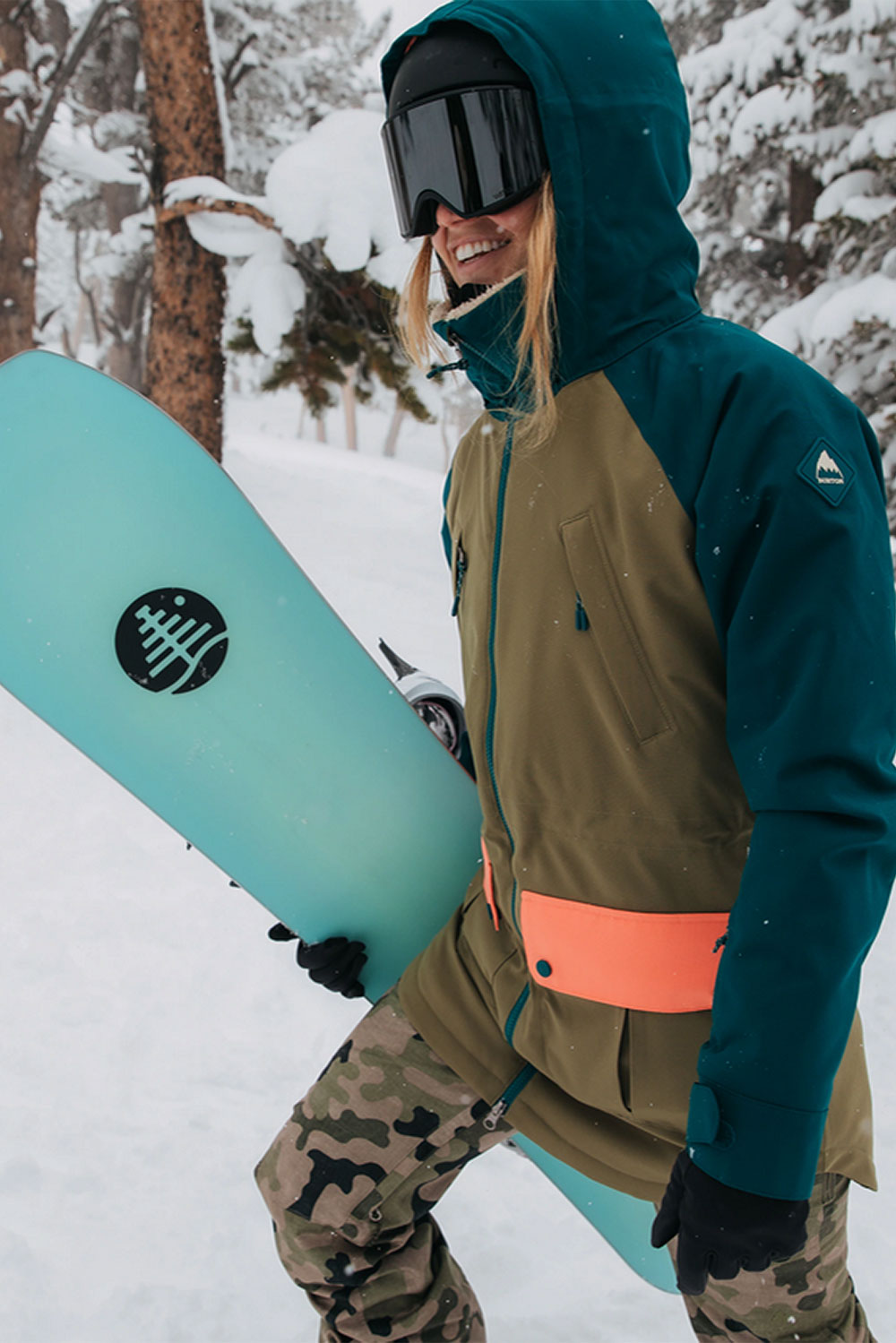 Burton's Women's Clothes
When I first started skiing, I didn't know what the difference was between ski and snowboard clothing.
The truth?
There's really not much difference.
Typically, snowboarding clothes tend to be a bit baggier and looser, and have a more streetwear vibe. Ski clothes tend to be more fitted and streamlined.
But at the end of the day, all you really need to care about is that your clothes are warm, waterproof and breathable!
Burton makes really cute women's clothes in all sorts of styles, colors and materials, so I tried out some of their best sellers.
Here's a review of Burton outdoor clothes!
Keep reading, or pin this article to save it for later ⇟
ADVERTISEMENT
---
---
Burton
Burton was founded in 1977 by Jake Burton Carpenter, a Vermont based snowboarder.
Burton played a monumental role in transforming snowboarding from a backyard hobby to a world-class sport.
Jake Burton recently passed away in 2019, but if you're interested in learning more about the founder and snowboarding, there's a documentary about his life on HBO Max.
Today, the company makes all sorts of products for snowboarders – from the boards themselves to boots, bindings and of course clothing and outerwear.
They also own a number of popular other brands like Anon Optics (snow goggles), Analog (outerwear) and Foursquare (snowboards).
One of the best things about Burton is they're a sustainable outerwear company and a Certified B Corp.
All their fabrics are Bluesign approved, meaning the fabrics are made in safe work environments, strive for sustainability and are made in facilities that reduce their manufacturing impact on the environment.
ADVERTISEMENT
---
---
Burton Review
Burton Avalon Bib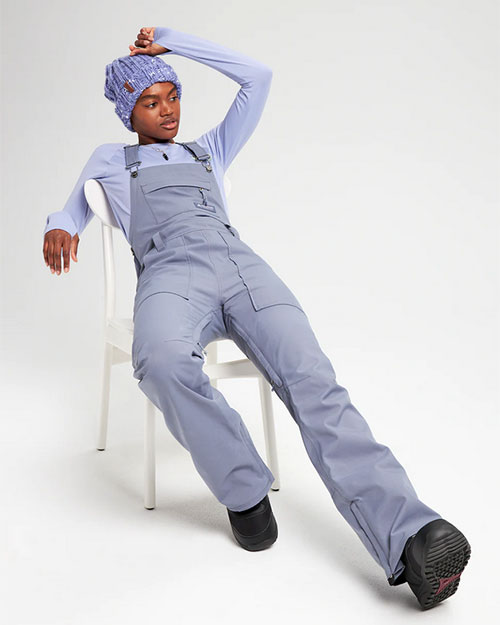 If you're looking for a cute snow bib to ski or snowboard in, check out the Avalon bib from Burton.
It has a classic overall design and the fabric is super soft, with lots of stretch. It has a more fitted design compared to most snowboard bibs, with legs that flare out on the bottom.
I thought it was really easy to get in and out of, and all the pockets make it super functional.
It also comes in tons of colors!
Note: the Avalon comes in different inseam options, but generally seems suited to taller people.
Shop on: Zappos, Burton, Backcountry, Moosejaw & Amazon
Read my in-depth review of the Avalon bib here.
ADVERTISEMENT
---
---
Burton Gloria Snow Pants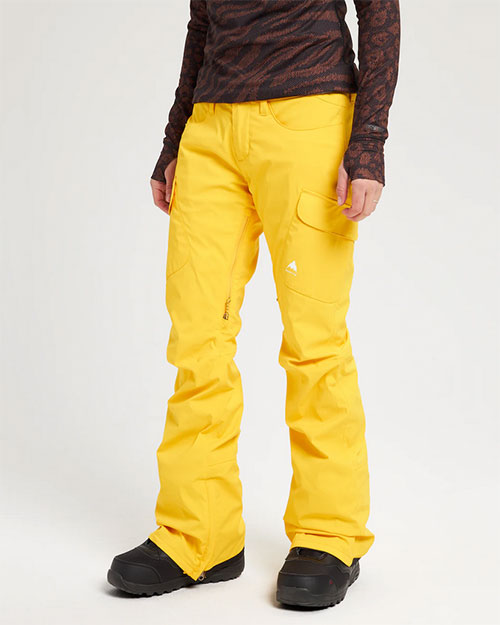 Burton's best selling snow pant is the Gloria.
It's available in multiple different options, from insulated to waterproof shell to Gore-Tex, and it comes in a rainbow of colors.
The pants are a low-rise and loose fitting pant, with plenty of give and movement for layering underneath.
I liked the extra pockets on the leg, and that it's offered in different lengths!
Shop on: Zappos, Burton, Backcountry, Moosejaw & Amazon
Read my in-depth review of the Gloria snow pants here.
ADVERTISEMENT
---
---
Shop Women's Ski Bibs
---

ADVERTISEMENT
---
---
Ski Wear Haul
SKI CLOTHING TRY-ON HAUL: do cute ski pants exist ?? | women's ski pants + bibs review
ADVERTISEMENT
---
---
ARE DESIGNER SKI PANTS WORTH $$$? | luxury ski pant try-on (bogner, cordova, holden, helly hansen)
I posted a couple try-on hauls of all the ski wear brands that I've tried. You can check them out on my Youtube channel here.
I also did a livestream on Amazon Live chatting all about dressing for the cold.
I talk about winter fashion essentials, ski gear and cute (but affordable) ski clothes that you can shop on Amazon!
Watch a recap of the video here. Make sure to follow my Amazon shop page to join future livestreams!
ADVERTISEMENT
---
---
Read More: in our ski style series:
Ski Trip Packing Essentials
What to Wear Skiing: Packing List Must Have's
The Best Ski Pants for Women (Stylish & Functional)
I Found the CUTEST Women's Ski Pants (Video)
Are Designer Ski Pants Worth It? (Try-On Haul)
The Best Ski Sweaters for Apres-Ski 
Planning the Perfect Ski Trip
10 Tips to Plan the Ultimate Ski Trip to Stowe
What to Know Before Skiing in Vermont for the First Time
Ski Trip Recaps
Skiing in Lake Tahoe at HEAVENLY (resort review)
Everything You Should Know Before Skiing Northstar (lake tahoe)
Our Lake Tahoe Ski Trip to Kirkwood (mountain guide!)
Skiing Canada! Our Trip to Mont Tremblant
5 Things to Know Before Skiing at Belleayre Mountain, in the Catskills
+ More Ski Vlogs on Youtube
Follow me @Sher She Goes on