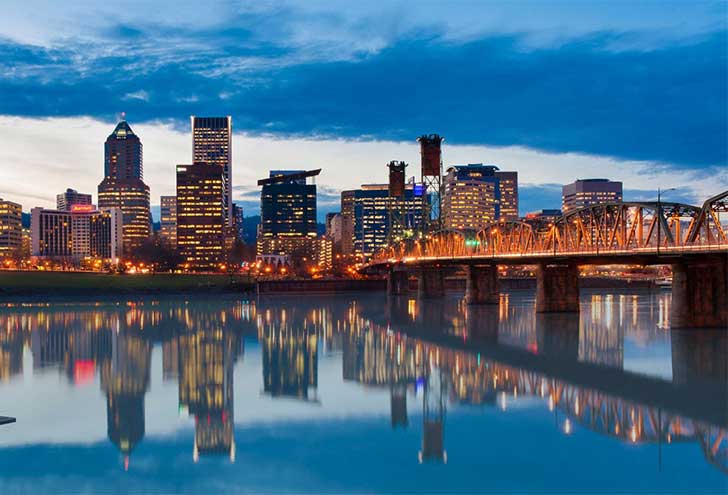 Where to Stay in Portland
Having seen its population grow by over one-third in the past 20 years, Portland Oregon can truthfully boast that its quickly becoming one of the most popular United States cities.
Beloved for its focus on the environment, convenient access to both urban amenities and beautiful natural surroundings, and thriving economy that seems especially catered to young people, it's easy to believe that much more than the Dream of the 90s is alive in Portland!
With a mix of boutique and historic hotels, Portland has tons of great hotel options for to fit every type of vacation.
Keep reading for our favorite hotels in Portland, OR!
ADVERTISEMENT
The Best Hotels in Portland, Oregon
To summarize, here's a handy chart of our recommended Portland hotels. All include free wifi and are known for comfort, great locations and great customer service.
Best Portland Hotels – Summary Comparison Chart
Below is more information about each hotel and why we recommend it!
ADVERTISEMENT
---
---
Dossier
Located in the heart of Portland's downtown, the Dossier offers its guests unrivaled access to the best City of Roses has to offer paired with classic Westin luxury.
Inside the hotel, three guest room and two suite options have every type of vacation covered. Outside, the Portland Art Museum, Nob Hill boutique shopping, and Pearl District nightlife are all just steps away.
What more could you want?
ADVERTISEMENT
---
---
Kimpton RiverPlace Hotel
Nestled on a pedestrian Riverwalk just steps from the Willamette River banks, the Kimpton RiverPlace Hotel offers guests a relaxing boutique hotel experience with the gorgeous downtown Portland skyline readily in sight.
The Kimpton RiverPlace knows how to treat its guests in style, offering a variety of suite and cottage options that come with everything from marina views to real wood-burning fireplaces!
ADVERTISEMENT
---
---
Sentinel
Named for a series of sentinels atop its roof, the Sentinel is one of Portland's oldest hotels, having been built 98 years ago.
Despite the its legacy and history being found around every corner (and on its façade, which is exclusively made of glazed terra cotta), the Sentinel has evolved to provide modern amenities perfectly reflective of the alternative Portland spirit including rooftop beehives that produce artisanal honey, pet care, and even a pillow menu!
ADVERTISEMENT
---
---
Hotel deLuxe
Imagined in the mold of the Hollywood Golden Age, the Hotel deLuxe offers traditional Portland boutique luxury with a classic twist.
Guests will be awed by everything from the art deco architecture, afternoon tea, and free classic film viewings in the deLuxe's very own pop-up screening room!
ADVERTISEMENT
---
---
Benson Hotel
Founded 96 years ago and notable for its potential ghosts (!), beautiful European architecture, and stunning ballrooms, the Benson Hotel is truly a Portland classic.
Guests need not worry about its age, however, as all of the Benson's rooms were completely remodeled and refreshed just this year!
ADVERTISEMENT
---
---
And that's it! Our guide to Portland's best hotels to make the most of your stay.
Whether you're looking for the best location in town, family hotels for kids, or a luxurious hotel for couples, these top hotels in Portland are sure to please.
ADVERTISEMENT
---
---
Follow me @Sher She Goes on