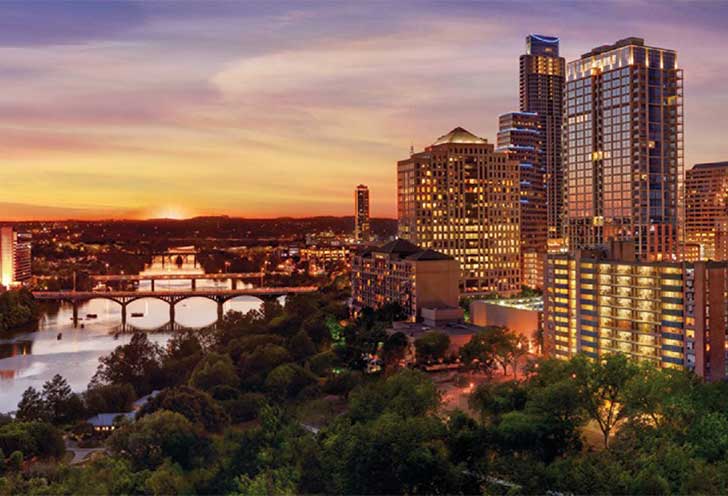 Where to Stay in Austin
In a state already rich with cultural heritage and exciting things to do (remember, everything's bigger in Texas!), Austin stands out as a city blending everything that's great about Texan music, sports, culture, and history.
Whether you want to stroll the streets of Austin's historic 6th Street entertainment district, catch some music at the city's annual South by Southwest Festival, cheer on the Longhorns of the University of Texas, or simply do your part to "Keep Austin Weird" there's something for everyone in the Lone Star State capital.
Keep reading for our favorite places to stay in Austin, TX!
---
---
Best Hotels in Austin
To summarize, here's a handy chart of our recommended Austin hotels. All include free wifi and are known for comfort, great locations and great customer service.
Best Austin, Texas Hotels – Summary Comparison Chart
Below is more information about each hotel and why we recommend it!
---
---
Renaissance Austin Hotel
Next door to the Arboretum at Great Hills Mall, one of Texas's great shopping and dining meccas, the Renaissance Austin Hotel offers recently updated rooms and amenities set against the gorgeous Texas Hill Country.
With numerous nature trails directly adjacent to the Renaissance and central attractions such as downtown Austin, 6th Street, and the University of Texas just a few minutes away, the Renaissance truly offers the best of both worlds!
---
---
JW Marriott Austin
If you want a phenomenal location paired with top-shelf amenities, then your buck should stop no further than the JW Marriott Austin!
Located on downtown Austin's 2nd Street, the JW Marriott Austin has an incredible number of sights and attractions within walking distance including the 6th Street district, the SXSW and Austin City Limits festivals, and even the University of Texas and the Capitol building!
---
---
W Austin
Located in downtown Austin's 2nd Street District, the W Austin provides all the modern aesthetic and amenities you would expect from a W location smack-dab in the center of downtown Austin's cultural scene.
Whether you want to experience live music at the famous Austin City Limits music festival venue – located just next door – or experience all the other attractions that downtown Austin has to offer, a stay at the W is a perfect window into everything great about the Texas capital!
---
---
Four Seasons Hotel Austin
Located downtown just steps away from both the 6th street entertainment and central business districts, the Four Seasons Hotel Austin is a luxurious oasis within the bustling downtown Austin community.
One of the hotel's best escapes? Dining at Trio, the Four Seasons Austin's marquee restaurant with terrace dining just steps from the banks of gorgeous Lady Bird Lake!
---
---
Travaasa Austin
Secluded about 30 minutes northwest of the Sixth Street Historic District, the Travaasa Austin offers a sense of unbridled luxury more likely to be found in California or southeast Asia than inland Texas.
With all-inclusive and a la carte booking options, the Travaasa Austin has packages that can fit any Austin vacation itinerary!
---
---
And that's it! Our guide to Austin's best hotels to make the most of your stay.
Whether you're looking for the best location in town, family hotels for kids, or a luxurious hotel for couples, these top hotels in Austin are sure to please.
Follow Sher She Goes on